If you are from Hyderabad, you probably know that Begumpet isn't quite a happening place. Though there are a lot of good restaurants,lounges here, Hyderabadis mostly go to Jubilee Hills area which is packed with resto-bars, lounges, pubs et al. Just a few months back a new restaurant opened in Begumpet named Hay. Part of the Speciality Group of hotels, Hay is their new outlet in Hyderabad. This is the same group that own signature brands like Oh Calcutta !, Sigree, Mainland China etc. So last Saturday, I was invited to review this new restaurant. Here's a review of Hay Begumpet.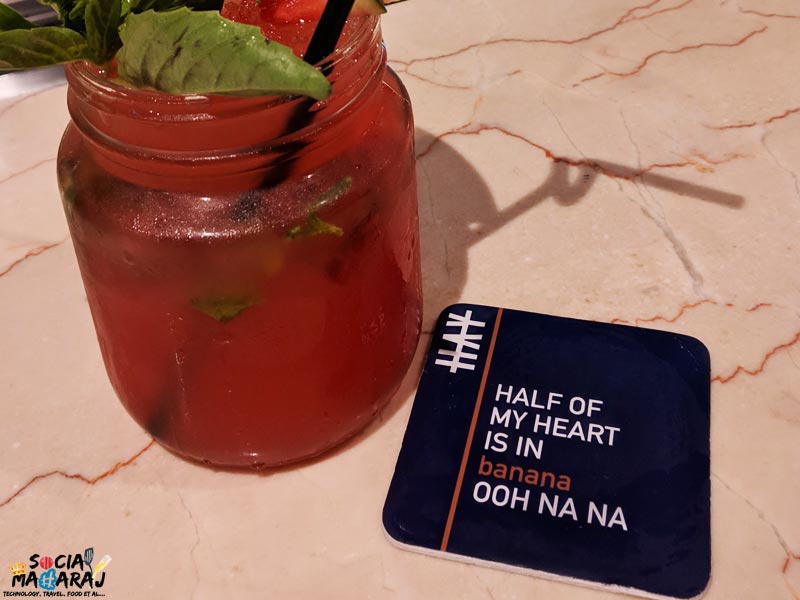 Spirited Ambiance at Hay Begumpet
Hay Begumpet is located in the same building as Oh Calcutta !, Sigree etc. off the Punjagutta Flyover. It's right across the CM's residence in Begumpet and quite easy to spot. The elevator opens up right in front of the restaurant. The place isn't quite big, but they've managed to squeeze out some space. The blue walls welcome you with good lighting and pumped up music. The bar counter is at the center where bartenders mix up some great drinks. They do have a couple of screens where you can watch matches. Overall, I loved the spirited ambiance at Hay. A lively place perfect for spending weekends with friends.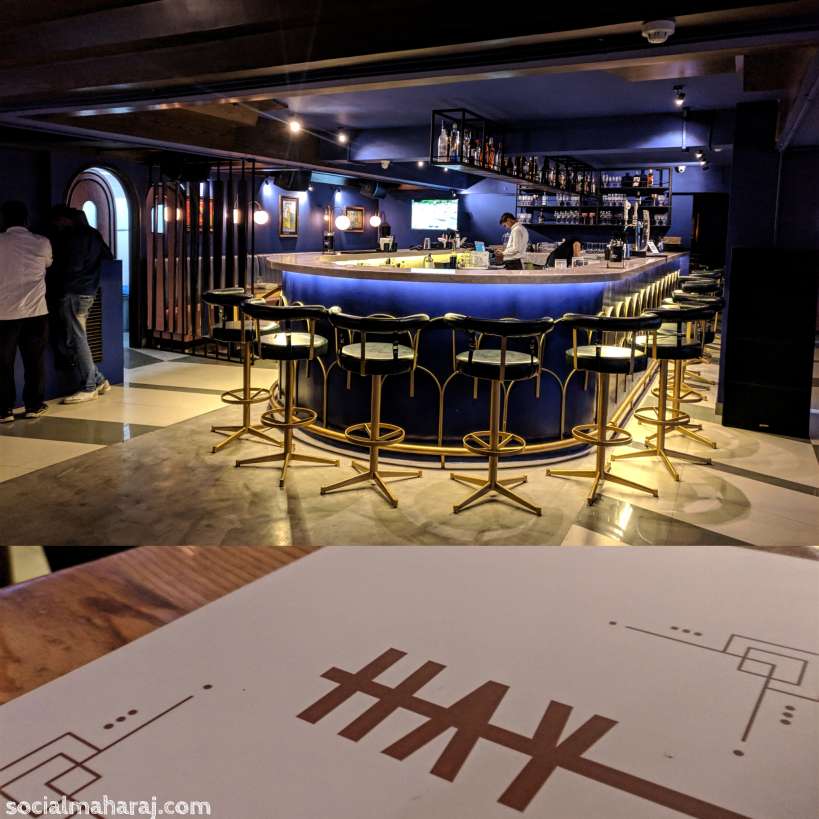 Say Hay to delicious food
Hay serves some basic yet fusion dishes. They have an array of items ranging from starters to mains to sides and desserts. With a separate bar and food menu, you can choose to eat or drink. Since we were in for a tasting session, we did get hold of the best dishes at Hay Begumpet. Though I'm a vegetarian and a teetotaler, I did find some good dishes.
Unique & Delicious Starters
I was here along with an acquaintance who was all set to dig into the non vegetarians dishes. Being a vegetarian, I had limited choices. I ordered a Bellary BBQ Baby Corn, Truffle Mushroom Galauti and Kurkure Maggi Missile. The dishes didn't take much time to come to the table. Starting with the Maggi Missile, it was a nice take to the most loved Maggi. Maggi Masala loaded with Cheese with a crunchy crust was delicious. These were served with an equally delicious dip.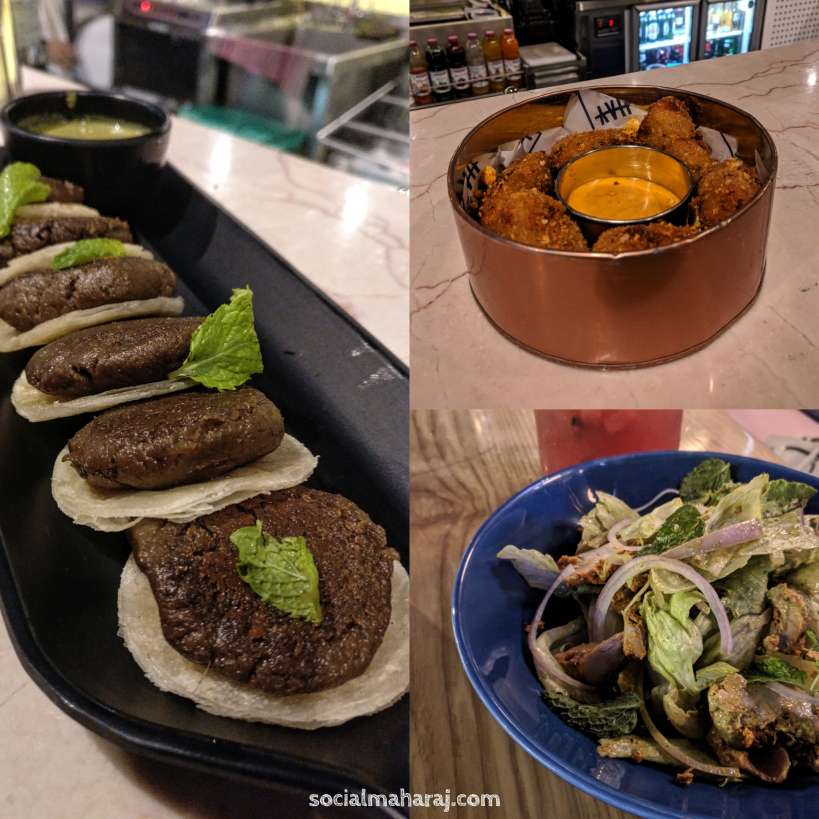 Truffle Mushroom Galauti was well presented and I truly loved it. Though Galauti Kebabs are predominantly non vegetarian, this mushroom take was good. The kebabs had the perfect texture and a good taste. Not being a big fan of BBQ sauce, the Bellary BBQ Babycorn was something I didn't enjoy much. That said, it was crunchy and hot, a perfect finger food dish.
Variety of mocktails and Cocktails
Hay Begumpet is known for their shots – they have a variety of shots on offer. Apart from that, their bartenders mix up some really good cocktails which you must try. They do serve wines be it white or ted. Being a teetotaler, I had a limited choice again and went in for their signature Watermelon Cooler and the Nutty Fruity.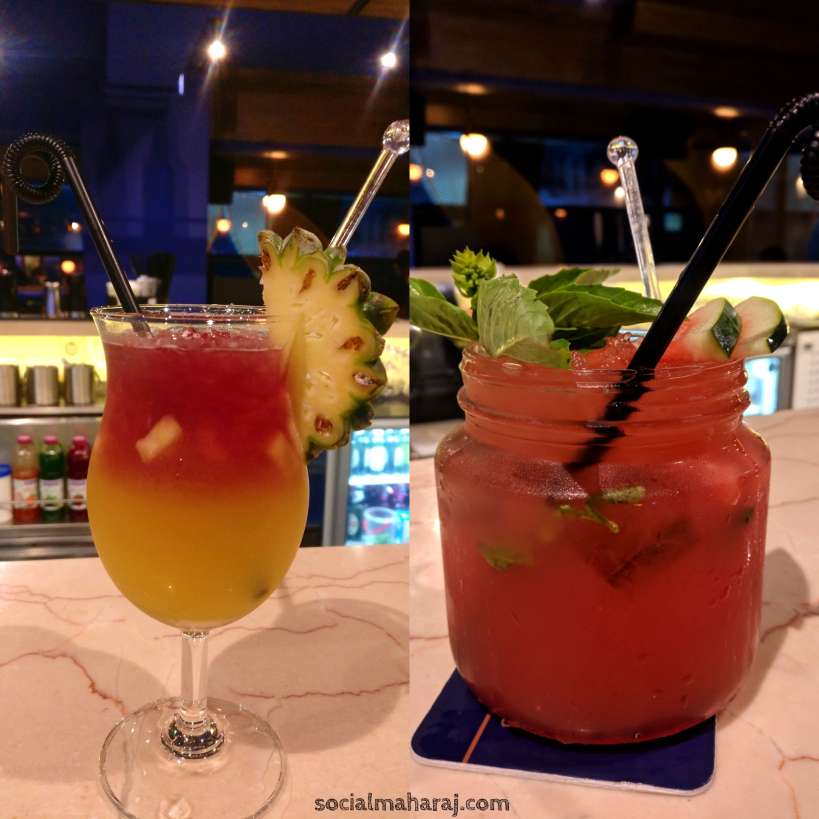 Watermelon cooler was undoubtedly one of most refreshing drinks I've had. The presentation was top notch with the two slices of watermelon along with fresh basil. Chilled and sweetened to perfection, I truly enjoyed this. Nutty Fruity was presented well and was good on taste. Anyone who loves fruits and prefers sweeter drinks, this one is for you.
Special Desserts
We wanted to try the Mishti Doi Cheesecake but apparently they didn't have the cheese to make it :/ So we ordered Chocolate Envelope and Fried Jalebi. Chocolate Envelope was a unique preparation. Filled with mildly sweetened Coffee Mousse covered with chocolate and served with raspberry sauce. There were lot of nuts and dry fruits and the sauce really complimented the dessert. Fried Jalebi was kind of the normal Jalebi, but it was crispier. It was also served with a dip and was too sweet.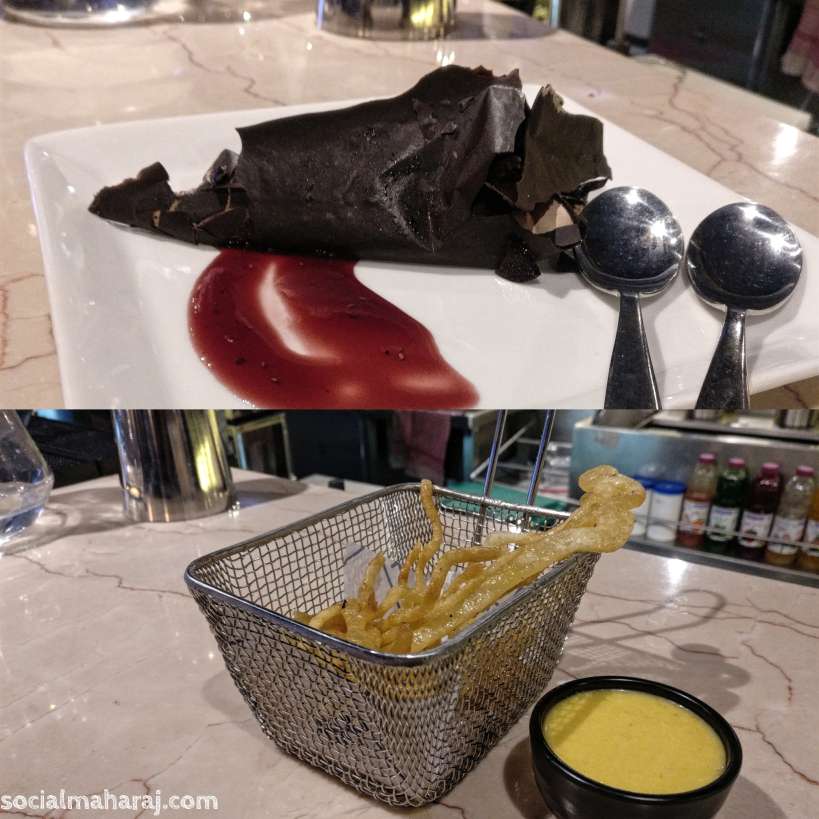 Final Verdict: Say Hi to Hay Begumpet
There weren't too many restaurants of this type in the area. The spirited ambiance of Hay coupled with the unique combos they have, makes them stand apart. They have everything from starters to main course to desserts and drinks. I couldn't eat more than the starters and the desserts. The service was quite good and the folks were more than happy to help. A big shout out to John, the manager and Ron who attended our table. Thanks for making our experience a good one. Guys, do plan a visit to Hay if you are in and around Begumpet. What is that one thing you are looking forward to ? Drop in your comments in the section below or tweet to me at @Atulmaharaj