The thing I like about small historical towns is that you have something unbelievable to see in every part. The cultural past of the city along with the fast paced present, paints quite a picture. That was exactly what I witnessed during my trip of Bidar. After visiting the Nanak Jhira Gurudwara, I decided to visit the tombs of Bidar – Bahmani, Chaukandi & Barid Shahi Tombs. if you are a history buff, you will be amazed to know the history of Bidar. Lot of rulers over hundreds of years and hence the marvelous architectures. In this post I'll be talking about my experience of visiting the tombs in Bidar.
The unmissable Bahmani Tombs
If you Google for places to visit in Bidar, Bahmani Tombs would be right up there. And after having being there, I know exactly why is it so. Since I was on a two wheeler, visiting the Bahmani tombs became much more easier as they are a little far from the town. You need to take the Bidar ring road and then take a diversion towards the tombs. Moreover you get a glimpse of the tombs from quite a distance. En route to Bahmani Tombs, you should stop at Chaukandi which is a 4 story building that houses 3 graves of the rulers. A good place to take photographs.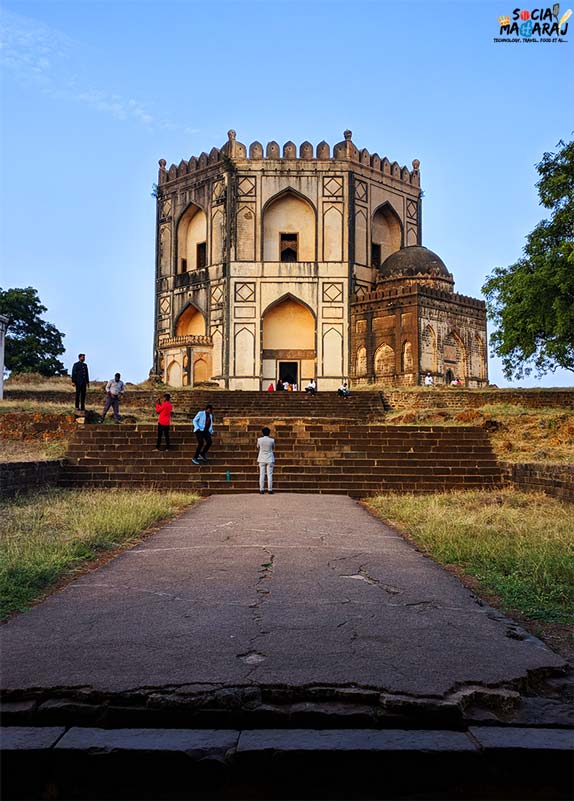 The tombs are literally in the middle of nowhere and don't expect to find a well defined parking area. You simply reach there and anywhere you find place, park your vehicle. Also the best time to visit Bahmani Tombs is during the evening. With the sun setting, you get some really beautiful views. Bahmani tombs are a group of 4 tombs of which one is partially destroyed. The walls of these tombs are really thick and why not, the tombs have been there few hundred years ! Also the tombs are painted with bright hues of blue which is pleasing to eyes, it amazing to see that even after few years the color is still there. Unlike some of our clothes that fade away after few washes. 🙁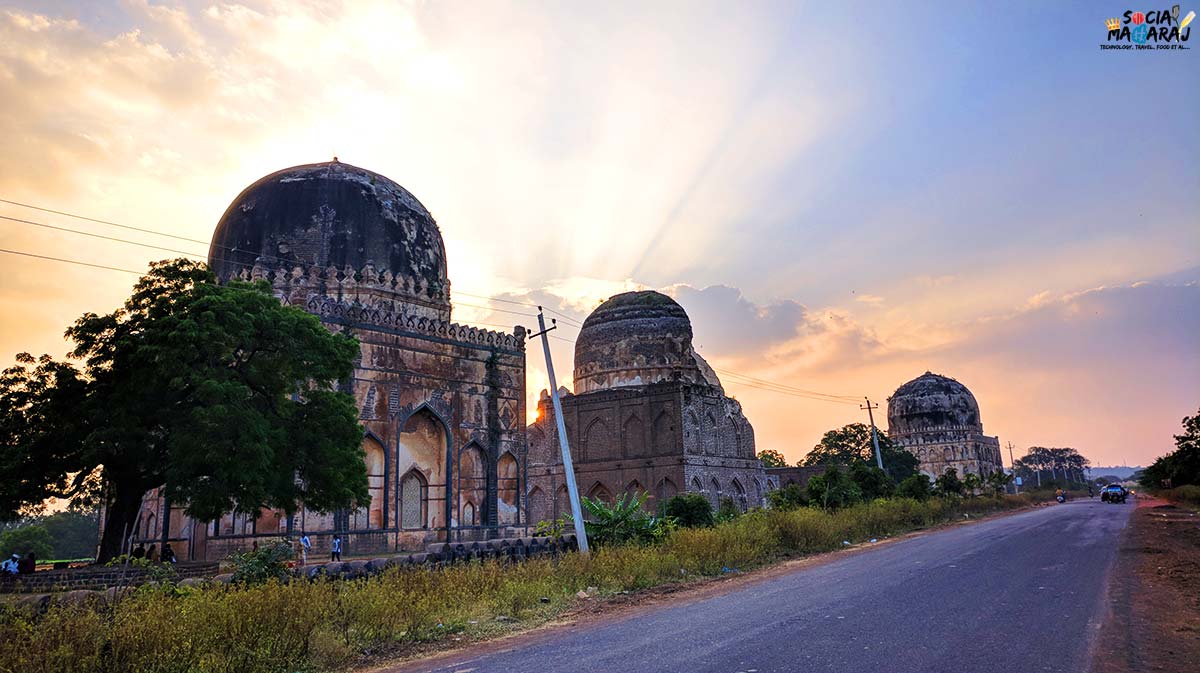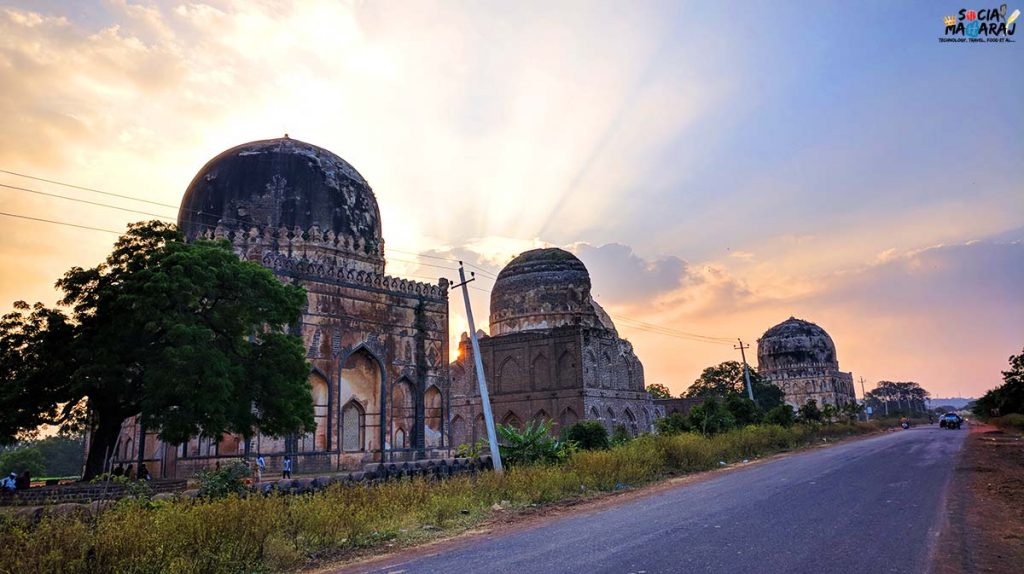 However the place isn't well maintained as it should be. You have kids playing cricket in the complex and apparently it's four runs if it hits the tomb. There's no security at the Bahmani Tombs and I only saw a couple of care takers at the mosque which is there. It is a picnic place for all, and don't be surprised if you see kids running around . It's sad to see such appalling state of a heritage monument. However, that shouldn't deter you from visiting Bahmani tombs when you are in Bidar.
Barid Shahi Tombs
There's probably no place in Bidar where you won't find a tomb in the vicinity. There are this group of tombs right next to the central bus stand in Bidar. Entry to most other tombs is free, but at Barid Shahi you are charged ₹5. What's special ? Well they have turned it into a park which is heavily crowded during weekends. The garden also has few statues, model and swings for kids to play. The tombs here are smaller however due to the setup you might tend to miss them. The place is well lit during the evenings and makes for good photos. There's parking available which is mostly full. You have a cafe inside the garden and vendors outside. Since they were close to the place I stayed, I visited. Would still prefer Bahmani over these.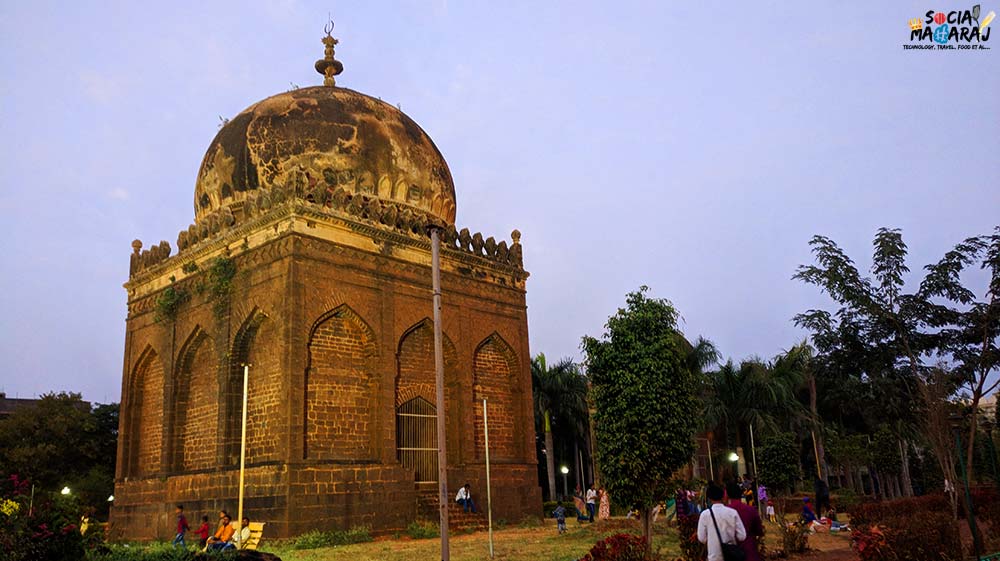 Trip to Bidar incomplete without visiting tombs
With such a diverse past of Bidar, there's something to see in every part of the city. The tombs are a must visit. Though there are a lot of tombs scattered in the town, visiting all of them isn't worth especially if you are short on time. Moreover there are few tombs which is engulfed in bushes but still has a banner of a heritage site. The tombs of Bidar are really beautiful and perfect testimony for the artisans from the region. However, the saddest part is the maintenance of these tombs. I so wish that either the government of Karnataka or Archaeological Survey of a India pays more attention to these. We don't want to be destroying history. Don't we ? Share your thoughts in the comments below or tweet to me at @Atulmaharaj or DM on Instagram.