One of my major regrets for last year was that I didn't travel much outside of Hyderabad. Mainly due to my work (and college for half the year) I wasn't able to move around much. Did a small family trip to Ahmedabad where I dined at the iconic Agashiye restaurant. It was last week of December and I had to plan a trip. That's when I decided on a Hyderabad to Bidar road trip. I did this Hyderabad to Bidar road trip on Activa as I love riding too. The last road trip I did by Activa was from Kochi to Munnar. So without much ado here's my experience of Hyderabad to Bidar road trip.
Hyderabad to Bidar – Road
Bidar is a small yet important city in the state of Karnataka. The town is just across the Telangana Karnataka border. Located at a distance of about 145 kms from Hyderabad, Bidar is great destination for a one day trip from Hyderabad. Though the town has an airport, it's mostly used by the Air Force since Bidar is one of the important Air force station. The Hyderabad to Bidar road is quite literally a straight road with just one major turn. NH 65 will take you straight from Hyderabad to Bidar. The road is pretty good for most part of the journey except the last stretch near the state border. Most part of NH65 is four lane highway and only the last stretch from Zahirabad is a single lane road. There's also one toll on the way and thanks to Fastag, there are diversions near the toll. Like all other highways, two wheelers are exempted from paying toll.
Hyderabad to Bidar My Journey
Most people decide to spend only a day in Bidar thanks to its close proximity to Hyderabad. However, since it was Christmas, I decided to spend a couple of days in Bidar to explore the city closely. For my Hyderabad to Bidar road trip I decided to rent a two wheeler instead of taking my own Activa. No specific reason though except that my Activa already travels almost 50 km daily, so decided to give it some rest. Like my last trip from Kochi to Alleppey, I rented Suzuki Access from Royal Brothers Hyderabad. The experience was quite smooth and the scooter too was in a good condition. More details about this in the future post.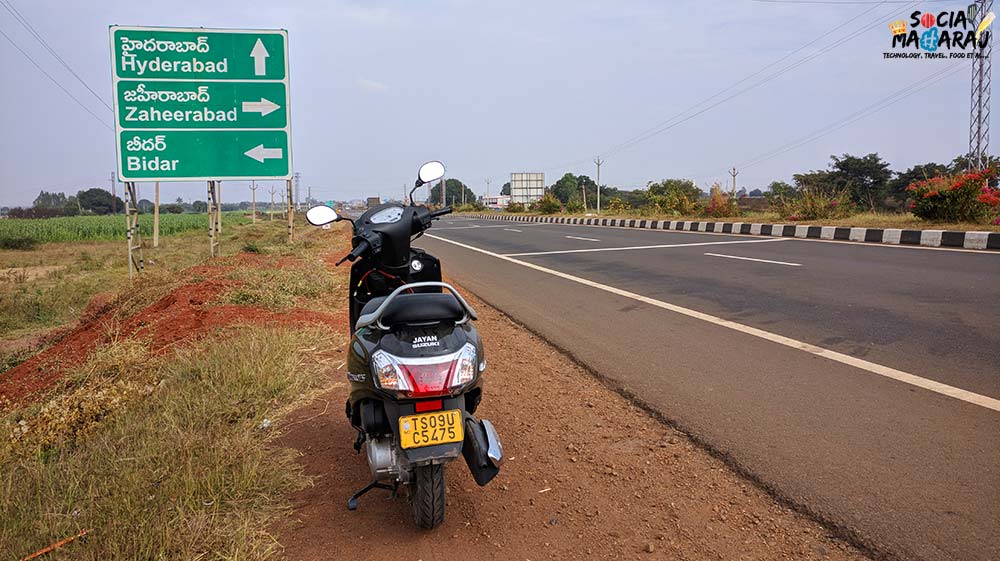 I left home at about 5:30 AM so as to avoid the city traffic. I followed Google Maps for most part of the journey. Took the NH 65 from Punjagutta and drove straight towards BHEL and on wards to Patancheru. Soon crossed the Nehru ORR and that from then on the highway starts and the traffic reduces. Cross the Indian Institute of Technology Hyderabad (definitely not in Hyderabad) and Woxen School of Business on the way. Then came the toll and the roads near the toll junction aren't in great shape especially for two wheeler. Being December it was quite chilly though I had my jacket and riding gloves on. One nice thing I noted on NH 65 was that the truck bays were quite good and the washrooms were in clean and free to use. Stopped to relieve myself as I had a chat with a Sardarji who was driving to Delhi from Hyderabad. Continued my ride and reached Zahirabad at around 8AM.
Hyderabad to Bidar – Food Stop
The Zahirabad junction is where you leave NH65 and move on the State Highway 14. There are quite a few places where you can stop for a quick bite. However not all the places were functional and in good shape. I stopped for breakfast at S Amrik Singh Punjabi Dhaba. If you are coming from NH65, you have to take a u-turn to reach this dhaba. Since it was early morning I decided to enter Zahirabad and reach the dhaba. Early in the morning, I was expecting hot parathas but they had only Idli Sambhar, Upma and Poori. I ordered a plate of Idli and Upma along with a hot chai. Sambhar was sweet but since it was hot I enjoyed it. Chai was on the sweeter side too but was rich and love it. Paid ₹80 for this entire breakfast. Quite content with the food and the setup here. There are other multiple dhabas around this one, so you can dine wherever you want.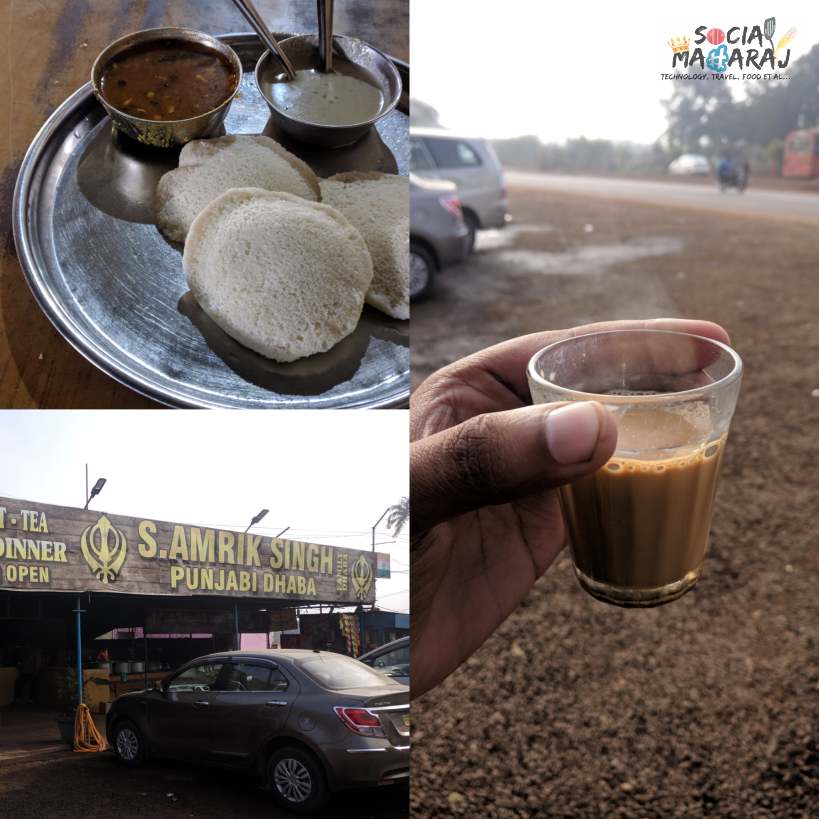 The last stretch – Hyderabad to Bidar
The road from Zahirabad is a single lane road not in mint condition. You are welcomed by pot holes and bullock carts carrying sugar cane. I saw a lot of sugar cane on the way only to realize that there was a sugar factory on the way to Bidar. The land on both the sides of the road are either farms or plots for sale. Few kilometers on this road, you will come across this magnificent structure of white marble – Hazrat Multani Baba Dargah. I'll talk about this in a separate post. Soon you cross the state border and the road condition improves as you enter Karnataka. A forest reserve starts and you suddenly see a lot of trees around you. The road doesn't has much traffic and there may be time you will see that you are the only one traveling. With no street lights on this entire stretch, one should avoid traveling in the night. Soon you will see a diversion for Guru Nanak Jhira Saheb Gurudwara via Bidar Ring Road. You can either take this or drive straight to enter the city.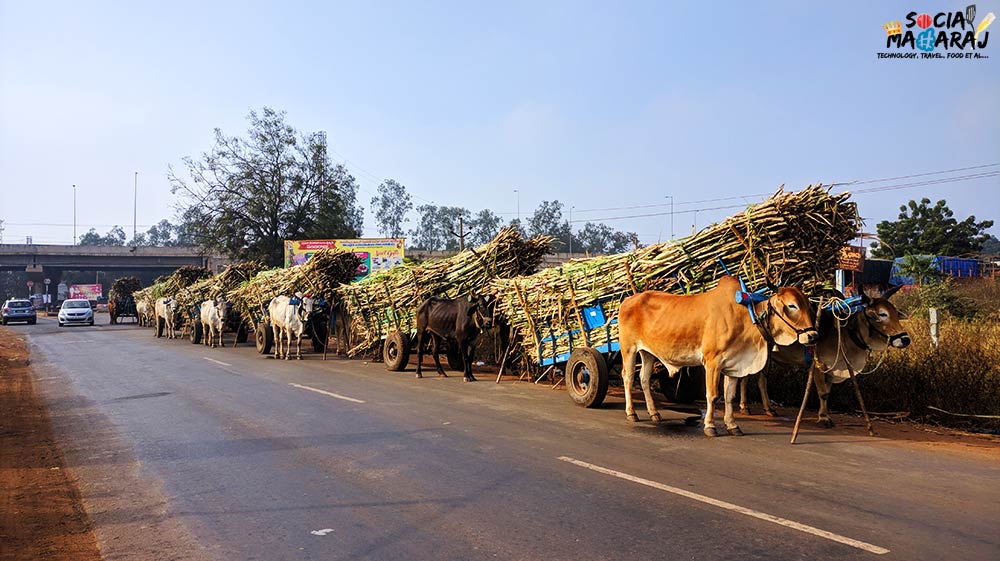 Destination Bidar
You can reach close to Bidar without Google Maps, however the last stretch when you are about to enter Bidar is when you will need some assistance. There aren't many signage and it can get tough. It's a small town like I said with a lot of historic monuments and you will come across many monuments while driving around the city itself. The best part of riding on a two wheeler is that you can explore the city quite closely. In the two days I spent in Bidar, I drove around so much that I know most of the roads to major sightseeing destinations. For my return journey I left Bidar around 1PM in the afternoon and reached home by 6PM. Courtesy the bizarre traffic and some rain on the way.
---
Hyderabad to Bidar Road Trip FAQ
How can you get to Bidar from Hyderabad by road ?
Bidar is about 145 kms from Hyderabad. You can take NH 65 to reach Bidar by road. There are state transport buses plying quite often so that shouldn't be an issue. If you love riding, then take a road trip to Bidar. It will take anywhere between 3-4 hours for you to reach Bidar from Hyderabad.
Can I do a one day road trip from Hyderabad to Bidar ?
The answer is a big YES ! The distance is just under 150 kms from Hyderabad to Bidar. And you can easily do a one day road trip from Hyderabad to Bidar. Most part of the road is 4 lane highway except the last stretch. You can visit the major attractions like Bidar Fort, Guru Nanak Jhira Saheb Gurudwara and Bahmani Tombs in Bidar.
Can I go to bidar on scooter ?
Absolutely, the distance from Hyderabad to Bidar is only 145 km and most of the scooters like Honda Activa, TVS Jupiter, Suzuki Access etc are good for this road trip. With ample under-seat storage, scooters are a great way to go to Bidar.
Do I have to pay toll when driving from Hyderabad to Bidar ?
Yes. There is a toll junction near to Sadashivpet where you will have to pay toll. The rates are normal and major portion of the toll road is in good condition. However, if you plan to travel by a scooter, you don't pay toll !
Are there restaurants on NH 65 towards Bidar from Hyderabad ?
There are quite a few road side dhabas and restaurants from Hyderabad to Bidar. However many of them aren't in good shape that you could avoid. There are quite a few restaurants at the Zahirabad junction where you can eat. Many state transport buses stop at these dhabas too. Prices at these dhabas are quite reasonable and the food id good.
So that's about my road trip from Hyderabad to Bidar on scooter. I was adamant on going for this solo trip and that too by scooter as I don't know how to ride a motorcycle ! Nonetheless, the journey was pretty amazing, thanks to the good roads. There aren't many stunning views on the road, but the destination Bidar is quite good. Stay tuned to the blog as the future posts on Places to Visit in Bidar are coming soon. If you have any questions related to Hyderabad to Bidar Road Trip, do mention them in the comments below or tweet to me at @Atulmaharaj or DM me on Instagram.