They say that the journey is more enjoyable and memorable than the destination itself. Well that's so true. Especially when you are on a road trip or are traveling by train, you surely enjoy the journey. The quickly changing landscapes, the food and the people constantly remind you how big the world is. In my last post I talked about my road trip from Hyderabad to Bidar where I mentioned about the Taj Mahal look alike structure that I came across. The Taj Mahal Clone – Hazrat Multani Baba Dargah in Zaheerabad. Not a touristy destination, but you must stop here when you are en route Bidar.
Taj Mahal Lookalike in Zaheerabad
Amidst the farm lands an plots while driving towards Bidar you come across this shining white building. From a distance all you see is a building that is sparkling white in the middle of no where. Thousands of people travel to Bidar however, I don't know how many actually stop by this place. I was on my scooter when I saw this stunning place. I decided to stop by and enter the premises. The complex isn't quite large and has some construction going on on the outside. The area around the dargah isn't quite well maintained. Upon reaching, I saw the door shut and checked with the workers there. They told that the dargah opens post noon and is open till evening. Since I reached there by 10 I couldn't go inside. Hence decided to visit the Hazrat Multani Baba dargah on my return to Hyderabad.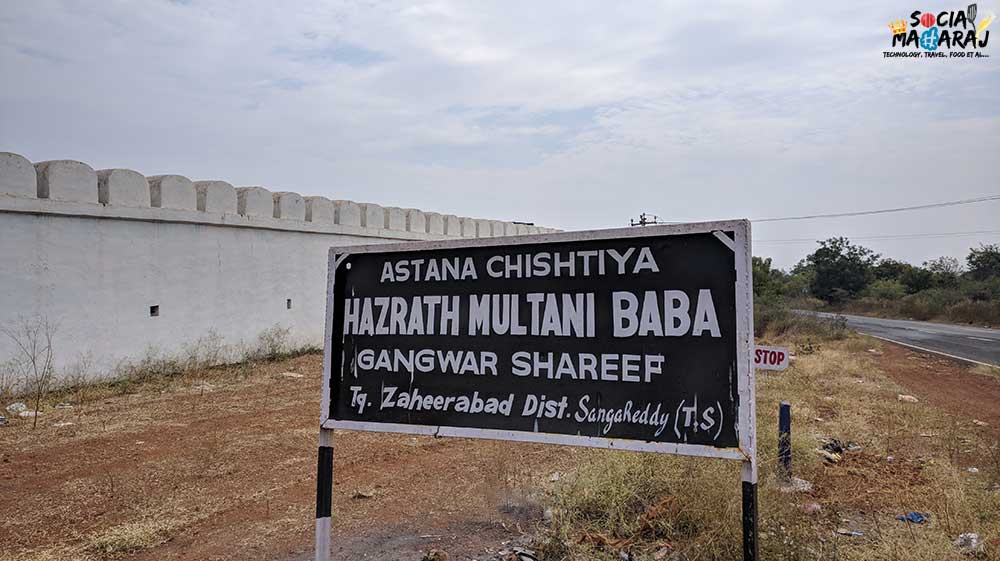 History of Multani Baba Dargah
Sufism is a mystical Islamic belief wherein Muslims seek the truth of divine love and knowledge with direction connection with God.They believe that if they pledge allegiance to Muhammad, a spiritual connection between the seeker and the Muhammad is established. It is through this connection, one can connect with God. One of the important concepts in Sufism is the Sufi Orders or Tariqa which is a way for teaching and spiritual practices to seek the ultimate truth or Haqiqat. There have been many orders over time, however one of them that relates to Hazrat Multani Baba is the Chisti Order. The Chisti order emphasizes on love, tolerance & openness. The order is primarily followed in Afghanistan and Indian subcontinent. In India, the Chishti order was introduced by Khwaja Moinuddin Chishti in Ajmer. Among the other leaders or Shaykhs of the Chishti order, Astana Chishtiya Multani Baba, Gangwar Shareef was the one. And this Taj lookalike is his dargah.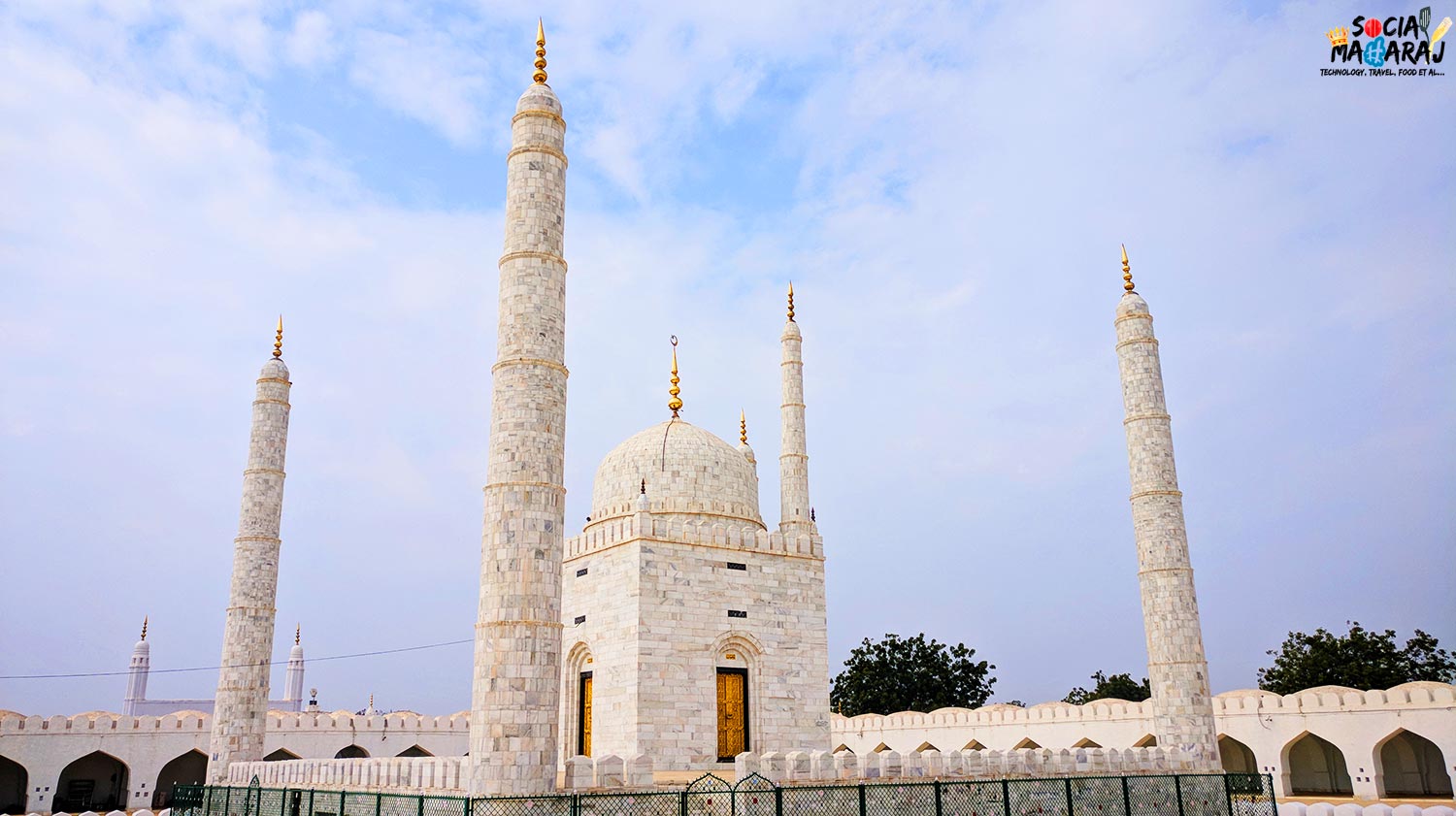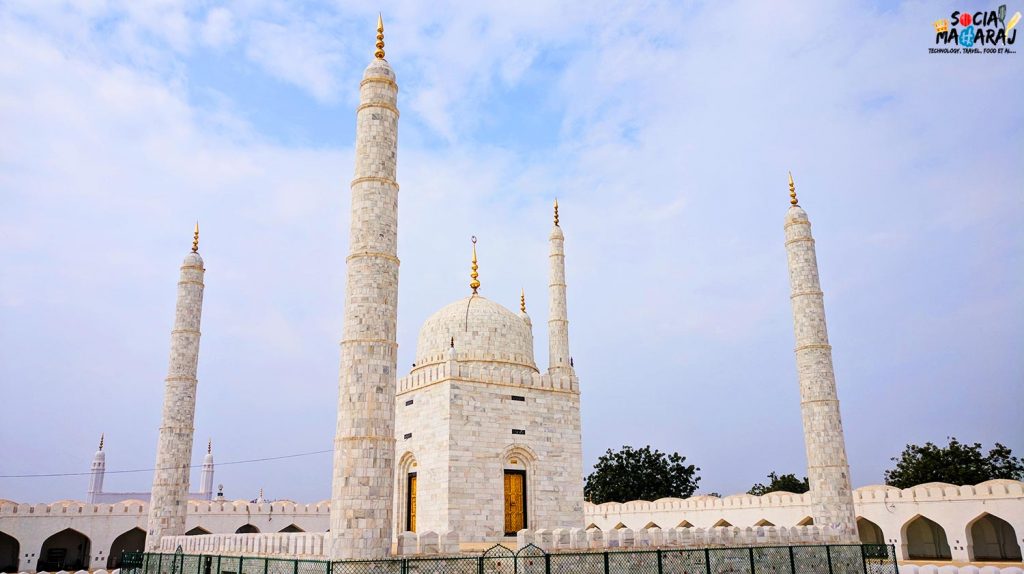 Inside the Dargah
The Hazrat Multani Baba Dargah isn't a huge area like the Ajmer Sharif dargah. Also it isn't flocked by many people too. The entire complex is made of white marble and resembles the Taj Mahal in Agra with respect to the minarets. The only person I found during my visit was a Khadim (I'm guessing) and he was quite watchful of what I was doing inside the dargah. The dargah doesn't have a cleansing area or a place to tie mannat ke dhaage as it is in Ajmer or Dewa Sharif in Lucknow. The board outside read that during Urs there's a lot of rush. However during normal days I didn't see anyone there. One can offer flowers, but again I didn't find anyone there. Moreover I just a few people coming in after I went. Maybe people come here during evenings considering the weather ?
Must Stop en route Bidar
The next time when you are taking a road trip to Bidar, make sure to stop by the Taj Mahal clone Hazarat Multani Baba Dargah in Zaheerabad. But do note the timings as it opens only in the afternoon – post 1PM. There's nothing much to do there. However just due to its magnificent architecture, you should stop there. It won't take more than 10 minutes to walk around the dargah. It the middle of no where, this place is just like a paradise. If you've gone to Bidar, did you visit this dargah ? Mention your views in the comments below or tweet to me at @Atulmaharaj or DM on Instagram.