For almost 4 years, I just heard about this place called Sindhi Colony in Hyderabad that has some of the best street food joints in Hyderabad. It was only last year that I actually visited Sindhi Colony and there was no turning back. Be it my weekend class days with college friends or a family outing, Sindhi Colony became a go to place. You get the best Vada Pav in the city at Chachaji Vada Pav. The desi Pizzas at Pizza Den. Gujarati Farsan at Mamta Sweet House. Similarly you get delicious parathas at Popular Punjabi Paratha House. And this is going to be Popular Punjabi Paratha Review.
Small, Crammed little eatery
Someone great once said, "Not all places serving delicious food are grande" Popular Punjabi Paratha house justifies that. Located in an alley next to Dimmy Pan in Sindhi Colony, the eatery is crammed. There are just about 4 tables and then you have the kitchen. The owners Akash and his dad stand outside the eatery to take orders. The service is really quick. Once the order is taken, they wait for a table to be vacated. Once done, you can sit there and relish your food. Akash himself suggests to dine there instead of take away. The fast service ensures you get to eat quickly.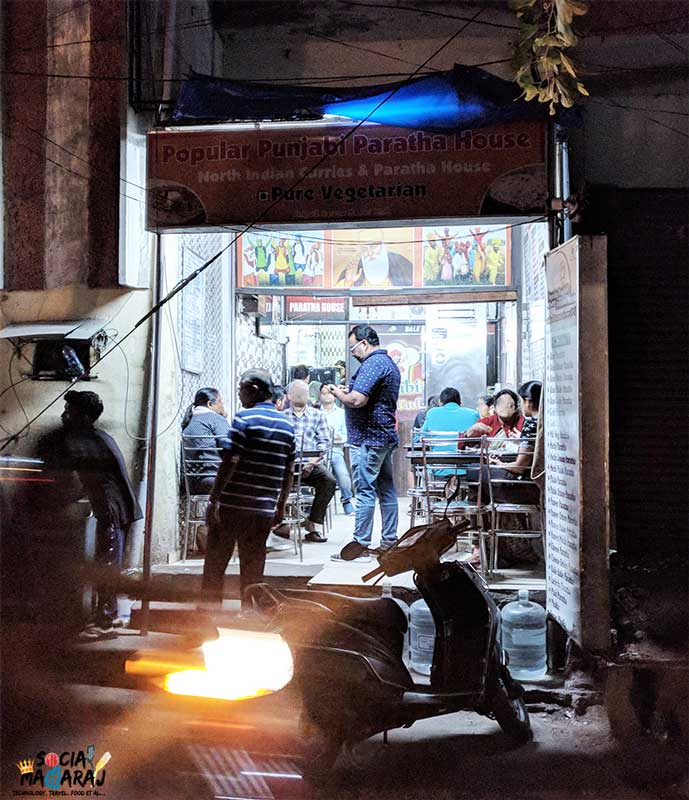 Popular Punjabi Paratha Review
The eatery specializes in delicious parathas in Hyderabad. However, their menu doesn't boast of a variety like the one from Parathe waali Gali in Old Delhi. Nonetheless, for Hyderabad standards, they are pretty good. Aloo, Gobhi & Paneer are the main variety with variants with Onion, Methi, Palak and Cheese. They not only serve Parathas, but also have rice,dal and curries along with desserts too. In short it's a place for a complete meal.
Lipsmacking Delicious Parathas
Popular Punjabi Paratha at PG road is probably the only place that I've eaten Paratha in Hyderabad. It was last weekend that I was here. At first I decided to back away seeing the crowd, nonetheless Akash promised a table and delivered it. We ordered a Paneer Methi, Paneer and Aloo Paratha along with Chana Masala, Mutter Pulao and Butter Milk. The parathas didn't take much time and are quite big.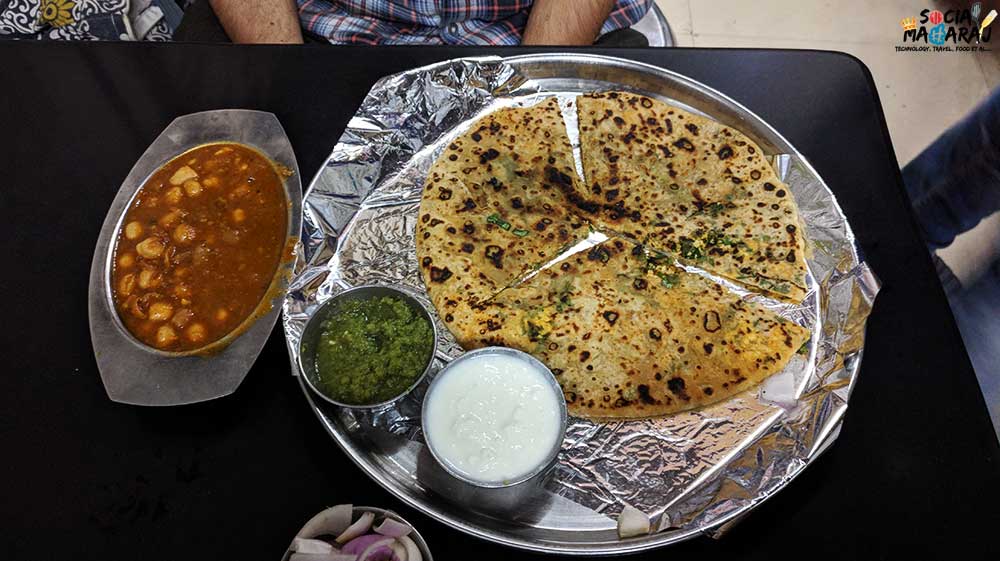 The Paneer Methi Paratha was a unique combination that I had for the first time. I truly enjoyed the combination. The Paneer Paratha was simple and so was the Aloo Paratha. One thing common is that there is generous stuffing in every Paratha so you'll love it. Moreover, each plate is served with chutney. If you want, you an order a small bowl of curd and white butter at Rs 10 each.
Complete Meal at Popular Punjabi Paratha
The Chana Masala was finger licking good. It's been quite some time that I've had such delicious Chana Masala in Hyderabad. It actually reminded me of few eaters in Delhi. The Mutter Pulao was simple and loaded with veggies. It was very close to Tehri – my friends from North India can relate to this. The amount too was good enough and the quality of rice used was good too.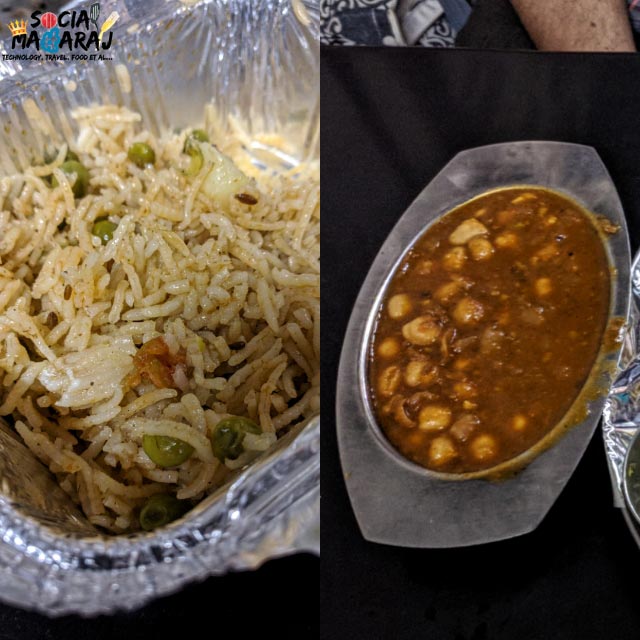 The menu of dal, curries and rice is rotating at Popular Punjabi Paratha. For instance if you want to Kadhi Chawal you need to head there on a Monday. Similarly if you want to taste Dal Makhni, Rajma and Shahi Paneer, you need to visit on a Sunday. However, all the parathas and Sarson ka Saag is served everyday.
Final Verdict: Must Visit Popular Punjabi Paratha
There are few places that I highly recommend and Popular Punjabi Paratha is surely one of them. If you are at PG Road and want to relish Punjabi flavors, visit Popular Punjabi Paratha House for sure. Don't go by the size of the restaurant, the taste will surely blow you away. The parathas are delicious and have a generous stuffing. The service is quick so you don't have to wait much. The owners are extremely polite and gentle and will ensure you have a great time.
Coming to the cost, I paid about Rs 425 for 3 parathas, one rice, one curry, a curd and 3 butter milk. I'd say that's definitely a value for money meal. What are your thoughts ? Have you been to Popular Punjabi Paratha ? What flavor would you like to try ? Mention in the comments below or tweet to me at @Atulmaharaj and follow me on Instagram.