For the 5 years that I've been staying in Hyderabad, there's one thing I always complain about the city – Events. The city doesn't host big events and exhibition.Except for Numaish and few other small events, haven't seen anything happening on a large scale. If you are from Delhi/NCR you probably know what I'm talking about. India International Trade Fair, Auto Expo are some of the biggest events in the country. One of the smaller events that I recently attended was BYOB – Bring Your Own Belly in Hyderabad. This post is coming in almost a week late and I'm unhappy either. I was busy meeting my CEO 😉 Head over to LinkedIn, I'm not joking !
BYOB – Bring Your Own Belly
With the industry moving towards BYOx (x=Device, Drink, Bottle etc), I really liked the name Bring Your Own Belly. Also this was the second edition of the event and I had absolutely no idea about this last year. At first, I thought this is the same Hyderabad Ultimate Food Fest re-branded. (One of the below average food festival I went to in Hyderabad) The venue is the famous Hitex Exhibition Center's parking lot. BYOB is all about food and some pop-up stall selling some cool items. Most of the stalls in the festivals are from well known restaurants and food chains in the city. There's also a designated kids area along with seating area and a center stage. Music performances are planned during the evening.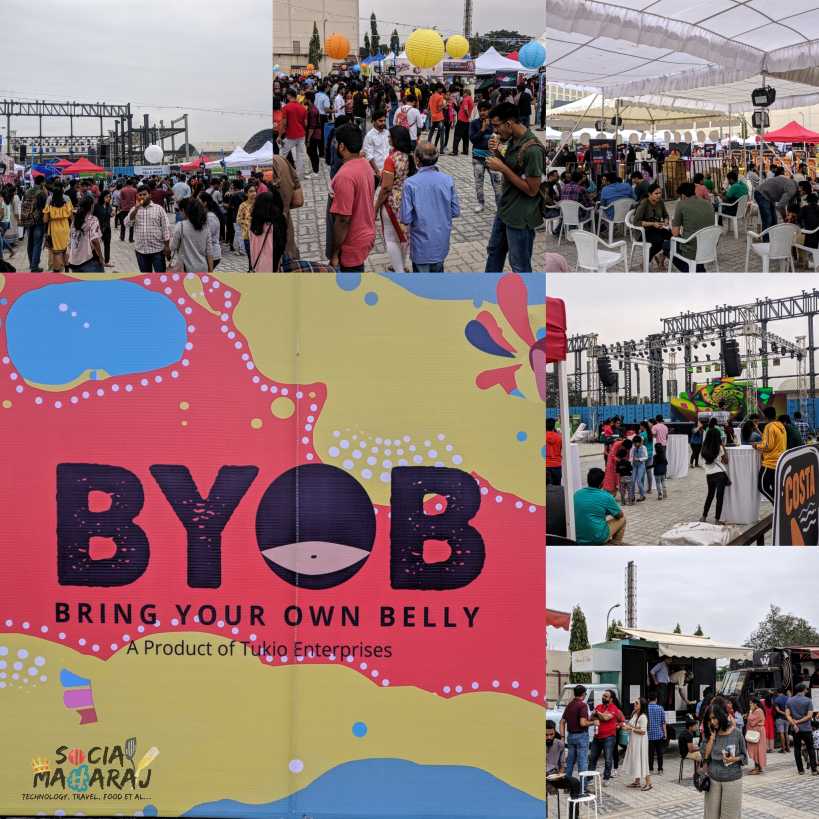 Food that I liked at BYOB 2019
I was in here with my family to enjoy the Sunday brunch. One of things is that almost all the stalls were up around noon which is good. Unlike, HUFF where almost nothing was there till early evening. Though I'm planned most of the time, this time around it was all haphazard. Though I didn't try many things, sharing a few I tried at this year's Bring Your Own Belly Food Festival.
Ice Creams at Vintage
I started with the Chuski and Mango Sorbet at Vintage Ice Cream stall. The Chuski was overpriced like diamonds. I mean ₹50 for it, I remember paying ₹1 back in school days. Anything around 20 would have been good. The Mango Sorbet was really delicious. Didn't have the typical artificial flavors and real mango. For ₹100, this was worth. I don't know if they have a store in Hyderabad. If they have, I'll surely visit them some time.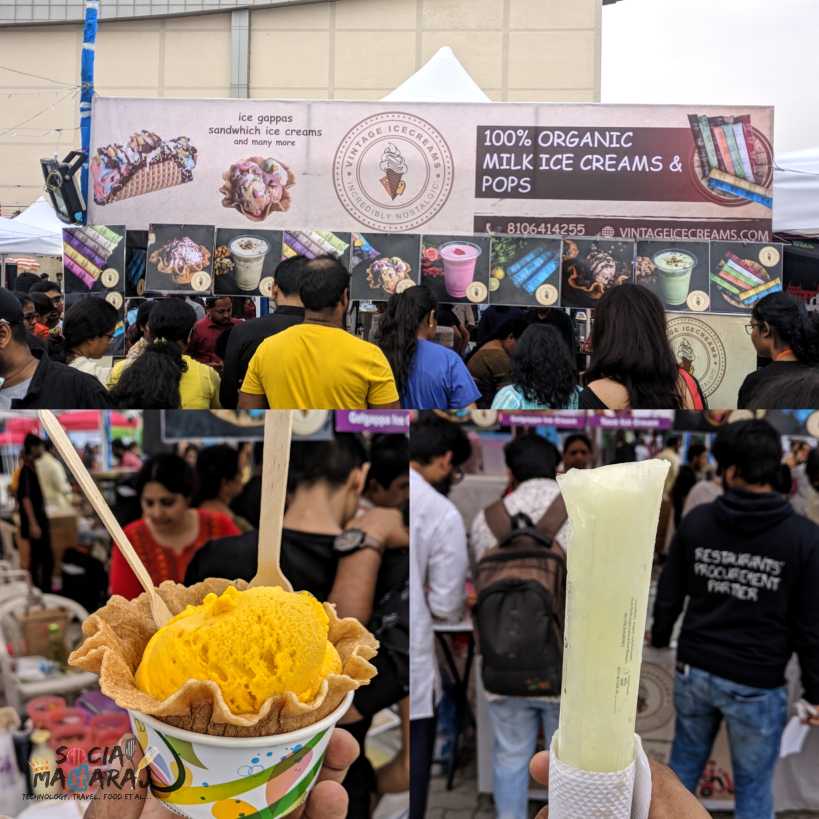 Droolworthy Rolls at Khan Saheb
Though I'm a vegetarian, I absolutely get pulled in by kebabs. Any place I see kebabs, I can't stop myself. Such was the case when I stumbled upon the Khan Saheb stall. Mostly non veg, they had Paneer Tikka Roll and Veg Kebab roll. Among all the Chicken and Mutton skewers, there was one tiny Paneer skewer at the fag end of the grill. For ₹150, the Paneer Tikka Roll was really good. The marinate was spicy, tangy and full of flavor. I'll hunt for their store in the city and talk about it in a post.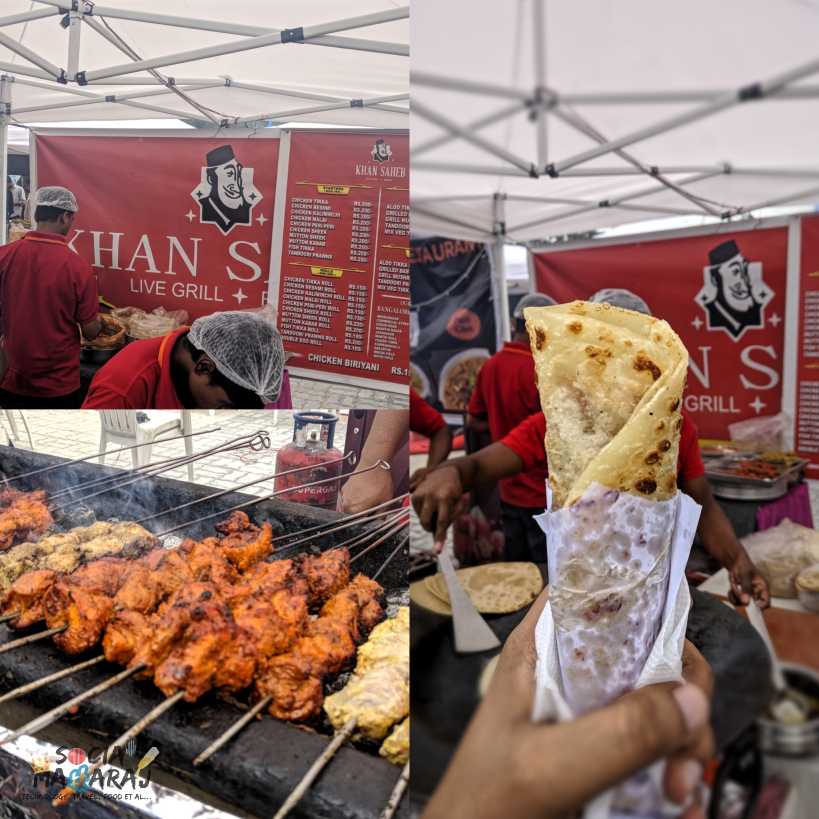 Desi Chat at Kolkata Chat
Next stop was the Kolkata Chaat House. The stall was set however there was chaos in there. And hence I ordered just three dishes – Ghughni, Dahi Puchka and Pani Puchka. Ghugni to my surprise was mattar(peas) and not chana(red bengal gram) My poll on Instagram revealed that people in Orissa, Kolkata use Mattar for Ghughni. Anyways it was that tasty. The other items too weren't up to the mark.
Pizza at 10D Express
The next item was pizzas at 10D express. My parents do relish Pizza once in a while and Sunday was the time. Ordered a Paneer Tikka Pizza for ₹250. The thin crust pizza was made fresh, however they used ready made pizza base. Nevertheless, the Pizza was good. Not too saucy to ruin the taste of everything else. Paneer was soft and the veggies along with it were crisp. Overall, a good deal.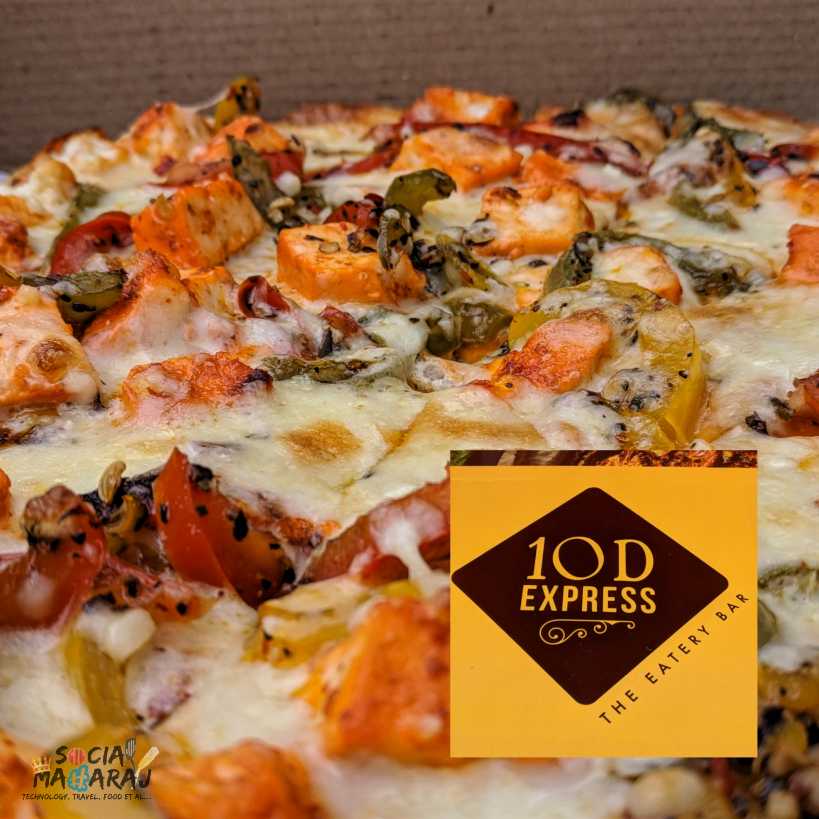 Mojitos at Frykiki
One of the most crowded stall at that time was Frykiki. The girl at the counter would have been amazed and terrified at the same time. The waiting time was quite long but nevertheless I joined in. They were serving the spiral potato chips, World's longest french fries and few drinks. Since I was already full, I tried Virgin Mojito and Kaccha Aam Jeera Mojito. The Virgin Mojito was bland, could have been much better while the other was better though not great. Probably, drinks aren't their forte. Again, if they have a store, I'll try to visit them before making any comments.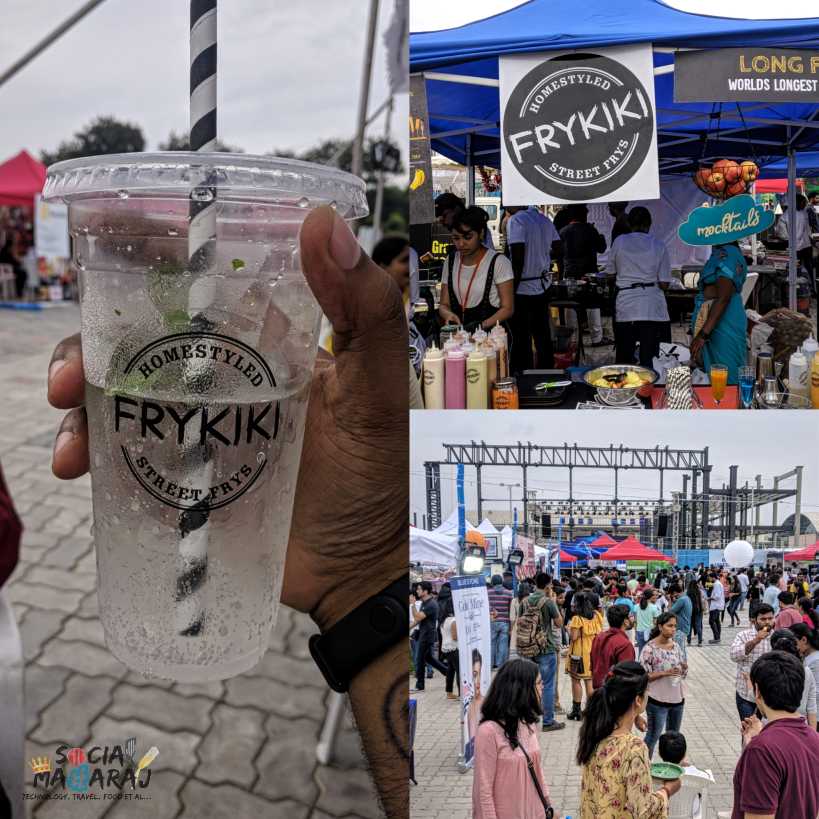 Healthy Microgreens at Zeptogreens
Among all the food counters, I saw this really green pop up stall having plants all over at Bring Your Own Belly 2019 These weren't the typical plants that you might put in your garden. When inquired, these were microgreens. Apparently, the plants when consumed at a tender age have more nutrients. Folks at Zeptogreens gave me few twigs of Sunflower, Peas and Raddish to taste. I was skeptical of eating them, but really liked the freshness and flavors. More details about Zeptogreens in upcoming post.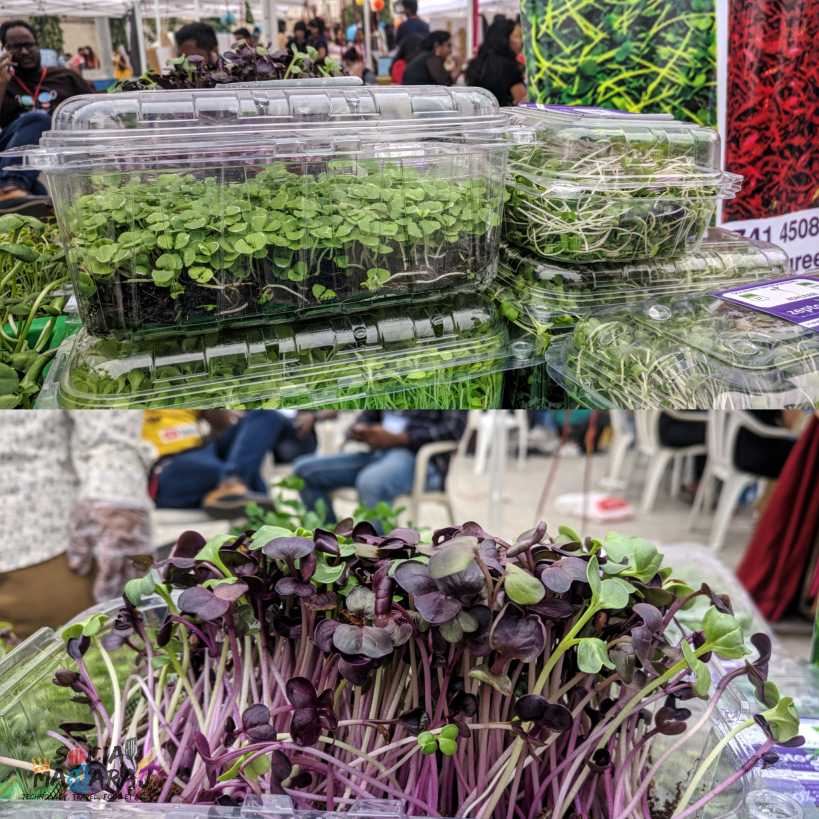 That's a Wrap at Bring Your Own Belly – BYOB 2019
Like I said, I didn't stay till late night for the music show. Though most of my foodie friends did come in the evening (expected). BYOB 2019 was a good time spent. The ₹200 entry pass was fair enough as the y gave a lot of vouchers along with it. Not only food and drinks, there were stall selling art & craft items along with snacks. I bought few packets for Gajak also. Overall, the event was nice. A good time to hangout with friends, enjoy food and drinks and dance to the groovy tunes in the evening. Next year, I'll try to be there in the evening and experience it. Were you there at BYOB 2019 ? How was your experience ? Mention in the comments below or tweet to me at @Atulmaharaj