Continuing from my last post where I talked about my experience of Bring Your Own Belly Food festival, I came across this stall with too much of greenery. They had tiny little plants – microgreens – that were only on offer. Not only they were green, they were fresh too. And that was the reason, I went up to the stall and inquired about it. At first I wondered it was some gardening tools, service thing. But I was wrong. The stall was setup by Zeptogreens with their motto microgreens for macro benefits. So what are microgreens ? What are the benefits of Microgreens ? Are Microgreens healthy ? All these questions and much more answered here.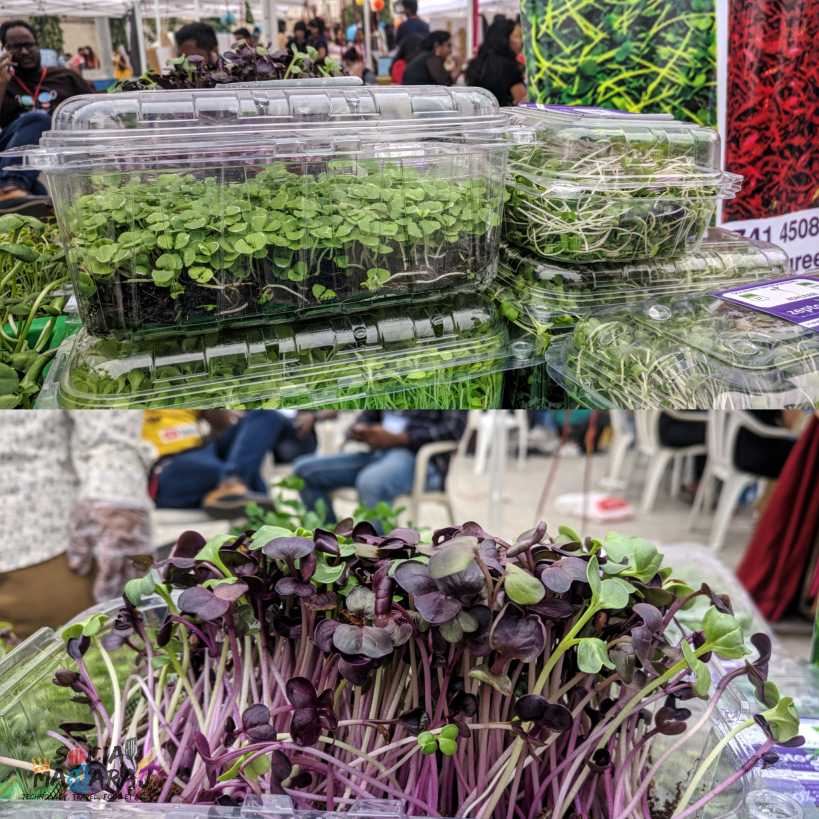 What are Microgreens ?
Microgreens are young vegetable plants, baby plants. They are not too tall and are tender. Since they are young, they have intense flavor and aroma along with very high concentrated nutrient content. Are Microgreens sprouts ? Well, not exactly, they are bigger than sprout but smaller than a baby plant. At the Zeptogreens stall, I was greeted with few microgreens – Sunflower,Pea Shoots and Radish Purple.
Are Microgreens healthy ?
Absolutely, Microgreens are healthy due to their high nutrient content. Since the plant is still in the growing phase and hasn't fully developed, the baby plants are rich in nutrients. They are a good source of antioxidants that have many benefits.
Benefits of Microgreens
Microgreens come with a lot of benefits with them. Like I mentioned earlier,they are a rich source of nutrients and vitamins. Further nutrient content is concentrated which means it has the same of nutrition that a mature plant may have. Since eating vegetables is linked to lower risk of many diseases, microgreens have a lot of health benefits.
So too much of Gyaan on Microgreens already. I'm sure most of you would want to know whether microgreens are tasty or not. I mean when you literally pluck a twig from the soil and eat, you should be sure on how it tastes. So here's my experience of trying microgreens from Zeptogreens. The team was kind enough to send in a few samples of microgreens 🙂
Zeptogrees – My Experience with microgreens
The first time I had it was at BYOB event and that too the Radish purple. It was delicious, the flavor was strong and since it was plucked fresh from the soil, it tasted even better. The other variants of microgreens that I tried were Sunflower, Pea Shoots and Broccoli. One thing that I would like to point out is that, you need to have a sensitive palate to appreciate the flavors. Most of you might feel that all of them have the same taste. No, that's not the case. One way to feel the difference is have them in good quantity.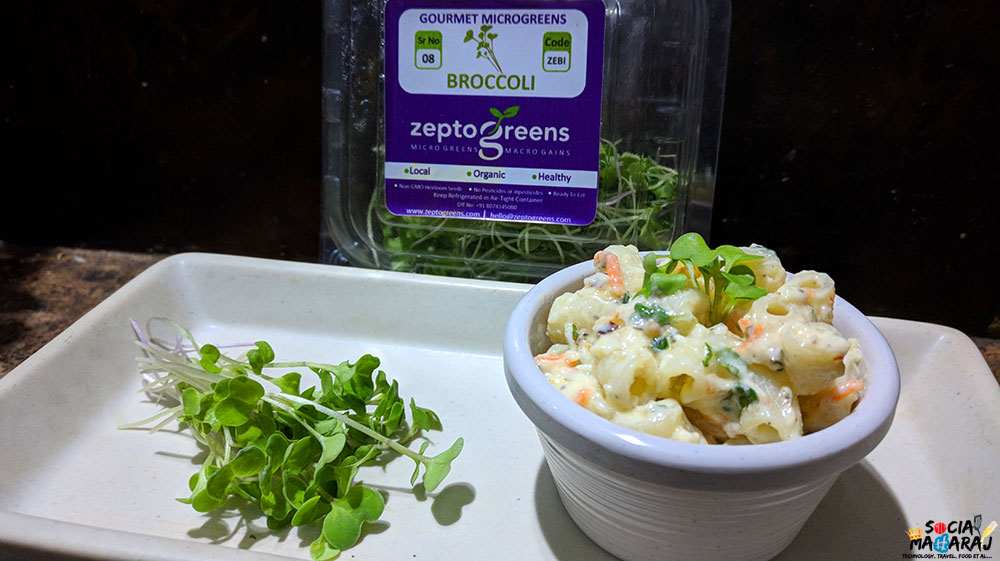 How to use Microgreens ?
So when I received the two boxes, I wondered what should I do with them. The sunflower one I ate just like that. For the Broccoli one, I decided to cook up a Cold Pasta Salad. The recipe is pretty straight forward. Boiled some pasta, added a little bit Mayo and cheese with some bell peppers along with a generous dollop of Broccoli microgreens. Broccoli microgreens have a strong flavor with a tinge of spiciness which varies based on the amount you use. From the variants I tried, I would have loved if they send in Radish because that had a unique flavor and aroma.
How do you buy microgreens ?
Not that you cannot grow your own microgreens in your kitchen garden, it requires care and attention at the same time. And with the busy schedules we all have, there's not much attention that can be given. Comes in Zeptogreens, producers and suppliers of fresh microgreens in Hyderabad. They provide easy option to buy microgreens in form of subscription. They have about 36 varieties of microgreens on offer and you can subscribe to them using their weekly to yearly plans. Sounds interesting ? You can check out their trial packs available here. So what are your thoughts about microgreens now ? Don't you want to try them ? Mention your thoughts in the comments and tweet to me at @Atulmaharaj