It has been more than a decade since YouTube started. It did start a revolution with the rise in vloggers, reviewers and web series. However, with the passage of time, attention span of people dropped and they were looking for more short form of content. Even before Twitter Audio tweets came in, stories – pioneered by Snapchat – was a common feature across Facebook, WhatsApp, Instagram and Twitter (fleet) followed by TikTok.
Similarly, podcasting is a going to start a new revolution. It is already popular in the west and slowly gaining popularity in India as well.It was just catching up, but then Twitter launched Twitter Audio Tweets.So will Twitter Audio be the new Micropodcasting platform ?
Twitter Audio Tweets – Share your voice with the world
Twitter has been experimenting a lot lately. The UI on the mobile devices have been changing quite frequently. For instance, now you are able to see the retweets based on how many of them were with comments and how many were plain retweets. Such minor changes kept happening, however a few ago the world woke up to Fleet. A new feature (for Twitter) which allows the users to share updates in form of text, images and videos in their profiles which disappear after 24 hours (err…sounds familiar) but let's Fleet.
You can Tweet a Tweet. But now you can Tweet your voice!

Rolling out today on iOS, you can now record and Tweet with audio. pic.twitter.com/jezRmh1dkD

— Twitter (@Twitter) June 17, 2020
The world was just getting used to fleet, the little birdie decided to launch Twitter Audio Tweets. Though the feature is only available for iOS as of now, it will be rolled out to other OS soon. (haven't got it yet on my iPad Mini 4) In it's current phased approach, quite a few people have received the feature and have used audio tweets. Twitter Audio provides you the ability to share an audio clip in your tweet. And how do you do this ? Well, refer to the tweet above by Twitter on how to use Twitter Audio Tweets and share audio tweets.
Changing the face of sharing audio
Back in March 2006, the little blue bird came into existence. Ever since, it has become a platform to find trending events across the globe. It has also become of the best ways for celebrities and government authorities to connect with their fans and people respectively. Dubbed as a microblogging platform, Twitter started with a character limit of 140. It's been a year or so since that limit was doubled to 280 characters. This along with a lot of other features like twitter threads, images in retweet, polls etc. have been added over the years.
Love this new feature on #ios #audiotweets 🤗🤗 Thanks @IamHiralRana for letting us know 🤗🤗 pic.twitter.com/E1sIXt8F2R

— Dr. Falguni Vasavada-Oza (@falgunivasavada) June 18, 2020
With the launch of Twitter Audio tweets, the whole podcasting landscape is going to change. It is a space where no major social media company has entered. All the social media apps are either into images or videos, and Twitter is the only one with this audio tweets feature. With a limit of 140 seconds with Twitter audio tweets, it provides a great way for anyone to share their views. Moreover for brands, Twitter Audio tweets have hit the right chord. 140 seconds – which is roughly around 2 and a half minute – it's a good time for any brand to share a jingle or a teaser.
Twitter Audio Tweets – the new Micropodcasting platform ?
Podcasting like I said is quite new for many of us. However, many people have not shied away from using the platform (and some people are planning to start too) With the rise in podcasting apps like Anchor, it has made the whole process of creating a podcast easier. With just a smartphone and an active internet connection, one can create and host a podcast for free. There's no need to have an expensive setup too.
With the introduction of Twitter Audio tweets, I think this is going to change. Many people/content creators who want to test the waters before taking a dive into podcasting, Twitter Audio tweets would be the best way to do so. And the 140 second limit is quite generous for anyone to convey a message.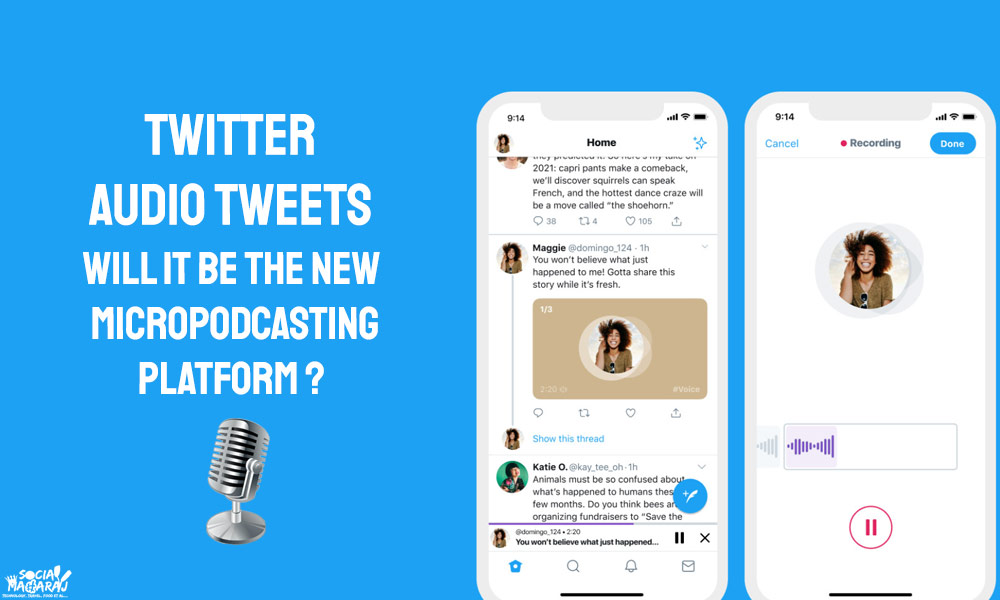 I feel that recording an audio is preferred a lot by many, based on the WhatsApp conversations I have with my friends and colleagues. Just like we had a barrage of content creators on TikTok, we might see a lot of users trying out Twitter Audio tweets. It is a great way to share quick updates, a teaser or a trailer for your main content.
Twitter – From Microblogging to Micropodcasting
140 is a number that is synonymous with Twitter. First it was the number of characters in a Tweet, now it is the length of an Audio tweet. With the rise in podcasting and many people turning to it, Twitter seems to have done their homework. They know where they are going with this, it's just that the public needs to accept it. (Which they eventually will as time passes by)
Will I use Twitter Audio tweets ? I haven't received it yet on my iPad mini. However once I get it, I'll surely give it a try. I've tried Twitter fleets already, the UI is great, but haven't been posting much there lately. Audio tweets is an interesting feature for sure. Especially for someone like me who doesn't come too much on the camera or shoot a self video and share. With the ability to share my voice, it does sound interesting !
What are your thoughts on Twitter Audio tweets ? Do you think it will revolutionize Podcasting ? Do you think it is the era of micropodcasting ? Share your thoughts in the comments below or tweet to me at @Atulmaharaj or DM me on Instagram.