I am a Foodie and I do eat out a lot. Be it a luxe fine dining restaurant, or a road side shack selling lip smacking vada pav, I have everything. I also love to travel and venture out whenever I get a chance. I'm one of those people who'd say "I belong to the mountains" having spent most of my schooling days in Panchgani. However, even though I love to do these things, I can't do them always. After all, home is where the heart is and ghar ka khaana is above all.
Similarly having shifted bases across the country during my childhood, I miss those moments. Those days of playing cricket in hot summer days followed by a glass of aam panna or aam ras or even jaljeera for that matter.
With the hectic schedules, preparing these drinks at home is a luxury that not many have. So few years back folks from Paperboat heard my concerns and gifted me some of their drinks. Ever since, whenever it's summer my fridge has to have a pack of their Aam Ras, Aam Panna and Anar. I have loved the original flavors Paperboat gets in their drinks. Just when we are at the fag end of summer, folks from Paperboat sent in these Paperboat Buttermilk – their newest offering. And in this post I'd sharing my views on the Paperboat buttermilk 🙂
Below is what they sent me a couple of years back 🙂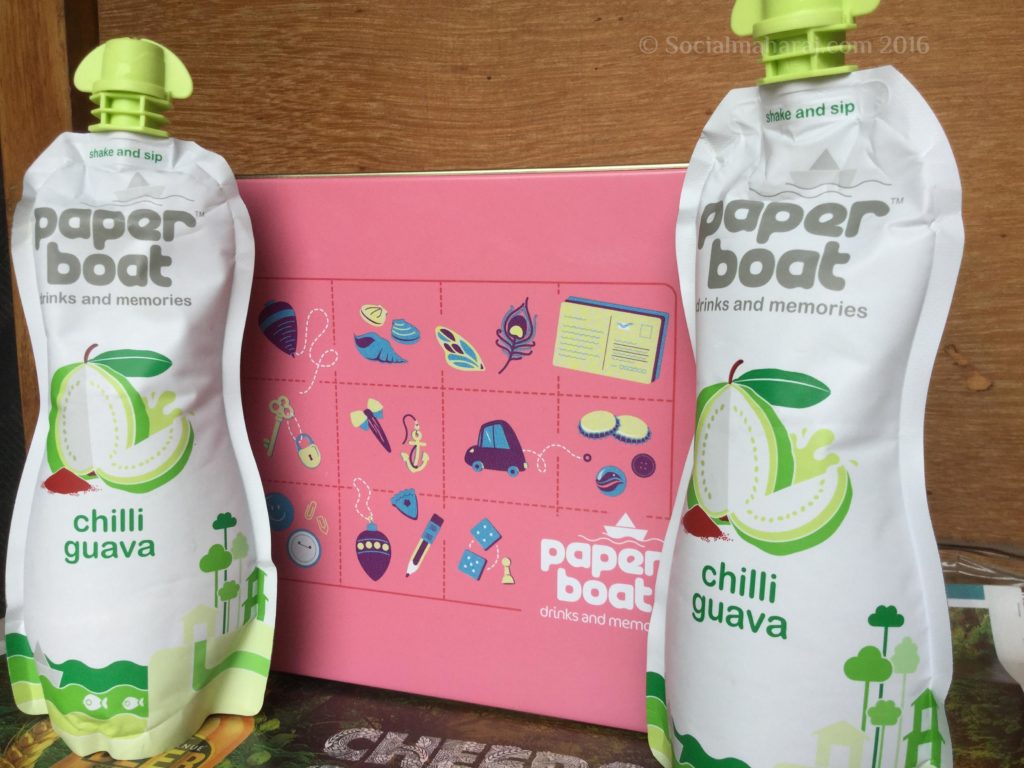 I love Buttermilk. Do You ?
If I'm given an option to choose between a cool drink and buttermilk, I'll definitely pick buttermilk. Blame it to my childhood days that I spent in Gujarat from where I picked up this taste. Every thali ended with a generous serving of Chaas. Luckily I've found some good chaas here in Hyderabad at Ohri's De Thali. (You should try it if you are in Hyderabad) So when the good sailors at Paperboat told me about buttermilk, I was on cloud 9. I've had quite a few other ready to drink butter milk in the market, so what's special about Paperboat buttermilk ? Read on to find out more.
Paperboat Buttermilk – What's special about it ?
First things first, a big shout out to the team for sending in the products in literally a gunny bag made from jute ! The package had all the four variants of Paperboat buttermilk – Coriander, Southern Masala, Jeera and Pudina buttermilk. Packed in their trademark package I felt they could have used the white color packaging instead. The green does make it stand out, however I love the white packaging. So quickly those went into the fridge and I finally tasted it and… 🤩
Things to know about Paperboat butter milk
Paperboat Buttermilk range is enriched with Vitamin D. It contains 50% of the daily requirement of Vitamin D and Vitamin B12. And it even carries a disclaimer that you shouldn't drink more than two packets in a day!
Paperboat drinks have always been about no preservative and no added color. And that's one of the reasons their drinks taste so different.
They have four variants of Paperboat buttermilk, I haven't seen any other company have that many variants of buttermilk. Each variant has a distinct taste.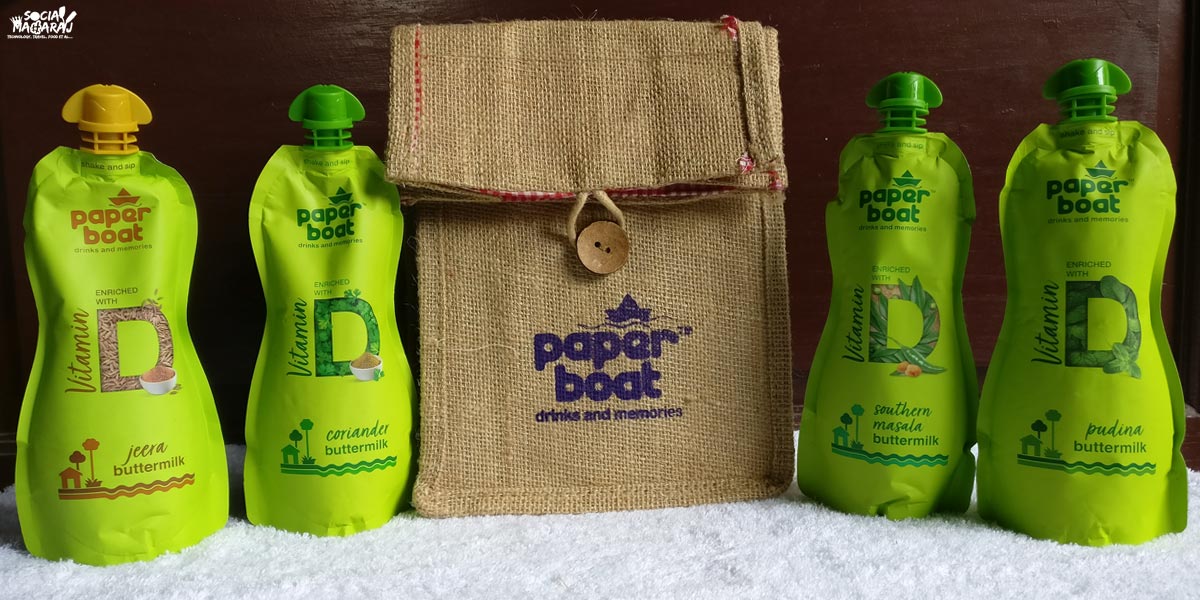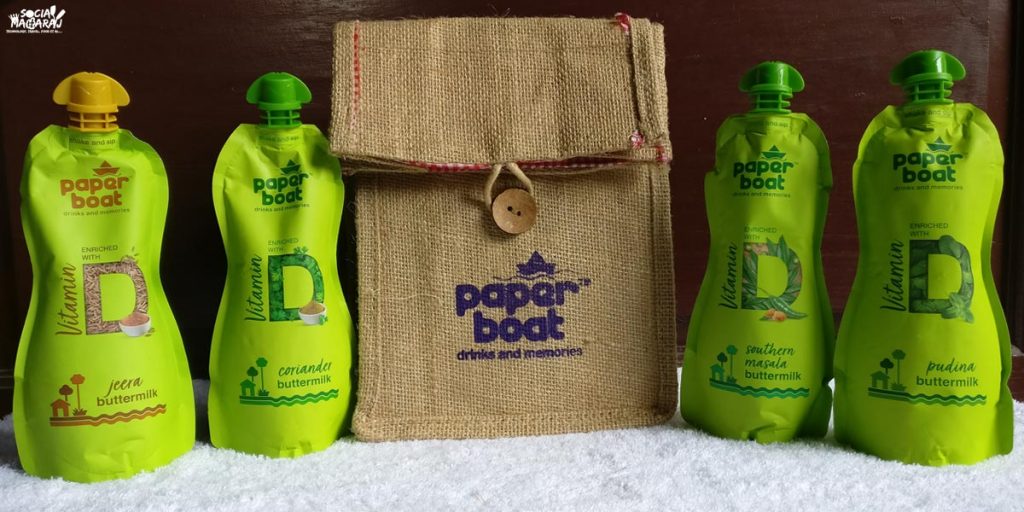 And Paperboat Buttermilk tastes…
So after spending a good couple of hours in the refrigerator, it was time for test (taste). I first started with the Southern Masala buttermilk. Now, if you stay in south, I'm sure you would have had a curd rice at a restaurant. This flavor tastes somewhat like that. You get a faint flavor or Curry leaves, mustard tadka sort of, lots of ginger, and chilli that hits you in the throat. For someone who doesn't like South Indian flavors might not actually like this.
And here's what we've got: @paperboatdrinks all new Buttermilk range enriched with Vitamin D.
Available in 4 flavors:
Southern Masala
Jeera
Pudina
Coriander

Which one you'd like ?#Foodie #FoodBlogger #Socialmaharaj pic.twitter.com/LjqUrD8T2s

— Atulmaharaj (@Atulmaharaj) June 17, 2020
The Jeera one is the basic one and tastes like any other buttermilk. Not to salty and neither too creamy. With a tinge of black pepper, one might find this a little spicy. The Coriander buttermilk tasted..uh..chemically. They've tried to get the flavor quite close to that of coriander but the initial flavor isn't of coriander at all. The Pudina one is quite refreshing. However, I'm not a big fan of Pudina if isn't in a Virgin Mojito 🤷‍♂️
Overall, the new Paperboat buttermilk is a good offering. The taste is good and refreshing if served chilled. Isn't too creamy and neither too watery . They've always worked towards getting those good days back with their refreshing drinks. Be it their fruit drinks or these, they are quite good. In case you would like to order it, here is the link to Amazon 🙂
In terms of taste, this is how I'll rate the variants of Paperboat Buttermilk:
Jeera – 5/5
Southern Masala – 4.5/5
Pudina – 3.5/5
Coriander – 1.5/5
Buttermilk or cola ?
By now, you already know that I'm a buttermilk fan. In fact my fridge has at least a couple of packets on an average. With the lock down on and work from home (:() going on in full swing, I walk a lot to the kitchen to inspect my fridge if anything new just came in it. And that's usually when I take a glass of it and chill out in the afternoon. Now with these delicious Paperboat buttermilk, it's time to leave all the worries and chill.
So what side are you on – Buttermilk or Cola ? Leave your comments below or tweet to me at @Atulmaharaj or DM me on Instagram. Further, as mentioned earlier, this package was sent in by Paperboat for review. However, the review is honest as always 🙂