It's that time of the year when the sun is beating hard as students are busy wrapping up their exams before going in for the summer vacation. April,May, June are the months when the temperatures are at the peak prompting everybody to stay indoors. Further it's also the time for the 'King of Fruits' to take center stage along side the 'desi' drinks like Aam Ras, Jal Jeera, Aam Panna, Kokum to name a few. I remember carrying a separate bottle with any one of the above drink to school apart from the regular water-bottle. One of the fond memories that I have of my school days is sprinting towards the school gate after the bell rang only to find a couple of aunties selling Tamarind and Guava that they served with a 'magical' masala ! Well, now I certainly cannot get back in time (until unless I had any time machine) but I can surely enjoy memories with Paper Boat's range of refreshing drinks. A big shout out to the Paper Boat team for providing the awesome drinks and giving me a chance to go back in time 😉
Paper boat is no newbie to the Indian market, thanks to their amazing, refreshing advertisements which definitely got us talking. And just like their wonderful adverts their drinks are equally good too. Right from their packaging which is simple yet elegant to the 'quirky' bottom line. (Well, I guess the folks at Paper Boat took the 'bottom line' part a bit seriously and hence decided to actually put it at the bottom of the pack !) Don't miss out on their bottom line 😛 So a big shout out to their design and creative team for their quirkiness !
Talking about the real stuff – the drink – the best part that I personally like about Paper Boat is that their drinks are pulpy and don't seem watery like many others. The drinks definitely taste very close to the actual flavor of the fruit. I was skeptical about trying their product initially, but today they have found a new home in my refrigerator. I've tried most of their variants including Jaljeera, Aam Panna, Aam Ras and the newly launched Chilli Guava. (Sipping the Chilli Guava) Their Chilli Guava variant has a lot of guava in it with a dash of chilli – the perfect combo surely to remind you of the Guavas with the 'magical' masala that you had during your childhood days. The Chilli Guava packs a punch thanks to the unique combination of Chilli and Guava which is quite refreshing. One good thing about their drinks is that they don't have any after taste and keep you hydrated for long.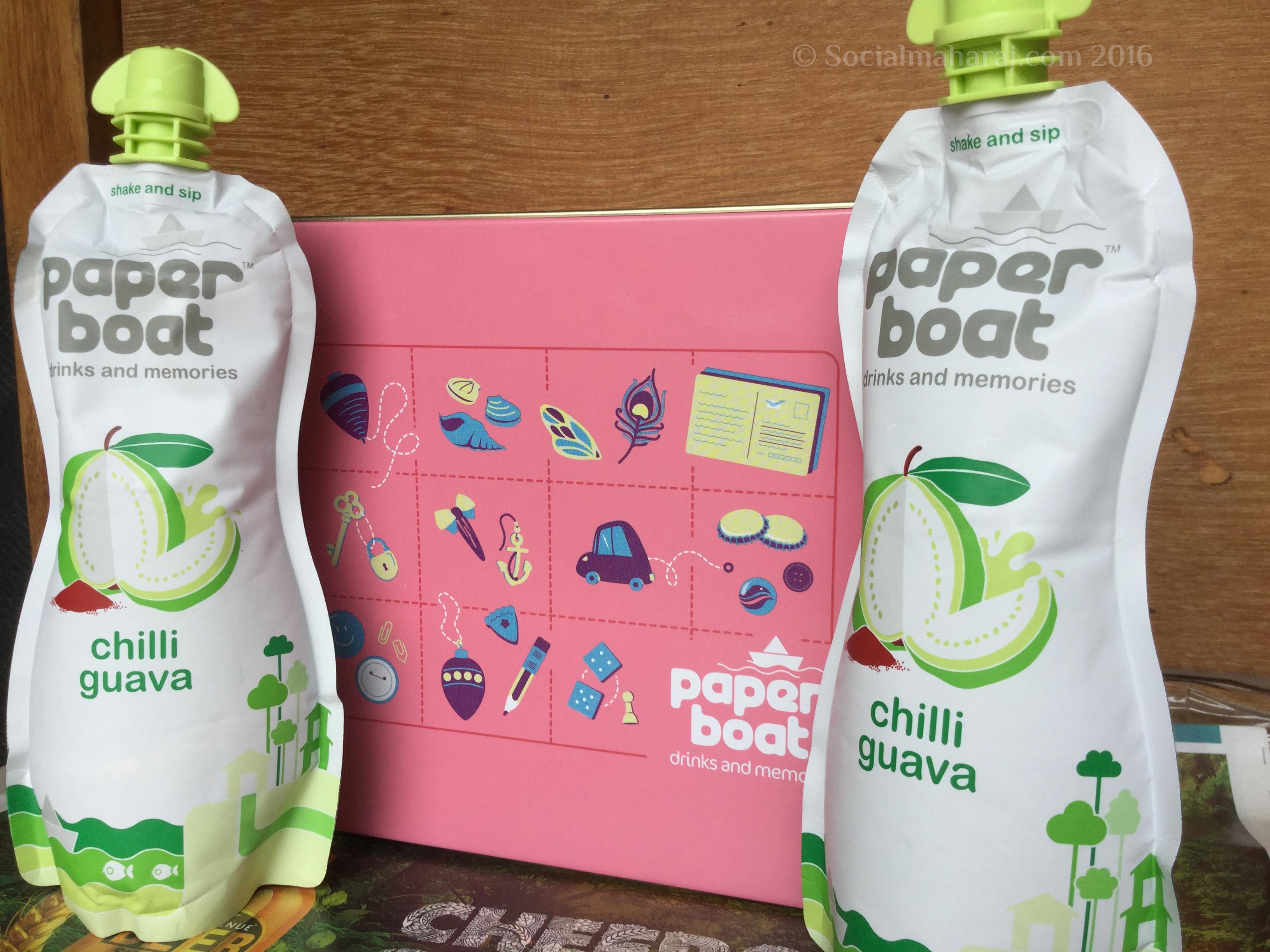 The USP of Paper Boat is their constant innovation to try to reinvent those special drinks that were behind the four walls of the kitchen till now. Who would have imagined getting Aam Panna at their will ? With so many variants on the shelves and many more in the pipeline, I'm sure the chefs are working day in day out to get that perfect taste. I would love to see Saunf Sherbat or Bel sherbat coming soon 😉 Meanwhile you can Shop Awesomeness on Amazon !
Have you tried Paper Boat's drinks yet ? How was your experience, share them with us !