I've spent more than a decade as a kid in Gujarat. We've shuttled between Amdavad and Baroda many times. However back then, neither my parents nor I were bitten by the travel bug. While we did travel to places like Diu, Dwarka, Somnath, but I have a very faint memory. And this is about a couple of decades ago, so things have changed a lot since then. So when I was invited to the largest Bloggers Meet by Gujarat Tourism and Ministry Of Tourism, I had the opportunity to explore a lot of places in Gujarat. I visited Rani Ki Vav – the place on ₹100 note followed by an incredible stay at Rann Utsav Tent City.
You know I was quite active on Instagram posting stories about my stay in the tent and many people reached out to me to know more about booking tents in Rann Utsav. So this is a complete Rann Utsav Booking Guide for you. This is the most comprehensive Rann Utsav Tent City guide you can find on the internet. And why do I say that? Well because I spent time visiting all the tent options at tent city and have seen and experienced all of it.
So go ahead and see what's best for you and plan your trip to Rann Utsav.
Complete Rann Utsav Tent City Guide
Rann Utsav is the most popular festival in the state of Gujarat. What started merely as a 3-day event is not a couple of month-long festival. You get to witness the local culture and tradition along with delicious food and obviously the white Rann. This event has led to speedy development in the district of Dhordo – the place where Rann Utsav takes place.
One thing that I was asked a lot is whether Rann Utsav tent city is the only place to stay? The answer is no. There are a lot of tent and resort options around the area. There are also places that provide you stay in a traditional Kutchi house called Bhunga. This one is by Lallooji and Sons is possibly the most popular one. We were here for a couple of days and hence I thought to pen down this comprehensive Rann Utsav tent city guide for you.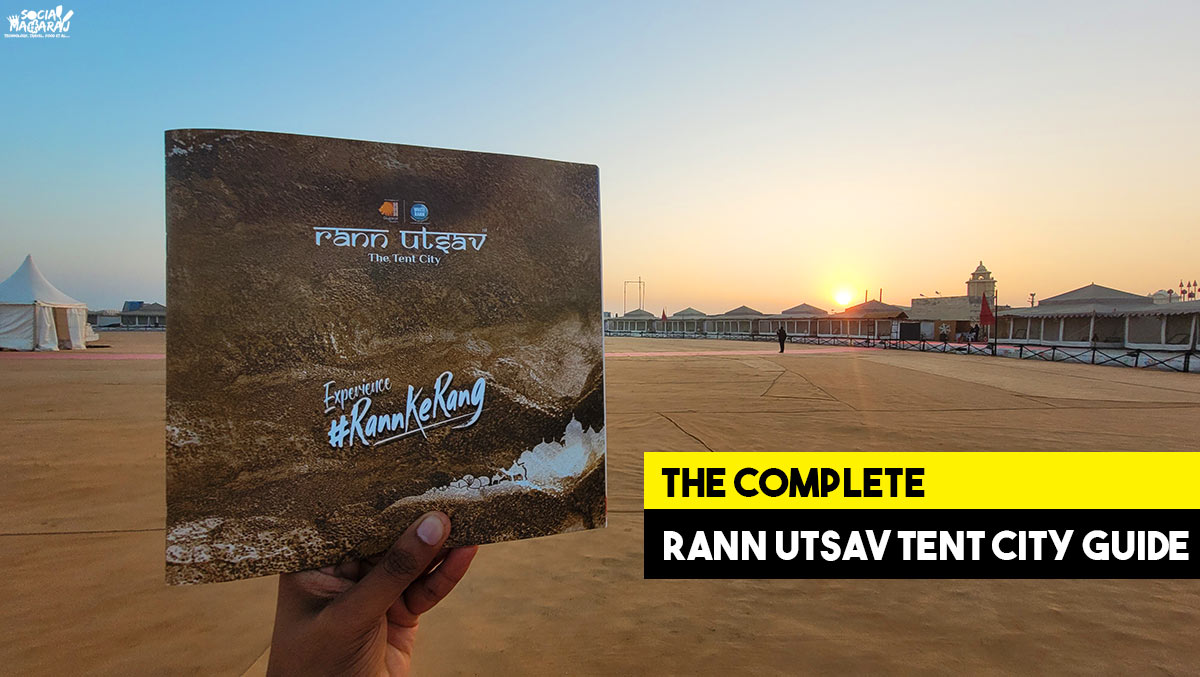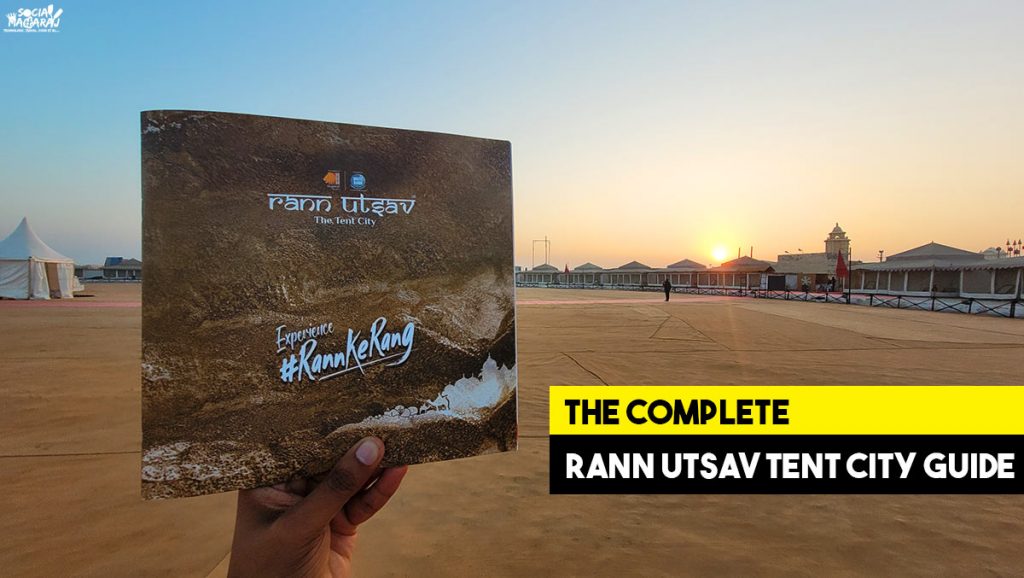 Rann Utsav Packages
Rann Utsav tent city provides set packages which range from 1 night to 3 nights. Based on your requirements you can choose any of the packages. With each package, you can choose the type of tent you want to stay in. All Rann Utsav packages include breakfast, lunch and dinner. And accordingly, the prices vary. Below are the details of various packages available at Rann Utsav Tent City.
1 Night / 2 Days Package
This is the basic package that you can opt for. Day 1 would start with your pickup from Bhuj railway station or airport. They have a bus service that will pick you up. From there you'll have your checkin and lunch done. In the evening, you're taken to White Rann to enjoy the sunset after high tea. Sunset at White Rann is a must during Rann Utsav and you get it in the basic package.
You return for dinner and attend the various cultural events that are arranged in the tent city. Day 2 you can start with a Yoga session, followed by breakfast and checkout. You are also given a complimentary tour of Bhuj before being dropped to Bhuj Railway station or air port.
The 1 Night Package at Rann Utsav Tent City is the most basic one that you can opt for. While it includes the sunset, I feel this duration doesn't do justice to Rann Utsav. Hence, if you can opt for the next package.
2 Night / 3 Days Package
The first day itinerary is same as the earlier package. You witness the sunset at White Rann and spend most of the time exploring the tent city. On Day 2, you start with Yoga session followed by witnessing sunrise in White Rann. The bus leaves at 6:30AM sharp from the tent city. So make sure you're ready by this time for the sunrise.
In the afternoon post lunch you can enjoy some in house activities or opt for complimentary sight seeing of places like Kalo Dungar (Highest point of Kutch) and visit the local handicraft village Gandhi Nu Gam. Day 3 again would be similar to the first itineraray where you have breakfast and checkout from the tent city. You're again provided with a sightseeing tour of Bhuj.
The 2 Night Package at Rann Utsav is the best value one based on my experience. I had an incredible experience at Rann Utsav Tent City where we stayed for 2 nights, but since we were on invite, we got to visit additional places too. However, if you still have time at hand, you can opt for their most elaborate package.
3 Nights / 4 Days Package
The frist day is common across all the itineraries so you just check in, have lunch and explore the tent city. Day 2 you can start with the Yoga session followed by breakfast. Post that you're taken to Mandvi beach followed by a visit to Shyamji Krishna Varma Memorial. Shyamji was one of the foremost freedom fighters from this region. This is followed by a visit to Vijay Vilas Palace, one of the highlights of the trip. Post lunch you can enjoy some we time at a private beach and end the day with dinner and cultural events.
Day 3 starts by visiting the White Rann to witness the sunrise. Post breakfast you spend time exploring the tent city and enjoying the in house activities. Post lunch you can visit Kalo Dungar, Gandhi Nu Gaam followed by dinner in tent city. On the final day, you check out from the tent city and are provided with a complimentary sight seeing of places of interest in Bhuj.
Overall, this is the package that covers most of the places of interest in the region. However, there are a lot of other places around the tent city that you must visit. These are available as add on activities to your package and charged extra. I'll talk about them in a separate blog post.
These are all the packages that Rann Utsav tent city offers. Of all the packages, the 2 Nights/ 3 Days package is somewhat the most value for money and time package. You spend a considerable in the White Rann and soak into the local culture of Kutch. The prices of all these Rann Utsav tent city packages vary depending on the type of tent you choose to stay. So in the following section, I talk about the types of tents at Tent City.
Types of Tents at Tent City
The Tent City is spread across 500,000 sq mt of area which is massive. It has more than 300 tents and a large activity area. No wonder it's called tent city. Rann Utsav tent city has 5 types of tents for you to choose from. Based on your budget and group size, you can choose the best tent at tent city for you.
Darbari Suite
This is the epitome of Luxury. The 1600Sqft 2 bedroom tent is a sight to behold. It has a living room, king size beds, private dining areas and everything else you can think. It has all the amenities right from an AC to heater, flat screen TV, minibar and a proper bathroom. When you opt for the Darbari suite, you also get express checkin and exclusive transfers along with access to a private dining area. If you are looking for top class hospitality and luxury, the Darbari suite is for you.
Rajwadi Suite
The next level of tents at tent city is the Rajwadi Suite. Spread across 900 sq ft, it has a master bedroom with plush interiors and top quality uphosltry. You also get most of the amenities like AC, Heater, Flat screen TV and minibar to name a few. It also gets a pretty spacious living room for you to host your guests. And you also get access to the private dining area.The Rajwadi Suite is no less in terms of the luxury and hospitality that you experience at Rann Utsav tent city.
Premium Tent
This is the tent where I stayed. It's roughly a 500sqft tent with a double bed and a cozy sitting area. One of the best things that I loved about this tent is the spacious porch (You don't get this with any other tent) with a couple of relaxing chairs overlooking the event area. The tent also has a walkin wardrobe cum dressing area along with a bathroom. In terms of amenities, you get a desk along with tea/coffee maker and an AC to make your stay more comfortable.
Swiss Cottages (AC & Non AC)
The Swiss Cottages at Rann Utsav Tent City are the most basic tents. The 1 room tent has twin beds along with an AC (for AC tents) or a pedestal fan(non AC tents). You get a tea/coffee maker in the AC tent as well. Both of these tents have got an attached bathroom, a small rack for you to keep your luggage. They also have a porch but not as spacious as the ones you get in the premium tent.
While I have posted the photos of all the types of tents at tent city, you can also check out the 360 views of tent city.
How much does staying at Rann Utsav Tent City Cost?
Now that I have given you all the details about the packages and tent options at the tent city, let me tell you the most important part, how much does it cost to stay at Rann Utsav Tent City? While I was there on an invite from Gujarat Tourism and Ministry Of Tourism, the entire experience was complimentary. However, I went to all the tents and enquired about the current Rann Utsav Tent City Prices.
So here's how much it would cost to stay in the tent city. Below is the tent wise and package wise split.
Now that you've seen the Rann Utsav tent city prices, you know it's not cheap. The cheapest option is the basic tent for 1 Night/2 Days package which costs almost Rs 5000 per head. So if you are a family of 4, you'll have to shell out close to Rs 20,000 for a night of stay in the most basic tent. If you choose the premium tent, you need to shell out close to Rs 13,000 per head for a 3 Nights/ 4 Days Package which is the most suitable in terms of the duration, package, and stay amenities. But you see, it isn't cheap too.
For booking, you can head over to Rann Utsav's Official Website. The actual rates prevailing will be visible there. There are authorized agents as well who can help you with this. Even if you reach out to the Gujarat Tourism office, they can assist.
Overall, you do get to experience the Rann Utsav, but that does come with a heavy price tag. Especially for people coming in from far off places, you need to add the cost of air/rail to this which would make it extremely steep. However, you must experience the White Rann and the Rann Utsav at least once in your lifetime.
If not in the tent city, you can avail of cottages and stay options outside of the tent city and make arrangements for your transport. That I feel would be much economical. Nonetheless, if you can, go for the tent city and choose any tent along with the 2 nights / 3 days package at the least to experience the magic of white Rann.
That's about it for this complete Rann Utsav Booking guide for you. This is as detailed as I could get. Since I've spent close to 3 days at the Rann Utsav tent city, I can probably answer any questions that you might have regarding the tent city. So let me know your thoughts in the comments below, tweet to me at @Atulmaharaj, DM me on Instagram or Get In Touch.
Note: It was my first time in Rann Of Kutch and all thanks to Gujarat Tourism for inviting me to experience the same. Though I've grown up in Gujarat I didn't get a chance to visit the place while I was there. So a big thank you to Gujarat Tourism and the Ministry of Tourism for arranging this trip and taking care of everything else.