Ask me to shop for gadgets and I'll gladly do it. But ask me to shop for clothes, I'll avoid as much as I can. Not that I hate shopping for clothes, it's just that it ain't fun (at least for me) I've never been too concerned about what I wear. A pair of jeans and a shirt is something I've worn all my adult life. To add to it, most of my clothes until the last few years were stitched because I never found the perfect fit I needed.
With my shopping being only online, I had been on the lookout for tailors in Hyderabad who would provide some sort of pick, stitch and deliver service. That's when I came across TailorsIn.com. They are not like your regular tailor but offer some unique services that most other tailors in Hyderabad don't provide. (based on my knowledge).
With women's day around the corner, the team approached me to try their service and gift something to my mom. So this post is going to be my review of TailorsIn.com along with all the details you must know.
The Idea Behind TailorsIn.com
Tailors, just like barbers and doctors are part of one's family and aren't changed often. At least in my case, I've gone to the same tailor for almost my entire life. While the world adopted technology and moved on, tailors didn't change much. So to keep up with the times and also offer something extra, TailorsIn.com into the picture.
I guess they are the first ones in Hyderabad to offer pick up and delivery services. They will pick up the fabric from your doorstep, stitch it and deliver it back. You simply need to give your measurements to them. That can either be actual numbers or a replica garment that you can share with them. From men to women and kids, they offer services to everyone. Whether you to get an ethnic outfit for that sangeet or a western dress for that party, TailorsIn.com can help you with that.
They also offer some unique services that I hadn't experienced with other tailors in Hyderabad. One of them is upcycling. With a strong belief in sustainable and slow fashion, TailorsIn.com can give that old saree from your closet a makeover. They also provide embroidery services and can transform a plain, simple piece of garment into something extraordinary. So on the occasion of women's day, I decided to give my mom's old saree a makeover.
Wondering how it turned out to be? Read on.
How does TailorsIn.com Work
The model of TailorsIn.com is something that I liked. Anyone can now get a customized garment stitched without visiting the tailor. Having experienced their service, I can definitely throw some light on how TailorsIn.com works.
You start by dropping a message to their Whatsapp number mentioning the service that you need. The team will get back to you within a few hours to understand more about your requirement. Accordingly, they will schedule a pickup. The person will come home and you can hand over the fabric along with any measurement if any.
Once the fabric is picked up, the team will get back to you asking for what needs to be done. You can tell them your requirements. If you want them to just replicate the garment you gave or want any fancy design work to be done etc. Accordingly, they will revert with an estimate. You need to confirm your acceptance post which will begin with the work.
You'll receive an update once the job is done along with the final amount that needs to be paid. Once you make the payment, the item will be delivered to you. You'll also get a post-delivery call to check on the fitting and whether any alteration is required or not.
In terms of the process, it's quite clear and simple as to how does TailorsIn.com works. However, in reality, the process can be a little better.
My TailorsIn.com Experience
As mentioned earlier, there was an old saree that was supposed to be converted into a kurta for my mom. Since it was a full-length saree, we could make two kurtas out of it. But what would we do of two kurtas that look the same? Hence I decided to slip in a full sleeve shirt too. With the package ready, I dropped a message to the team on WhatsApp. The team reached out and the pickup was scheduled.
The person came and took the package, however, there was no confirmation regarding the pickup. So for a second, I was like what if the package doesn't reach the team? Anyways, I got a call after some time that the team had received the package. They asked me what needs to be done and I told them just replicate the garments given. I was sent an estimate for the same.
Kurta's stitching was Rs 420 while the shirt was Rs 472. I agreed to it and the team started working on it. In less than 24 hours, I got an update that the job was complete. That was blazing fast! Soon the invoice was shared over WhatsApp. Since this was a collaboration, I wasn't required to pay for it, the invoice amount was Rs 719.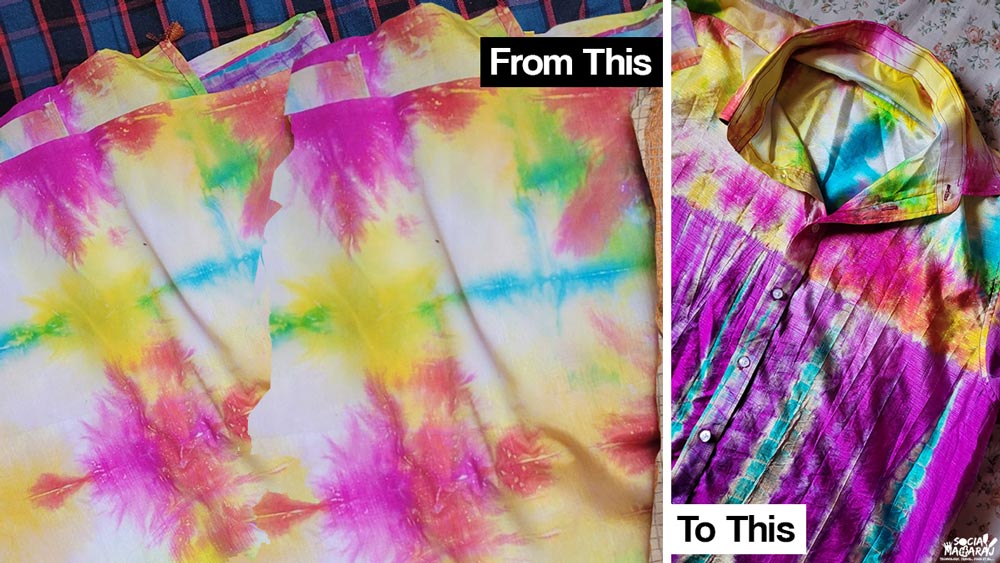 In a few hours, the order was delivered! The fitting was perfect and it was nicely done. The saree was now made into a kurta and a full sleeve shirt. The stitching quality was nice, the buttons, collar and cuffs were neatly done. In terms of quality, full marks.
The service is also pretty good, however, the calls and WhatsApp messages could be streamlined a bit. They could have some sort of order tracking in place where I know exactly what is happening with my order. Currently, everything is heavily based on WhatsApp. Further, the order booking steps aren't on their website, having that would give customers an idea of how it works.
Try It To Experience It
TailorsIn.com surely has an edge over other tailors in Hyderabad. They are the only ones probably providing pickup and delivery of stitched clothes in Hyderabad. The upcycling service that I experienced is a wonderful way to recycle your old clothes. It gives your wardrobe a much-needed refresh without burning a hole in your pocket. In terms of pricing, I can't comment much. But the quote that was provided to me was quite reasonable.
The service is quick and responsive, but can be streamlined for a better experience. As for the tailoring service, they know what they are doing. The quality of stitching and fitting is quite good. So all I can say is try it to experience it!
Have you ever upcycled your old clothes? What did you do? Let me know in the comments below, tweet to me at @Atulmaharaj, DM on Instagram or Get In Touch.