July 2014 – I landed up in Hyderabad to start my first job. Like most of the other computer engineering students, I was placed at an IT services company – Wipro. I still remember the first day, dressed in formals, entering this huge campus located in the Financial District. We were seated in a hall as the joining formalities took almost the entire day.
Since then, I had taken up various roles. Started as a manual tester testing websites, moving to automated testing, developing websites, building Android apps and finally heading the innovation centre. In my 7 year stint at Wipro, I learnt a lot, especially the processes & systems. I got opportunities to interact with Rishad Premji and worked closely with Who's Who at Wipro.
But as they say, change is the only constant, I moved out last year in October. It was during my trip to Saputara, I received a message on LinkedIn for a job as a Developer Advocate. I reverted to it a week later. And in less than 30 days, I got an offer that I accepted. It's been close to 6 months that I've been working as a Developer Advocate at InfraCloud Technologies.
While I'm loving the new experience of constantly learning new things and working on things I like, one question that I get asked quite often is What do I do as a Developer Advocate? Or what is the job of a Developer Advocate?
Hence I decided to pen down this post about my new job as a Developer Advocate in India and the things I do as part of my job.
Rise of Developer Relations
I remember someone asking me what I do, I replied I'm a developer advocate. And the immediate response was, "Oh, so you are a lawyer" That's when I realised, I need to improve my answer to this.
Developer Advocate is just one role under the emerging Developer Relations function. DevRel as it is popularly known is a new branch that comprises strategies and tactics to nurture a community of developers. Folks in devrel are developers who interact with other developers who use their product. They act as a bridge between a company and their community. From helping new developers understand the product and help them use it to taking feedback from the community and passing it to the product team.
The role is quite popular in product based companies. Companies that have their own product/platform, and have APIs usually have a position under DevRel. Apart from building applications and integrations, people in devrel are involved in creating content and building communities. Hence, I see it as a mix of technology and marketing roles. In short, it's about Code, Content and Community.
The amount of marketing vs tech work that you do varies from company to company. At some companies, you might have a content-heavy role where you create blog posts, documents, videos etc. In other companies, you would be closely working with the engineering team in building and testing the product.
Hence, Developer Relations is all about building relations with other developers. Help them improve their productivity whilst using your product. Assist your product/engineering team by sharing feedback from the community to improve the product.
Roles under Developer Relations
As mentioned earlier, Developer Relations include a variety of roles. The goal of each role is the same, however, the way they achieve is different. Below are some of the common roles under Developer Relations.
Developer Advocate – Dev Ads focus on helping developers adopt a product/platform. They do so by creating content – blogs, documents, videos. They also help put the word out about the product by speaking at conferences, conducting webinars and workshops. They have a fair understanding of software development and are hands-on developers.
Developer Experience – People in this role own the developer experience piece of the product/platform. They sometimes act as a defacto product owner in shaping the product. They too create documentation and workflows to improve the developer experience.
Developer Marketer – They target software developers to improve awareness and adoption of products/platforms. They work closely with the marketing team and might also have targets to generate leads. (Marketing Qualified Leads – MQLs)
Community Managers – Community Managers work towards building and fostering a community. They may conduct events regularly to keep the community engaged. If you've attended a hackathon ever, that probably would have been sponsored by a company with a goal to build their developer community.
Technical Writers – At some places, technical writers are also considered under devrel. The product technical content like articles, whitepapers, blog posts etc.
If you observe closely, you'll note that all the roles above do almost a similar kind of work. And that's absolutely right. The end goal of devrel is to help the community to adopt a product. There are a lot of other roles that fall under the devrel umbrella, however, these are the ones that are common.
Further, you should note that the designations vary a lot from company to company. So even if a person is a solution consultant, they might be involved in doing any of the above-mentioned activities.
The below Dev RelOMeter is a good tool that allows you to choose what you do.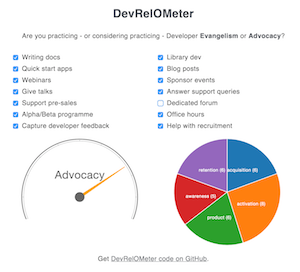 Why did I choose to be a Developer Advocate?
Developer advocacy wasn't on my mind until I got this job. Rather, I wasn't aware of devrel as a function itself. I have been in the IT industry for the last 7 years and have been creating content for close to a decade. In terms of qualifications, I have a degree in computer engineering and a degree in management. I was on the lookout for a role that allowed me to enjoy the best of both worlds. A role that allowed me to write code and also allowed me to create content, be active on social media and interact with people.
This job as a developer advocate ticked all the boxes. As part of the interview process, I was asked to develop a URL shortener application and containerize it. For someone like me who had dipped my hands in different techs but didn't master any, this was tough. In fact, it was a learning process in itself. I eventually created the application using spring boot and deployed it as a container on Docker. (That's the first time I had heard of Docker)
I cleared the first round. The second round was writing a blog post. It wasn't difficult as writing comes naturally to me. The next few rounds were interacting with founders and mentors. All of this took under a month.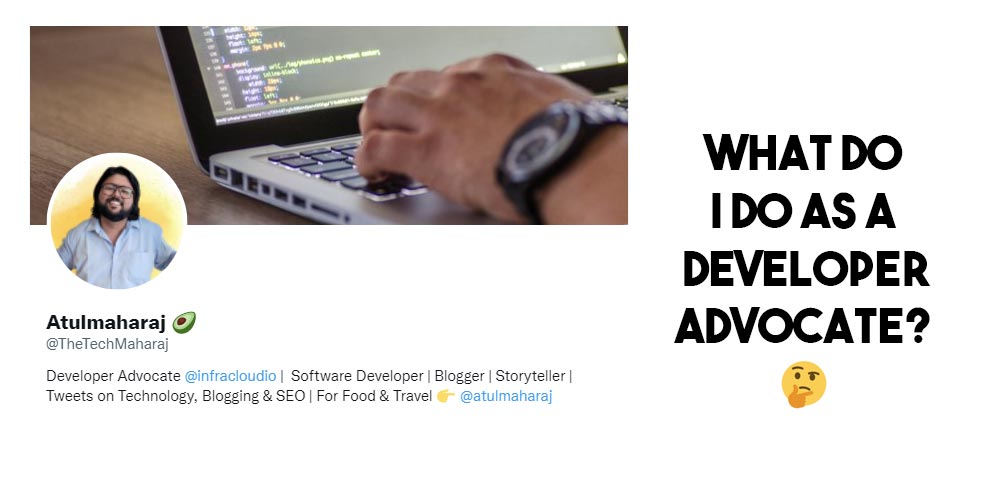 What do I do as a Developer Advocate?
By now, you have a fair understanding of Developer Relations and the various roles within them. I joined as a Developer Advocate, and you now know that I'm not a legal advocate. In the earlier section, I talked about the tasks that a developer advocate does. Since I've spent a fair amount of time in this role, below are the activities I do as a developer advocate.
Let me tell you that on any given day, I may either be focusing only on one of the following activities or multiple of them.
Developing applications: Developing applications using our product showcasing various capabilities of it. Explore various possible integrations and develop apps to show how those integrations work.
Content Strategy: What should be the next piece of content that should go out? What are the topics, and areas that are related to our product? What are the content gaps based on the keywords? These are some of the questions I answer and come up with blog post ideas.
Content Creation: Writing or improving developer documentation, writing blog posts, writing tweets, and LinkedIn posts.
Content Review: A large part of my time also goes into reviewing documentation and blog posts that are to be published. I realised that by reviewing articles themselves, you learn quite a bit.
Community Building: I interact with people on Twitter to expand our community or just help folks in general. I also spend time on Slack interacting with the users of our products and working with my team to assist them.
Social Media: Posting content from our official handles and interacting with the community. I'm also on the lookout for various social media posts about our product. I participate in various online events like club house chats, twitter spaces etc. and interact with the community.
Developer Onboarding Experience: I identify the gaps in our developer documentation, and GitHub examples and try to fill them to improve the new developer onboarding experience. I understand what the community is looking for, or their pain areas. I then research those points and develop content that helps them.
Product Documentation: Our product has releases often and new features are added along with bug fixes. I'm also responsible for sharing the changelogs, blog posts and articles around these new features. I try to help the end users understand the new features by creating product documentation.
Graphic Design: While I'm not supposed to be doing this, I like it so I do. I create social media banners and blog post header images.
SEO and Webmaster: Being a blogger, I have a good understanding of Google Analytics, Search Engine Console as well as SEO. Thus I do spend time analyzing the traffic to our website and figuring out how we can improve that.
Apart from these, creating videos, and attending/conducting workshops/webinars are also a part of my job. However, none of it has happened until now. Now that the world is opening, I guess I need to put in some effort to get the ball rolling for these.
I hope that gives you some idea about a day in my life as a developer advocate in India. Sounds interesting? Read on to the next section to know how to get a job as a developer advocate.
I recently switched from a Software Engineering role to a Developer Advocate role. Ever since, I've been asked a lot of questions as to who is a Developer Advocate & What do Developer Advocates actually do?

Here's the answer:

A Thread 🧵 #DevRel #DevloperAdvocate

— Atulmaharaj 🥑 (@TheTechMaharaj) January 7, 2022
How to get a job as a Developer Advocate?
If you have reached here, that's probably because you're interested in knowing more about this role or want to get into one. Devrel as I mentioned is an emerging field in the It industry. Mostly in the product based companies, these roles are surely on the rise. While I may not be the absolutely right person to share these tips, having worked in this role, I can probably help you.
To get a job as a developer advocate in India, it's important for you to first understand that the role is pretty diverse. You will be pulled into a lot of things at once. Hence, time management is of utmost importance. You may plan to create content someday, but end up testing a feature the engineering team just rolled out. So if and only if you like to work on something this uncertain, the role of a developer advocate might be for you.
Tips to get a job as a Developer Advocate
You must be a developer. You cannot get a job as a developer advocate if you are not a developer. Depending on the company you're applying the language/area may be wary. But you must have a good understanding of writing code and how things work in general. Like in my case, I spent most of my time developing Android applications, but I landed up in this role where I learnt Python and create serverless applications for Kubernetes. I don't know how much DSA (Data Structures & Algorithms) is required for this role, but again that varies from company to company.
You should have created content, preferably in the tech space. Content creation is an important skill a Developer Advocate must possess. Be it written, oral or video, you must have created content and be good at it. You should understand the process of content creation and be well versed in it. In my case, I am a blogger and write some tech/ DIY related posts. I was asked to share those blog posts with the panel during the hiring process. So if you have a blog on hashnode, dev.to, self-hosted, you have an edge.
For a role that demands interaction and community, your digital footprint should be fairly visible and active. This means, that being active on social media, and sharing relevant engaging content with the community is something that you should be actively doing. That will help the recruiter find you on the internet and see the impact your interactions make. (That's how I guess the team at InfraCloud found me)
You should be a good speaker & a listener. As a developer advocate, your job would include a fair amount of interaction with people from diverse backgrounds. You must be a good speaker to be able to put your thoughts across. And you also be a good listener to be able to take feedback from the community.
You should be ready to work in an ever-changing environment. This is a very dynamic role and what you'll work on will constantly change. For me, there are days when I plan to create content but get stuck testing a new feature. There might be days when you won't be coding or you won't be creating content at all. It's all the part of the job. Hence, you must be ready to work in such an environment.
You should be good at managing time. Time management is an absolutely necessary skill you must possess. Considering the type of work you would do, you need to time your day else you'll reach the burnout stage soon. I had issues during the initial days as I often worked on different things. However, these are better now but still need improvement. Hence you should be great at managing time.
These were some of the tips I feel can help you get a job as a developer advocate. There might be a lot of other factors that can come into the picture. But if you are able to get a few of these right, you might do well.
I hope this post answered your question as to what I do as a developer advocate in India. I've been asked these questions multiple times and hence this blog post. In case you are interested to know more about this or are planning to switch to this role and need any assistance, please feel free to reach out to me at @TheTechMaharaj. I'm fairly active on Twitter. You can also reach out to me on LinkedIn and I'd be more than happy to assist you 🙂