Continuing from where I left in the last blog post, we reached Saputara in the thick of the night. Not only it was raining, but it was also windy too. That night reminded me of a typical night from my days at Panchgani. Since this trip was organized by Gujarat Tourism and the Ministry Of Tourism, our stay was arranged at Toran Hotel. I will talk more about our stay in the coming posts. We were served an authentic Gujarati dinner by the staff who waited for us well beyond their service times. A meal of Sev Tameta, Kadhi, along with other Gujju dishes were on the table. Just what we needed to end the day.
In this and upcoming posts, I'll share the complete Saputara tour guide. A 3 Day Saputara Itinerary that we followed which you also can follow during your Saputara Trip. If you plan to visit Saputara by road, you can read my blog post about Ahmedabad to Saputara Road Trip. We had spent 3 days exploring Saputara hill station, the must-do things in Saputara, the must-visit places in Saputara, we covered it all. So this Complete Saputara tour guide will be a 3 post series based on the activities we did and places we explored in Saputara.
Here's our day 1 of exploring Saputara Hill Station.
Star of Gujarat – Saputara Hill Station
"Gujarat ki aankh ka tara, Saputara" is what Big B has been quoted saying in advertorials. Saputara is the only hill station in Gujarat. Situated at about 200 kms from Surat and 400 kms from Ahmedabad, Saputara is nestled on a plateau in the Dang forest region. With a height of about 1000m from sea level, Saputara provides high mountains and lush green forests.
Saputara literally means Home of the Serpents. Once home to a variety of snakes, Saputara Hill Station today has become one of the great weekend getaway destinations. Being just 4 kms away from the Maharashtra border, it has a Marathi crowd as well as the Gujarati crowd. And that also means you get a variety of food too! That was a short brief about Saputara hill station. Let's now dig into this part 1 of the complete Saputara Tour Guide.
Saputara Tour Guide – Part 1
Before I talk about the places, I'd like to say that since we were on an invite from the Gujarat Tourism board, everything was taken care of by them. Even the Saputara tour guide that was provided to use for the 3-day itinerary was from Gujarat Tourism. If you are also looking for a Saputara tour guide, one way to do it would be to plan your stay in Saputara at Gujarat Tourism's hotels Toran. Then you can avail the services of their Saputara tour guide which is FREE for residents. So if you visit in a group, you can leverage this wonderful service. Apart from that, you will also find a lot of travel operators offering packages to Saputara.
Day 1 itinerary of Saputara
Places to Visit in Saputara
Sunrise Point
Rose Garden
Saputara Lake
Nageshwar Temple
Jain Temple
Sunrise Point
As a kid studying in a boarding school in Panchgani, one thing that I detest the most was waking up early in the morning and going for a walk/jog. However, when I was in Saputara, I was up at 5 am all set to witness the sunrise. The sunrise point in Saputara is quite close to the city centre. If you have the stamina, you can walk up – there is a proper road leading to the top – else you can take your vehicle to the top.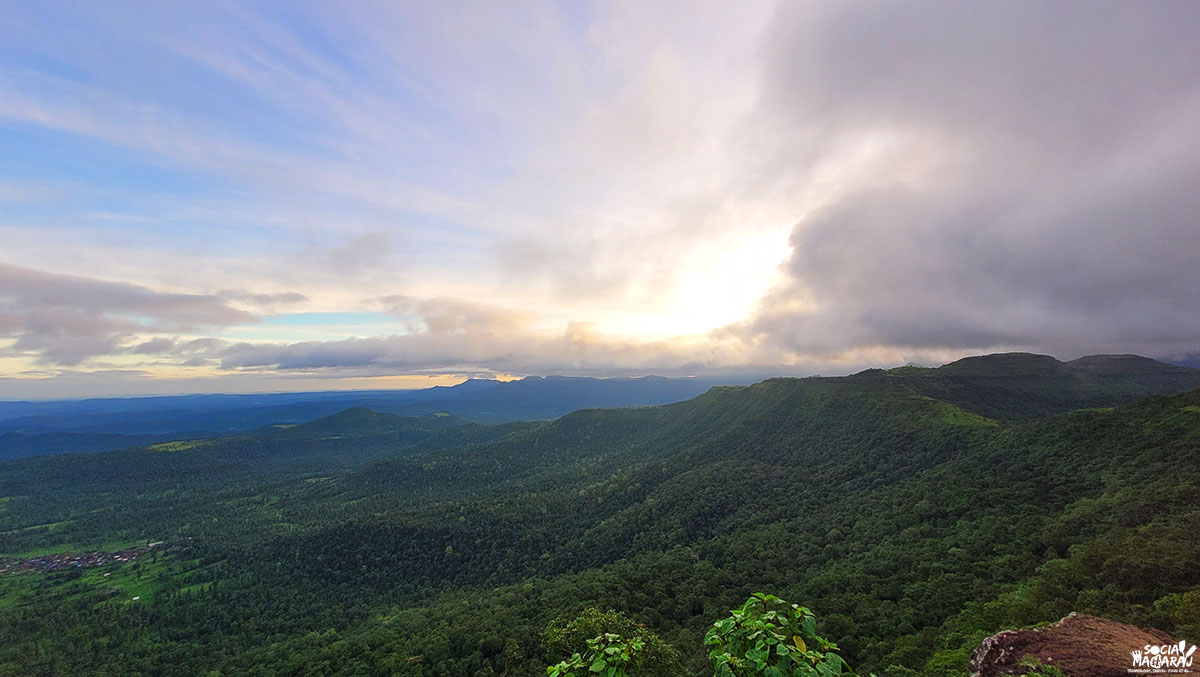 While the weather in Saputara isn't guaranteed, be ready for surprises. When we went, we didn't see the sun, but the views that we witnessed and the breath of fresh air were calming. It's a wonderful place to click photos, you get some amazing shots with the sun rays peeking out of the mountains. There's a short trek from here if you want to go further up. The sunrise point is a MUST in your Saputara Itinerary.
Rose Garden
The next place we visited was the rose garden. It's again located within the city limits and at walking distance from the city centre. The garden boasts of a variety of roses and other flowers when in its full glory. They also have some nice art installations like flamingos and large mushrooms. It's spread across a large area and you might need some extra time on hand to explore it completely.
Sarpganga lake – Saputara Lake
How common it is to find a lake at a hill station? Extremely common. I could have not missed mentioning Saputara Lake in my complete Saputara tour guide. This is a tourist hotspot and a lot of people visit the lake to enjoy it's a natural beauty. While most tourists opt for boating here, I'd suggest you wake up early and go for a walk, trust me you'll thank me! There are various types of boats available based on your choices and the rates vary accordingly too. We skipped boating, instead, we relished some hot chai and corn chat near the lake and enjoyed the views.
Nageshwar Temple
A saint who resided in this area many years ago had a dream that the Sarpganga lake houses a shiv ling. He requested the authorities who did find a shiv ling in the lake, bought it out and set up the temple. The temple was moved in 1992 to its current location and is a popular destination in Saputara hill station. You can perform pooja at the temple and appreciate the architecture of the temple. A temple by a lake, I had seen only in the movies but this was quite a good experience. It's called the Nageshwar temple because of the snakehead design found on the shiv ling.
Jain Temple
Our last destination of the day was the Jain Temple. Located right below the Sunrise point, the Jain temple is one of its kind. If you are wondering that this is just any Jain temple, you are wrong. The beautifully decorated temple houses a 500-year-old idol of Lord Parshvanath. Jain temples have a characteristic of breathtaking sculptures and design and this is no less. It will surely stun you with magnificence. If you love architecture and heritage, then this Jain temple in Saputara should not be missed.
Once we were done that, it was already getting darker, the clouds were taking over and the temperatures dropped quite drastically. The visibility also dipped and so did our energies. Walking so much on day 1 and exploring Saputara largely on foot was quite a task. Nonetheless, the folks at hotel Toran were wary of this and had a delicious spread read for us. While some of us decided to spend the night playing cards, others like me hit the sack.
End of Day 1 Of Our Saputara Exploration
The marked the end of day 1 of our Saputara trip. Being the first day, we decided to take things slow and explore the nearby areas. It's not only when you visit places like Leh, Ladakh, even for small hill stations, but it is also advisable to take it easy on day 1. We explored all the places which are close to the city centre.
If you are also planning a 3 day trip to Saputara, you can follow our complete Saputara tour guide that will help you plan your trip to Saputara. Stay tuned for Day 2 of the Saputara tour guide. If you think I've missed any place that I should have covered or want to know more about our Day 1 Saputara Itinerary, please leave your comments below, connect with me on Twitter at @Atulmaharaj, DM me on Instagram or Get In Touch.
I'd also like to thank Gujarat Tourism, India Tourism Mumbai – Ministry of Tourism for inviting me to experience the hospitality of Gujarat. While I was here on an invite, my thoughts are based on my experience and unbiased.