By now you would have figured out that ever since I bought my first car – Tata Punch, I'm on a road trip exploring most of the time. The first road trip I took was literally a week after I got my car. It was my Hyderabad to Nagarjuna Sagar road trip – also my first. This time around I drove from Hyderabad to Ramappa Temple on a one-day road trip.
As one trip ends, I open Google maps to find out the next destination. So exactly a week after my Nagarjuna road trip, I went on a Hyderabad to Ramappa Temple one-day road trip.
Like always, in this blog post, I'll talk about everything you need to know to plan a road trip to Ramappa temple from Hyderabad. While some may argue, that it essentially isn't a one-day trip, I felt if you can drive, it's an easy road trip for a day.
Hyderabad To Ramappa Temple Road Trip
Route from Hyderabad to Ramappa Temple
Ramappa temple is located in Mulugu which is about 75kms from Warangal. Hyderabad to Warangal is close to 200kms and hence the total distance from Hyderabad to Ramappa temple is just over 250kms. The route is pretty straightforward, one needs to take the ORR and take the exit at Ghatkesar. From then on it's a pretty straight road passing towns like Bhongir, Alair, Yadrigutta, Jangaon and eventually reaching Warangal.
There is a bypass just before Warangal that you need to take to reach Ramappa. Post then it's a scenic drive with lush green paddy fields on both sides with mountains, and massive lakes in the background.
Road Condition
The road condition is good for the most part of the journey. To begin with, the ORR is just amazing irrespective of where you're coming from. The next part towards Warangal is a good 4-lane highway. However, beware of the city traffic. Apart from the state transport buses, there are a lot of two-wheelers and autos that are on the way for quite some distance.
It is a toll road for the major part of the journey. And it's close to ₹400 one way. After you take the bypass from Warangal, the toll road ends and that's where the rough patch begins. For the next ~80km, it's a double-lane road for the most part of it. The roads are decent but there are rough patches, and potholes randomly, so you need to be cautious. Though the roads become average, the scenery becomes much more beautiful!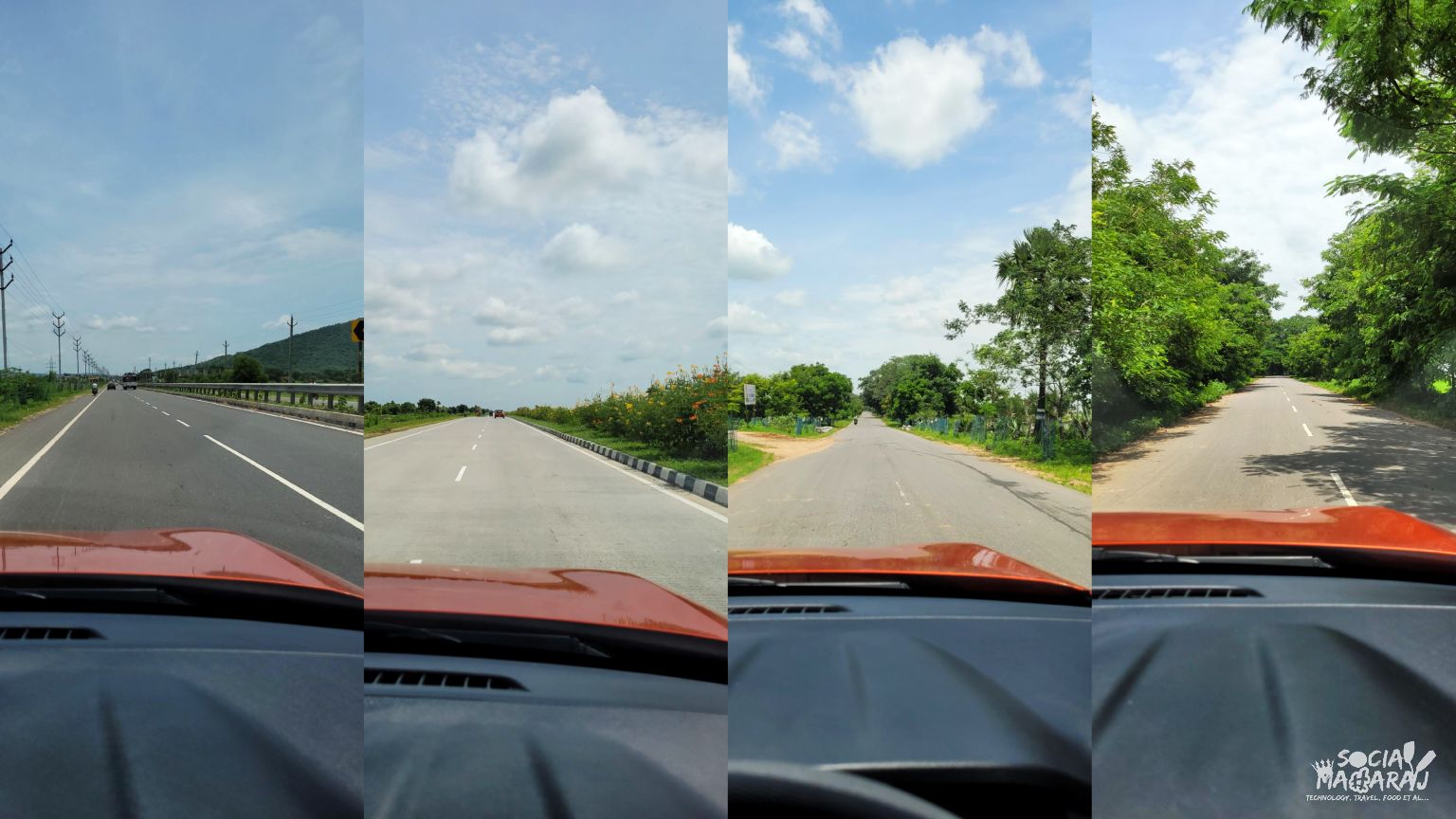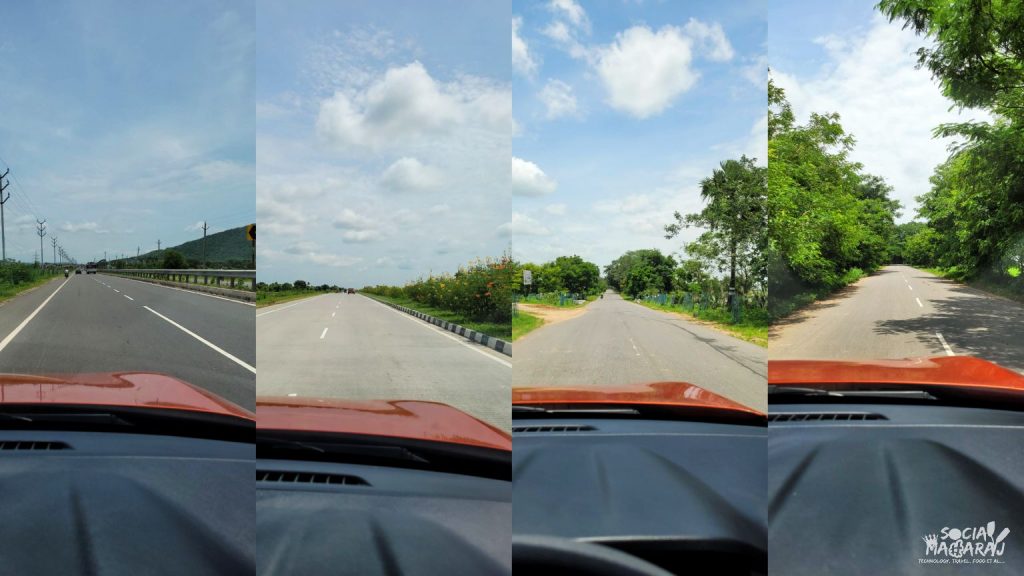 The last stretch of about 10kms is scenic but narrow. You'll cross small villages before reaching Ramappa Temple. Overall, the roads are good, and since most part of it is a tolled road, it's a good drive. The scenic landscapes towards the end are mesmerizing.
Food & Pit Stops
Talking about food and fuel pit stops, you needn't worry. Since it's a busy highway to Warangal, there are plenty of fuel pumps and eateries along the way. The last 75 km though don't have many fuel pumps, so it's best to top up before driving to Ramappa Temple.
In terms of food stops, we took just one break during each leg of the journey. The first one was at Hotel Deepthi which is near Bhongir. It's a large space, with typical highway eatery vibes. The parking space is good and the washrooms are clean. We had Masala dosa and chai here. Service was fast, food was good, and not too expensive. Would recommend this.
On the way back, we stopped at this place called NSR hotel just before Warangal. It's a hotel and not a highway eatery. They have a restaurant where we had lunch. I had the south Indian thali which at ₹160 was good. though a bit spicy for my liking. There's also an NSR dairy outlet so you can get some ice cream, buttermilk, etc. Again would recommend this.
Lastly, before hitting the ORR, we stopped at this popular place, Hotel Vivera. It was super duper crowded and hence we thought to just have chai and leave. Would plan to visit here during breakfast or lunch hours.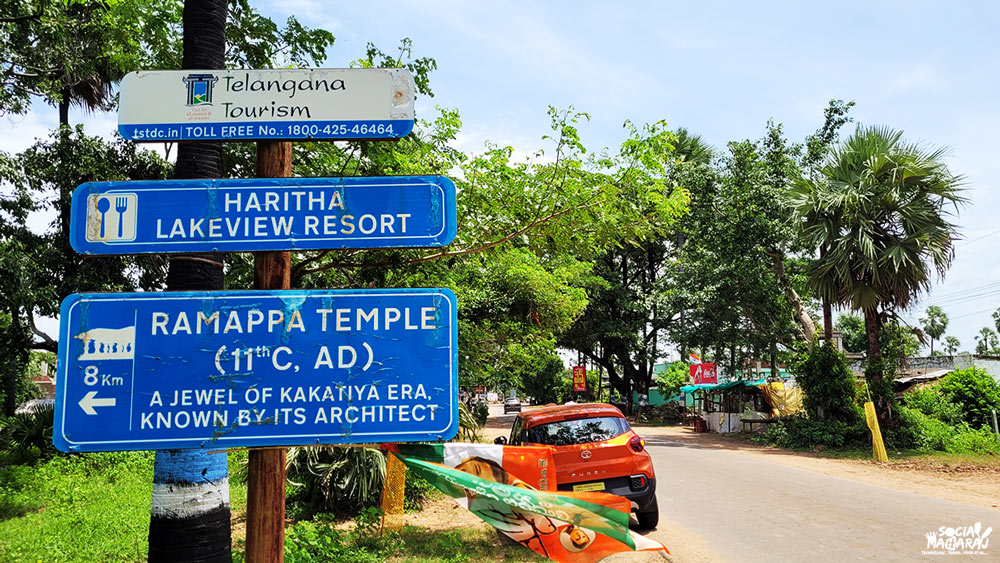 Fun road trip for a weekend
Overall it was a good road trip. About 500kms in a day, I enjoyed driving. For most parts, the roads were good, and cruising at 80-90 was apt. The landscape changes during the last stretch were beautiful. I was missing those foldable chairs from Decathlon. Wouldn't mind pulling them out and taking a pit stop.
That's about it in this blog post. If you're also planning to take a road trip from Hyderabad to Ramappa temple, this should be helpful. In case you have any queries, do drop them in the comments below. You can also tweet me at @Atulmaharaj, DM on Instagram, or Get In Touch.