Off late Hyderabad has been bustling with new restaurants and cafes. For a foodie like me, it's a beautiful sight. Especially after COVID, seeing people queuing up at restaurants brings tremendous joy. If you're a Hyderabadi, you know that there are a lot of eateries that have opened in Gachibowli, Madhapur, HiTech bit, and the surrounding areas. One restaurant that I'm going to talk about today is Ishtaa Pure Vegetarian restaurant which serves south Indian food.
It's been quite some time since the restaurant opened. I was in Lucknow around the launch time so couldn't visit then. But I saw a lot of Instagrammers sharing reels and post about their breakfast and lunch thalis. I have visited Ishtaa more than 4 times now for dinner and lunch, but not yet for breakfast. However, since I have spent quite some time, I guess it's a good time to share my Ishtaa pure vegetarian restaurant review.
South Indian Food Ishtaa Pure Vegetarian Restaurant Review
Having visited the restaurant so many times, one thing is confirmed people are loving this place. From kids to grandparents, I've seen people from all walks of life visit Ishtaa. While I so wanted to try their breakfast, it never happened. Nonetheless, I'll share my thoughts about their dinner and lunch in this review post. So let's get started.
Spacious restaurant with a good ambiance
Ishtaa pure vegetarian is located right next to Ikea, within the NCC urban community. In fact, from what I have learned, it's the clubhouse of NCC Urban that was let out and Ishtaa was established. I don't have confirmed the news, so you know about it, please comment.
Though it's right on the main road between Madhapur and Biodiversity junction, it's hard to locate. Because of the busy road, there's no banner as such that you can see while driving. A couple of my friends missed spotting it and had to take a U-turn to reach there. So my suggestion is to drive slowly as you approach Ikea. They have valet parking which is a boon. (Ever since I got my first car, I look for places that have valet parking)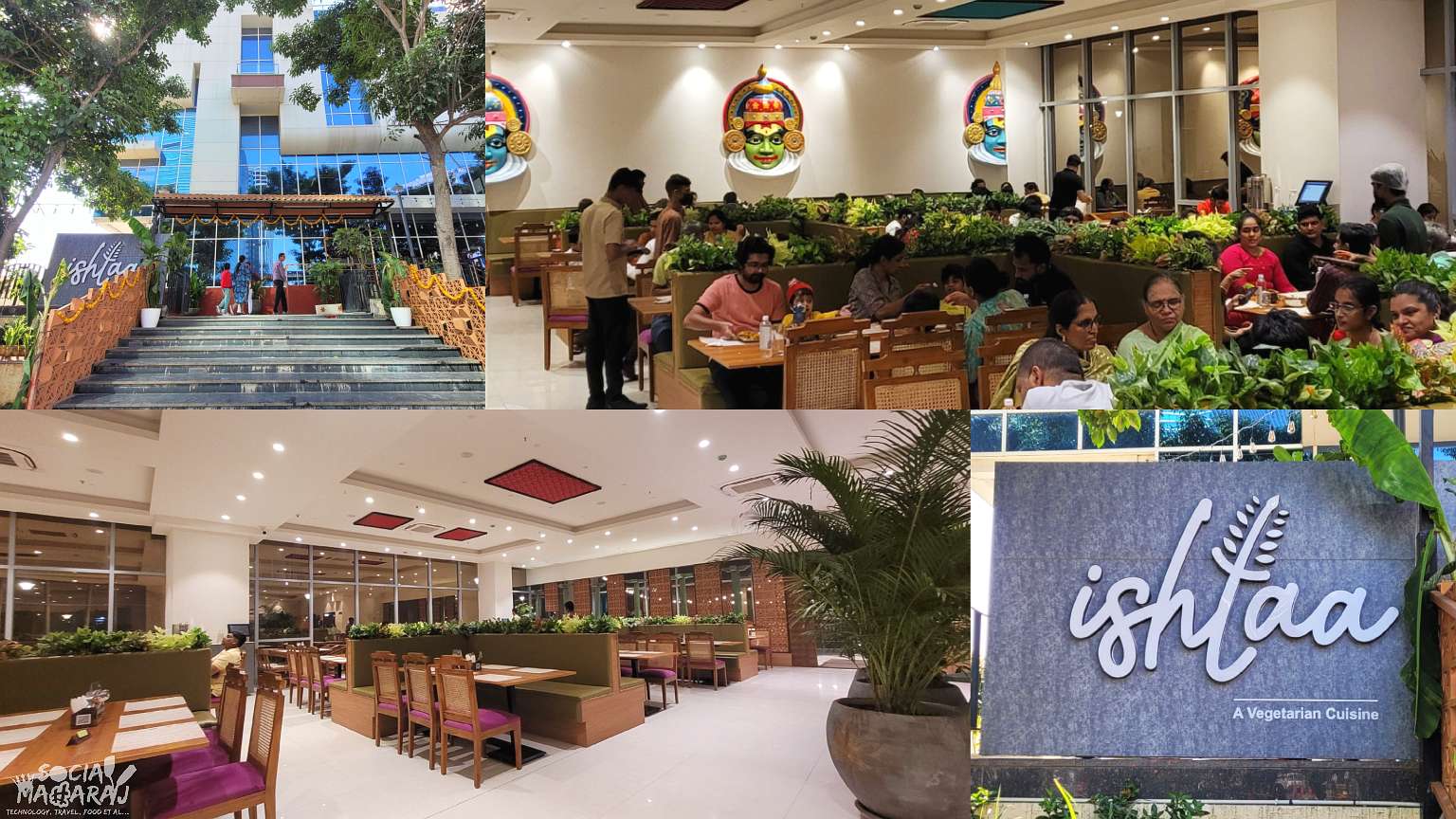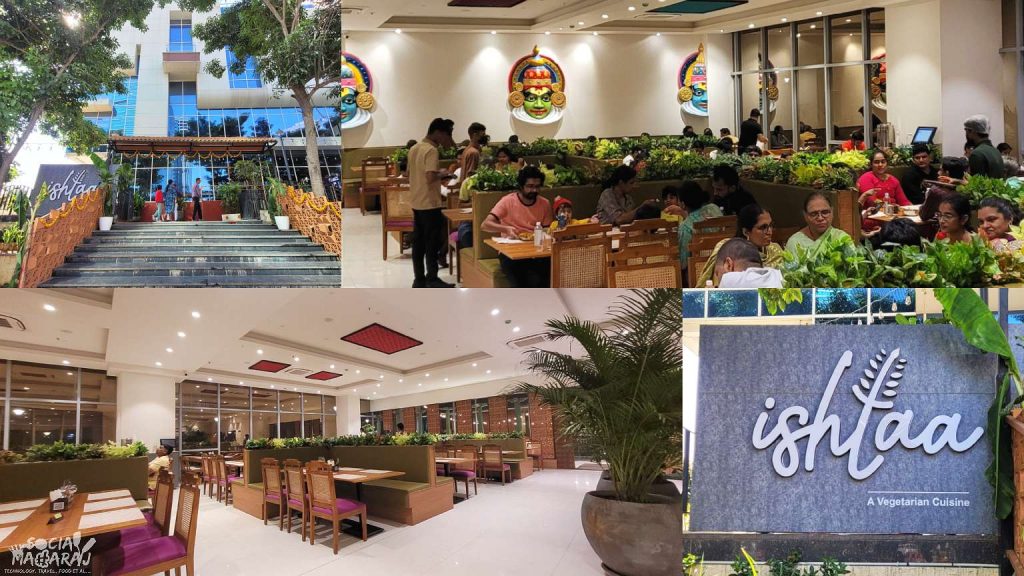 Talking about the ambiance, the entrance isn't one of the grandest, however, the intricate patterns on the doors and walls are surely appealing. The restaurant itself is quite spacious and there are separate sections for families and couples. There are planters inside and Kathakali murals painted on the walls which amp up the ambiance. The seating is good but surely could have been a little more comfortable.
During lunch hours, I was told that only thali is served on the ground floor while a la carte is served on the first floor. So I'm yet to visit the first floor. Lastly, they have a pretty small waiting area, compared to the crowd that visits. While they do offer prior reservations, I've never been able to get one through their mobile number, and no one answers. They don't offer reservations from the app based on the last time I was there.
South Indian Thali For Lunch Review
It was a few weeks ago that I had to visit Ikea with my mom and decided to take her to Ishtaa pure vegetarian restaurant for lunch. With my parents, I prefer visiting pure vegetarian restaurants only. The restaurant was full of people waiting outside. And like always, nobody attended my call for a reservation. Luckily since it was only two of us, we didn't have to wait. Here's my review of the unlimited south Indian thali at Ishtaa.
The thali was served on a banana leaf. From the moment we sat, the servers started their process of putting items on our plates. From the fry to poriyal, pappu and korma, bobbatlu & ladoo, within no time the plate was full. They served two varieties of rice as well along with a welcome drink (Panakam), curd, sweet of the day (Junnu), papad, and a banana. There's no roti/poori served in this thali and you get white rice. There was also Sambhar, Rasam, Pachi Pulusu.
Talking about the taste, the flavors are pretty balanced. Though there were a few things like the Pappu, Pachi pulusu that was a little sharp in taste, however, nothing was too spicy. The kurma and fry were something that I had multiple servings of. Sambhar was rich and flavourful, one of the best I've had in the city. Compared to the other Hyderabadi Sambhars, this was pretty good. Pachi Pulusu was another dish that I absolutely loved. There's also ghee and podi that you can relish after your meal.
Overall, the south Indian thali at Ishtaa is pretty good. It's priced at Rs 500++ for an unlimited south Indian thali which I felt was decent. (Though my mom felt it was costly) I have also heard from multiple people that they cook only a certain number of thalis and if you're late you might have to go back without having this.
Lastly, considering the crowd they cater to, they surely need to amp up their service. There were instances when I had to ask the server about the things missing from my plate after pointing to another plate as I didn't know what was being served. So that's something they can definitely work on.
South Indian & Punjabi Dinner Review
I was at Ishtaa for dinner around 3 times and that too in a span of two weeks. And again, nobody responded to my call for a reservation. Luckily we were there by 7 so there wasn't any rush. But the rush builds up around 8:30-9 PM. The a la carte menu at Ishtaa is a mix of south Indian and north Indian food. Though there aren't many options when it comes to north Indian.
On one occasion I had Kadhai Paneer along with Garlic Naan and Jeera Rice. The Paneer was surprisingly good. Chunks of paneer with capsicum and a rich gravy. Garlic naan too was nicely done. I also had Nannari which was sublime (wish they hadn't added basil seeds to it)
Another time, my friend from Gujarat was here so we tried the local food. We had Guthi Vankaya Curry along with Malabar Paratha and Pacchi Mirchi Pulao. The Guthi Vankaya curry was good and was rich with a thick gravy. The Pacchi Mirchi Pulao was fiery and spicy to the next level.
On both occasions, the food was pretty good. The taste was balanced, flavors were spot on. The service however is again something they need to look at. There were instances when the servers were at the table with the main course while we were still having the starters and there was no place to keep anything. This after telling them not to get the mains until the starters weren't done. Nonetheless, no complaints on the food front.
Final Verdict: Good Vegetarian Option
South Indian and vegetarian means Chutneys in Hyderabad. An age-old chain of restaurants in Hyderabad. Ishtaa pure vegetarian restaurant is also similar to it in a lot of things. With the variety of chutneys, the paper-based menu on the table, and the overall ambiance, you'll instantly realize that this resembles Chutneys. Barring the service issue that I feel must be addressed considering the crowd they cater to, the food is good. They have authentic south Indian flavors that most of us will like. The north Indian side of things is surprisingly good but lacks variety.
Overall, if you are looking for a place for a family dinner, Ishtaa pure vegetarian restaurant should not disappoint. That's about it in my review of Ishtaa, please share your thoughts in the comments below, tweet to me at @Atulmaharaj, DM on Instagram, or Get In Touch.