Hyderabad is home to the world-famous Hyderabadi Biryani, however, the Nizami food is much more than that. Hyderabad had become a cultural capital under the Nizams, and various forms of art flourished during their reign. Hyderabadi cuisine began to develop during the Qutb Shahi times and flourished during the Nizami era.
In this age of fast food and global cuisines, a restaurant that is preserving the Nizami food is Aish at The Park Hotel in Somajiguda. I was invited for a delicious Nizami Food affair a few weeks ago at Aish and you must read this completely to know why I feel this is one of the best places for authentic Nizami food in Hyderabad.
Fine Dining Ambience at Aish The Park
Aish has been one of the popular restaurants in Hyderabad for authentic Hyderabadi / Nizami food. Located in one of the iconic hotels in Hyderabad, The Park, Aish promises a delectable dining experience. The hotel has different restaurants that you can choose from based on your mood. Enjoy a cool evening by the pool with live music Aqua, a family gathering at Verandah, a party atmosphere at Kismet, and finally a royal meal at Aish.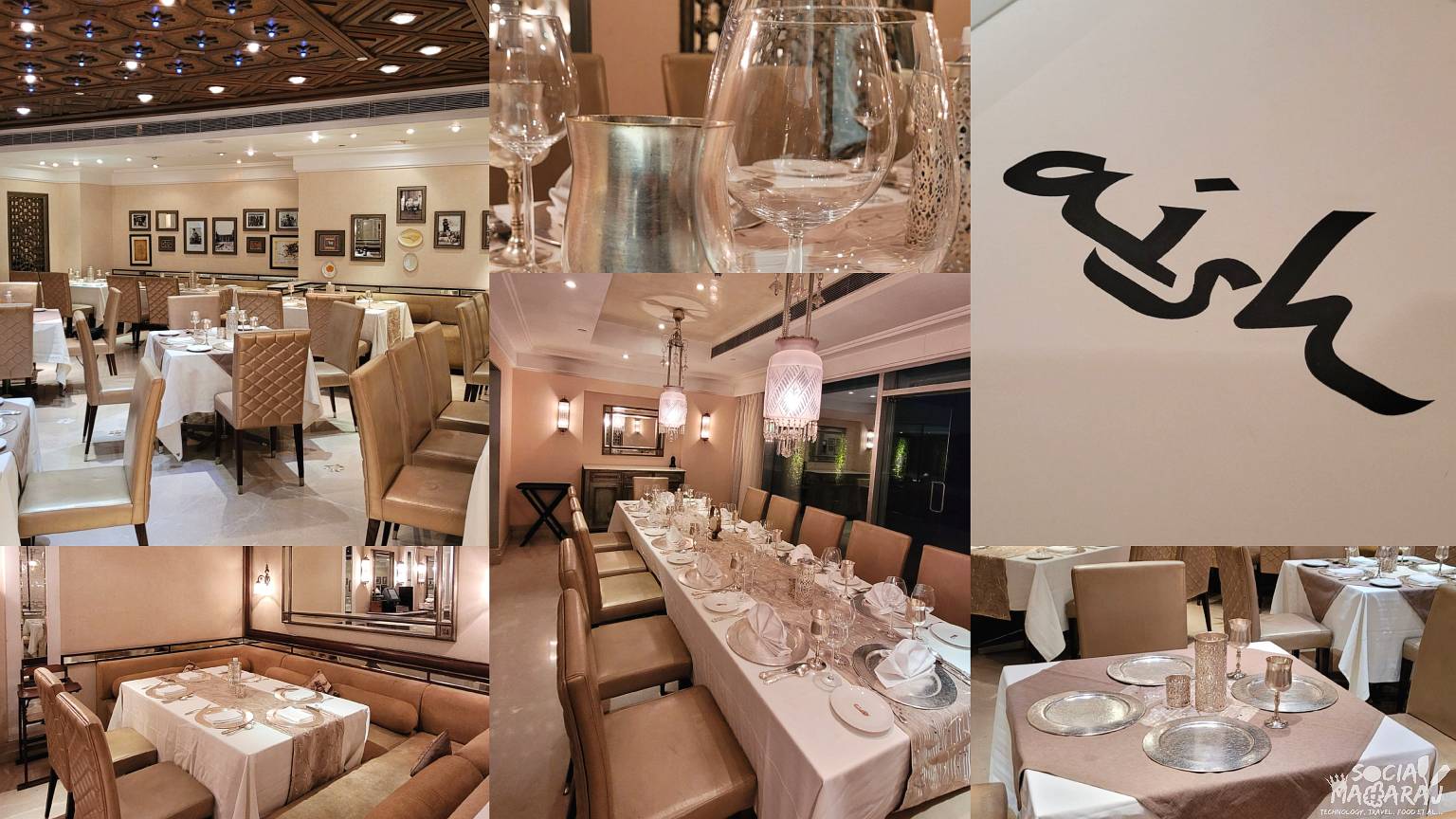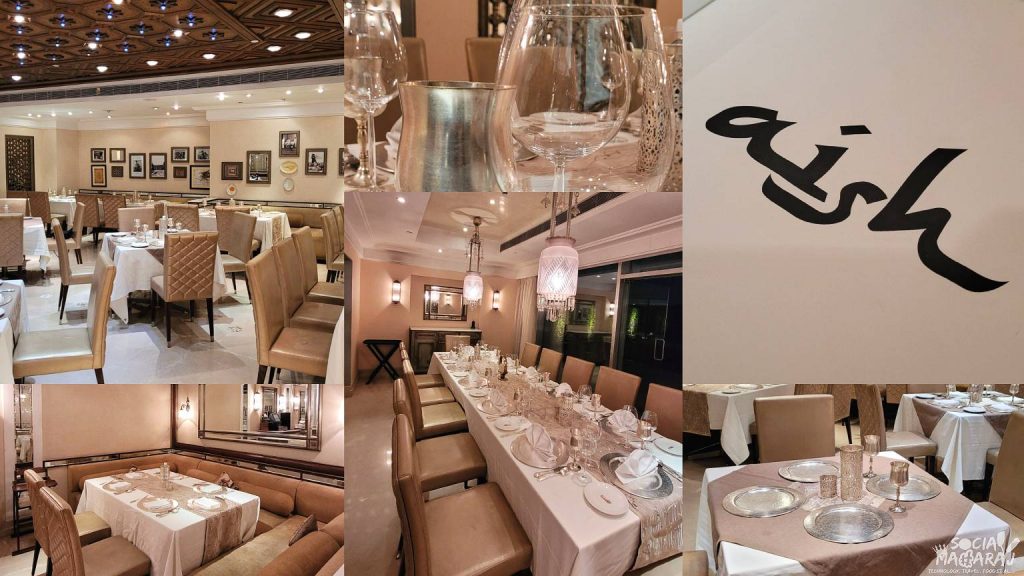 Reopened after a gap of 2 years, Aish is already bustling with customers. Everything right from the time you enter Aish screams luxury and royalty. From the crystals on the roof to Nizam's chair, everything just adds to the royal vibe at Aish. The choice of colors, whites, and silvers is pleasing to the eyes. The silverware is actually silver. They also organize ghazal and other live music shows that just elevate your dining experience. Since I was there was a curated meal, and we dined in the private dining room which was remarkable and Instaworthy. Overall, the ambiance will not disappoint you.
Delicious Nizami Food Affair
Aish, The Park offers an a la carte menu along with a wide range of set menus. While they themselves suggest trying their set menus, I'd also recommend a set menu. I've been a fan of set menus ever since I had one at Once Upon A Time. Since there's a wide variety of set menus, the range starts at as low as Rs 1500++ for one, and trust me that's quite good.
The menu that I tried was a specially curated one where each course was paired with a wine. Since I'm a teetotaler and a vegetarian, I can't quite talk about them. However, my meat-eating quite relished a few items from the dinner.
Delectable Starters
We started our meals with a delectable amuse bouche that was made from Watermelon and a tangy sauce that tasted like Teriyaki to me. We then moved to the Dhaniya Malai Paneer, a flavourful started with Paneer coated with Indian spices and laced with coriander. While the taste was spot on, the flavors I feel could have been toned up a little. The next item was Hari Gobhi ki Tikki which was a stuffed tikki with cauliflower, it was crisp on the outside and soft on the inside.
The two standout starters for me were Makai Badam aur Akhrot ki Tikki and Dahi ki Kebab. The makai badam tikki was stuffed with walnuts, almonds, and corn and was flavourful. A must-try. The Dahi Ke Kebab was probably the best one I've had in a long time. Though they looked like idlis, these were just mind-blowing. Overall, loved the starters.
Simple Yet Delicious Mains
Whenever you're having a set menu, the starters, and sides are quite filling and hence the mains are usually less in number which is understood. Nonetheless, you can ask the chef at Aish to modify it to your liking. While the non-vegetarians feasted on a curated non-veg thali, the vegetarians got Veg Biryani and Jackfruit Haleem. Talking about the Biryani, the long-grained rice was loaded with veggies and the masalas were perfect. I have had Biryani that made my eyes water to death due to the spice, but this was good.
The highlight however was the Jackfruit haleem. Available all around the year, the haleem is probably the best vegetarian Haleem I've had. The texture and appearance resembled that of the mutton version. The fried onions with a dash of lemon just perfected the taste. It was served with square naan and was just amazing. A must try again.
Drinks & Desserts
As mentioned earlier, this specially curated menu had a variety of alcoholic beverages paired with each dish. However, Maharaj was able to get a non-alcoholic version of every drink. From non-Vodka Shikanji to Roohafza Cosmopolitan and the non-tequila jhatka, I had them all. Of all, my pick had to be the Roohafza Cosmopolitan. It was refreshing and the taste was also not too sweet. The shikanji was loaded with masalas and so was the Tequila jhatka. Again, you might like them based on your preferences.
Talking about desserts, there was a dessert platter served with a few items on it. We had fresh fruits, along with Badam ka Halwa and Qubani Cream cheese mille-feuille. Badam Halwa was the best one I've had. In fact, I asked for another serving of it. It was rich and badamilicious. The Qubani cream cheese mille-feuille was a videsi take on the Nizami dessert. I'm not a big fan of Qubani so didn't quite enjoy this, however, the presentation and the concept were pretty good.
Craving Nizami Food? Aish The Park Will Not Disappoint
This was my first time visiting Aish The Park in the last 8 years I've been staying in Hyderabad and I'm cursing myself for it. Why I didn't visit this place earlier? I used to stay quite close to The Park before moving to a completely different part of the city. Having said that, I had a splendid experience dining at Aish. Their set menus are tailor-made and something that you'll relish, there's everything for everyone. I'm surely going back along with my parents for that Haleem and that Akhrot Tikki.
If you've not been to Aish The Park, this is the time. Get in touch with them to reserve a spot and let the team pamper you with delicious food in the lap of luxury. Let me know what you think about this blog post in the comments below. You can also tweet me at @Atulmaharaj, DM me on Instagram or Get In Touch.