If I were to shout the word "Hyderabad" to a crowd, I would surely get "Biryani" as the response. Hyderabad has long been associated with Biryani. While there are the other Biryanis in the country, the Hyderabadi is right amongst the top. One of the early concepts that were introduced in Hyderabad was the Midnight Biryani.
Started by Green Park hotels more than a decade ago, it was just what the people needed. And luckily, last evening I was at Green Park for dinner. Not for Biryani but for a delightful dinner at their restaurant – Once Upon A Time. And this is going to be my Once Upon A Time review.
Once Upon a Time Hyderabad – Review
The restaurant is located on the ground floor of the Green Park Hotel in Begumpet. The one that is right next to Marigold. I've had lunch at Saffron Soul some time back and liked that too. Once Upon a Time is a specialty Indian restaurant that serves delicious buffets along with a la carte and also the midnight biryani.
Calming Ambiance
The restaurant has a very good, calming ambiance with black and white-themed decor. The lighting is soothing but not great for photography. The tables are arranged in a way that you feel that there's a lot of space. They also have a private dining room that can host a party as well.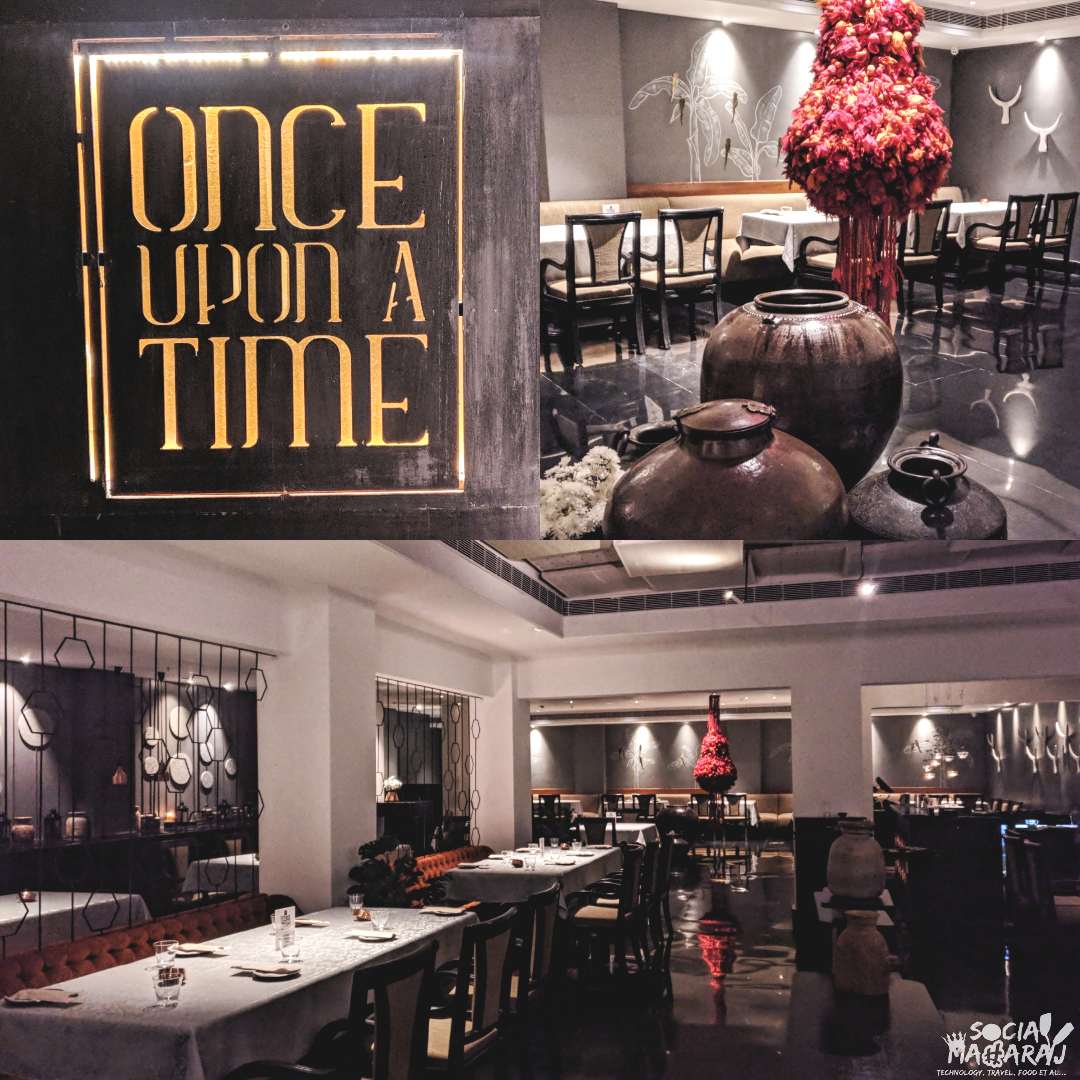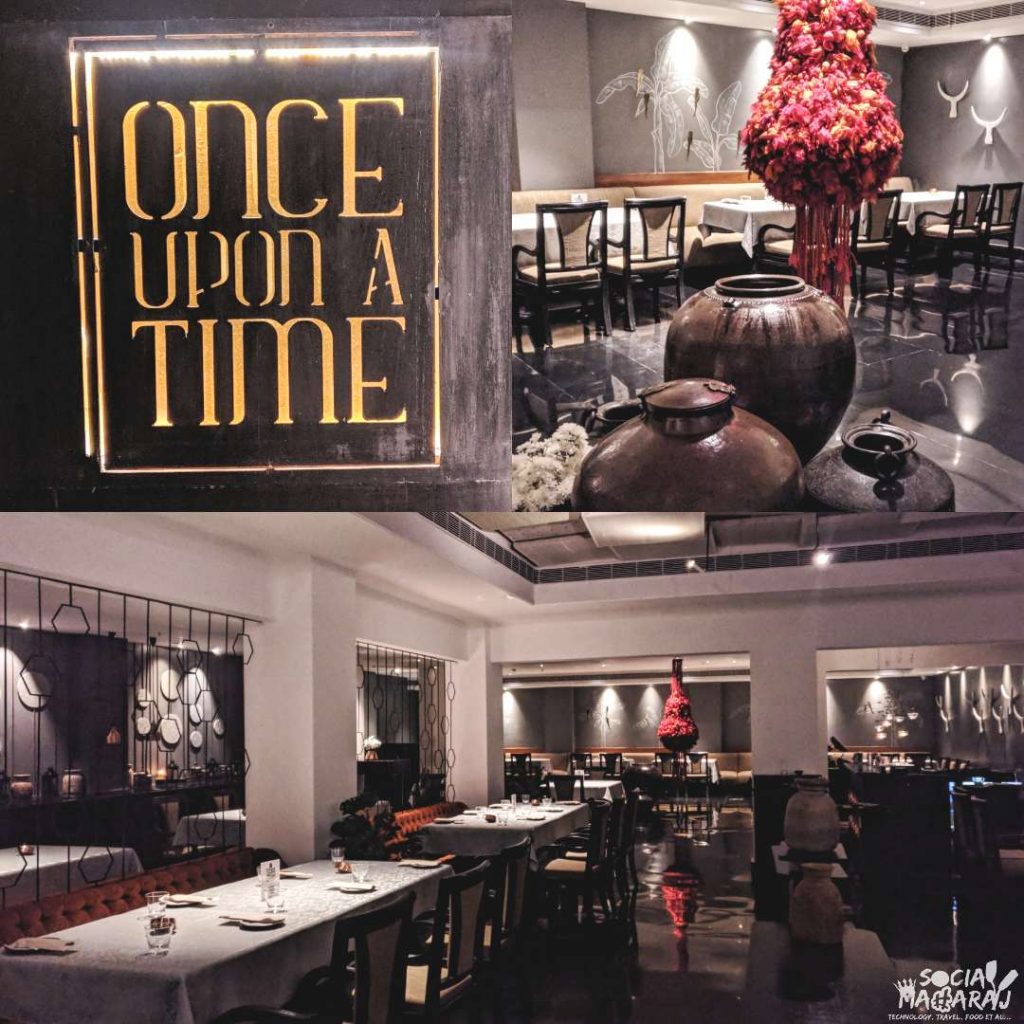 In terms of safety and precautions, Once Upon a Time has got things right. You have hand sanitizers placed at the entrance of the hotel. Every server is wearing a mask and gloves to ensure proper hygiene. Even the cutlery is neatly packed and placed on the tables. So if safety is a concern for you, take my word, this place is completely safe for you to dine.
We were three people and I was the only vegetarian (always the case) To keep things simple, all of us decided to go in for the Set Menu that Once Upon a Time serves. They have 3 variants of the Set Menu – a vegetarian platter, a non-vegetarian platter and a special Hyderabadi platter. I've always stayed away from Set Menu (reasons of which even I'm not aware) Even the last time I went to Bidri at Marriott, Chef Pawan suggested to try the set menu and we went in for the a la carte. So how was this set menu at Once Upon a Time? Read on!
Vegetarian Set Menu Review
Green Fables is how they have named the vegetarian set menu. It's an eight-course meal comprising of soup, starters, mains, and dessert. The vegetarian menu had the following items: Smoked Baigan Chat, Roasted Pumpkin & Coconut Soup, Mushroom Taka Tak, Paneer Donut Makhni, Gobhi Kempu Bezule, Varqi Saag Paneer, Samosa aur Chai, and Zaffrani Nimish.
We started off with a palate cleanser which quite unique right off the bat. It was a Cucumber dipped in yogurt and drizzled with spiced puffed rice and served in form of a lollipop. The cool and subtle cucumber paired with the spicier murmura was the perfect way to start the proceedings. We had the Smoked Baigan Chat after that and it was quite a great take on our Baigan. Made in the base of Raita, this preparation is a must-try.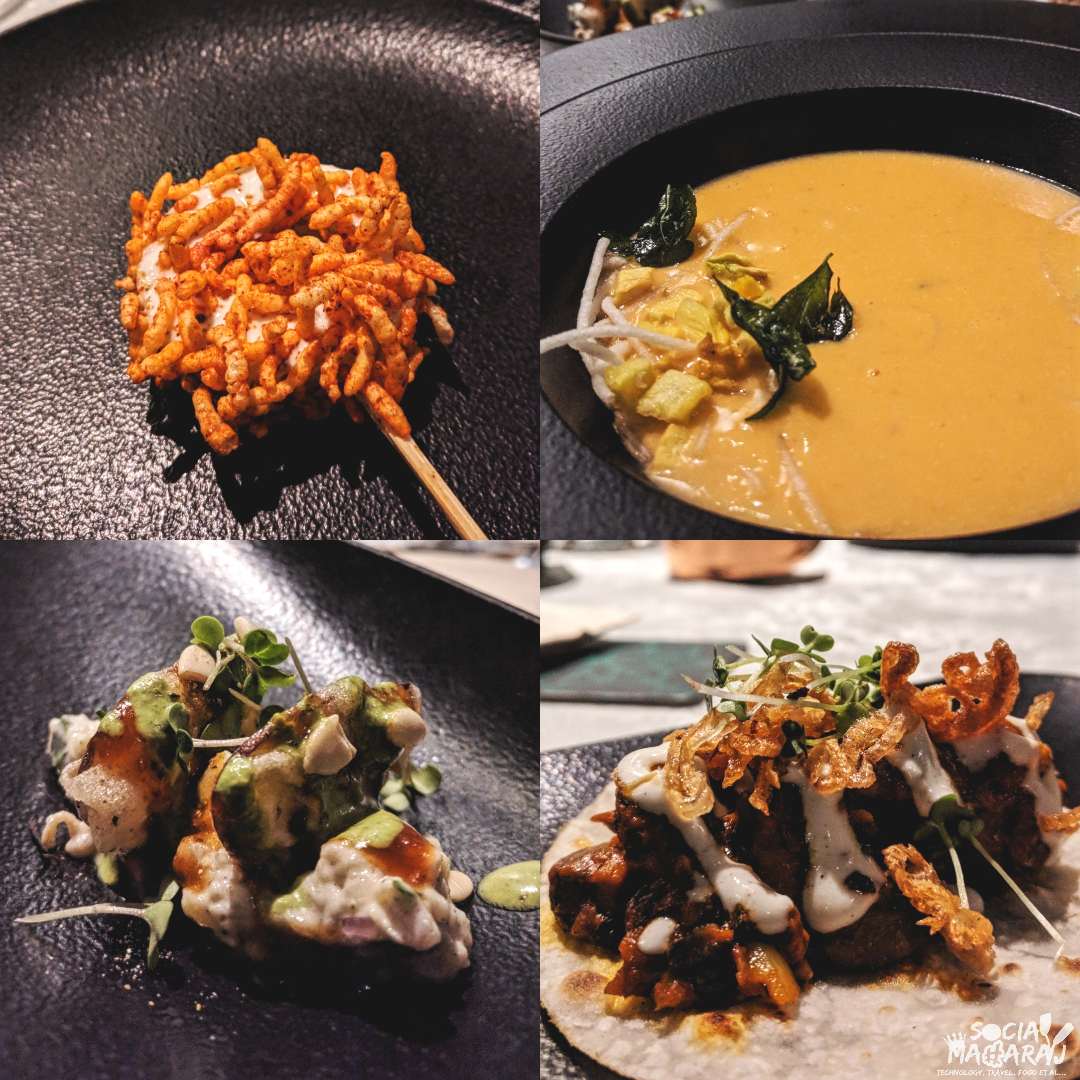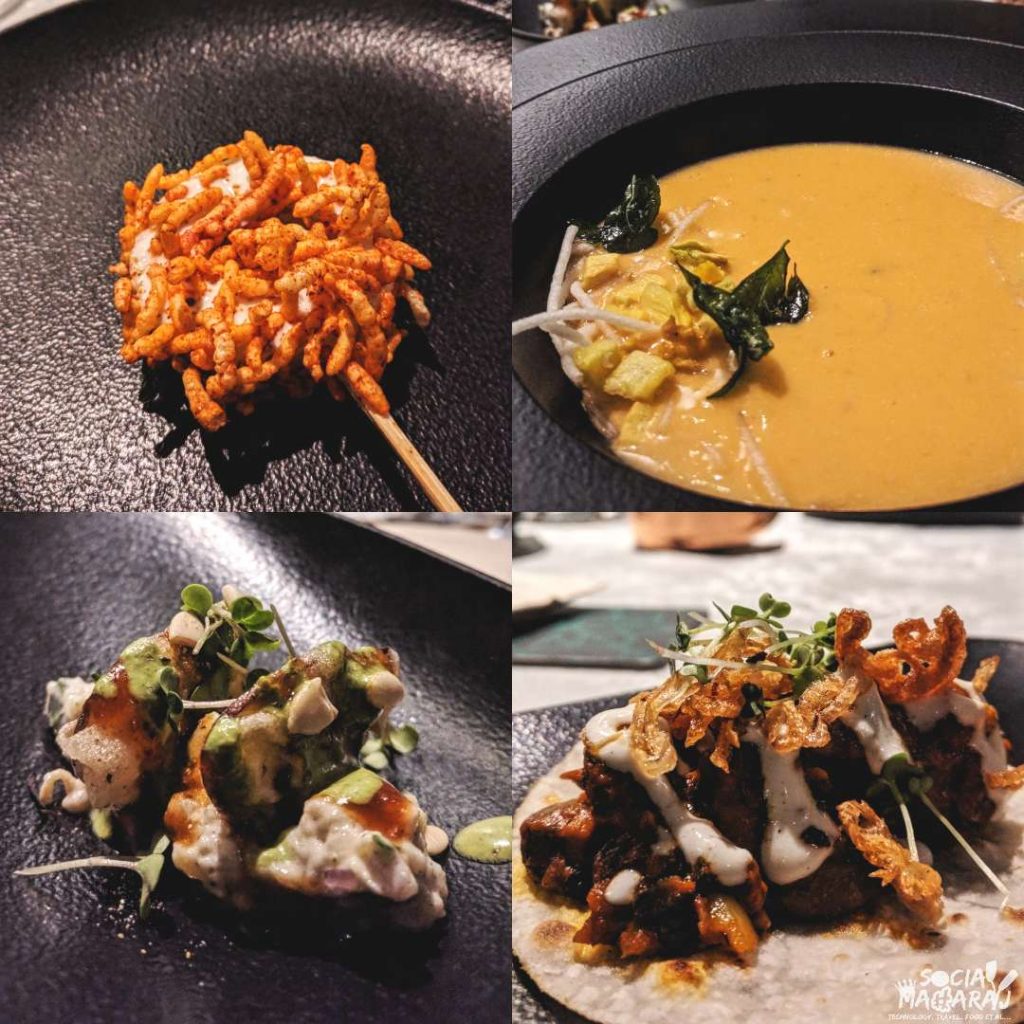 The next item that came in was the Roasted Pumpkin & Coconut Soup. Not being a fan of soups, I'd say this was just fine. Then came in the Mushroom Taka Tak. It was spiced Mushroom on a small piece of Roomali Roti. Slightly spicy for my taste, but full of flavors.
The next few items that came in, swept me off my feet completely. The Paneer Donut Makhni was one of the dishes that were not only exciting but flavorful at the same time. A big Paneer stuffed donut served with a Makhni sauce. The spiced paneer was complemented perfectly by the sweet Makhni sauce. Worth a try, especially for the preparation and the way it was served. While I was about to finish this, we had the Gobhi Kempu Bezule coming in. It was a gobhi curry served with chilgoza, it was average, and didn't find it amusing.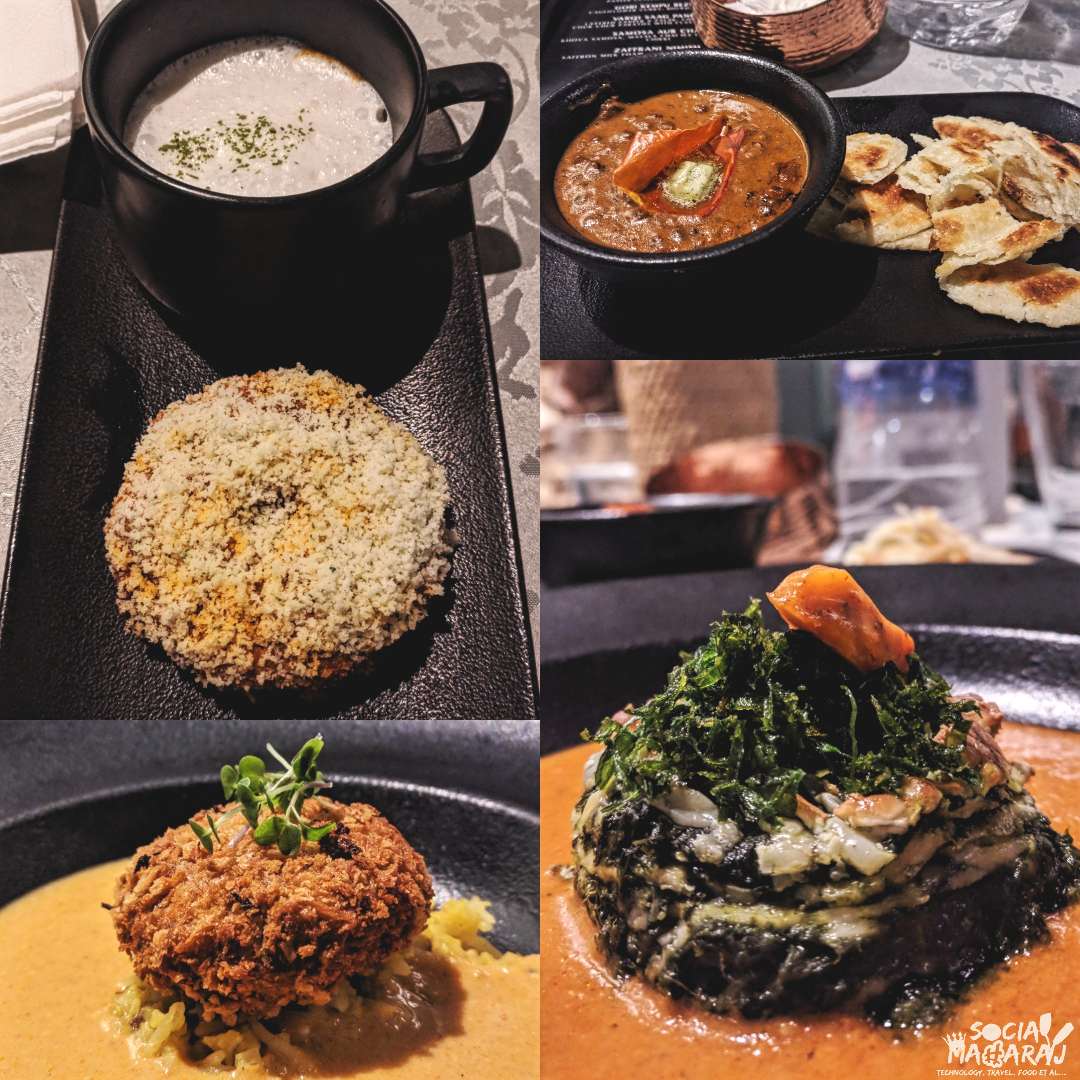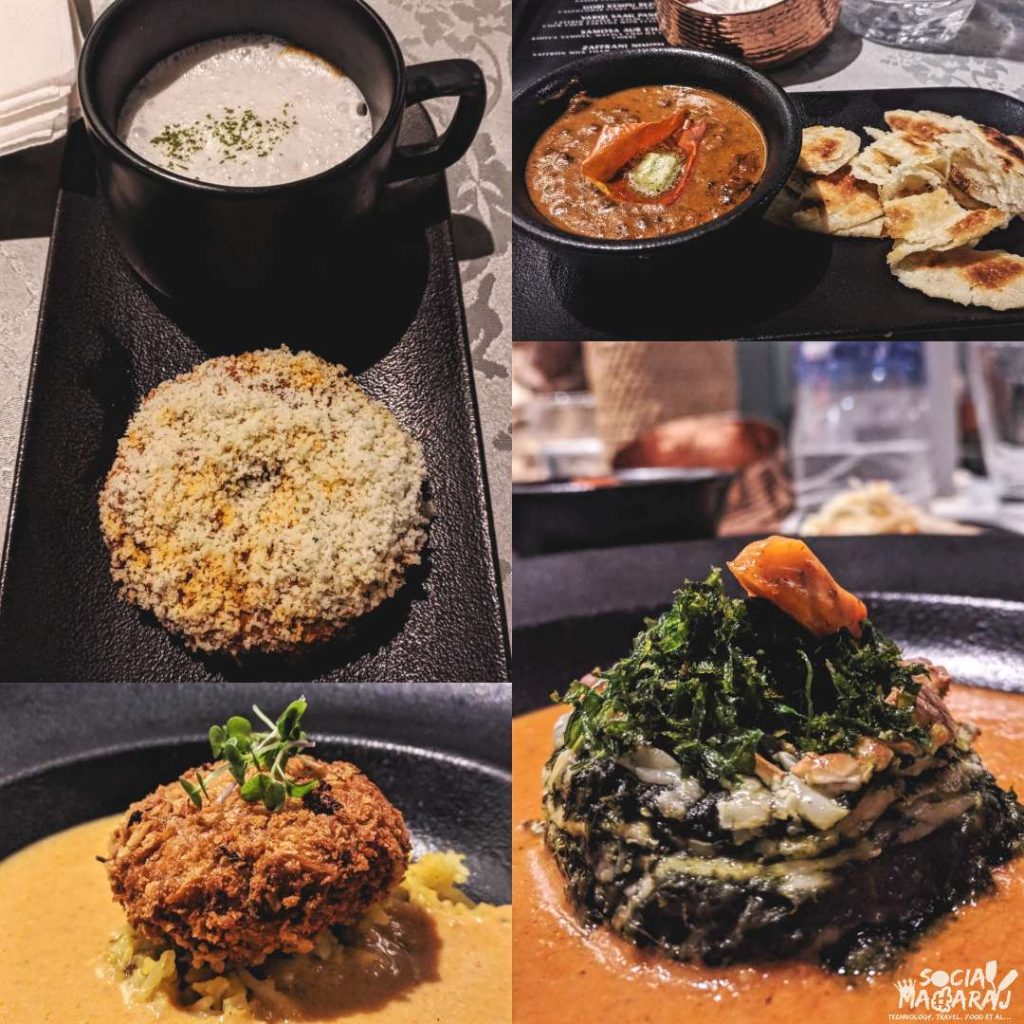 However, what came in next was just amazing. The Varqi Saag Paneer – thin sheets of Paneer stuffed with Spinach, layered and baked to perfection. This was served with a tangy gravy and Chur Chur naan along with Dal Makhni. I was amazed at the way this was prepared and such good flavors. The flavors were quite subtle and the sauce gelled perfectly. You must try this.
Coming to the fag end of the vegetarian set menu at Once Upon a Time, we had two luscious desserts waiting for us. And trust me, you cannot miss these. The popular Samosa Chai is a sweet take on of the classic combo. A masala chai ice cream which is THE BEST I've had, the flavor were quite strong and any chai lover (yes you ;)) would love this for sure. The samosa on the other hand had a sweet stuffing of Khova and some chikki. Loved this combo to the core. Similar was the case with Zaffrani Nimish. It was a unique Saffron Milk foam preparation with almond chikki and lots of pistachios. It was perfectly sweetened to my taste.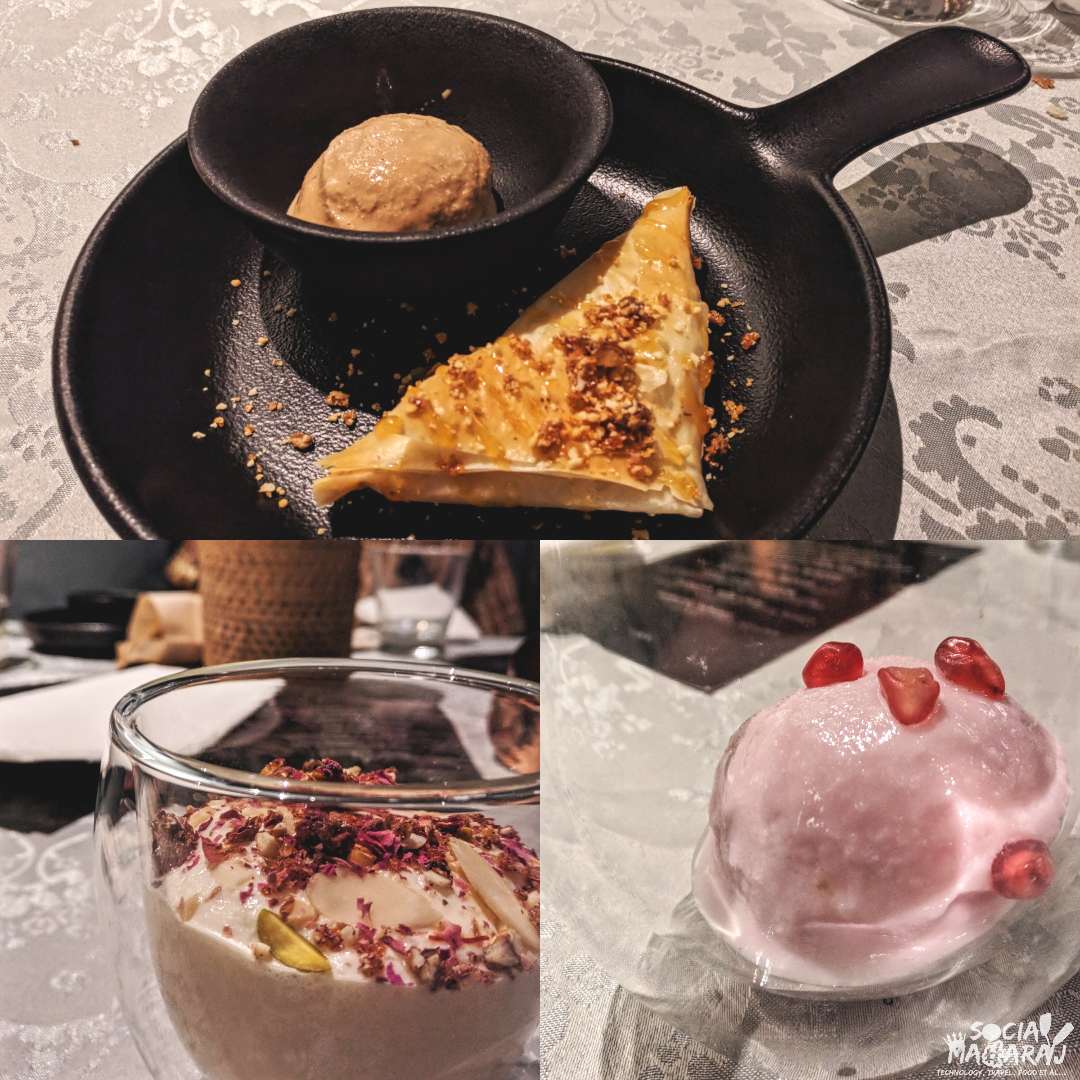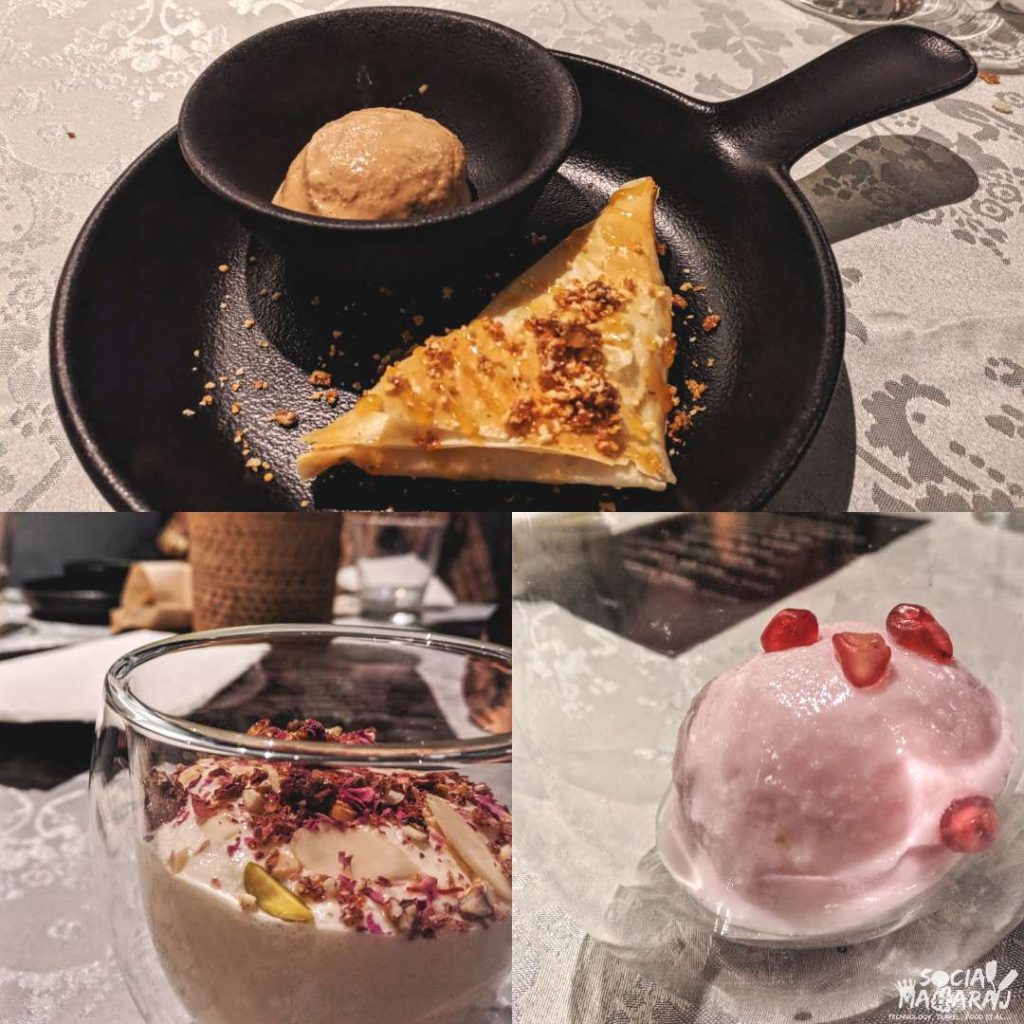 Final Verdict: The Set Menu is worth every penny
Priced at ₹1250 + taxes, the Green Fables or the vegetarian set menu at Once Upon a Time Hyderabad is totally worth it. Chef Vignesh is behind this amazing set and has taken a wonderful take at some of the iconic Indian dishes. Barring a few dishes like the soup and Gobhi Kempu Bezule, I was in awe of everything that was served. You cannot complain about the quantity as, by the time you are done with the 8 courses, you're full.
It was a new find for me, and I'm almost hitting myself for not going here in the last 5 years I've stated in the vicinity. Once Upon a Time, be ready Maharaj will become a regular here for sure. I'm definitely coming back for the Varqi Saag Paneer, Paneer Doughnut Makhni, Chai Samosa, and Zaffrani Nimish. That's about my review of Once Upon a Time Hyderabad at Green Park hotels. Do share your thoughts in the comments below, tweet to me @Atulmaharaj, DM me on Instagram or Get In Touch.