Ever since I left boarding school, lunch has been out of my routine. Back in school, all the meals were in the dining hall which meant no carrying of lunch boxes. Even today, at work I don't carry a 'lunch bag' and that's because of the habit of not carrying boxes. However, I do eat out during lunches if required. Last weekend I was out with friends and we randomly decided to have a quick round of coffee along with some finger food. We decided to hit Heart Cup Coffee in Begumpet, since we had already been here we knew nothing would go wrong.
But on that day, it was partially open which meant we had to look for something else close by. The clock was ticking and our stomachs were yelling for food. Quickly opened maps to find a 'good' restaurant close by. and we landed up at Saffron Soul at Marigold hotel. And that brings me to the Impromptu Lunch at Saffron Soul, Marigold Review.
The Lobby restaurant – Saffron Soul
If you ever visited a restaurant at a good hotel, you would find a restaurant right in the middle of the it. I've seen it at the Waterside Cafe in Taj Banjara, The Dining Room at Park Hyatt to name a few. Saffron Soul at Marigold belongs to the same breed. The first thing you see after entering the hotel is the restaurant. It was my first visit to the Marigold Hotel and must say I was pretty much impressed by the interiors, especially the roof and the chandeliers.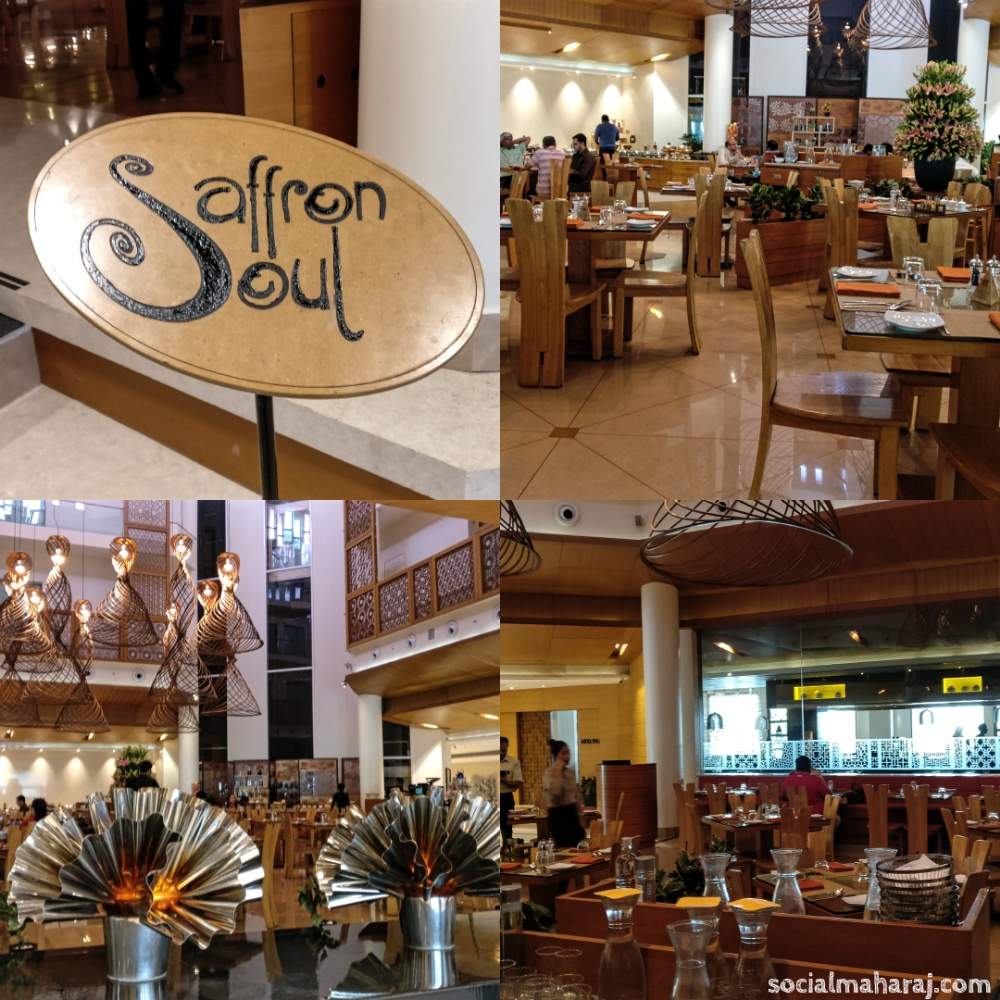 Saffron Soul serves Buffet and a la carte for lunch. The seating area is fine but tables are quite small or either their plates are too big. Unlike the huge table at Okra by Marriott, tables were quite small and we frequently had to ask them to clear the tables. Overall the ambiance was refreshing and cool on a Saturday afternoon.
Lunch Review of Saffron Soul Marigold Hotel
Pizzas to start with
As mentioned, the restaurant serves both buffet and a la carte. However we were to redeem Zomato Gold (which was only valid for main course) and hence opted for a la carte. We were informed that the kitchen was about to close and hence we had to place our orders quickly. Since we all were hungry, we quickly placed our orders. We had a soup, baked quesadilla, two pizzas and one risotto. We were also told that the items would take some time to reach the table. Blame it on our hunger, we had three rounds of papads (it was free) before we got our food.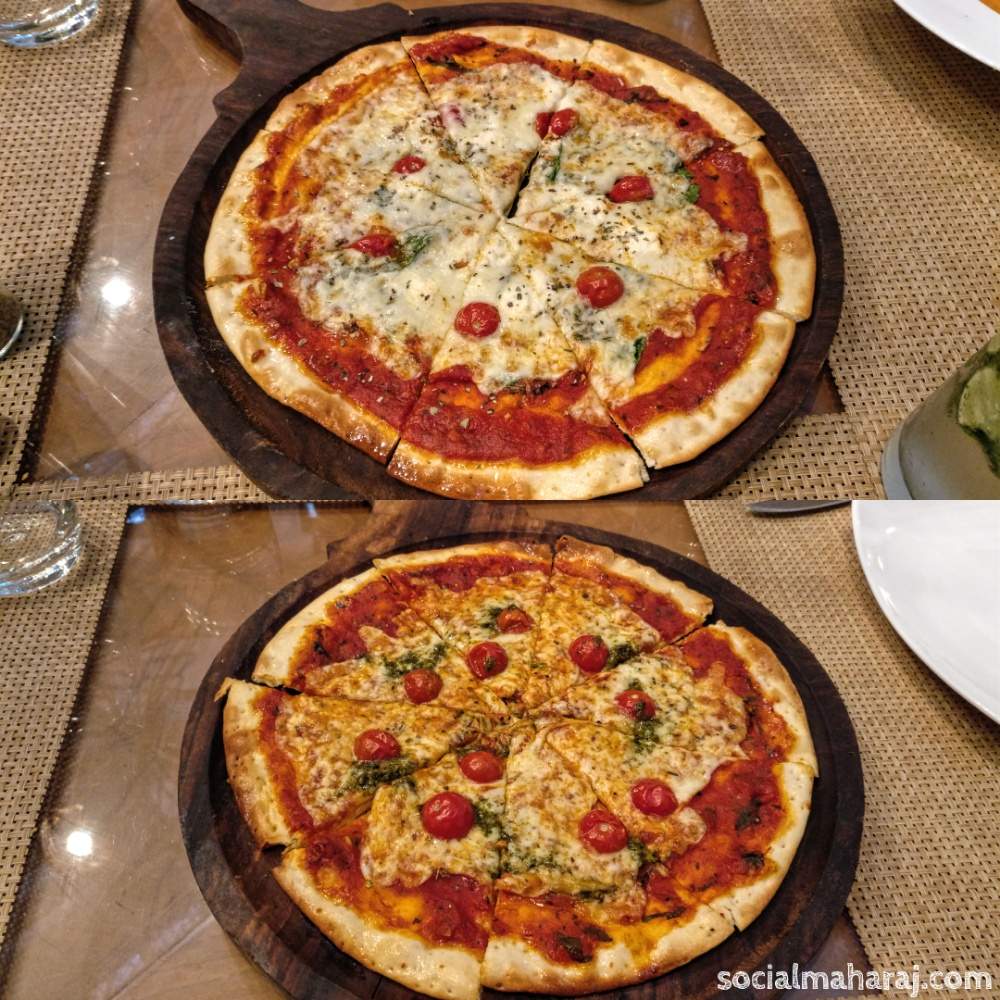 We started with the Pizza. The pizzas are somewhere between a medium and large pizza. Also note that they serve only thin crust pizza unlike the multiple options you have at a pizza chain. One was the classic Margherita which had tomatoes and cheese and the other one was Spinaci e Pomodoro but with 4 types of cheese and spinach. Frankly I didn't find much of a difference between the two. There were no other veggies on the pizza, however the chef managed to make it taste good.
Quesadilla and Risotto to end with
All of us had a spoon as we were juggling between the plates. The soup – Minestrone di Verd – was a little different and was served in a huge soup bowl with garlic bread. All of us really loved it. The first time I had risotto was at The Roastery Coffee House and liked it there. Decided to give it a try here too. The dish came in and was bright yellow in color. The first bite of it and I was like – this is loaded with Kesar (Saffron; hence the name of the restaurant Saffron Soul ?) Possibly the only dish I've eaten that is salty and has lots of Kesar in it. It was decent though, but my palate was still confused as it was a kheer made salty.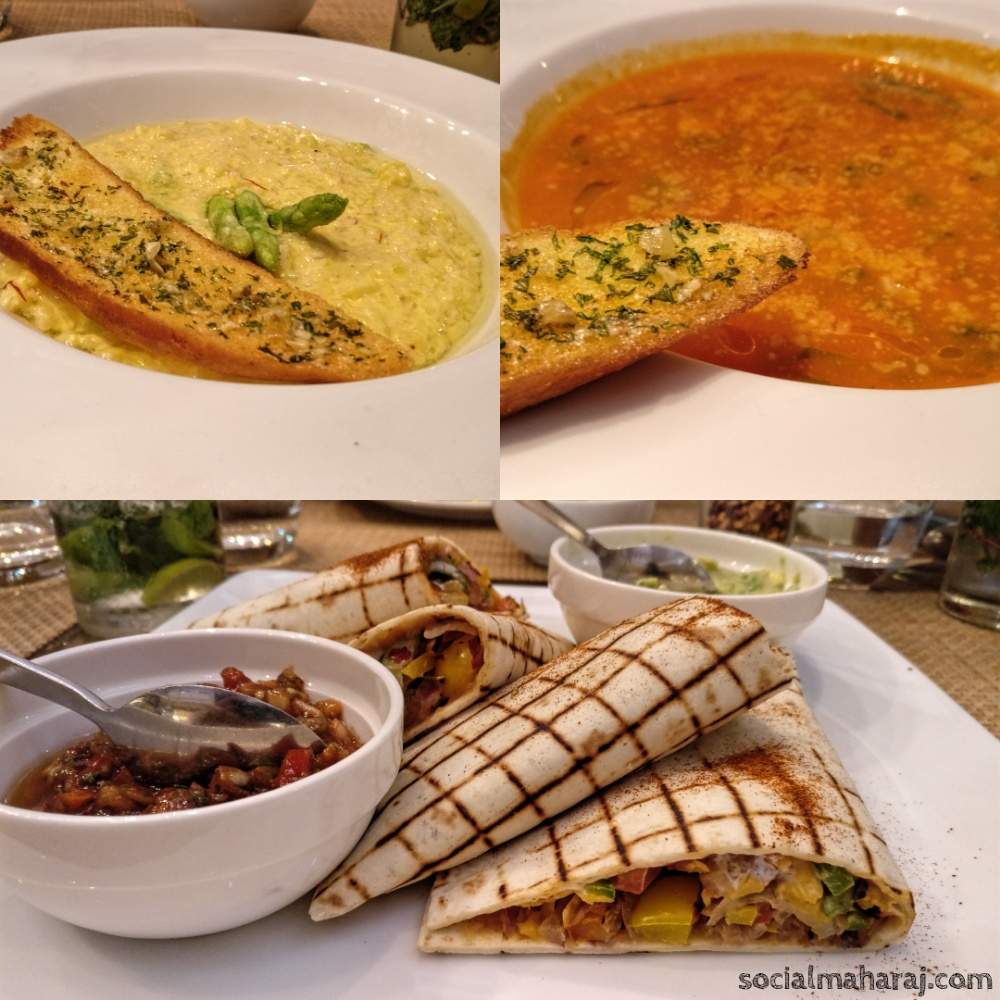 The last few things that came to the table were the Quesadilla and Virgin Mojitos. The Quesadilla that I had with Faasos was different and Taco Bell was different. Even my friend was like it's different everywhere. I had me expectations of it being think and stuffed with exotic veggies. What came was – four quesadillas as thin as a roti stuffed with veggies and cheese. At first, I was like they took so long for this ? Frankly, it wasn't great on taste.
Final Verdict: Saffron Soul at Marigold is good enough
Of all the items we ordered the soup along with the pizza, pasta (and papad) were good. Prepared well and had a good taste. Quesadilla and Risotto were quite different and maybe some of you would like it. When the bill came in, we were shocked to see that the Virgin Mojito costed us a bomb. With the total amount being close to Rs 3500, almost 50% was attributed to the Mojito ! Still can't get to terms that Pizza with 4 variety of cheese was cheaper than a glass of Virgin Mojito.
Overall, it was a decent dinning experience. We all were hungry and we got food, so no complaints. Thanks to Naseeb Khan was waiting our table and getting the numerous rounds of papads before the main items arrived. Have you been to the Saffron Soul Marigold earlier ? Was your experience similar or different ? Let me know in the comments below or tweet to me at @Atulmaharaj