It was Saturday evening when one of my blogger friends called me up and asked if I could join dinner on Sunday. Since I was already occupied, I told I might join. She insisted I joined because it's been quite a while that I met these bunch of bloggers and amazing human beings. The first place that was decided was somewhere in GVK One, however the place we finally went was completely worth. Yep, you guessed it right, we finally went for dinner at The Roastery Coffee House. One restaurant that I've been wanting to visit for quite sometime but wasn't able to due to various reasons. Anyways, now that I was there, here's a review of Roastery Coffee House. And if you are a Coffee lover, you should definitely visit Roastery Coffee House.
House turned into a Cafe
Shakespeare had said "What's in a name" however, I'd say there's everything in a name. Roastery Coffee house as the name suggests is a house actually converted into a cafe. It's located between huge bungalows on either sides and might not be easy to locate during the day. The cafe has some seating area outside and a decent one inside. Since we were here for dinner, we decided to sit inside. However you should be ready to wait for your table. The cafe is heavily crowded from like 6-10 pm and they don't even take reservations on weekends. I waited for about 15 mins for the table.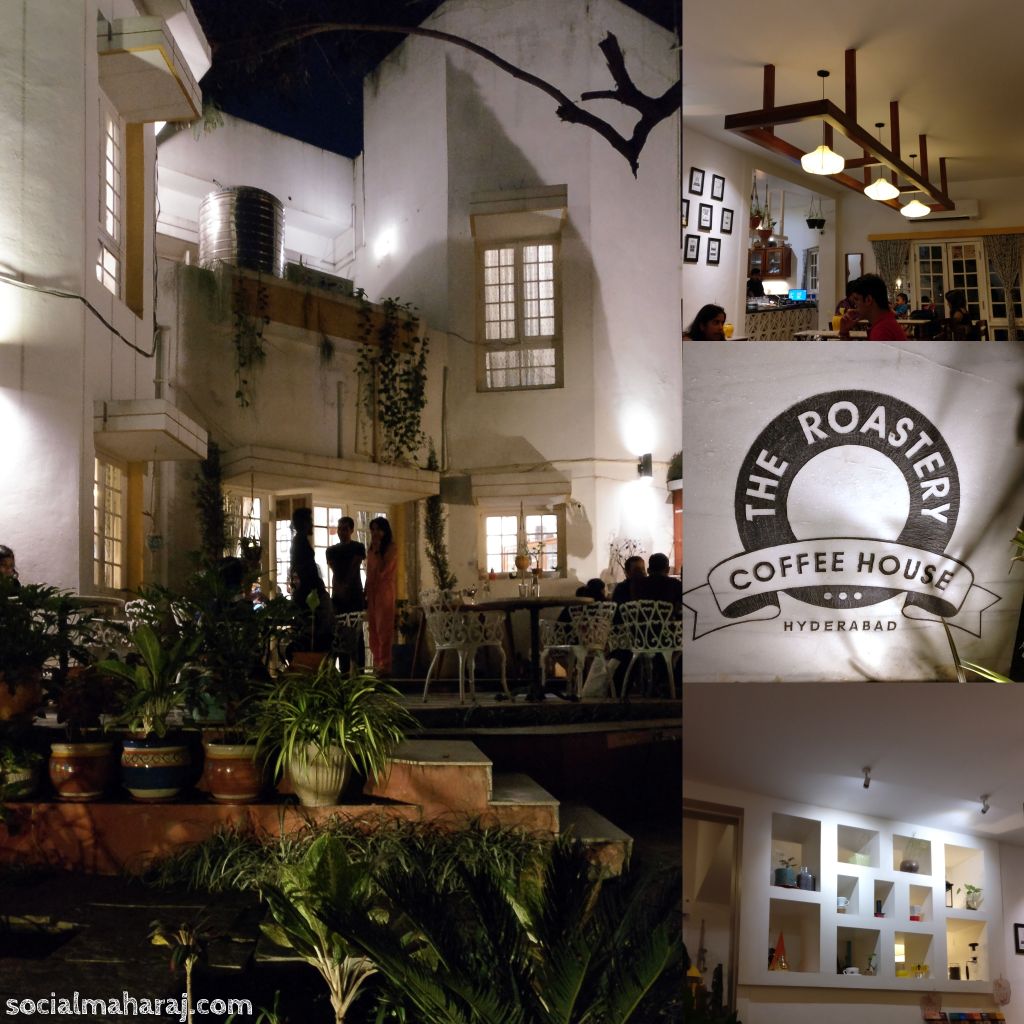 Once inside, you're greeted with a lot of hustle and bustle which you don't often find in a cafe. Also the strong aroma of Coffee greets you at the same time. The lighting is quite bright and again, you can get some great Instagram photos. There's a large table in the center and a lot of smaller ones around. One thing that I have to point out is the restroom. Since it's a house, the bathroom is converted into a restroom and it is common restroom for ladies and gents. However the bath-tub inside caught my attention. Had I even a slightest chance, would have locked the door and had a good bubble bath 😛
Coffee, Food and Friends – Roastery Coffee House
We were five of us and that meant that we could order a lot of different items. And it's rare that in a group of five, you have four vegetarians. Perfect situation to use the phrase "Once in a blue moon" 😉 so there were a lot of vegetarian items on the table.
Coffee, Coffee and Coffee at The Roastery Coffee House
There's Coffee in the air, and on the menu and there's lot of it. From the French Press to Malabar Coffee to classic Espresso to the unique Nitro Brew, there's coffee everywhere. There were a lot of things that we tried. The first round contained a couple of French Press coffees, Nitro Brew, Aam Panna Mojito and Brownie Blend Cold Coffee. Nitro Brew was a carbonated version of Coffee, something like Cafe Cuba served in an elegant wine glass. Brownie Blend Cold Coffee was delicious. Double shot Espresso withe Brownie and ice – heavenly !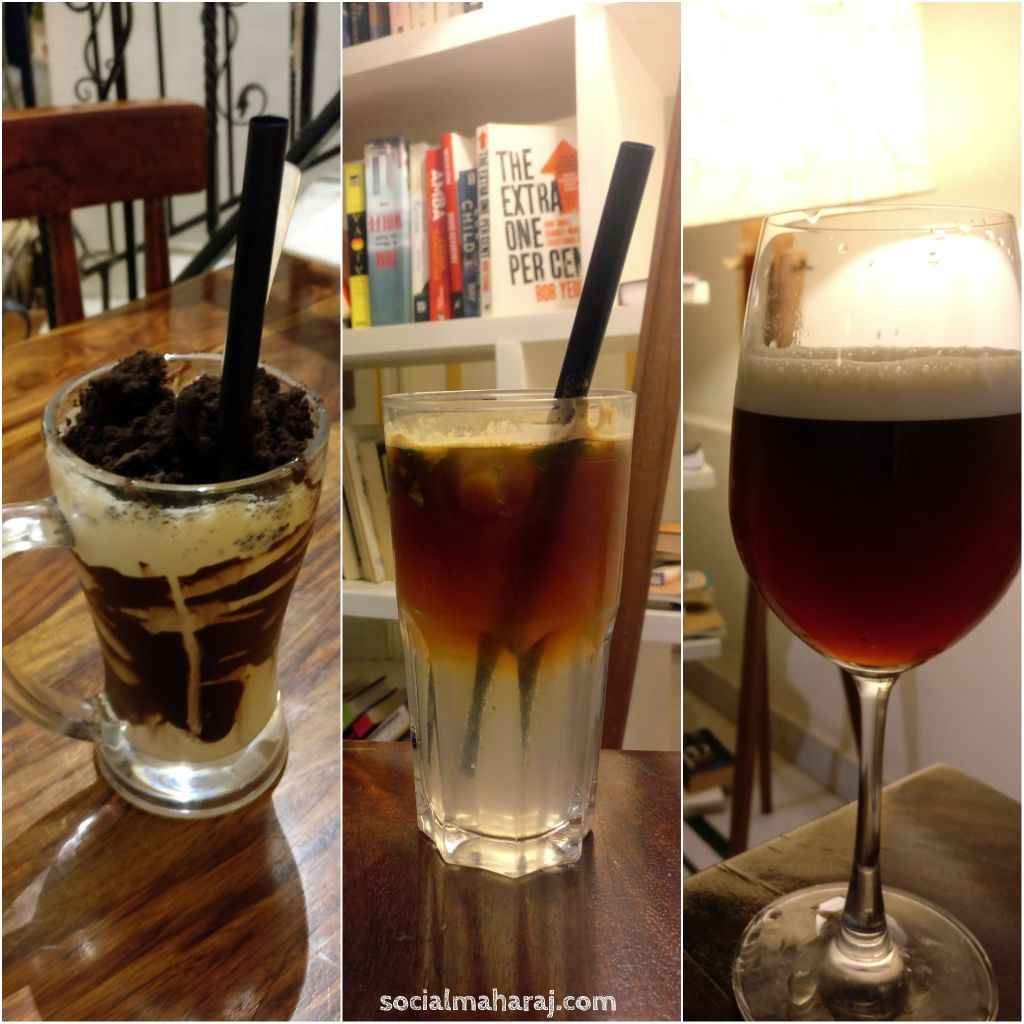 The next round of beverages included few Aam Panna Mojitos and Coffee Mojito. Yes, Coffee Mojito. Me being a fan of Mojitos, how could I miss this. The drink arrived with the bottom half being crystal clear and the top half with espresso coffee. That along with fresh lime and soda. First of all, it looked good. Upon mixing and taking a sip I was transponded to another level. Coffee with lime ? Hell yes ! It tasted amazing, the initial flavor of a typical mojito that ends with a strong Coffee flavour. Not recommended for people who don't like Coffee, this might be too bitter for many. But I highly recommend this.
Italian Starters
Everything that we ordered for starters was vegetarian. We had Zucchini Fries, Onion Rings, Cherry Tomato Cheese Bruschetta, Nachos Cheese Salsa and Cheesy Paprika Balls. Zucchini Fries was just like any other potato sticks, only thing it wasn't potato 😛 Others enjoyed it, but I didn't find anything special in that. I'm not a big fan of Nachos and Salsa, but everyone on the table did enjoy the item. But both the items did look good. The next item that reached the table was Cherry Tomato Cheese Bruschetta. There were only five pieces of it and was plated nicely. It was colorful. As for the taste, it was yummy, the bread was super soft.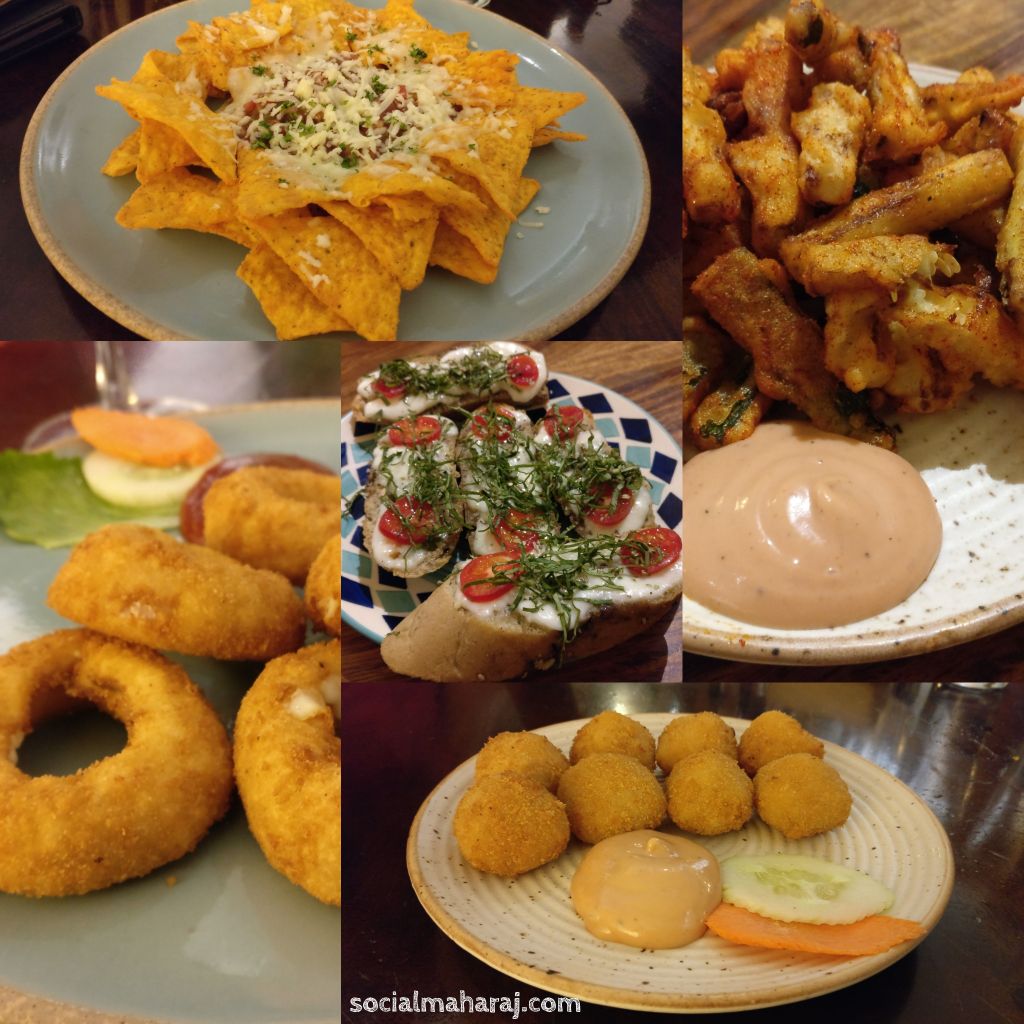 Next in line was the Onion Rings. Plain onion rings coated with cheese and batter and deep-fried. Crisp on the outside and cheesy on the inside. I like this one. A videsi version of pyaz ke pakode 😉 The last starter on the table was Cheesy Paprika Balls. This was by far the best starter in my opinion for the night. Cheesy, flavorful heavenly balls is how I'd describe it. Overall, the starters were good.
Tasty and filling main course
Since we had so many starters, main course items weren't too many that we ordered. We had Mushroom Risotto, Veg Penne Pasta with Red sauce and finally Mutton Lasagne for our meat-eating friend. I was eating the Risotto for the first time and I totally loved it. The Mushroom sauce with rice was tasty and chewy and cheesy, just what I like. The Penne Pasta was loaded with Zucchini and Broccoli and was ok on taste.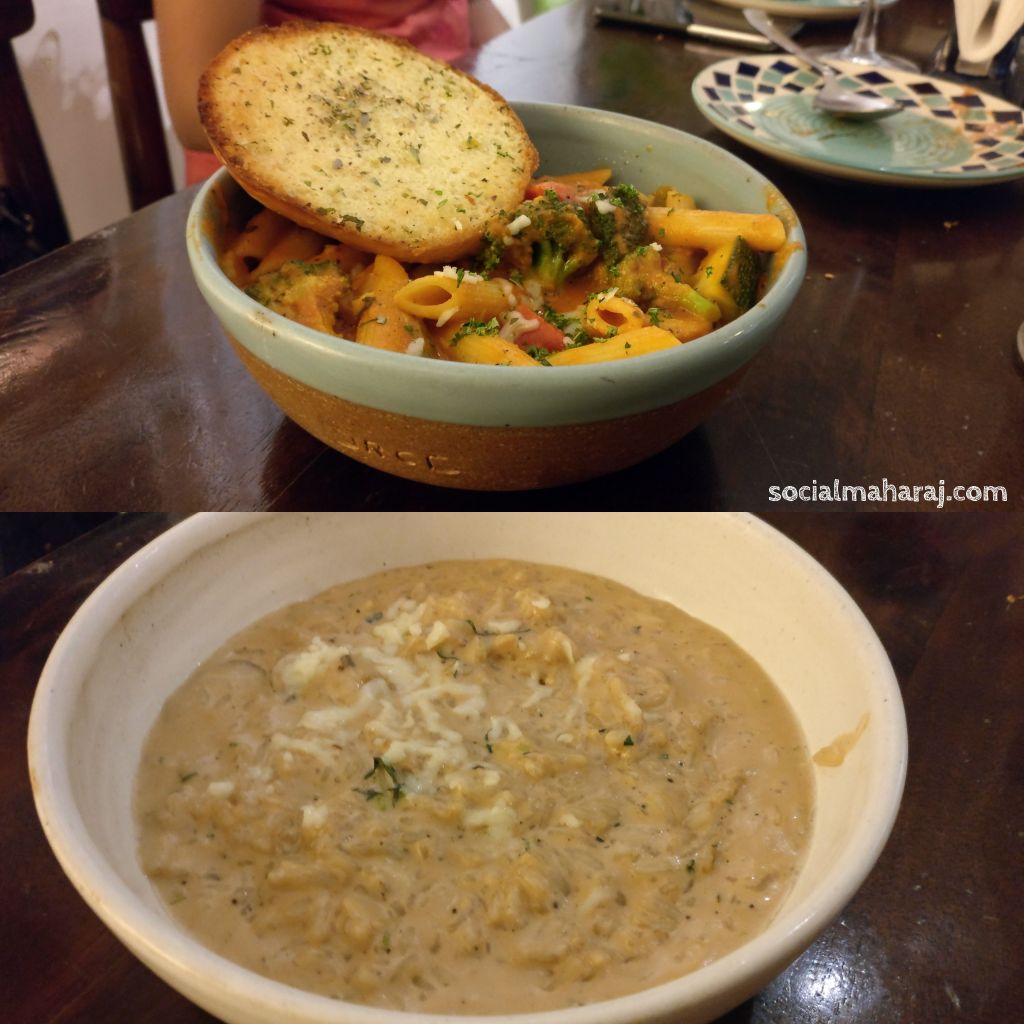 Final Thoughts: Chill out at Roastery Coffee House
Though crowded most of the time, you should definitely visit Roastery Coffee House. The place is quite unique, just like the items they serve. It's a place that requires few hours because you can sip your coffee, read a book and spend time. The blended Coffees were delicious and so was the Coffee Mojito. The place was a bit too loud and that was a damper. Also we were charged extra for asking extra salsa sauce 🙁 The total spend was around 3700 Rs for 5 people which is on the higher side, but considering the items and the ambiance its fine. Only if they could increase the portion size for most of their items.
All in all a good place to hang out with your friends and loved ones. If you have any queries about The Roastery House or feel I've missed out anything, request you to mention in the comments below or tweet to me at @atulmaharaj