The last image that I have of Bangalore airport is a place in a different galaxy with absolutely nothing around it. Getting there was an issue (still a concern) there was nothing out there expect lavish parking space. Fast forward to 2019 (#10YearChallenge) and what I saw today was completely different. The airport has been revamped – the area outside perhaps – and has become a great place to hangout (only if it were close to the city) The Lounge at the Bengaluru airport is still there and I do enjoy my time(and meals) there. If I had the time on had, I would have surely spent a little more time here. Anyways here's all that you can do and the places you can eat at The Quad Bengaluru Airport
The Quad Bengaluru Airport
The Quad by BLR is the place right opposite to the Bengaluru Airport terminal. It's possibly the first thing you will see when you are exiting the airport terminal. To help you a bit, it's right in front of the Subway store (the store where I first fell in love with Subway) Even more hint ? If you are arriving in the evening, you should be able to spot a lit up Bengaluru signage like the one below. So what's exactly The Quad ? What all you can do at The Quad – Bengaluru Airport ?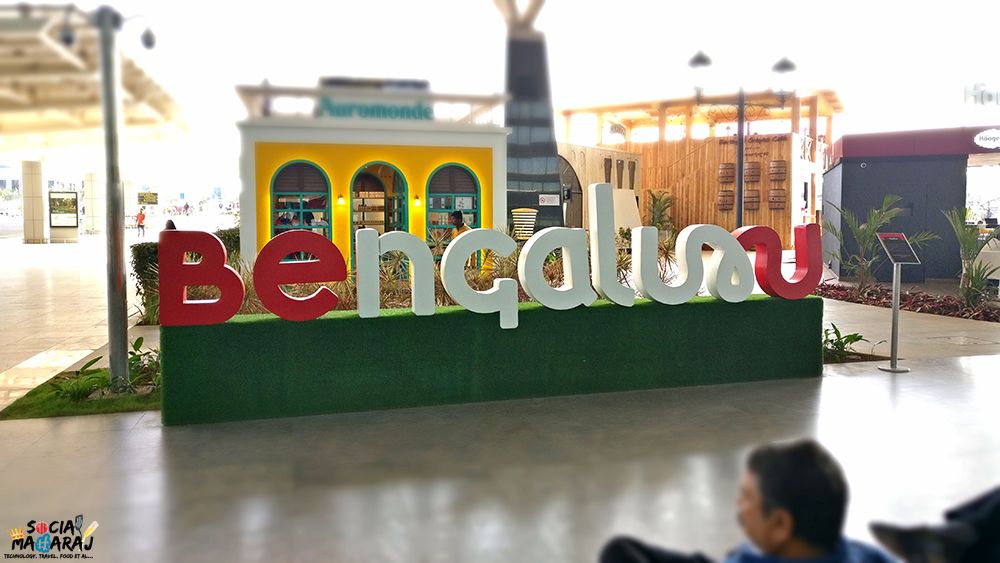 Shop at the Quad
The Quad has got a handful of shops and popup stores where you can purchase a lot of stuff. From the Lego blocks for your little one (you can gift it to me too) to that fancy handbag for your wife from HiDesign. There are a lot of places to shop. There's also an exclusive pop up store of Superdry, so you could grab some good t-shirts and hoodies if Bengaluru feels cold.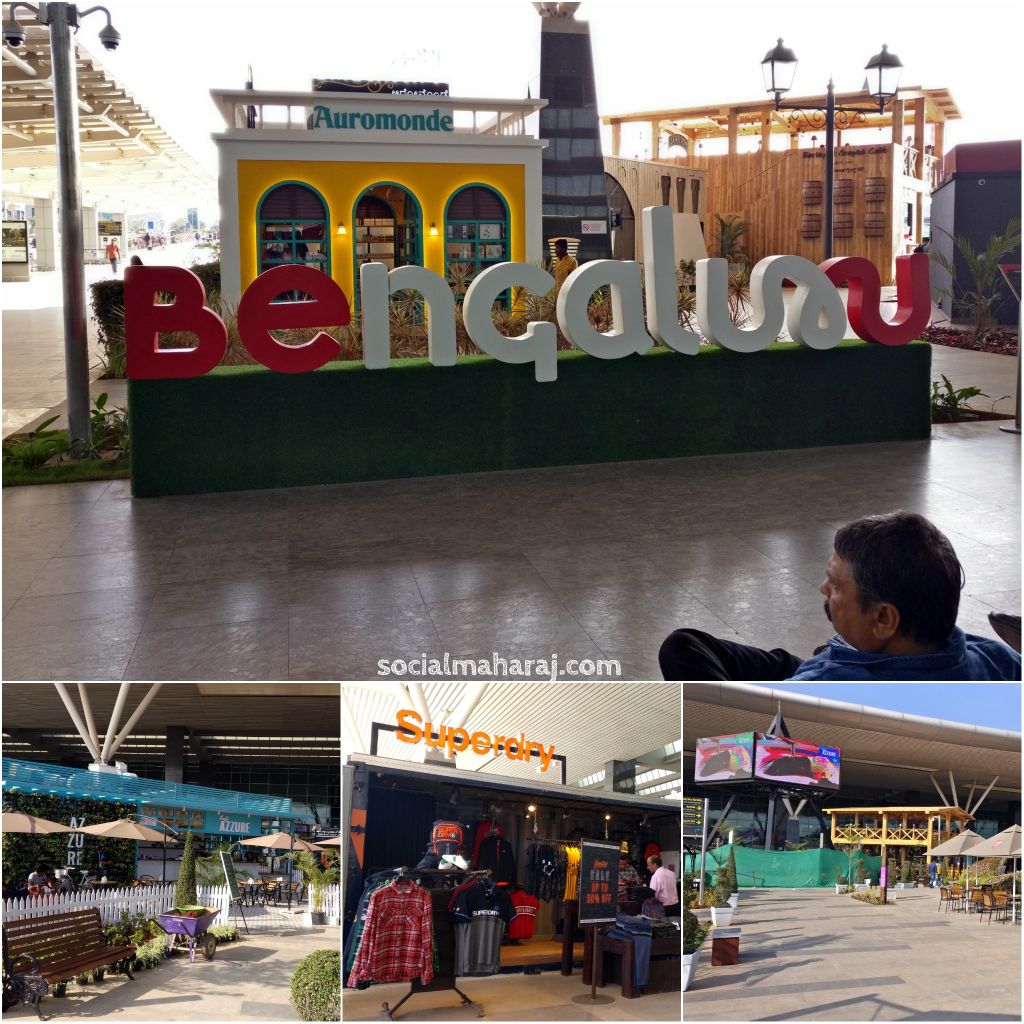 Eat at the Quad – Places to Eat at Bengaluru Airport
Now that you've shopped a lot, I'm sure you'd want to give your legs a little rest and some food for your tummy. You can have the healthier Subway or the go to Cafe Coffee Day. If you are looking for a change, there's Kebab House which serves some delicious kebabs. There's Azzure, a cute little cafe that has got everything you'd want. Apart from that you have sit out cafés dishing out snacks and craft beers. Here's a list of all the eat outs at the Quad at Bengaluru Airport. Also find a quick guide as to what is where in the map below.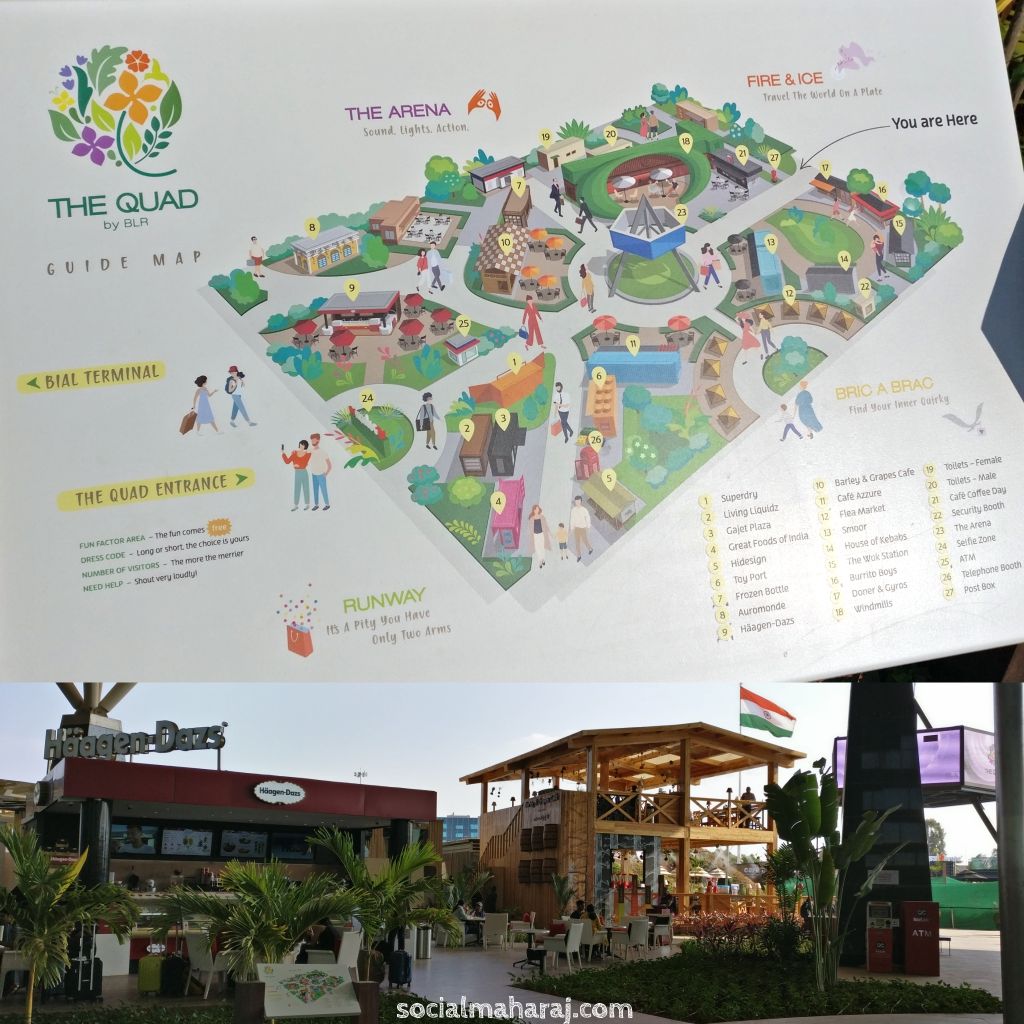 So even if you are a little early to the Bengaluru airport the next time, you have a lots of places where you can spend some time instead of the terminal building. Going there in the afternoon might not be a good idea as Bengaluru can get hot in the peak hours of the day. However, if you are here during the evening/late night The Quad at Bengaluru Airport can be a great place to enjoy food, fun and music along with the cool breeze. The next time I'm there, ill surely try to spend more time there. Have you been there ? What would you like to say about the concept ? Mention in the comments below or tweet to me at @Atulmaharaj