Apologies for the late post, things have been keeping me rather busy at work. I've always vouched for the fact that meeting bloggers, twitteratis in real life is more valuable that just reading their blogs. And people who know me, also know that I always make it a point to meet them if they are in my city. So if we follow each other on Twitter and if you are in Hyderabad, do let me know. Would surely meet you. On the same lines, one of my long time Twitter pal behind Saumy' Bag was in the city. We couldn't meet the last time I went to Panchgani via Pune, so this time we had to. It's been three years that we know each other virtually and it was time to meet in person. Had an amazing time.
It was Friday and we decided to meet for dinner. We did take some time to decide the place. In the end we closed in on Kebab Theatre – Lemon Tree Premier in Hi Tech city. For me dinner outings means a new place, because food post, content after all 😋 So without wasting any time, here's a quick review of Kebab Theatre.
Dinner Review of Kebab Theatre – Lemon Tree Premier
Bollywood Themed Ambience
Themed restaurants are on the rise. Be it The Grand Trunk Road, Ohri's Tansen or Nautanki Gali to name a few, people love visiting themed restaurants. Kebab Theatre is at the M floor in Lemon Tree Premier hotel. (Gyan: M floor means Mezzanine floor, which is an intermediary floor between two floors and often not considered when counting total number of floors in the building. I didn't know that until I asked the manager) The lighting is a bit dim, but the lights on the table is pretty good. Perfect for people like me.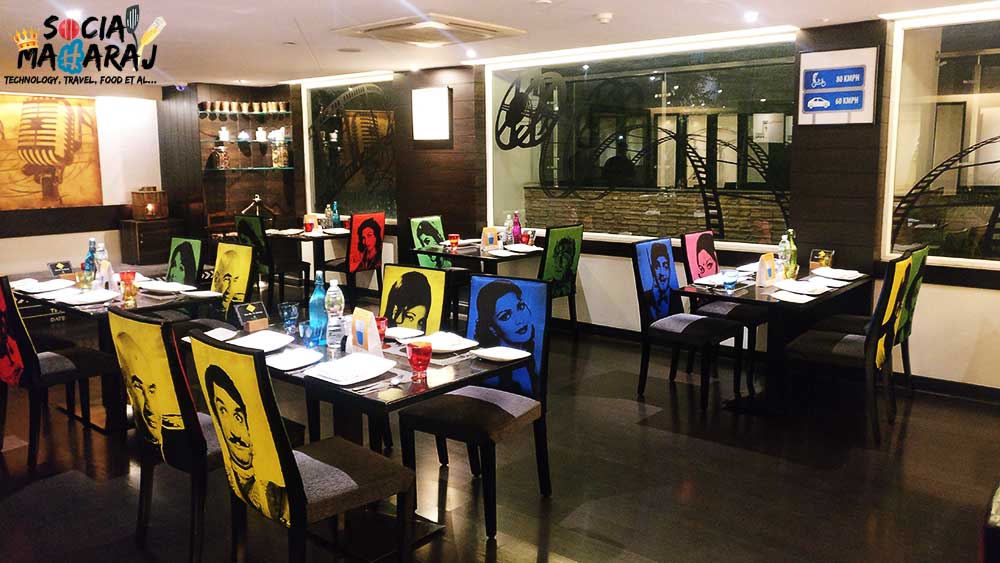 One thing to note is that the restaurant is served by deaf and mute people, so they have these booklets on tables that will help you communicate effectively. It was my first experience at such restaurant, had a few hiccups but totally loved the dining experience. The seating is fine and so is the cutlery, loved the plates Lemon Tree !! The chairs have images of Bollywood personalities with not-so-bollywood music in the background. Overall a good place.
Food Review of Kebab Theatre
We were a group of 5 people of which one was meat eater. But that night, it was a vegetarians night ! Before I begin, I'll point out that the menu is very limited especially for vegetarians. However, the items on the menu are pretty well prepared. Below are the items we ordered.
Starters
For starters we ordered three items along with a Tiger Prawn starter (the only thing our non vegetarian friend had) We had Gabbar sa Kadak, Gul-e-Gulistan and Paneer Ki & Ka. The Paneer was soft and coated with a nice layer of spicy peri peri type masala that gave a punch to it. For others it was average, but I liked it. The Gul-e-Gulistan was similar to The Bhutteyan ke Kebab I had at United Kitchens of India. The only difference was that this was made from Aloo and Paneer while the one at UKI had corn. It was average on taste. The Gabbar sa Kadak was no different than the Gul-e-Gulistan. Seemed like the same raw material has been used for both the starters. For starters, I'd say not great and pretty average.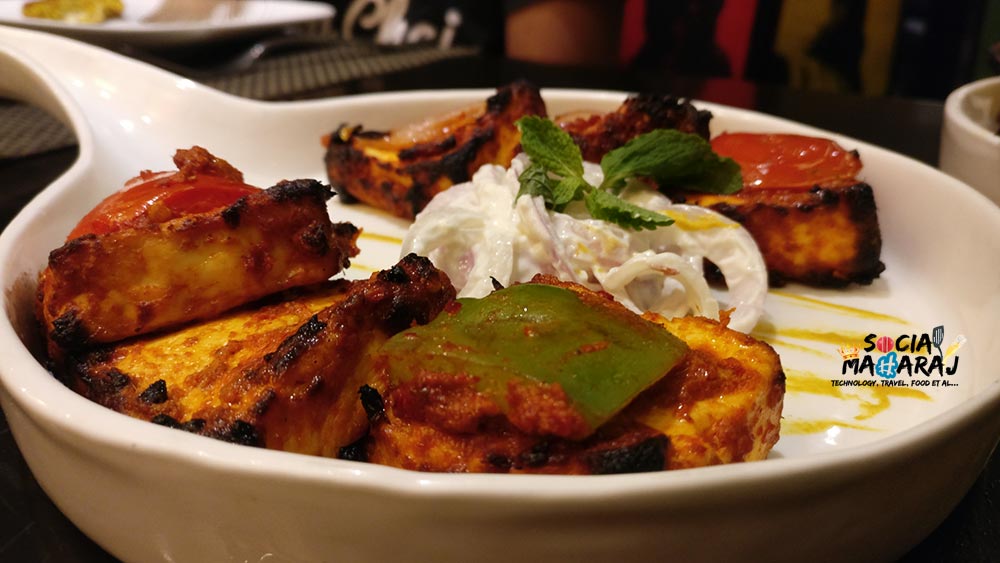 Balanced Main Course dishes
Our Main course like always had the Dal Makhni along with Pehli Nazar ka Paneer, Videsi-Heaven on Earth. This was accompanied with Methi Poori, Garlic Naans and Rotis along with Veg Biryani. I'll say all the items were very well prepared. The Pehli Nazar ka Paneer was very different from the other Paneer preparations I've had. The Paneer was soft, the gravy had a mix of onions and garlic which gave a good taste and texture. Videsi-Heaven on Earth was tangy yet tasty. It had zucchini, broccoli along with few other veggies. Cooked to perfection, the items were chewy and had a great texture.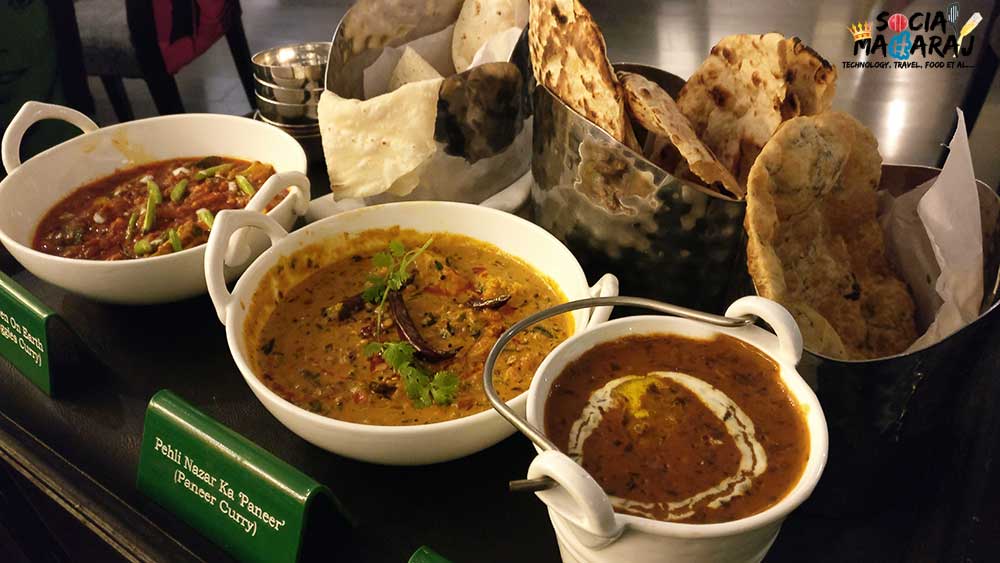 Moving to the Dal, well it wasn't named as Dal makhni on the menu, it was Dil se Dal. However, it was very different from all the Dal Makhni I've had. Be it the Taj Vivanta, United Kitchens of India or Smoky Pitara. The Dal, served in a ceramic bucket, was buttery and great on taste.
Having Pooris on a hotel menu isn't a common thing like my friends pointed out. According to them, the pooris were fresh and actually had methi. So it wasn't for name sake. The naans were great too. One good thing I liked about Kebab Theatre was that with every dish, they had an accompanying name plate so that we know what it is. Haven't see it anywhere else for an a la carte restaurant. If you have, do mentioned the restaurant in the comments below.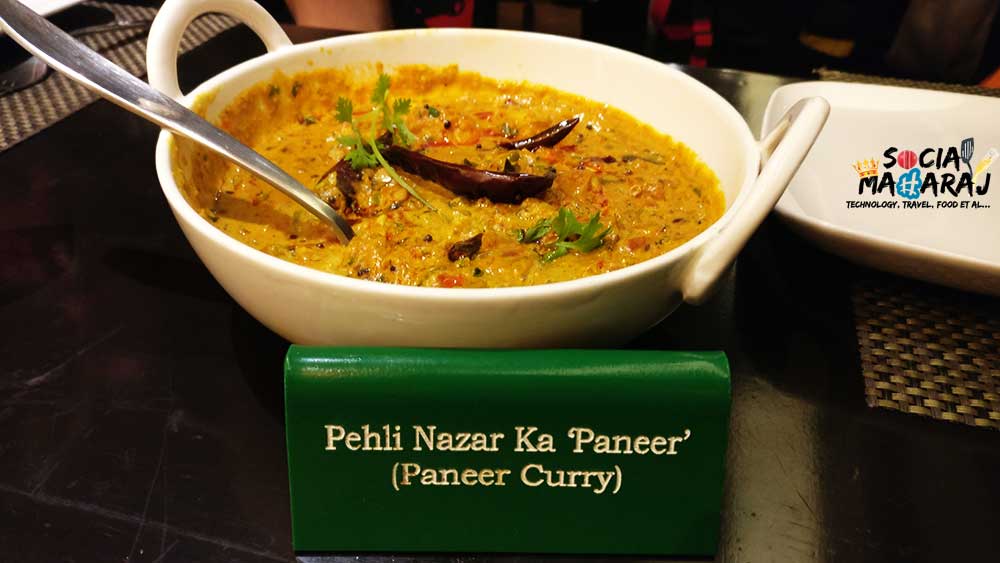 Sweet and well presented Desserts
We wanted to complete our meal with desserts, which I seldom order. That night we ordered Qubani Ka Meetha, Pista Kulfi and Shahi Tukda. The presentation of all the dishes was great. Huge plates with chocolate sauce drizzled all over and a small portion of the dish. Of all, my favourite was the Shahi Tukda, gooey and sweet bread topped with equally tasty Rabri. Totally loved this one.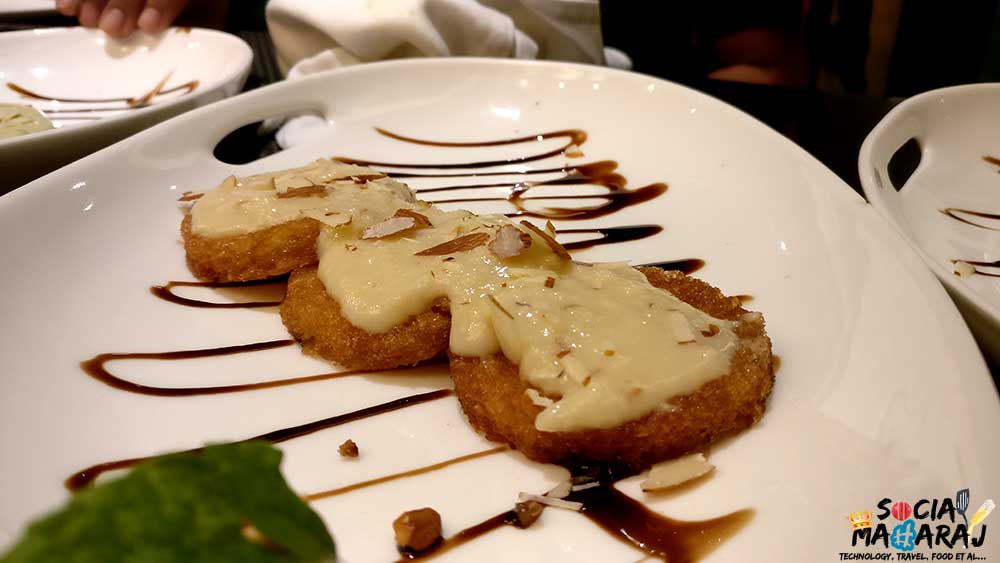 Final Verdict: Kebab Theatre is a good dining option
Overall it was a good dining experience and if you are around Hi Tech City you could give this a try. We were a group of 5 and paid around ₹6000 – slightly on the higher side for the items we had. This includes Zomato Gold discounts too. The food was good, had a balanced taste, not the typical spicy Andhra cuisine. The staff was warm and ensured we were well attended all the time. Thanks to the Chef, Ravinder Singh who personally came to our table a couple of times. That's about my review of Kebab Theatre – Lemon Tree Premier in Hitech City. If you've been there, what would you say ? How's the food, the service, the ambience ? Mention in the comments below or tweet to me at @Atulmaharaj