Taste, Aroma or Appearance ? was a question that I had asked some time back. For some it's about taste, for others it's about appearance. In fact what I got to hear from most of them is that it's a combination of both. What people often look while dining out is tasty food coupled with great ambience. And that's what I exactly do too. In Hyderabad, there are many such restaurants that have a perfect mix of taste and ambience. Some of them are Ohri's Jiva Imperia, United Kitchens of India, Smoky Pitara are few that come to my mind. Being a frequent diner at Ohri's, I've visited Nautanki Gali, Jiva Imperia, De Thali and Mehfil. This time around it was time to try their another offering at Tansen. Was here for dinner on Saturday with friends, so here's a review of Soulful dining experience at Ohri's Tansen.
Soulful Music with imperial decor
One thing that I've noticed is that any Ohri's establishment, has a couple of restaurants in the same building. Be it Nautanki Gali and Rubaiyat in HiTech City or Jiva Imperia and De Thali in Begumpet. Ohri's Tansen at Necklace road is no different. The huge complex is home to 3 restaurants – 70mm, 1857 and Tansen. Tansen and 70mm are adjacent while 1857 is at first floor. There is a stark contrast between 70mm and Tansen. The moment you enter Tansen, you would feel like you are walking into a royal courtroom. The intricate pillars, the small water ponds and the imperial decor remind you of that.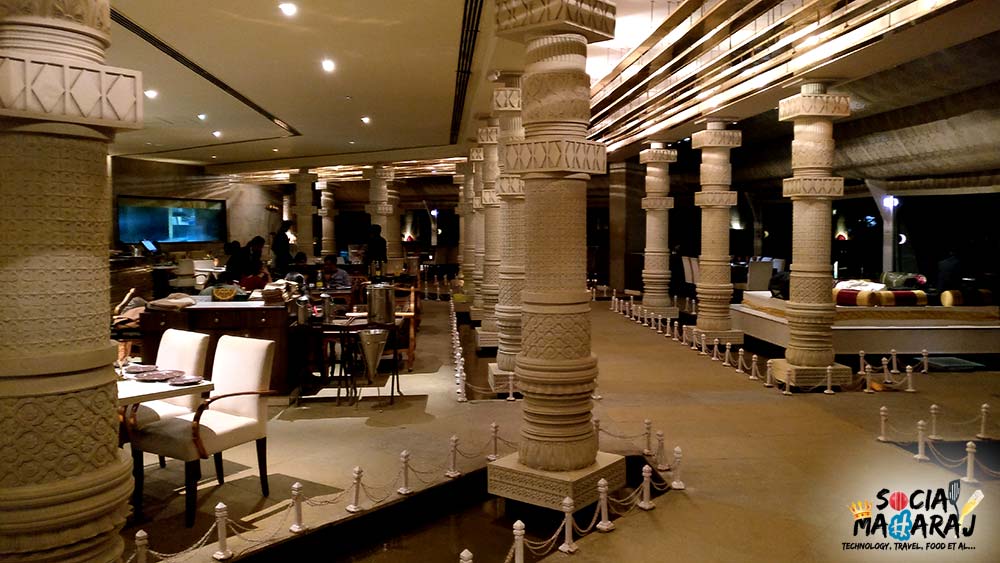 For seating option you have tables as well as sofas for you to enjoy your meal. The restaurant is quite spacious. At one side you have the stage which overlooks the bar. There are live musical performances every evening which I feel is pretty good. One can also request songs/ghazals and that's great. We requested for a couple of Jagjit Singh's ghazals. Must say the singers were pretty good. The entire ambience with live music adds a punch to your dining experience. Overall loved the ambience of the place. A must experience for all.
Food at Tansen
Ohri's tansen is purely a la carte restaurant and doesn't offer any buffet options. The menu is a good mix of both vegetarian and non vegetarian dishes. However, the menu isn't very expansive and one might feel that the menu is limited. The restaurant is known for its Mughlai and North Indian dishes and that' what we were here for. Read on for the review of Ohri's Tansen Review
Starters – Unique and Tasty
The vegetarian starters menu has a handful of dishes which are quite unique. Apart from the regular starters like Paneer and other veg based starters, they have some exquisite offerings too. We ordered two starters – one was the Hara Bhara kebab while the other was Zimikand ki Gilavat (Sweetpotato Kebab). They did make us wait for the starters to be served. Both the dishes had 5 pieces of kebab server along with sliced onions and Mint, Coriander chutney. This was the first time that I had Hara Bhara Kebab that had Palak in it. Most of the other places have either peas or added green colour with other veggies in it. It was good on taste and texture. The mouthfeel was chewy because of the palak. The serving did look oily but didn't taste oily.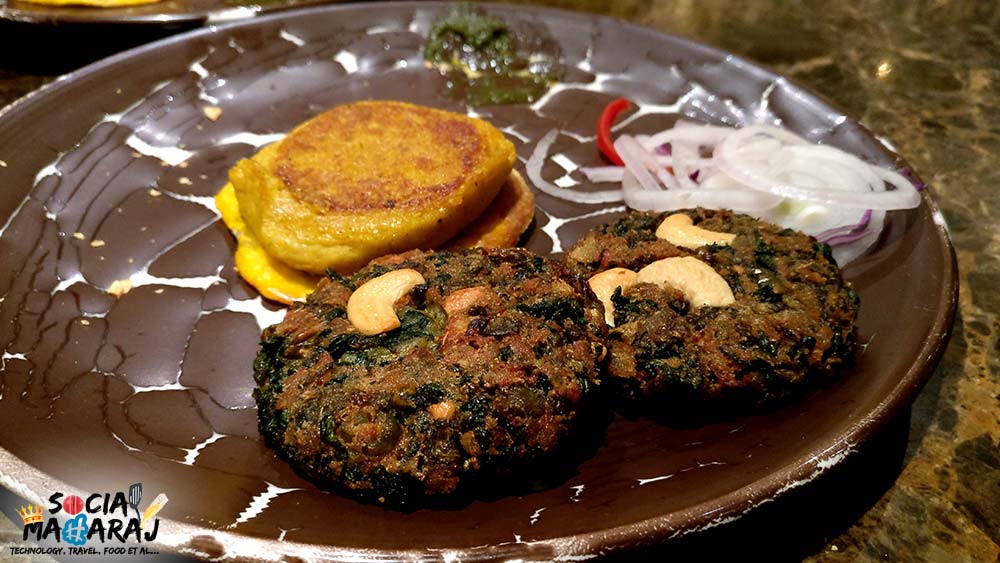 Zimikand on the other hand was served with over a little pieces of besan ka chilla (supposedly)This was made with ghee and it was evident in the taste. The kebab was very smooth and soft and good on taste. A little sweet though, it did melt in mouth. Overall, we were quite satisfied with the starters. And these contributed the most to the overall bill. Moving on to the main course food at Ohri's Tansen.
Main Course – Delicious Food
It was three of us and we were quite hungry too. We decided to order Lagan ka Mela, Paneer Laqa and my all time favourite Dal Makhni. The Lagan ka Mela was three different curries served in a plate ! I initially thought it would be a combination of three different seasonal vegetables but I was wrong. The curry had one green gravy based dish along with 2 regular red gravy. The green gravy curry was very tasted and had lots of Garlic in it. The other two were quite average.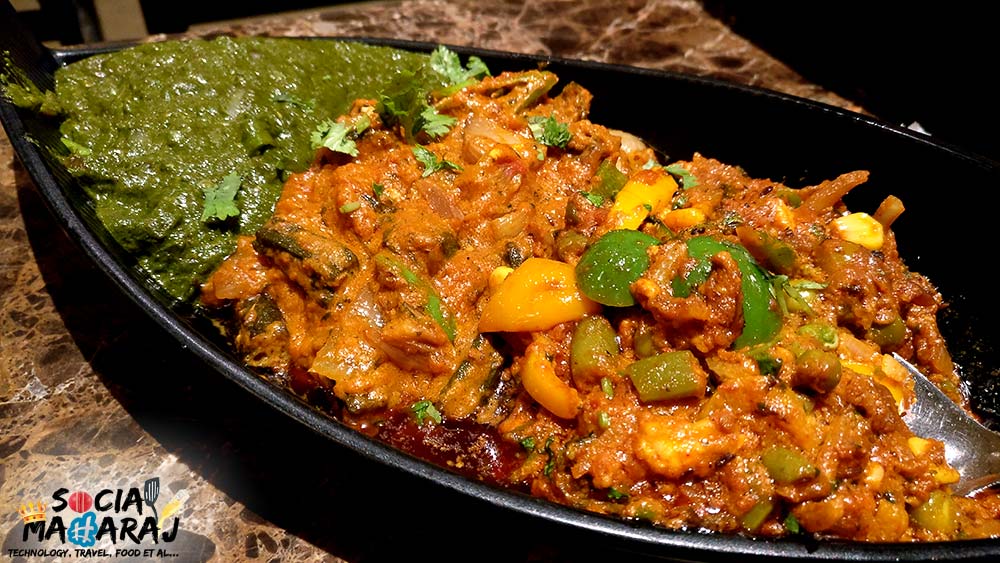 Moving away from the regular dishes like Paneer Tikka and Paneer Butter Masala, we ordered Paneer Laqa. The menu mentioned that it was made using raw Channa powder along with Badian powder. We were quite interested in the description and hence we ordered it. The curry on arrival looked bright but it also gave a look of those ready-to-eat curry. The gravy had huge chunks of paneer but it wasn't upto the mark. It lacked the taste and the punch that probably the regular dished would have given. If I had to rate this dish on a scale of 5, I would give this a 2.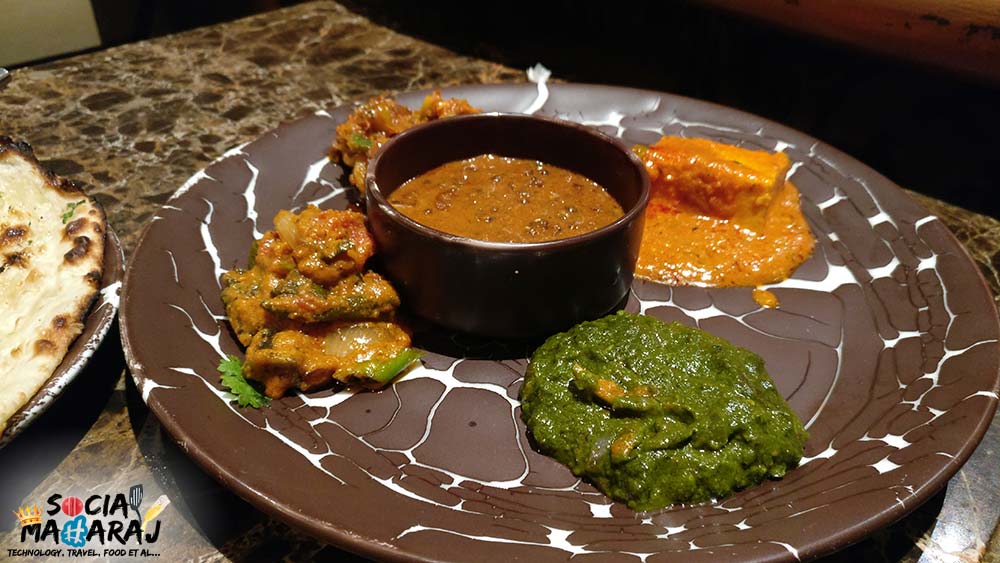 Moving on to my favourite Dal Makhni. Like most places that was served in a small bucket. The aroma that came from the bowl, I knew this was it. And it was, after a long time I found a Dal Makhni that was at par with the one I had at Viva, Taj Vivanta. The dish was creamy and buttery with a perfect mix of spices. The texture was beautiful and the taste was superb. Surely the best Dal Makhni I've had in recent times in Hyderabad. I'd highly recommend having the Dal Makhni whenever you are here.
Dine at Tansen for the ambience & the dining experience
Songs and food are a great combination and complement each other in a great way. Ohri's Tansen is a perfect example of this. The imperial decor is welcoming and the live music is soulful. The service is quite good and so is the food. Thought there aren't many items on the menu, they are delicious. I had a wonderful time at Ohri's Tansen and will surely visit it sometime soon to try other dishes. We were a group of 3 and paid around Rs 2500. This was after utilising two Zomato Gold coupons. Seemed justified for the dishes we ate and the experience we had. If you've been there, how was your experience ? Did you like it ? Would you recommend it to others ? Mention your views in the comments below or tweet to me at @atulmaharaj