"Family dinners are a rarity, so when it happens, it has to be grand" that's the status I put up when I was out for dinner last week. I often go out for dinner with friends and office colleagues. And most of my restaurant review posts are from those visits. But when I'm out for a family dinner, it has to be the best. I often explore new places, preferably pure vegetarian restaurants – which are a rarity themselves. So last week around, it was time for a family dinner and we decided to check in to Viva at Taj Vivanta, Hyderabad. So here's a comprehensive – read delicious – review of the dinner buffet at Viva.
Subtle Ambience
I'm fond of waterfalls, or at least the sound of flowing water. So the moment I entered the restaurant, the first thing I notice is a waterfall right in front of me. Since we were there early, we were offered a choice to choose any table. Took the one near the fountain. The theme of the restaurant is amazing with soft tones of brown. The buffet area is split into two parts – a very good thing. One area houses the salad and dessert bar. The other is all about the soups and main course. There's also a live counter station that serves starters. Overall, the ambience is pretty good – just what you expect from the brand Taj. Moving on to the Dinner Buffet review at Viva, Taj Vivanta.
Scrumptious and Delicious Buffet at Viva
After settling in our seats and immersing ourselves in the ambience, we decided to hit the food counters. I started off with the sweet corn soup. I'm not a soup person, the only reason I tried the soup was because of the assortment of breads that were on offer. So soft ! One good thing was that every dish had a display card which was either red or green indicating whether the dish was vegetarian or non vegetarian. The salad bar didn't have much variety in the vegetarian camp – cut vegetables and sprouts. However, there were a lot of salad dressings available, haven't seen that at any other place.
More variety of Starters Needed
After having visited restaurants like Absolute Barbecues and Barbecue Nation, the expectations of starters has broken the roof. I expected a lot many starters (vegetarian) but the expectations weren't met. There was Paneer Pesto, Potato with Parmesan cheese, Cut Mirchi and Crispy Vegetables. I'm a fan of kebabs and was surely expecting more kebab offerings for vegetarian. 🙁
Delicious Main Course
For Main Course, I first started with the international offerings they had. The Italian baked vegetables, the Malaysian Noodles and Rice along with Vegetables in Thai Curry. I loved all of them. The best part about most of the Asian food is that they aren't too spicy. Post the international platter, it was time to taste the desi khana.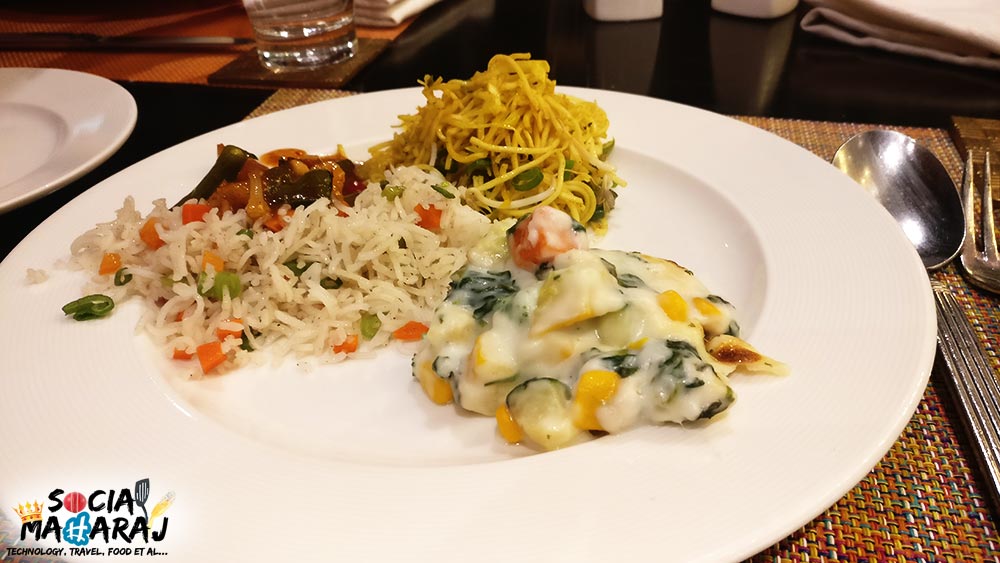 It was a Hyderabadi buffet so my favorite Dal Makhni was out of action (But There's a surprise, keep reading) I took a bit of everything on offer. There was the Hyderabadi Pappu (dal), a Bhindi Gongura mix vegetable, a vegetable korma, Paneer Korma and Kadhi. Of all, the Paneer Korma was the best. Soft Paneer cubes and a very subtle gravy with a balanced taste. If you are someone who loves spicy food, then you might not find this amusing at all. The waiter attending our table – Manish – did everything needed to make our experience a much better one. He suggested us to try the Pudina Laccha Paratha, Paneer Kulcha, Missi Roti and my favourite Garlic Naan.
Customised dish in a buffet ? Oh Yeah !
Manish told us that he could arrange for gravies and other items which weren't on the buffet. I was surprised listening to this ! He insisted on asking us to try something. I finally caved in and asked "I know this won't be possible, but can you check if Dal Makhni could be made available" Manish replied "Bas Dal Makhni, I'll get it in a jiffy" I was like Whoa ! Not only Dal Makhni, but he got a Rumali Roti too. Within no time, there it was – a bowl of hot Dal Makhni right in front. And boy that was too good ! One of the best I've had in Hyderabad. So earlier the best Dal Makhni was at The Grand Trunk Road, then it was Punjab Grill and now it is this.
There's more with the desserts
I was full after having so much. I still feel guilty of not being able to finish the Dal Makhni 🙁 For desserts again there was a plethora of items on offer. There was cut fruits, cakes, pastries, Lauki Halwa, Shahi Toast and ice creams. Since I was already full, I couldn't eat much. I went for the Shahi Toast and that was sweet. It was like double ka meetha in rabdi. All these items were served in little clay plates. Loved the presentation, the taste and everything else !
Final Verdict: Fine Dinning at it's best
I have been to the Waterside Cafe in Taj Banjara earlier and that was not a good experience. I wasn't sure how the experience of the buffet at Viva would be. In the end, it was pretty amazing. The pricing is definitely on the higher side, but you'll love the entire experience. Customised offerings in a buffet is the best. For about Rs 1700 per head, the Dinner Buffet at Viva Taj Vivanta is a wonderful experience. I couldn't fill in the feedback register at the restaurant, so here's a big hug and thanks to Manish and the chef for the amazing Dal Makhni ! Have you been there already ? How was your dining experience ? Mention in the comments below or tweet to me at @Atulmaharaj