800th post this one ! The rise of Mi especially in the Indian market has been like a bat out of hell. It has invaded almost every India household. First with their budget and feature-loaded smartphones and now with their home appliances including the latest Mi TV. There are a handful of Mi products in my house too – the Redmi 1s (the first Mi Phone in India, got via flash sale), the Mi Fit Fitness Band (Flash sale again, 1Re), Mi Powerbank, Mi Bluetooth Selfie Stick and the Redmi Prime 2S. I'd say all of them have behaved fairly good till date and I don't have any major issues with them. So when I was on the lookout for a replacement for my ageing prime 2s, the first smart phone to cross my mind was Redmi Note 5. I've been using the Redmi Note 5 for just over a week now and already in love with it. Thus this post, a one week review of the Redmi Note 5.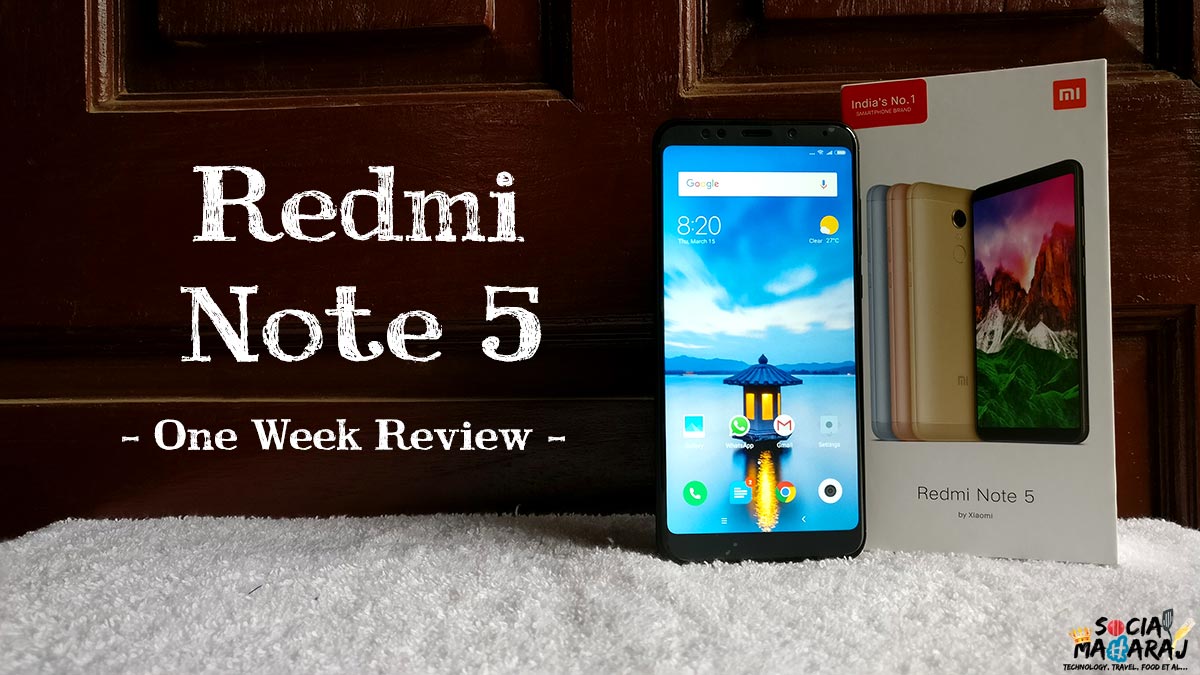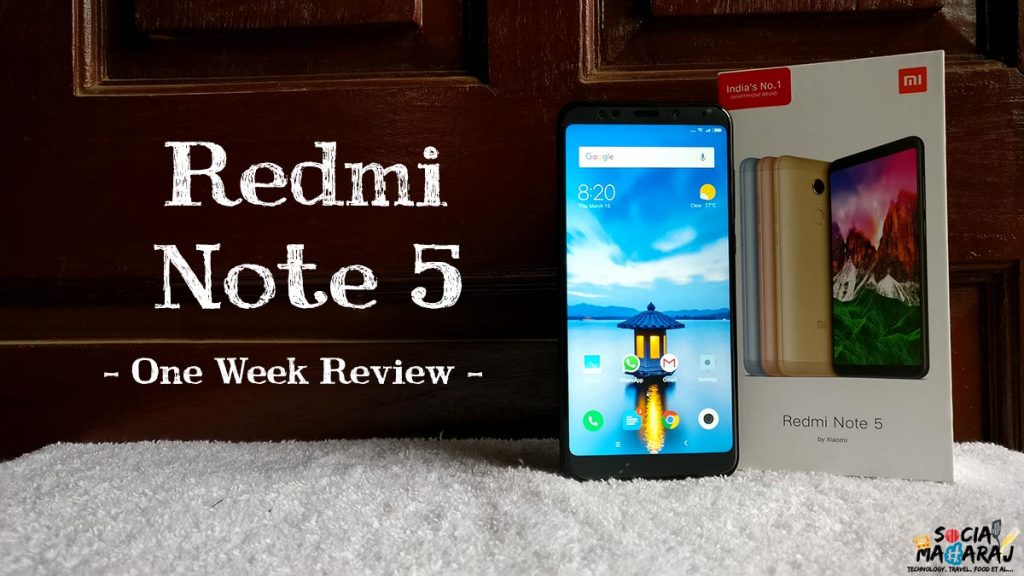 Why the Redmi Note 5 ?
This is one question that I'm sure many would want an answer to. There was the Honour 7 lite launching in a few days, the Redmi Note 5 pro was there too. So why did I buy the Redmi Note 5 ? Well, as mentioned above, this was going to be a replacement for the prime 2s. Since I already have a OnePlus 3T and a Nexus 5, which has superiors cameras to the Redmi Note 5 pro. Further getting the pro meant shelling out few extra bucks which I wasn't ready to. As for the honor 7 lite, it was out of stock and the flash sale happened just last week if I'm right. For that too, the budget was a little high. Also, I'll be selling out the prime 2, so effectively the cost of Redmi Note 5 would be much lower than what I actually paid. Ok, I guess there are enough reasons as to why I opted for the Redmi Note 5. Moving on to the One Week Review of the Redmi Note 5.
One Week Review Redmi Note 5
The OnePlus 3T is still my primary phone, but I do play around with the Redmi Note 5 once in a while. The phone is loaded with the normal apps that most of you might have. (And my own apps too :P) The one week review of the Redmi Note 5 will predominantly talk about things that I liked about the phone and things that could have been better. I'll start with the things I liked first.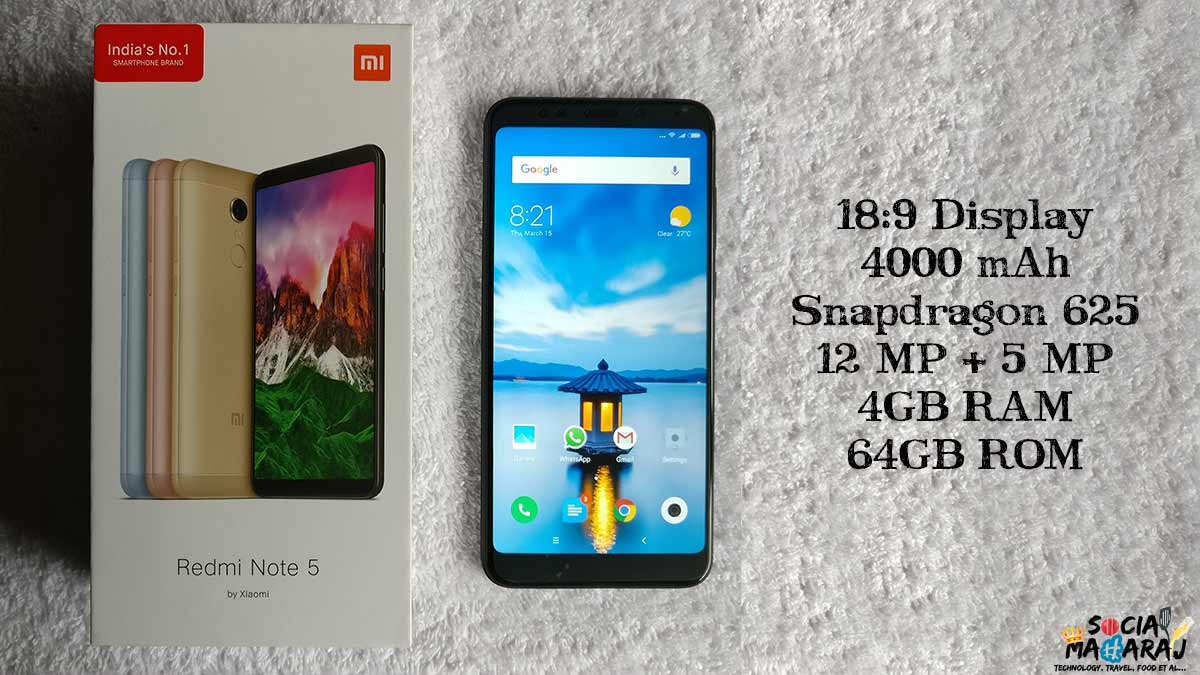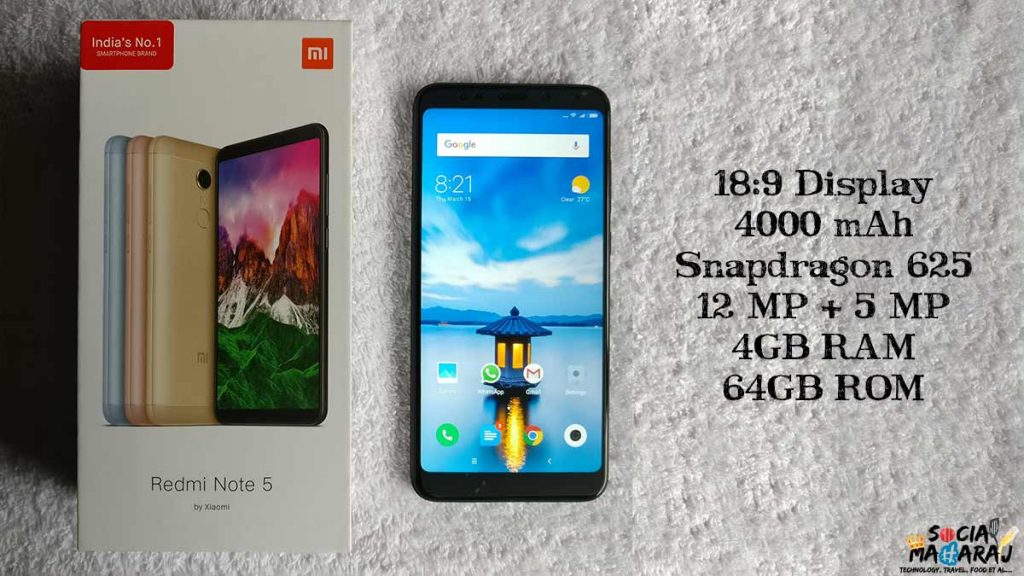 Things I liked on the Redmi Note 5
The Display: 18:9 is dope
Your old CRT type television had an aspect ratio of 4:3 which was preceded by 16:9 (the HDTVs). Later the similar aspect ratio was repeated for smart phone. 16:9 is talk of yesteryear now with most brands coming up with 18:9 display. So what exactly is the difference between 16:9 and 18:9 screen on a smart phone ? The change in ratio means a change in the form factor as well. All smartphones with 18:9 ratio will have a reduced width than other 16:9 phones. So swiping your thumb from one end of the screen to the other will be a lot easier. This is my first 18:9 phone and I'm totally loving it. The display is fairly good and colours reproduction is good too.
Fingerprint sensor – it's fast
The Oneplus 3T has the finger print sensor on the front, but the Redmi Note 5 has the sensor below the camera (Most of the Mi phones have it there) After using it for a week, I find the sensor placement pretty good. Because your natural tendency to hold a phone is such that you will hit the sensor first. The response time for the sensor is pretty quick and haven't observed any wait/lag while unlocking. The app lock is one thing that I haven't tried yet. So from the fingerprint sensor point of view, it is pretty good.
Battery – easily lasts a day and a half
Since this is a secondary phone, it isn't used much so I get a good standby time. The phone is connected to Wifi all times with light video/audio playback on YouTube/song streaming services. The 4000 mAh battery does a pretty good job and lasts long. This supports quick charging, but the adaptor provided by Mi isn't fast charge capable. 🙁 Overall, I'm happy with the batter performance.
Camera – decent for the price
Camera is one thing that everyone sees when they buy a phone today. The camera on the Redmi Note 5 does a good job under normal lighting conditions. Photos taken from the camera come out good and vibrant. The 12 MP shooter isn't amazing when it comes to low lighting scenarios. The front selfie camera is pretty good – better than my One Plus 3T I'd say. The photos are sharp and clear. The selfie flash is a boon if you are clicking a selfie in low light. My verdict, camera doesn't disappoint.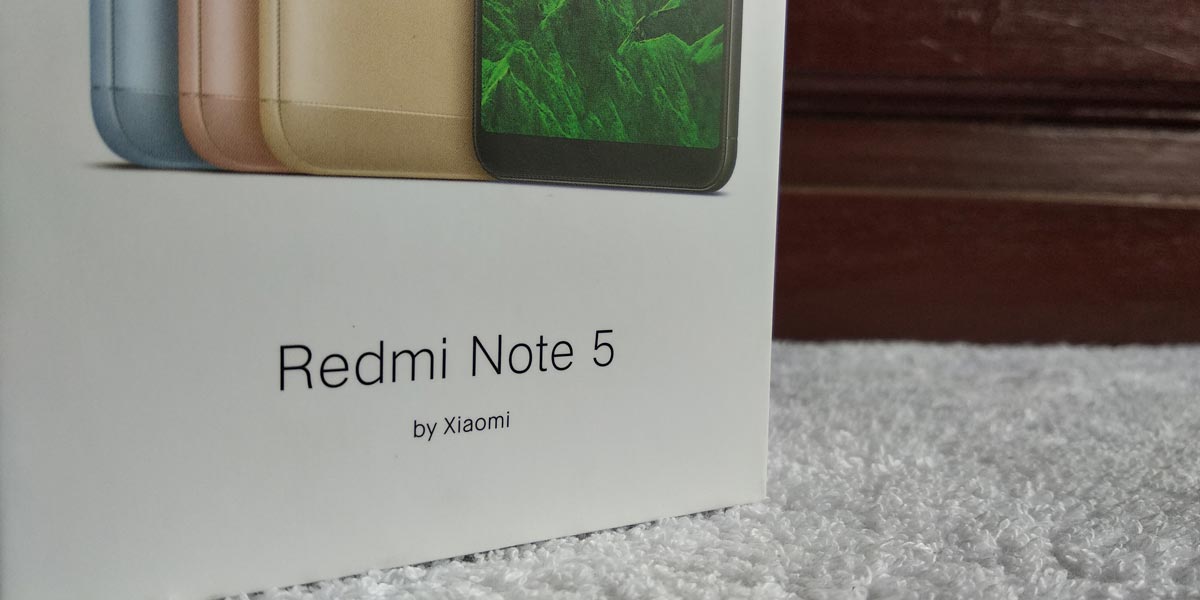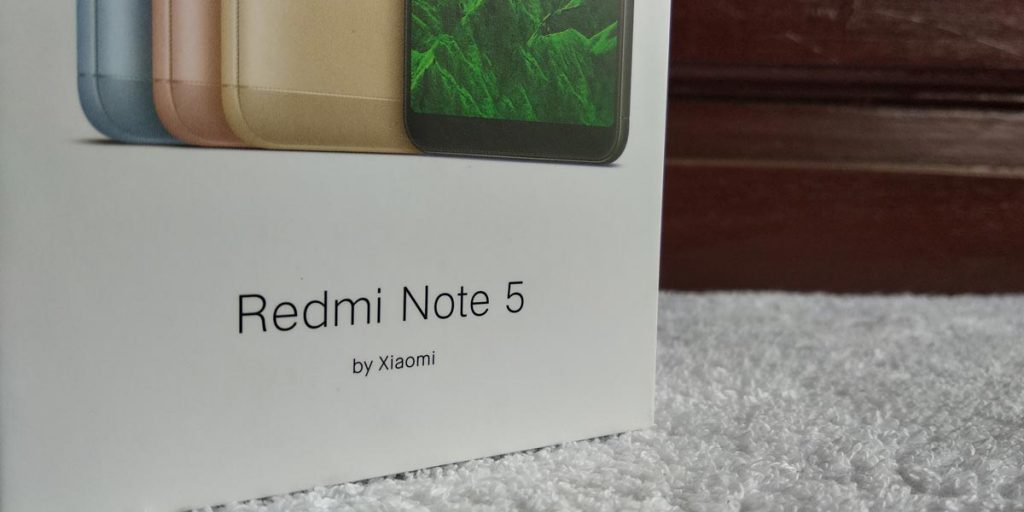 Things I didn't like on the Redmi Note 5
Coming to the things I don't like / could have been better. There isn't much to talk about these, so I'll just mention them in points:
Why Snapdragon 625 Xiaomi ? I'm sure they are in love with this proccy which has been a part of the Redmi Note 4 too. There are better processors in the market and I feel Xiaomi should have gone with those. Not that the performance of 625 is worse, but I would have loved to see a newer processor powering the phone.
No Face Unlock ? I'd say this is more of a software issue, but face unlock is a common feature that we are seeing on smartphones today. With the fingerprint sensor in place, I'd have loved to see face unlock too.
Stock Android please ? I'm not saying that I dislike MIUI, but I wished this came with stock Android. There's still lot of bloatware on the phone that I removed. Like they did for the A1, they should have had stock android for this.
Design ? I bet you cannot make out the model of the phone if seen from behind. Xiaomi has been continuing the same design for most of their phones. A little change perhaps. Please !
Final Verdict of Redmi Note 5: Yay !
I'd say the Redmi Note 5 is a pretty good phone when it comes to average daily usage. The build quality is good and the 18:9 ratio is dope. The phone feels so good in hand. Performance is pretty good and the RAM management too, haven't had any hang issues yet. Camera does perform good, especially the selfie one. If you love taking selfies, you won't be disappointed at all with this one. Overall for Rs 12,000 the Redmi Note 5 is a pretty good phone. Having used so many M products, the Redmi Note 5 provides a similar experience. What do you have to say about the Note 5 ? Yay or Nay ? Share your views in the comments below or tweet to me at @atulmaharaj