It was time for yet another team lunch and we wanted to try out a new place this time around. One of the major concerns were that the place should serve good non vegetarian food. After all veggies like me can eat grass anywhere 😛 After having tried numerous restaurants like Banana Leaf, Ohri's Boulder Hills, Barbecue Nation here in Gachibowli, it was time to try something different. Hence we decided to hit Ohri's Nautanki Gali which is situated at Cyber Pearl in Hi-tech city. So here's my take on the lunch buffet at Nautanki Gali.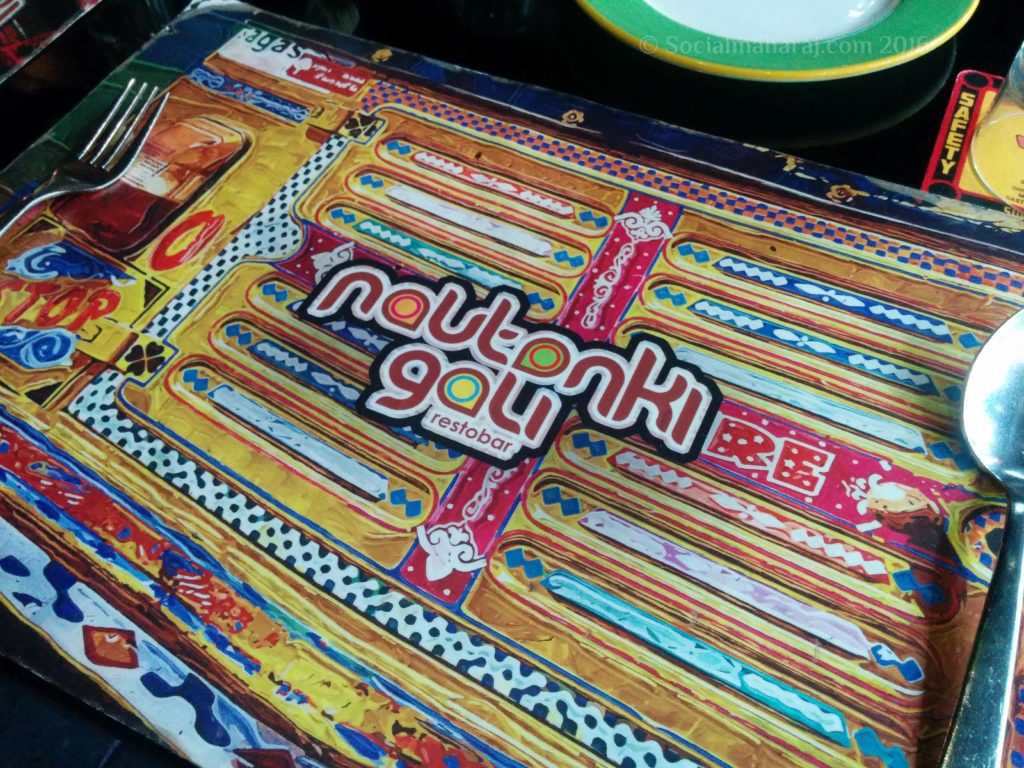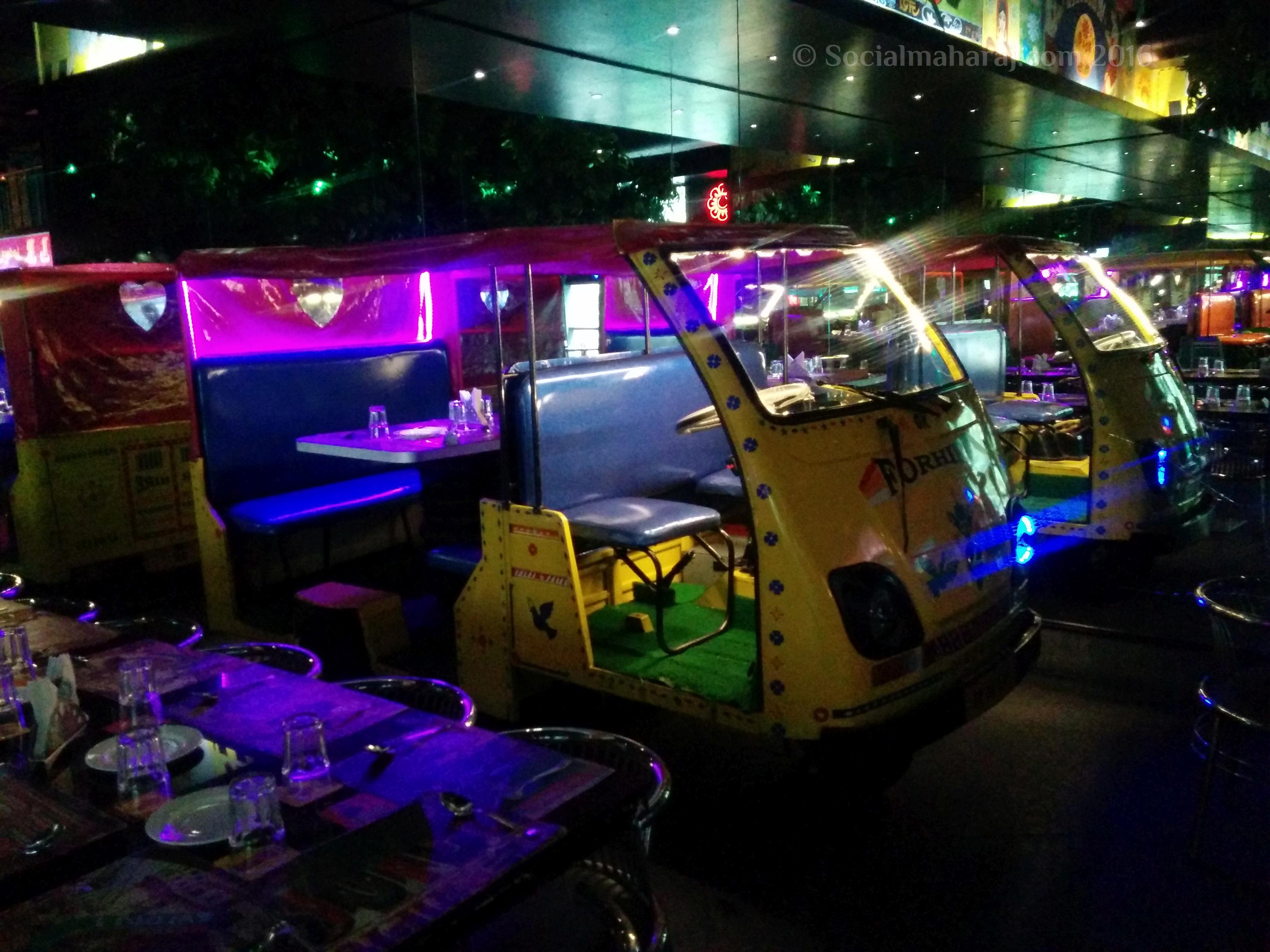 Starting off with a word of caution. If you are coming in by a two wheeler, then you will face trouble parking your vehicle as they don't allow outside vehicles inside Cyber Pearl. However if you are in a car, you can very well use the Valet parking service provided. Moving on to the ambiance which totally deserves full marks. As you enter the restaurant, you'll come across quirky posters with cartoons of Bollywood actors. A Rajasthani katputli dance at one side and a live folk music counter. As you enter the restaurant, there's a huge a tree right in the middle that serves the starters as well as the chat and pav bhaji live counter. At first, you'll find the restaurant too big, but then you'll realize that there's a mirror at one side, which makes it look big. Then there's auto-rickshaws and yes you can eat inside them. Lighting was a bit poor, could have expected more lights over the tables instead of beautifying the place. Nonetheless, Nautanki Gali scores full marks at the ambiance front.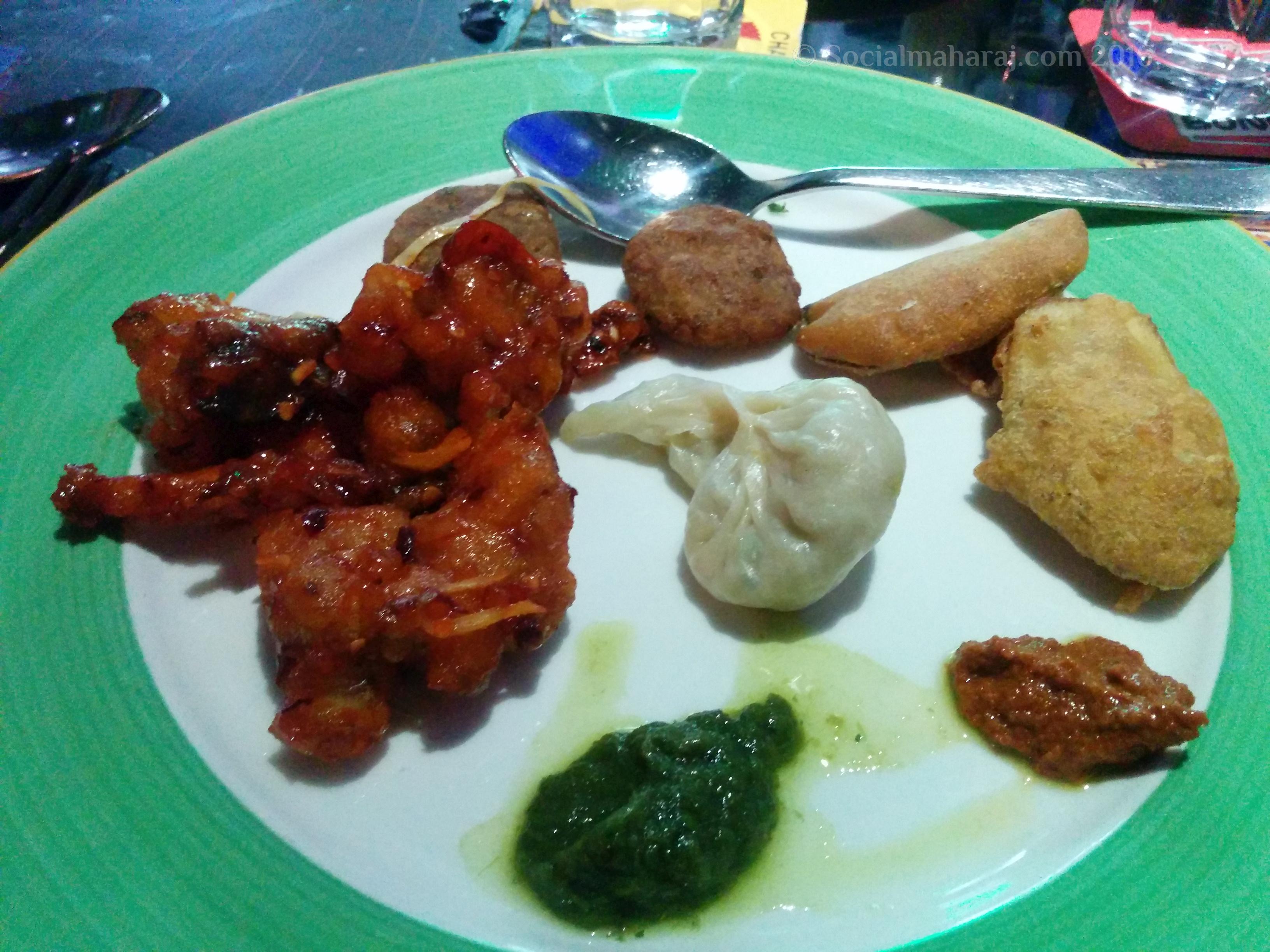 Moving on the main attraction, the food. Starting off with the starters. Well for vegetarians I would say it was disappointing. There were three items that had Mix Veg pakodas, Rajma Tikki and some Manchurian sort of thing. On the non vegetarian side, there was chicken and fish items. Momos and chats were also present along side the Pav Bhaji. My non vegetarians colleagues were happy with the starters, however as said vegetarian items were disappointing. The only thing I enjoyed was the Pav Bhaji. Further the starters area tends to get heavily crowded during the peak hours so put your foot forward with caution !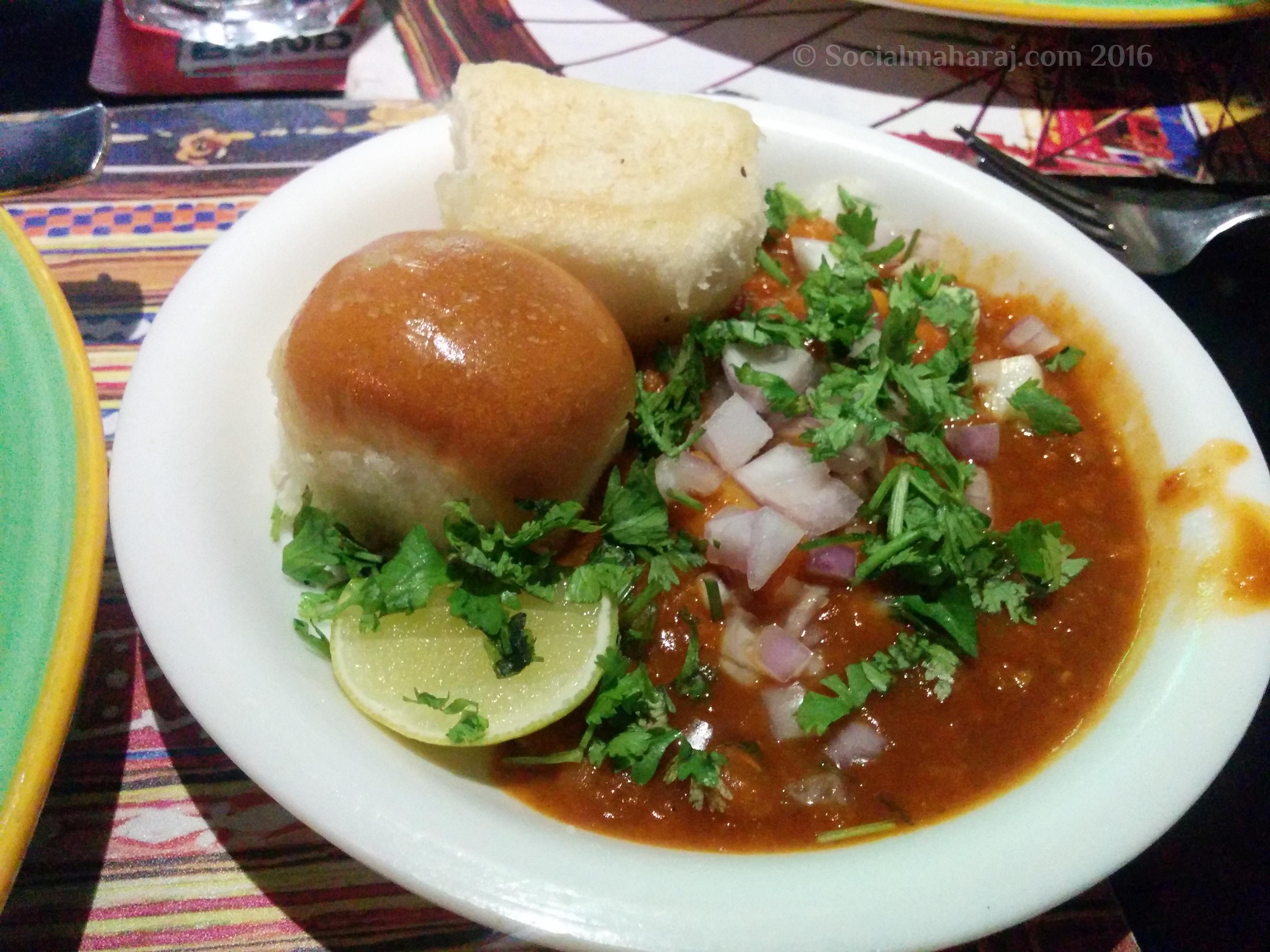 The main course was a good spread that had a rice preparation, couple of dal / sambhar dishes. For the curries there was a Paneer preparation, a dry aloo dish and a mix vegetable. All these three curries were pretty average on taste. However I liked the Pasta which was good on taste. Personally when I go out to dine, I look forward to more variety and Nautanki Gali didn't have much to offer. Even for rotis, you had to queue up and when there were many people, it would take ages for rotis to come to your plate. In terms of rotis, I prefer Ohri's Jiva Imperia as they serve the rotis at your table. Even my non vegetarian colleagues weren't too happy with the main course. There was chicken and fish along with Biryani.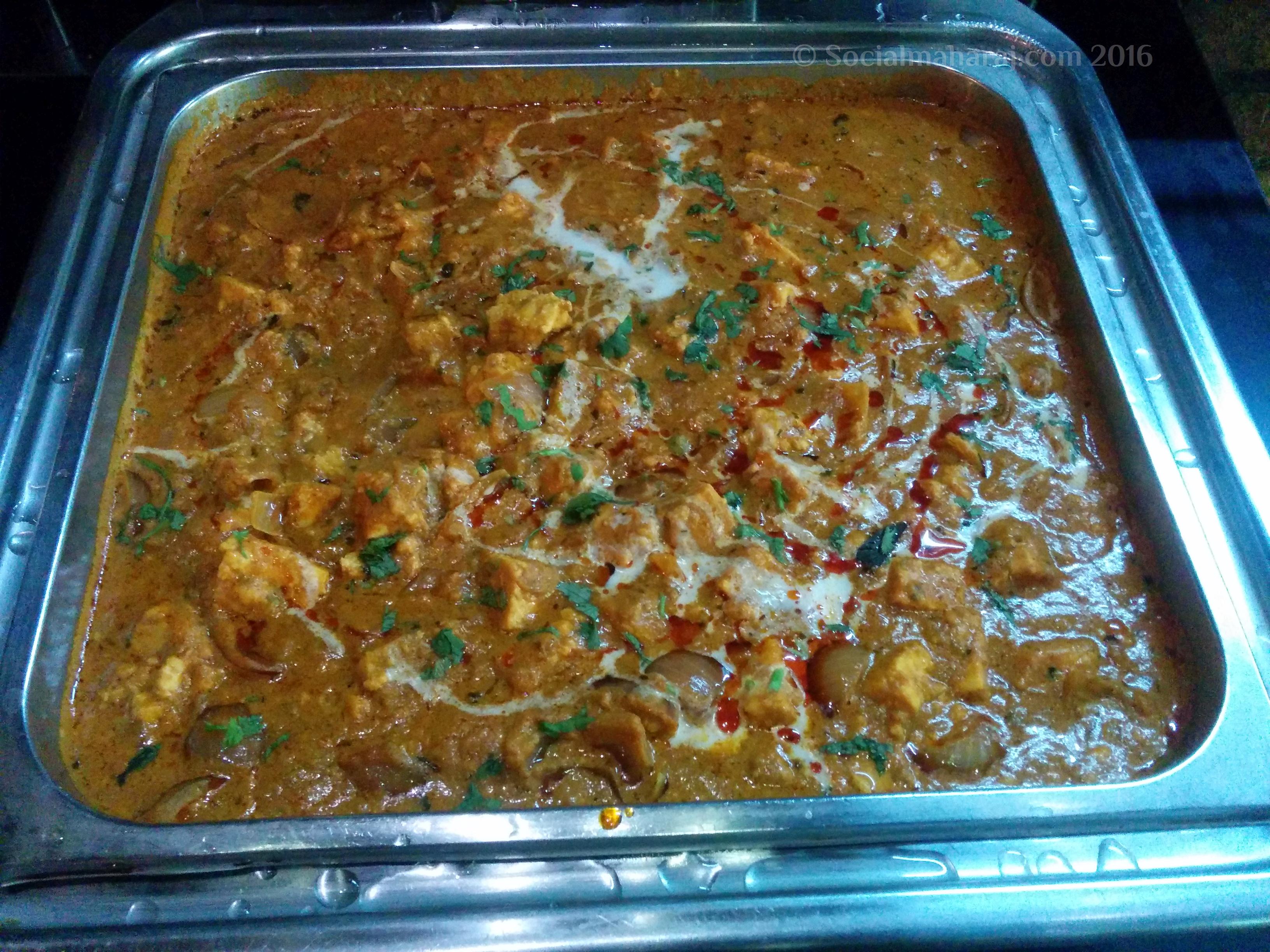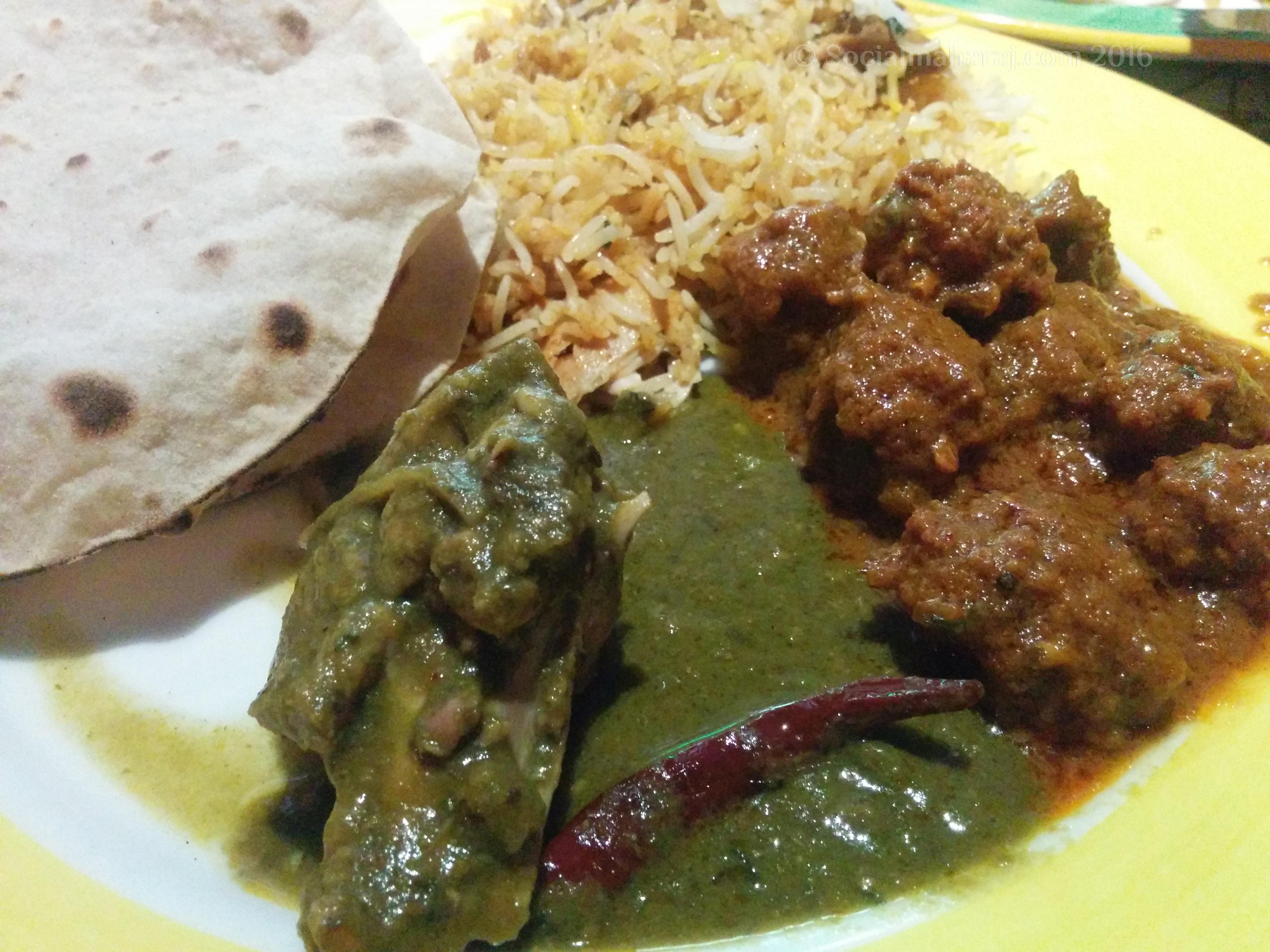 Desserts didn't have anything special either. The regular ice creams – vanilla and strawberry flavors. These alongside the Chocolate Fountain, fresh fruits, cake slices and Rasgulla completed the dessert section. Apart from this, there was Semiya Paysam that tasted the best. It felt just like home made, and reminded me of my childhood days where I used to enjoy paysam during festivals.
Overall, Nautanki Gali scored well on the Nautanki front with quirky taglines, great interiors, unique bill box and the unique report card. The food however was pretty average, be it the starters, main course or the desserts. Usually one would at least like one item, but alas I didn't enjoy any of it except the Pav Bhaji, Pasta and Paysam. Spending around 450 + taxes per head, it seemed like we paid more for the ambiance than the food itself. However it's a great place to be. You'll surely enjoy the whole experience while you eat. So do visit this place once if you haven't already, because Nautanki Gali deserves one visit atleast !