The City of Hyderabad is constituted of two regions mainly, the old city (Charminar) and the new city (Gachibowli, Kondapur etc.) When you drive from say Begumpet to your office in Financial District, you can see the difference. From small by-lanes to massive 4 lane roads that totally feels like you are traveling to a different country all together ! Even the type and class of restaurants change with this. You shall find heritage hotels in Falaknuma on one side and an ultra luxurious dining experience at a posh 5 star hotel in Gachibowli. One such restaurant that I will write about today is the Ohri's Boulder Hills, next to Infosys Campus in Gachibowli.
Ohri's are a famous chain of restaurants in Hyderabad known for their state of the art dining experience. With exquisite interiors and delicious food, Ohri's will always make you want to visit them over and over again. If you are a pure vegetarian then Ohri's Jiva Imperia is the best choice for you. Ohri's Boulder Hills is a unique restaurant that is located on a hillock at Boulder Hills. The restaurant has two seating areas one on the inside and the other on the outside facing the lush green golf course. So if you are here for a dinner, sitting outside is a great option. The restaurant itself gives a tinge of luxurious dining experience with their interiors.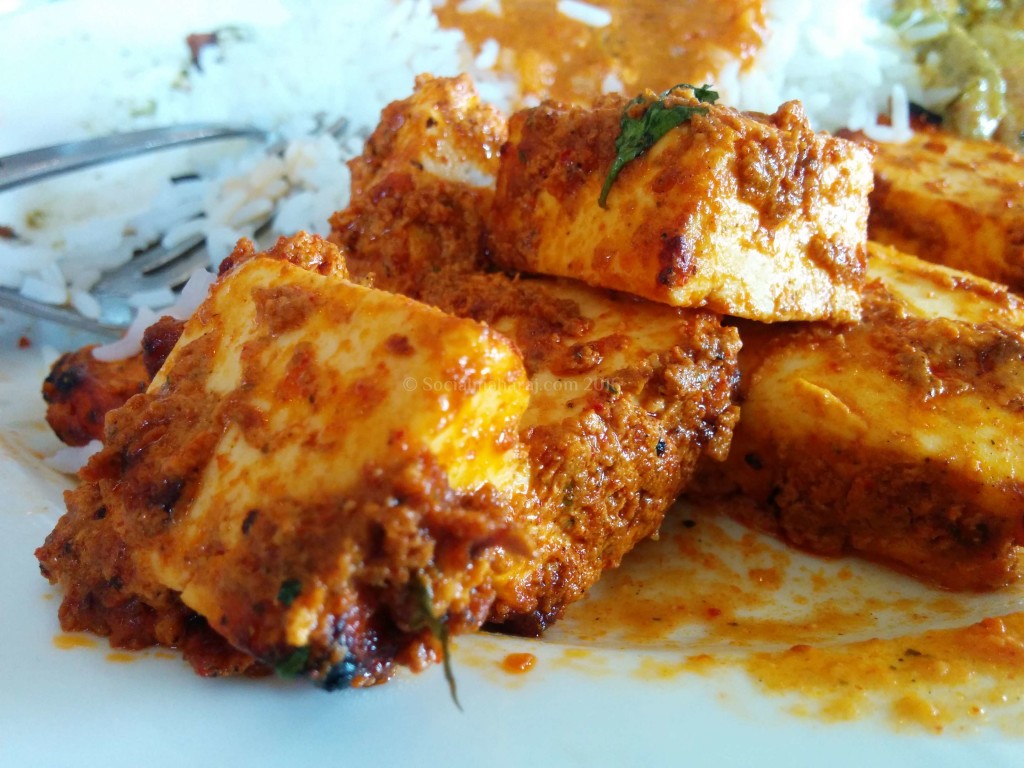 Talking about the food, we were there for a team lunch and had their Buffet. The Buffet at Ohri's Boulder Hills cost 499 per head. The spread is lavish with varieties of Saldas, Pickles, Soups and Desserts. The starters are somewhat okaish, we had Paneer Tikka and a corn-based preparation for vegetarian while there was Chicken Kebabs and another Chicken preparation for non vegetarians. The vegetarian starters were mediocre while my colleagues were convinced that the Chicken starter was good. There were live counters serving Dosas and Chat. Most of us enjoyed the Pani Puri.
On to the main course now, there was Paneer Lababdaar, Mix Veg, Dal Makhni and one more preparation for vegetarians. While the non vegetarians had a Chicken curry along with fish and Chicken Biryani [It's a non-vegetarian's world, Isn't it ?] The Paneer was soft and tasted good. All though the mix veg tasted good, I felt the Dal was a let down. The non vegetarians too weren't over the moon with their food either. The chicken tasted nice but most of them enjoyed the fish preparation. So it was a pretty average lunch to say. Post lunch we had the desserts which included fruits, ice cream, cakes and the typical Indian desserts. I wonder why Ohri's always have poor desserts :\
Nonetheless, Ohri's Boulder Hills is a great place to spend time with some food. The food (at least) the buffet wasn't special considering the price point [Ohri's Jiva Imperia serves much better buffet at just 325] But this average food coupled with the great view is what pulls many people to this place. Surrounded by rocks and magnificent villas, locked between the lush green golf course, Ohris Boulder hill provides a uber dining experience.