Ever wondered what's the difference between Chai and Tea ? Well the first thing that came to my mind was that Chai is desi and served in a 'kulhad' while Tea is 'angrezi' and served in a cup ! Well I might not be the only one with this notion but there would be many others like me who have the same ideology. But yesterday I learnt that our ideology was wrong. The fundamental difference is that Chai contains Milk while Tea doesn't ! None of us thought about that, did we ? And what if I told you that I didn't learn this from a website but from a Tea Cafe ! Yes, I was on my maiden visit to Tea Trails, Hyderabad and this place served up not only tea but 'Tea-Gyaan' too !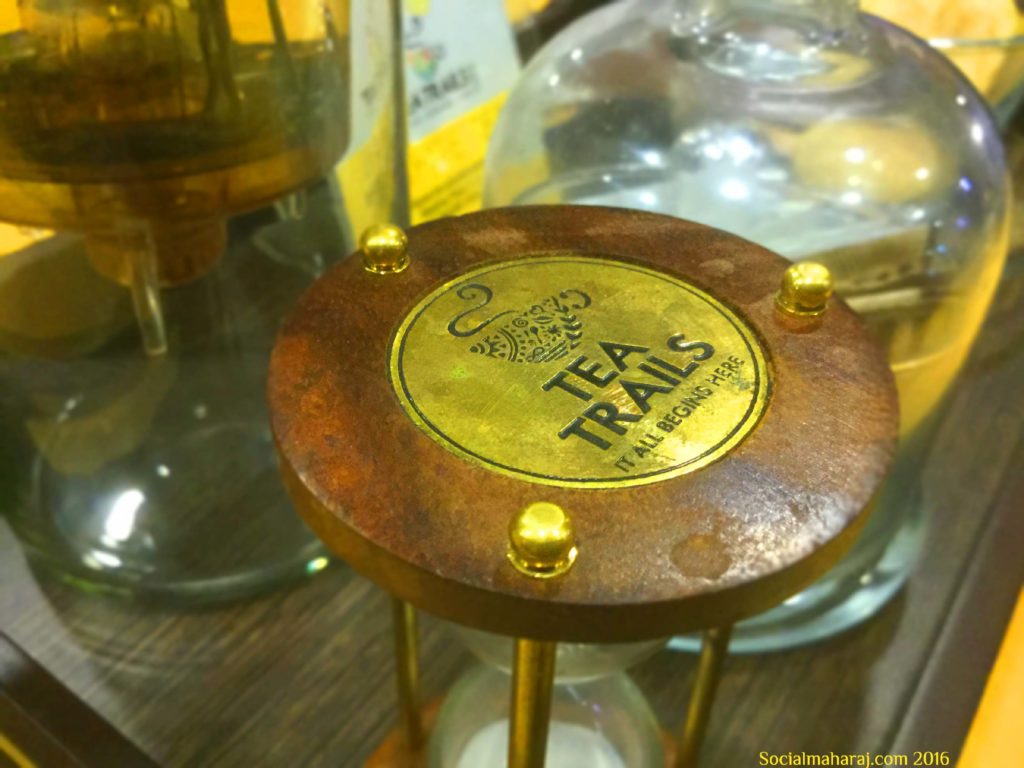 "It all begins here" is their tagline and yes everything does start here, one of the handful of Tea-Cafes in India. Tea Trails is situated in Banjara Hills road number 1, right opposite to Axis Bank. This place is all about tea as the name suggests. They have posters and writings on the walls that talk about the "Chaistory" (read Chai History) The ambiance is decent and is the perfect place to catch up with your friends over a hot cup of tea, a plate of hot pakodas along with Tea-Gyaan !
Tea Trails Cafe have a variety of teas and chais on their menu. Their menu is expansive and has something for everyone. From quick bites to paired meals with tea. As this was my first every visit to such a place, I decided to let the manager guide me. "Where should I begin from ?" I asked, and he replied, "I'll take care of it" Well, I quickly grabbed a seat and eagerly waited for the tea.
White, Green and Black Tea – the healthy ones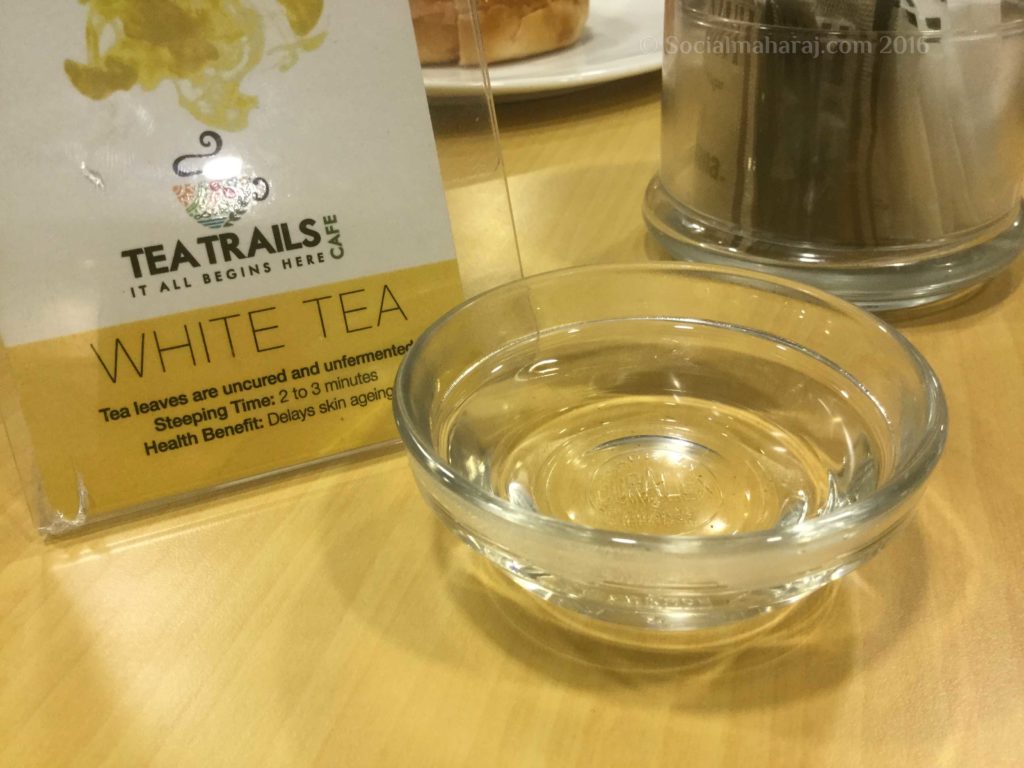 The first in line was a premium White Tea made from Silver Needle which is a White Tea produced in China and this is the most prized and most expensive variety among other white teas. White tea is a very mild tea, so if it tastes like normal water to you, then blame your taste-buds ! The tea leaves a very mild taste with little aroma. If you want to look younger, turn to White Tea today as it delays skin ageing. One of the best things at Tea Trails is that they have teamed every tea with a snack. So the White Tea was served with Bun Maska – a soft fruity bun with a smudge of butter. In the words of a network engineer "both of these were in sync ;)"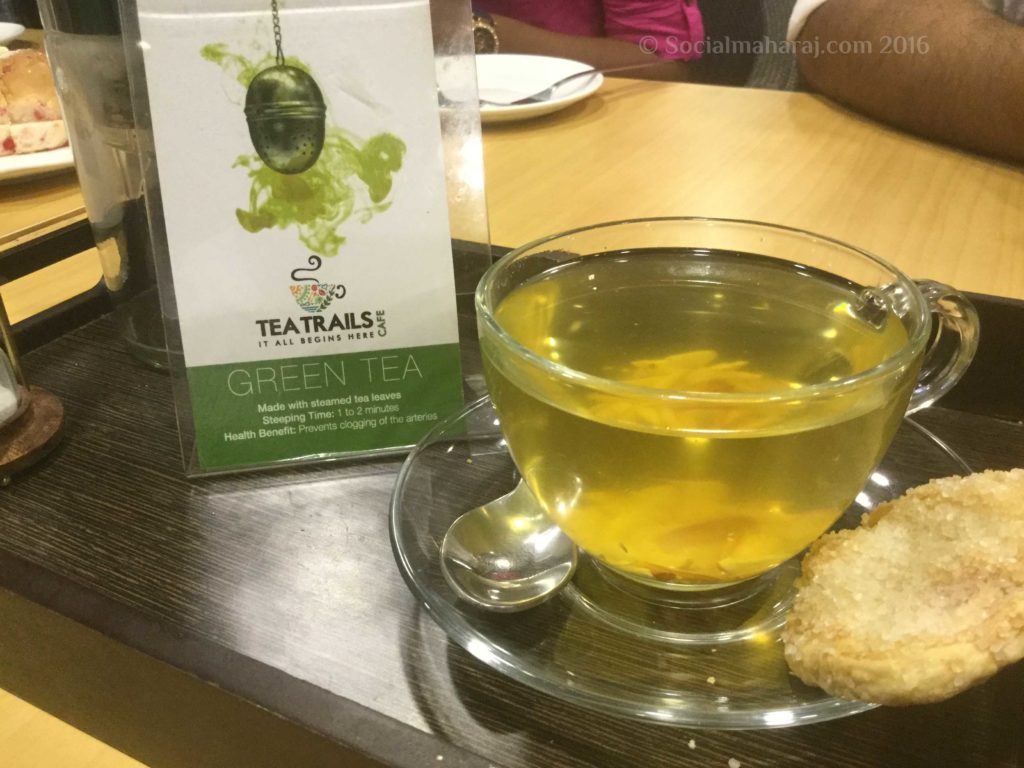 Moving on, it was time to try out Peoples' popular choice now a days – the Green Tea, but with a twist. Kashmiri Kahwa is a blend of a green tea, spices and almonds and has a great flavor. Trust me this was no where close to the regular green tea. Had a nice color and tasted pretty good. Apart from all the benefits of green tea you already know, Green Tea also helps prevent clogging of arteries. And this was couple with a unique Burmese Tea Salad made from lettuce, roasted nuts and green tea. A signature dish of Tea Trails.
Now this one was my favorite of the lot, the Black tea. And no this wasn't the normal 'no-milk' tea you are thinking of. Lapsang Souchong, a black tea from China had a very strong and a rare smoky touch to it. This wasn't just my favorite but apparently most of the customers enjoyed this variant. This was coupled with a smoked brown bread smoked Paneer sandwich with caramelized onions. Of everything I had, this has got to be my pick of the lot !
Tea Trail and its Fruity, Bubbly, Iced Teas
With a healthy dose of healthy tea, it was time for some fruity 'bubbly' tea. This again was the first time I tried a Bubble Tea. The Lychee Bubble tea was a lychee flavored iced tea with fruit bubbles. These bubbles actually burst in your mouth as you sip the tea. The folks at Tea Trails surely know how to make a tea fun and interesting.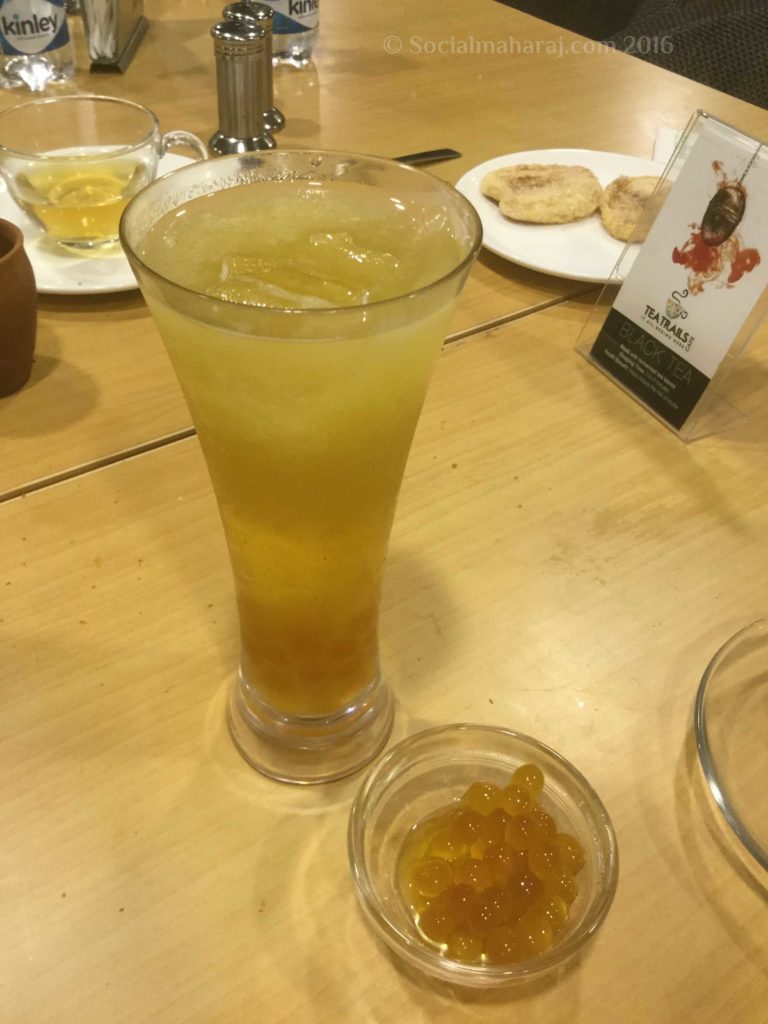 It was now time for Super Matcha. No not the tamil Matcha but the Japanese Matcha 😉 A thick, cold and rich drink made from Japanese Green Tea – Matcha. This belonged to a totally different league of teas. A unique flavor, doesn't taste much in the beginning but has a green teaish flavor towards the end. Tea Trails surely know their desi and videshi tea ! From Japan it was time to head to Taiwan now. The Taiwanese Iced Tea was served with Tapioca Bubbles. This tasted more like a blend of Coffee and a tinge of Chocolate. Quite Bitter in taste, but definitely a must try if you are always on the lookout for something new. Finally tea trails decided to being me back to where I belong – India. It was time for our classic chai served in kulhad. Totally reminded me of my days in North India, parts of Varanasi and Lucknow where tea is served in kulhad even today. A spicy and masaledaar Samosa chat was served alongside this. A perfect desi combo. A little spicy for me, I guess everyone else relished it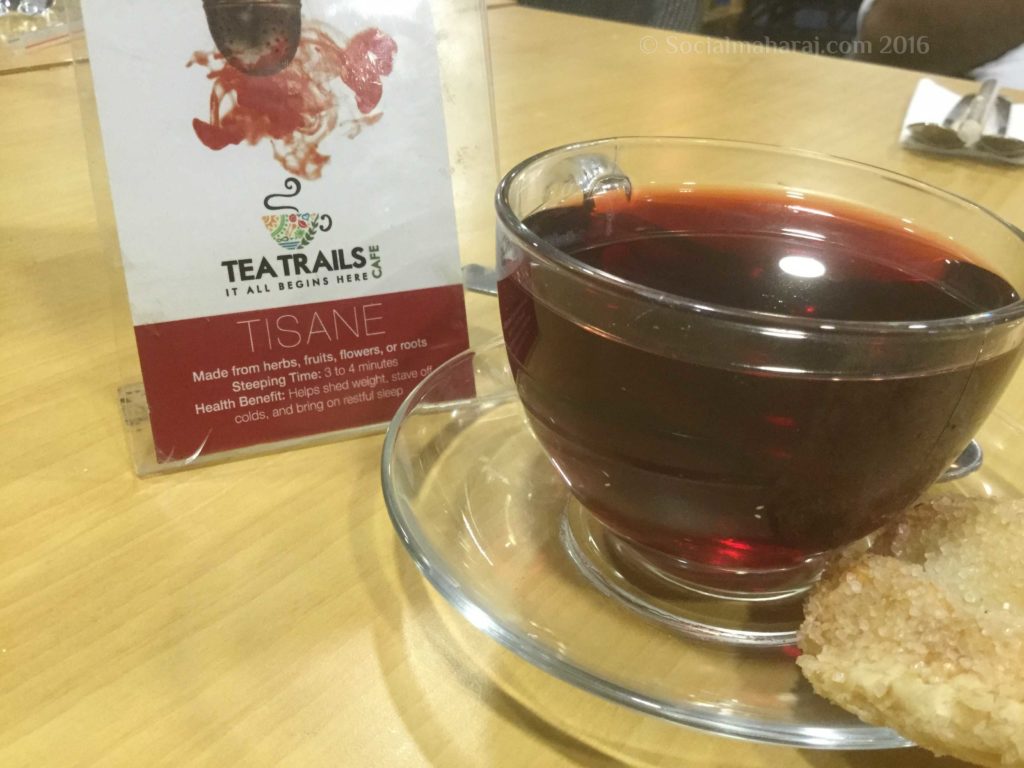 The penultimate tea that was served was the Red Zen or Tisane. This tea has got a great, bright pink color and a very rare flavor. This is made of everything but the tea leaves. It has herbs, flowers and fruits and goes perfectly well with fruity desserts. Mind it, this isn't artificial coloring, it's the fruits and the herbs. It's helpful for people who want to lose weight, stave off colds and need a good, restful sleep ! Finally it was my favorite Lemon and Mint Iced Tea when I'm a Tea Trails – a place that serves only Tea. Having had the packed iced teas, I was looking for a more natural variant of the tea. Thanks Tea Trails for obliging for this one. Truly made my day
All in all, it was a great experience with variety of tea and the Tea-Gyan at Tea Trails,Banjara Hills. I liked the overall place and the ambiance. My favorite of the lot was definitely the Black Tea with smoked Paneer sandwich and the Iced Tea. Even for a coffee guy like me, having a variety of tea was wonderful. Tea Trails surely know the Indian palate and no one can deny the fact that they do know how to brew their tea ! However their other teas especially the White Tea, Taiwanese Iced Tea, Japanese Match, didn't excite me much.
And that's it on my Chaitastic time at Tea Trails. Do visit the restaurant and share your feedback. And if you liked something, let me know, I would definitely try it.
"This experience was part of a Blogger Invite at Tea Trails. All the food and tea served was on the house but the review and experience shared here are totally unbiased and honest…"