As children we all enjoyed traveling on a train. Be it going on a vacation or visiting grandparents, we always looked forward to the exciting and long journey. Back then, nothing was more merrier than seeing the engine of our own train and crossing two compartments seemed a herculean task. However, things have changed over time. Faster, better, and smarter trains are on track now a days. Just like they say, Rome wasn't built in a day; even the Indian Railways wasn't setup in a day. From Steam locomotives to powerful electric engines,the railways have evolved a lot. And to revisit the glorious past of the Indian railways, what better than visiting a Rail Museum. India has got several Rail Museums, the first one being in New Delhi and the second one in Mysore. Others include Pune, Chennai, Trichy to name a few.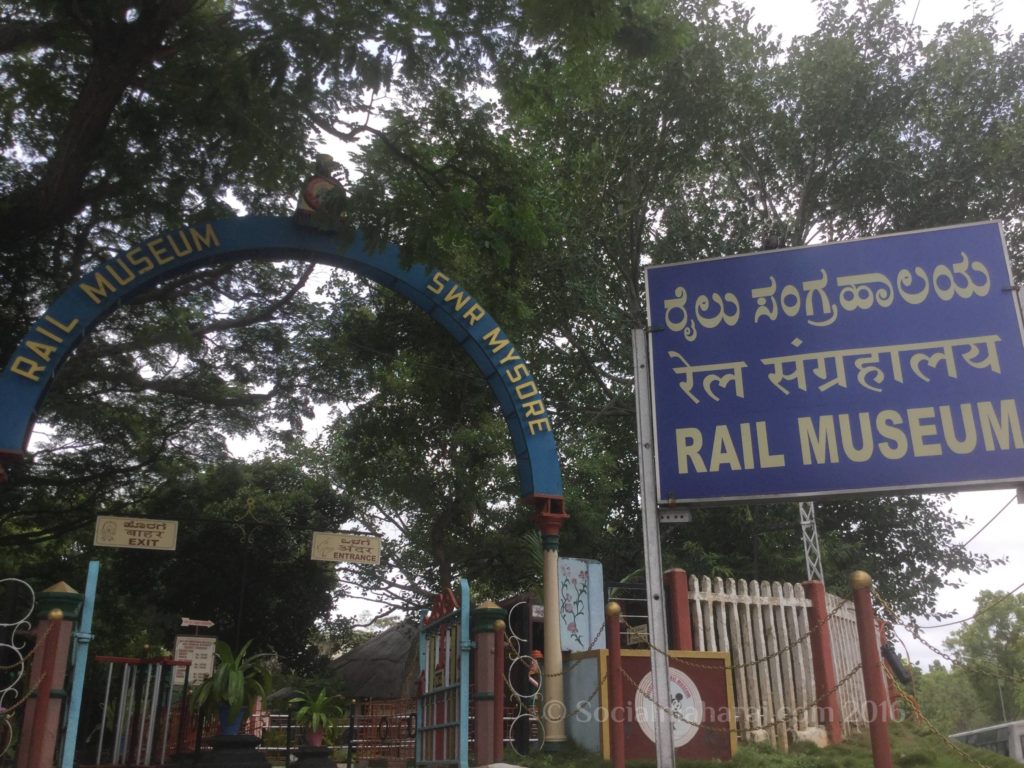 As a part of my series of posts on Mysore titled Mysore Diaries, today I'll be taking you to the Rail Museum. [Must read Mysore in a nutshell] The Rail Museum is situated right behind the railway station. So if you are either coming to or going from Mysore, taking off a couple of hours to visit this unique museum wouldn't do any harm. The first thing that you'll notice in the museum is the Ticket Counter. It's made out of the last compartment of a goods train and has the board of LV hanging. (For those of you don't know on all last compartments of any train in India, there is a LV board that shows it is the "Last Vehicle" in the train) There is a nominal entry fee and if you are carrying a still/video camera you need to buy a ticket for it too.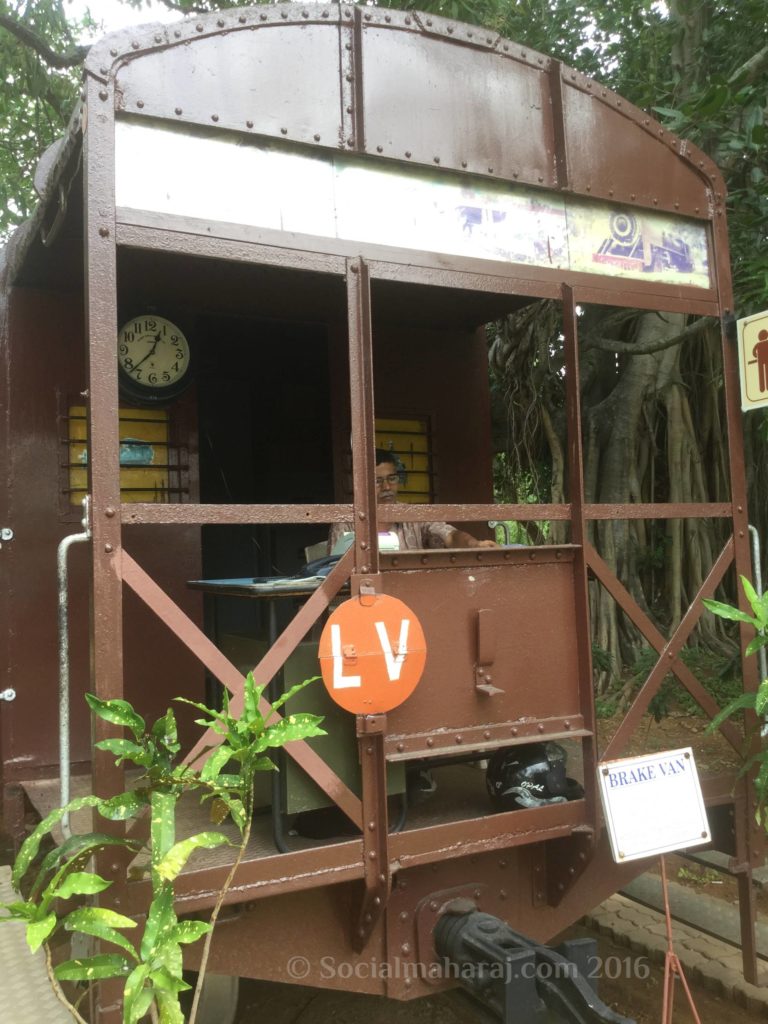 There are a plenty of vintage locomotives on display at the Rail Museum. Those olden days steam engines, that had a separate compartment for carrying coal were one of the types that were a part of the exhibit. The typical passenger compartments that had seating like that of a metro train were there too. One of the surprise element for me was a "Dog Cage" that was inside the luggage compartment, which showed that dogs were transported by train back then. Further even the guard's cabin had a commode ! Moving ahead, there was the diesel engine on display. The side panels of the engine were open so you can see the actual engine and other parts inside it.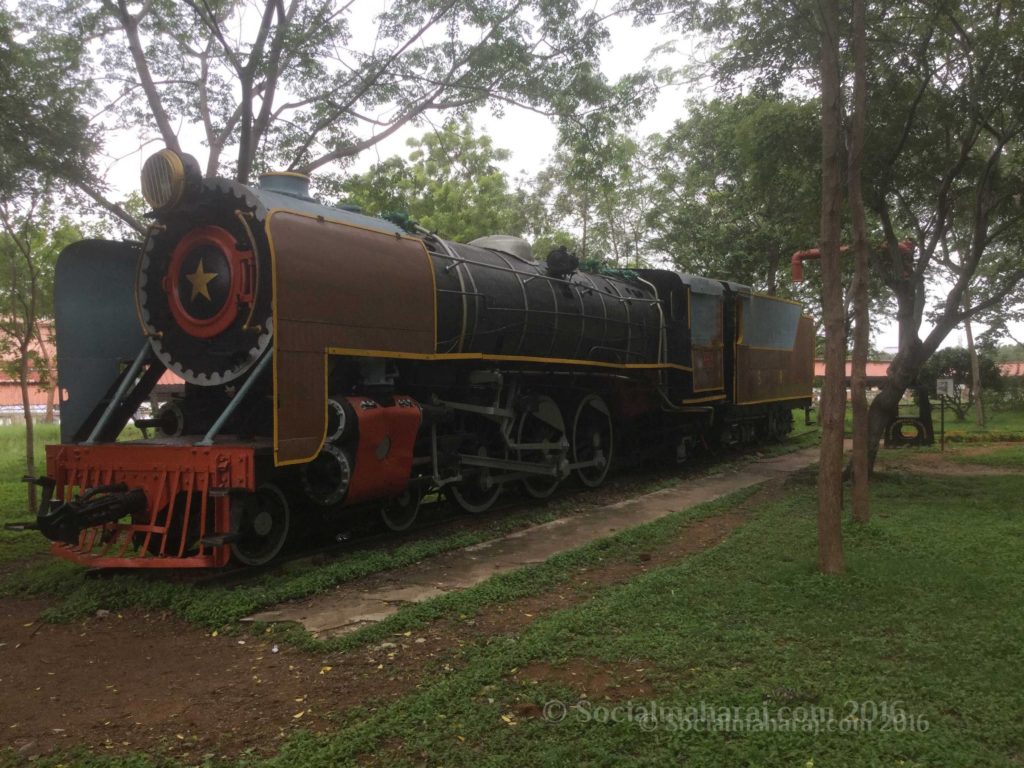 Not only engines, there were different types of wheels on display too. The typical wheels that you see on a passenger train or a goods train were present so that you could take a closer look at them. Apart from wheels there were various tools that were used. Those included levers that they used to change tracks. Then there was a sort of switching/signalling device that was used earlier. One of the highlights is the toy train that is present in the museum. It's a perfect way for you to unleash the kid within you and let that kid enjoy with your kids 😛 Note that there is a separate charge for the train ride.
The museum isn't spread over a large area, so you shouldn't take more than an hour or two to cover it. The place has a lot of trees, so even if you visit in afternoon, you shouldn't have any problems as such. If you are not coming from Railway station, then you can very well use an Ola or Uber to reach the destination. I visited the museum on a Sunday afternoon and it wasn't crowded at all. So I got a good chance to get inside the engines and have a closer look at it.
The Rail Museum is definitely one of the must visit places in Mysore. No matter how old you are, you'll surely recollect some memories from your past. Have you already visited the Rail Museum ? How was your experience ? Do share it with us. If you are planning to visit and need any help, get in touch with me !
So this was my first post in Mysore Diaries. Stay tuned for the next post where I'll take you to the marvelous St. Phelomena Church. Till then have a great time !