With everyone taking the Internet or the "e-route" we have most services available online. Just in my last post I spoke about how lazy the Internet is making us, but there are advantages to it too. From hassle free transactions to great shopping experience, these services provide just what is needed for a consumer. On the same line, the Indian Railways Catering and Tourism corporation – IRCTC has launched a fantastico service where you can book your meals online right from the comfort of your couch. I agree there are startups providing the same service but the advantage of IRCTC giving this is that it is seamlessly integrated with your reservation. So you just enter the PNR and all your details like train number , name, coach and seat number are fetched. I've tried this facility last time I visited Visakhapatnam and trust me I had a fantastico experience.
It is simple, visit the IRCTC portal after you have booked your ticket and from the homepage you will be taken to the food ordering page.  Here you have a few options. You can choose restaurants based in the stations or based on the train name. Or take the easy way, provide your PNR number. The moment you key in you PNR and hit enter, the system quickly reverts with your details. With this you will also see the restaurants that are providing services to that train. In my case there were three restaurants that provided breakfast at 6am. All of them had a minimum booking amount of 60Rs. (I guess this is variable and depends on the train and the station) Post that you will find the menu of that restaurant with price and quantity in grams. Select what you want and proceed for booking. Book your meal and pay for the meal. Currently there are 3 modes of payment – Credit Card, Debit Card, Netbanking or PayTM or Cash on Delivery. Since this was the first time I was ordering it, I opted for Cash On Delivery considering if it didn't work out.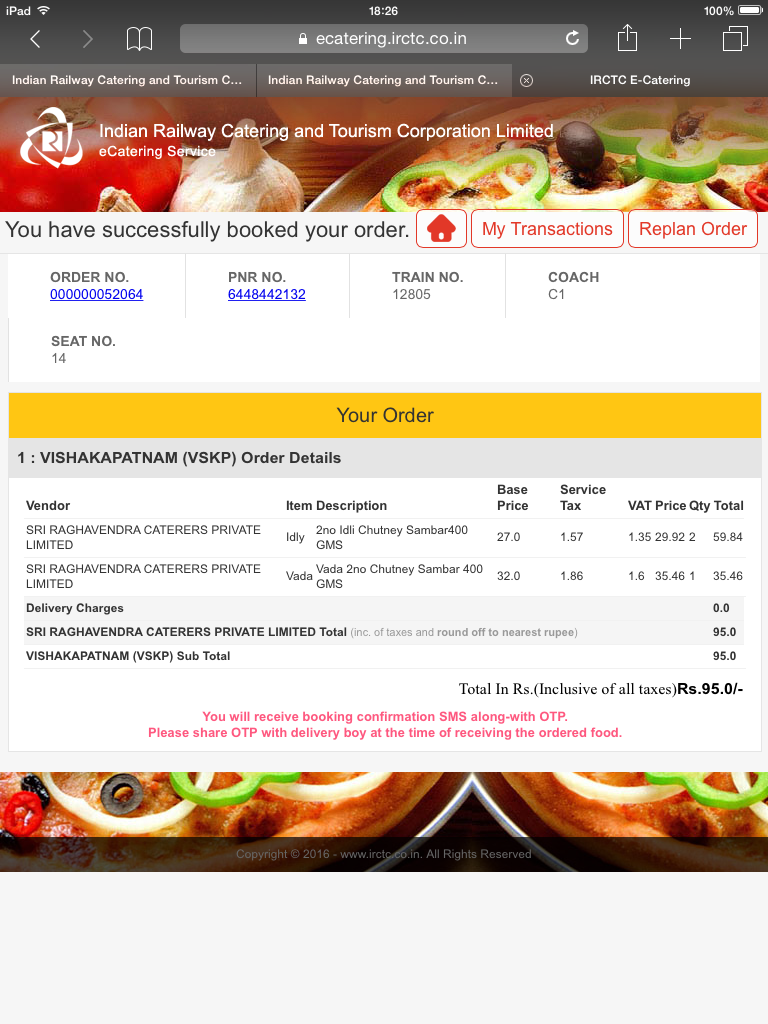 I was at the Visakhapatnam railway station waiting for my train. The Tim was 5:30am and I had no clue about the breakfast. The train was scheduled to leave at 6:15am. Soon it was six and I was seated at my place wondering what to eat for breakfast since this IRCTC guy never turned up. Just then I see man calling out to me and saying breakfast. I was surprised to see him, 15 minutes before the departure with a bag of food. I had to share an OTP with him that was sent to me when I placed the order. In the bag there were 2 packets of Idli with 2 prices of each. 1 packet of vada with two pieces of it. Both packets were hot and had chutneys wrapped in it. Along with that there were three portions of sambhar. The bag also had three aluminum foil containers, spoons and tissue paper. The food was hot and tasted fantastico, much better than the railway food itself.
On the whole, this fantastico service is a hit for me. With easy ordering and variety, the service is really helpful if you are uncertain as this will guarantee a food delivery.the service is available at almost all the stations – check before you order. All in all it's nice to see IRCTC joining the e-commerce league and providing a facility to order food online and giving such good service. Have you tried this service ? How was your experience ? Share it with us.
This blog post is inspired by the blogging marathon hosted on IndiBlogger for the launch of the #Fantastico Zica from Tata Motors. You can apply for a test drive of the hatchback Zica today.