It's not everyday that I walk in to a 5-star hotel for dinner. In my 4 year stay in Hyderabad, I've been once to Taj Banjara – Waterside Cafe, Taj Vivanta – Viva, Lemon Tree – Citrus Cafe. Well there are a lot others that are on my list: Amara in Trident, Feast at Sheraton, Okra at Marriott. Let's see when I will be able to visit these restaurants. It was last weekend, that me and my blog buddies decided to visit The Dining Room at Park Hyatt, Banjara Hills. There was an offer going on Dineout and we were quick to identify it and grab the offer. Dineout was running a promotion for 50% off of 5 star buffets – the hotels were limited though and the seats would sell out in minutes !
Anyways, was our dinner at The Dining Room at Park Hyatt value for money or not ? Read on to find out in my review of The Dining Room, Park Hyatt, Hyderabad.
Classy & Subtle Ambience
One of the first things that you notice when you enter a hotel/restaurant is the interiors. Some have loud and plush interiors while other have subtle and soothing. Park Hyatt is of those places where you wished you didn't have to leave. The entrance isn't quite grande, but the central area is quite huge. A huge while idol (looked like a Ganesh idol to me) was placed in the centre and surrounded with water.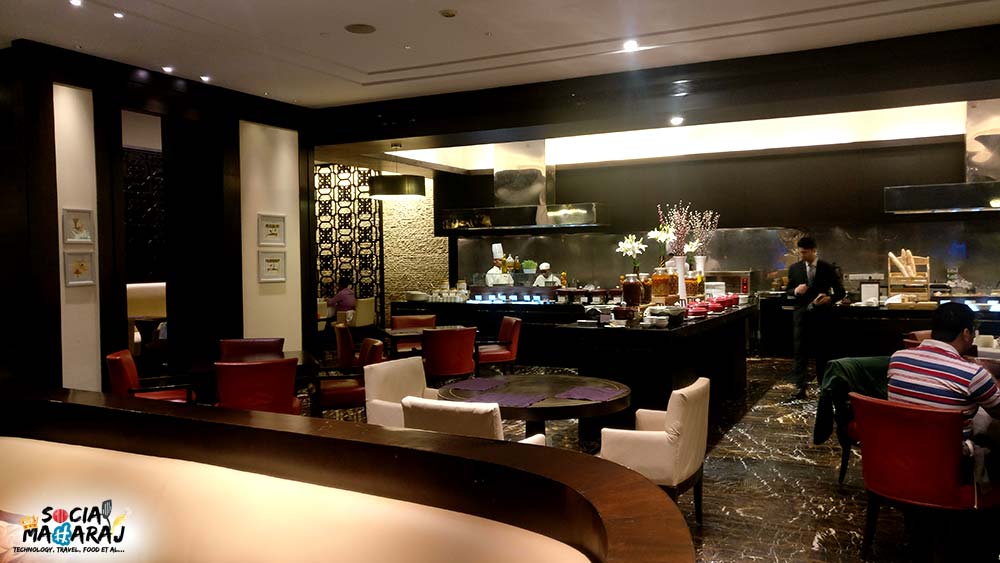 The Dining Room is their 24 x 7 cafe and is situated in the central area. The buffet area is distributed. While the main course area is in the centre, the others – salad, Indian snacks (Pani Puri), Pickles and Desserts – are at a walk-able distance. The seating area is spread over a small area but the atmosphere is pretty good. The chairs however were a little uncomfortable for me, the back rest was low and so was the arm rest. But when you are surrounded with friends and food, you can ignore such things.
The Dining Room – Food Review
Since this was a buffet, like many other places, soups and starters were served on the table. Our table was waited by Hemant, an amazing young guy from Nainital. He ensured we got what we wanted and left no stoned unturned to make our experience a good one. A Big Shout Out to Hemant ! There were just two soups on offer – one for veg and non veg. Since most of us were vegetarians, we ordered the Pineapple and Pepper Soup. Though I'm not a soup person and I don't like cooked Pineapple, I decided to try it. Expecting a white, creamy soup, we got a bowl with Sambhar-looking soup. The tangy yet subtle soup had tiny bits of pineapple along with freshly ground pepper. The soup tasted very good and being a pepper lover, I thoroughly loved it. Was wondering if I could get it packed !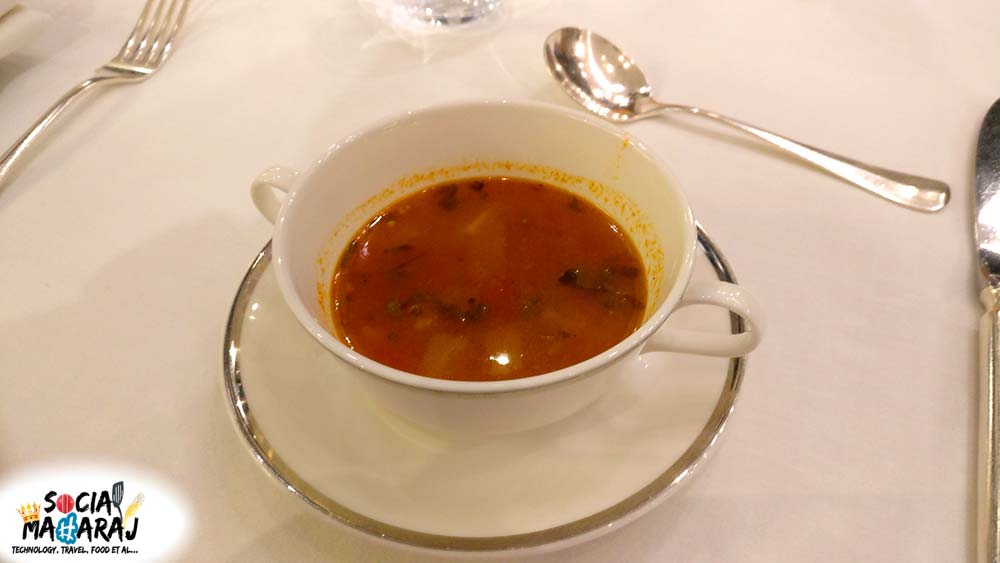 After the amazing start, we were in for quite a shocker with the starters. Unlike the huge variety of starters available at grill restaurants like Absolute Barbeque and Barbecue nation, the option for starters were quite limited at The Dining Room, Park Hyatt. For vegetarian we had Paneer, Grilled Vegetables and Mushrooms. For non veg there was mutton kebab, Grilled Chicken and Fish. Of all the starters, only the Karake Khumbh (Mushroom) was good, rest were very bland and tasteless. The coating of Mushroom was delicious and the filling was nicely done – full of strong flavours. We had a couple of more servings of Mushrooms.
Main Course – Pretty Average
Like most of the other places, the variety for vegetarian main course was on the lesser side. For curries there was Dal Tadka, Paneer Makhni, Turai Masala, Subz Handi and Sambhar. Turai Masala was the unexpected dish here as it's one of the regulars at home. It was slightly on the spicier side, but I did like it. Paneer Makhni was okaish, slightly sweeter than the rest I've had at other places. Subz Handi was ok too, I'm not a fan of this anyways. Sambhar however was the show stopper. The moment we lifted the lid, the aroma had us. Sambhar was loaded with veggies and was a treat for our tongue.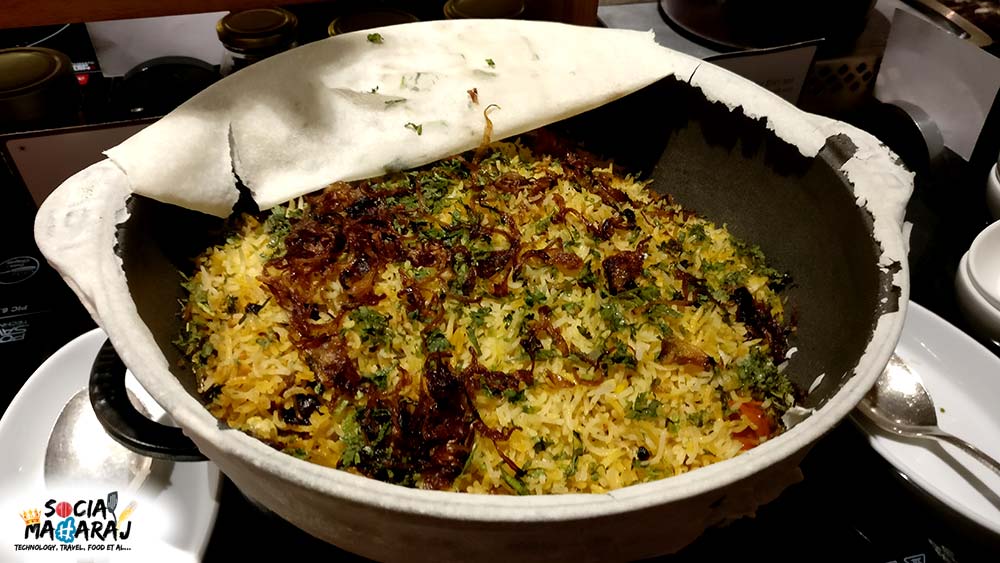 Apart from these, we had Steamed Rice and Veg Dum Biryani. It was not only cooked well, but had all the spices in the perfect ratio. It was one of the finest Biryani's I've had at 5 star hotels. To accompany that, the Mirchi ka Salan was great too. We ordered Garlic Naan and Rotis. Garlic naan was done good, soft, fresh and hot.
Apart from the starters and main course we also tried the various variety of other items on offer. We tried the Papdi Chat and Dahi Puri. I now realise that I should have tasted the pani puri too 🙁 Anyways, it was pretty good and I did have a couple of them. Apart from the chat items, my eyes were fixed at the variety of Cheese kept at the salad bar. I asked Hemant to get few cubes of all of them. It was the first time I was trying cheese other than Mozzarella.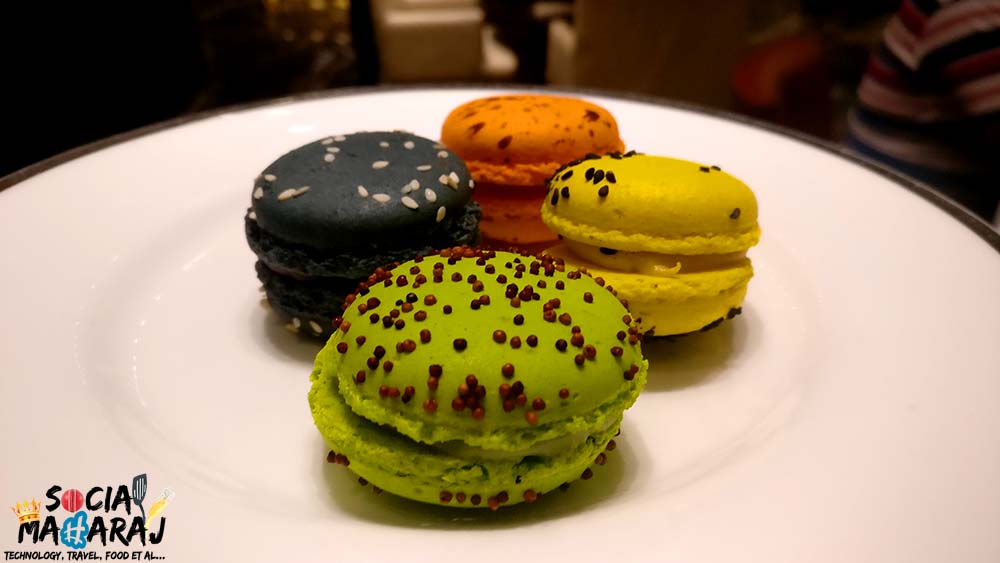 Desserts – The Best
The desserts bar at The Dining Room, Park Hyatt had a lot to choose from. From pastries and other variety of cakes, there were also a handful of desi desserts. My favorite Ras Malai was on offer along with Gulab Jamun with dry fruit stuffing. Both of these were delicious, but Ras Malai was truly outstanding. There were Ice creams on offer, and there were quite a few apart from the standard flavours. We ordered Coffee and Mango flavors. Coffee was pretty strong and anyone who loves coffee would love it. On the other hand Mango ice cream felt like you were eating a Mango itself ! Both the ice creams 'seemed' to have been made in-house and weren't the branded ones. The desserts were surely the icing on the cake after the pretty average meal.
The Buffet at The Dining Room could be better
Spending close to 1000Rs per head (after 50% discount), the buffet was average. Most of the items in starters and main course were bland and lacked the taste. However the stars of the night were the Karake Kumbh (Mushrooms), Sambhar, Veg Biryani, Ras Malai, Mango and Coffee Ice cream. All of these deserve 5/5 for the taste. The service was good as I had a good chat with most of the servers around (even those not attending my table) They wore a gleaming smile and that made the entire dining experience a good one. Overall the experience was nice, could have been better if the food was more tastier. Have you tried the buffet at The Dining Room at Park Hyatt Hyderabad ? How was your experience ? Share your views in the comments below or tweet to me at @Atulmaharaj