Sales and Marketing is that one functional department in every organisation which has the glam and moolah. Often use interchangeably, Sales and Marketing are not the same. Based on my own research and understanding, Marketing is more creating awareness around your brand or product. While Sales it about actually selling the product to your customer. Marketing includes various activities ranging from Consumer Research, Segmentation, Targeting, Positioning, Advertising, Public Relations and much more. In fact marketing is a sea like any other subject. Marketing too has changed forms over the years. From the traditional word of mouth to print media and now towards digital marketing. Each day we come across new forms/types of marketing and today I'm writing about Desi Brands Date with Ambush Marketing. Why ? Well I'm sure you're aware that IKEA recently opened their first store in India in Hyderabad. And one of the desi brands have already started their ambush strategy. But before I dig in to that, let's talk about Ambush Marketing first.
What is Ambush Marketing ?
Predatory Ambushing, Coat-Tail Marketing are the other names associated with Ambush Marketing. It is a practice of hijacking your competitor's campaign to raise awareness of your own brand or product. One of the classic real life examples of Ambush Marketing is the Audi vs BMW campaign. Ambush Marketing is often used to get exposure against competing advertisers. It's like stealing the limelight. Or 'Steal your thunder' (If you've seen FRIENDS, you know exactly what I'm talking about ;))
But Why Ambush Marketing ?
There may be a lot of reasons why the Ambush Marketing strategy is chosen by a company. I'm sure a huge think tank is running constantly in background analysing the changing dynamics of the market.
Ambush Marketing leads of overflow of creativity. These campaigns can get cheeky at times too. Be it the witty wordplay or visual trick, it often leads to a faster recall in the customer's mind. More often than not, a customer tends to remember a brand through the Ambush campaign rather than their traditional campaigns. For instance, taking the Indian two-wheeler scenario, what's your reaction when you hear "Haathi mat paalo" (don't have an elephant as a pet) Most of you would associate it to Bajaj Dominar for their head on Ambush Marketing campaign to take on Royal Enfield. Well, Enfield still remains a clear winner in the 350cc – 500cc segment. But the ad campaign surely did it's job.
Desi Brands and Ambush Marketing – Our favorite
HomeTown vs IKEA – Hyderabad
The whole point of this post is the opening of IKEA's first store in India yesterday in Hyderabad. Trust me, being at ground zero myself, even a Bollywood star's appearance couldn't have matched the madness here. However amidst the frenzy and traffic, HomeTown – the furniture arm of the home-grown Future Group.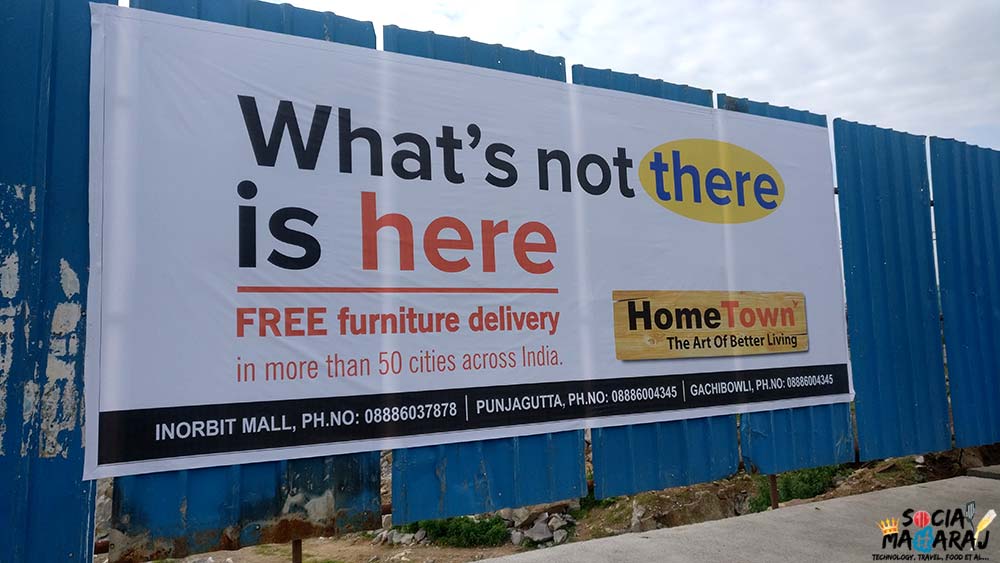 They were smart enough to take IKEA head on with these banners right opposite to IKEA. Not one, but at least 5-6 such banners were facing IKEA. I wonder how many people actually noticed this, but this is great cheeky campaign taking on the behemoth. However, I feel this campaign will not get what it actually intends. Firstly the visibility is poor. If huge bill boards would have been placed, it would have increased the visibility. Secondly IKEA has spent a fortune in run up to the opening. Hence irrespective of the campaign by Hometown, customers would have string thronged to IKEA. What do you feel ? Isn't this a great move ?
Snapdeal vs Flipkart – Big Billion Day
Not long ago we were treated by Big Billion Day sale by Flipkart. Madness, low price, crashed servers and botched deliveries marred the Flipkart Sale. However, one competitor that tried to take the lime light was SnapDeal.
While Flipkart decided to come up with a front page ad to tell about the launch of their Big Billion Day Sale, folks at Snapdeal snapped at the campaign with this cheeky line that read "For others it's a big day. For us its a regular day" targeting the Big Billion Day campaign. How was that for a campaign ?
Samsung vs OnePlus – #MoreThanJustSpeed
One Plus 6 is the leading Smartphone vendor in India as per the latest numbers. And it leaves no stone unturned to gain visibility before the launch of any phone. And same was the case during the launch of OnePlus 6. The Speed You Need was the campaign for OnePlus 6 – the latest/fastest processor and Dash charging. Well, how could Samsung stay quiet ? While One Plus was busy with its "The Speed You Need" campaigns, Samsung sneaked in with their own "More Than Just Speed" campaign. Going all guns blazing, Samsung quickly flooded the internet with these campaigns. They used Search Engine Marketing quite effectively as that was the only ad you saw when you googled One Plus 6.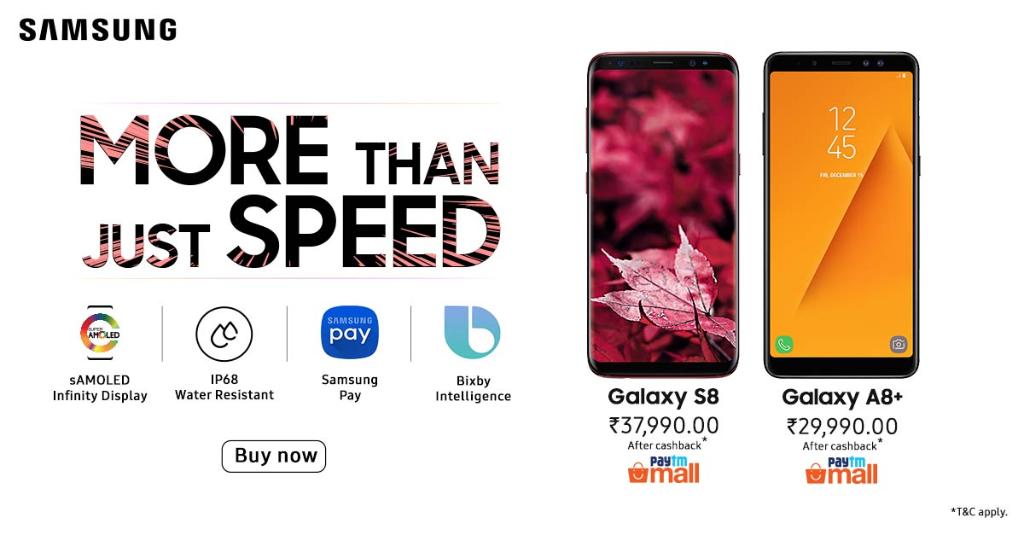 These were some of my favorite Ambush Marketing campaigns by Desi brands. There are a lot more which you can recollect. Let me know if there's something you remember in the comments. Sometimes these campaigns sail through the market, however there have been many instances where companies have gone overboard and ended up in courts. I feel, if done correctly Ambush Marketing can generate a lot of visibility and a faster brand recall in the customer's mind. What do you think ? Let me know your thoughts on this in the comments below or tweet to me at @atulmaharaj