Its been close to 5 years in Hyderabad for me. During the course of these many years, I started blogging and exploring the city. Be it exploring the markets and alleys of Hyderabad or eating at various restaurants in the city. I've been to more than 50 restaurants in the city – based on the number of blog posts I've written on Zomato. Sometimes they were invite based and sometimes it was me who wanted to try the food at a particular restaurant.
One such restaurant that I've been longing to go for quite some time was Okra at Marriott Hyderabad.And I was finally able to dine at Okra last Sunday. Ever since I had read about it on numerous blogs, I wanted to visit it. And before I write my review of Okra Marriott Hyderabad Dinner Buffet, let me tell you the praise the restaurant has got, is totally worth ! Without much ado, here's Okra Marriott Hyderabad Buffet Dinner Review.
Homelike Ambience at Okra Marriott Hyderabad
Hyderabad is home to two Marriott hotels – one in Hi-Tech City and another one at Tank Bund near Hussain Sagar. Okra is situated in Marriott at Tank Bund, Secunderabad. Marriott has two buildings here and Okra is located in the one that overlooks the Hussain Sagar. The entrance to the hotel isn't as grand as I saw at Marriott Kochi during my Tata Nexon Blogger's Drive. The entrance is quite narrow and so is the lobby leading to the restaurant. There are two restaurants located in the lobby are – Okra and Bidri. Okra serves Buffet while Bidri has A la carte and set menu with live music.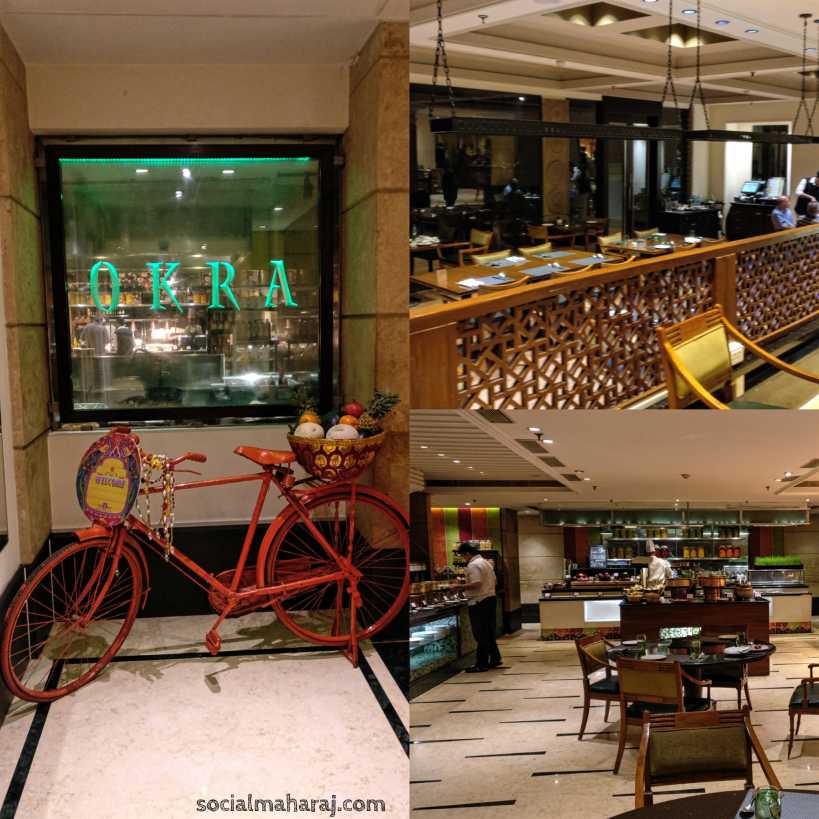 The ambiance at Okra Marriott Hyderabad is home like and welcoming. They have seating options inside and outside too. We opted for inside seating which again has two parts – one near the buffet area and other a little further from it. We opted for a round table that was bigger compared to normal tables. The buffet area is a U-shaped one and has everything on offer that you can possibly think off. We were in quite early and hence were able to avoid the rush. However Okra can get crowded pretty fast and so does the buffet area. The lighting is decent enough for food photos and the cutlery is heavy – just as I want it. Overall, the ambiance at Okra Marriott Hyderabad is warm and welcoming.
Okra Hyderabad Marriott Buffet Dinner – Review
Variety of Starters to relish
I've previously been to buffets to star restaurants like Deccan Pavilion at ITC, Viva at Taj Vivanta, Waterside Cafe at Taj Banjara, Dining Room at Park Hyatt to name a few. Trust me there haven't been more number of starters on offer that what was available at Okra Marriott Hyderabad for dinner. Vegetarian Starters included Achari Paneer Tikka, Chole ke Tikki, Vegetables in Plum Sauce, a couple of egg-plant preparations along with Polenta Steak with Mushroom Ragout, Potato Wedges and stir fried vegetables. There as chicken and fish preparation for non vegetarian. All the starters were pretty good.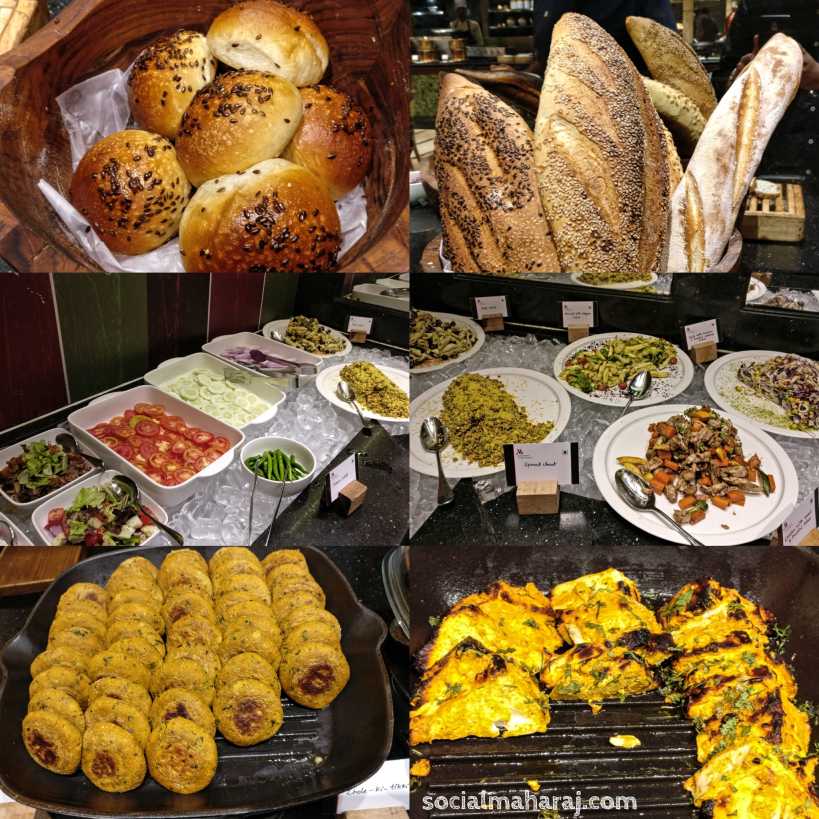 My favorite was Polenta Steak with Mushroom Ragout – the base ingredient as I guessed was Daliya. I never thought that Daliya could be prepared in that way and served. Paneer was soft and the marinate was pretty flavorful. The eggplant in plum sauce was good on taste too. Overall, the variety of starters at Okra Marriott Hyderabad dinner buffet is pretty good.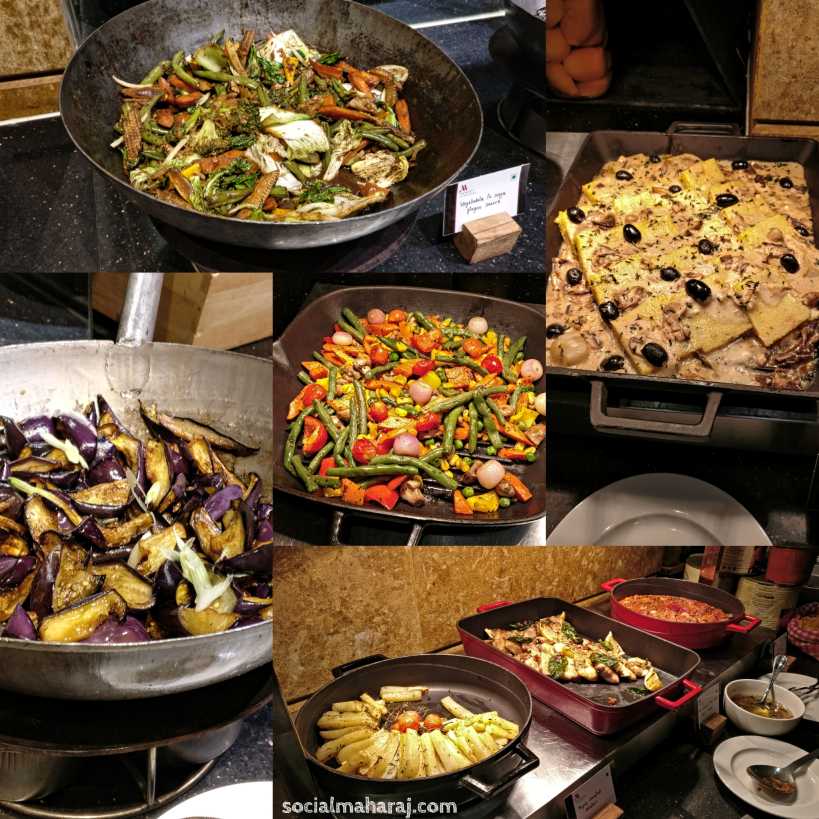 Simple and Subtle Main Course
The main course items are put in patilas which will remind you of your kitchen. On that day we had Sambhar, Dal Tadka, Steamed Rice, Subz Nizami Handi, Beans Poriyal, Ajwain Paneer. There was a chicken and a mutton gravy for non vegetarians. Rotis are served from the live counter and one has an option to choose from Phulka to Naans and Parathas. The live counters also serve noodles and pasta based on your taste. There was Veg as well as Non Veg Dum Biryani in the buffet too. Coming to the taste, the food was delicious.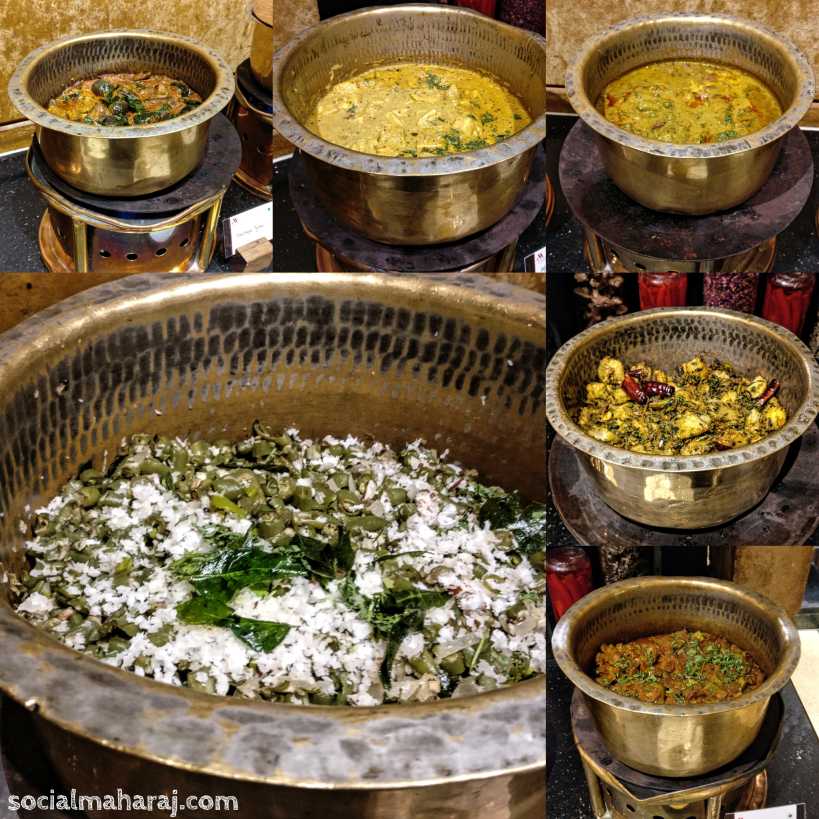 Everything we had, had a balanced taste and that's what I like about such restaurants. The Paneer Ajwain was a different – yellow color Paneer gravy – which tasted different but was good. But the stand out dish of the night in my opinion was the Sambhar, I don't know but I just loved it ! Couldn't stop myself from stuffing phulkas with sambhar 😛 The dal was good too, but the service was a little slow at times which made us wait for phulkas a little longer. But apart from that, the food was delicious and something that many people would like – Simple and Subtle.
Assortment of Heavenly Desserts
The dessert section was possibly the biggest of them all. Right from the videsi pastries to the desi Gulab Jamnu, there was a variety of items on offer. There were at least 5-6 variety of pastries. On the Indian dessert front, there was Gulab Jamun, Shahi Toast, Zafrani Kheer, Rice Phirni and Eggless Brownie along with ice cut ice creams. Though I'm not an ardent sweet lover, I tried all the desi desserts on offer.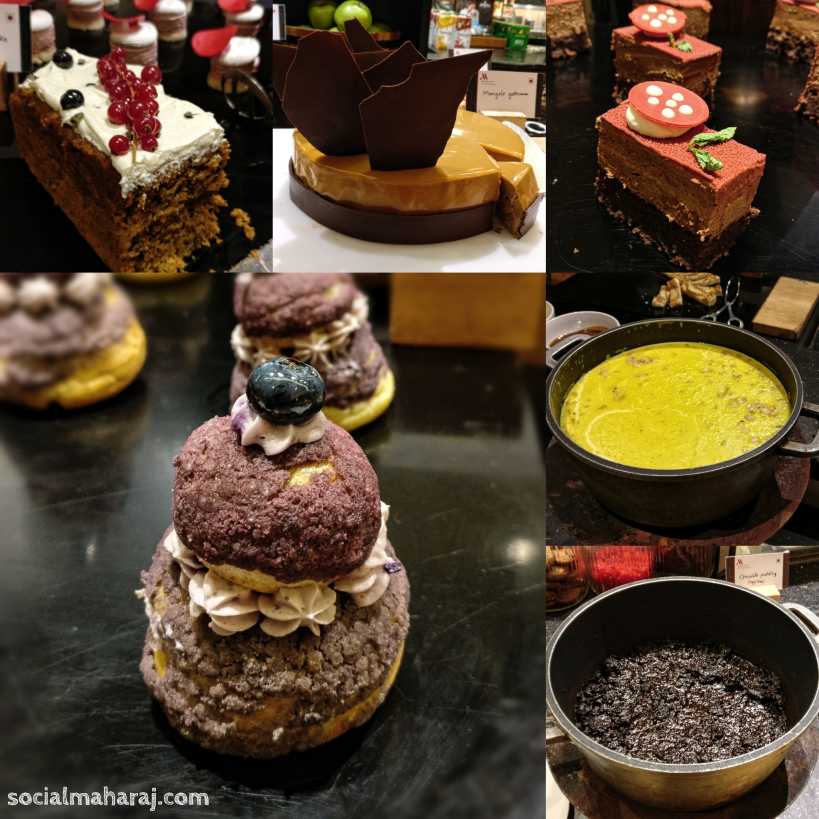 The Shahi Toast was well prepared with the juices getting in to the crust. The Gulab Jamun was decent, but the Cham Cham tasted a little different – stale type. The Zafrani Kheer was a delicious again, probably because it was served hot. The Rice Phirni was sweeter than expected. The brownie was deadly – hot and tasty. We had eaten so much of starters and main course we couldn't even try all the items on dessert too.
Okra Hyderabad Marriott Buffet Dinner is totally worth
Priced at about Rs 1800 per head, the buffet is surely targeted to a different segment of the society. But Marriott has done full justice to the price tag. Right from the word go, the entire dining experience was pretty good (Barring the occasional slow service from live counters & few items not up to the mark) The variety of starters is amazing and there will be something that from everyone. The live counters with noodles, pasta and pizza were pretty good and dished out customized orders based on your needs. The main course dishes were pretty good and had a balanced taste. Ajwain Paneer was new to me. The desserts were heavenly. Period.
The assortment on offer was vast and everything in tasted pretty good. The service is warm as you would expect. Just that with the crowd, the service from the love counter gets sluggish. But that can be ignored considering all the other aspects of Okra Hyderabad Marriott Dinner Buffet. Those were my 2 cents on Okra Marriott Hyderabad. If you've been there and think I've missed out on anything, do let me know in the comments below or tweet to me at @Atulmaharaj