Long ago there was only one destination that was known for its coffee in different parts of the country. The India Coffee House, is a chain of coffee houses across India. This was known for a simple coffee sans the bling bling. Fast forward to the current times, there are coffee shops coming in at all places. Coffee places or Cafes are a hot spot for meetings, casual meetups and everything you can think of. Cafes are one place that is perfect for a creative person to focus on their work – be it writing, blogging or reading. Jubilee Hills in Hyderabad is home to a lot of restaurants and cafes. And one such cafe that me and my friend decided to visit last week was Kaficko. It was a Coffee Sunday and the weather was perfect spend time and enjoy the coffee. Here's a review of Kaficko Jubilee Hills.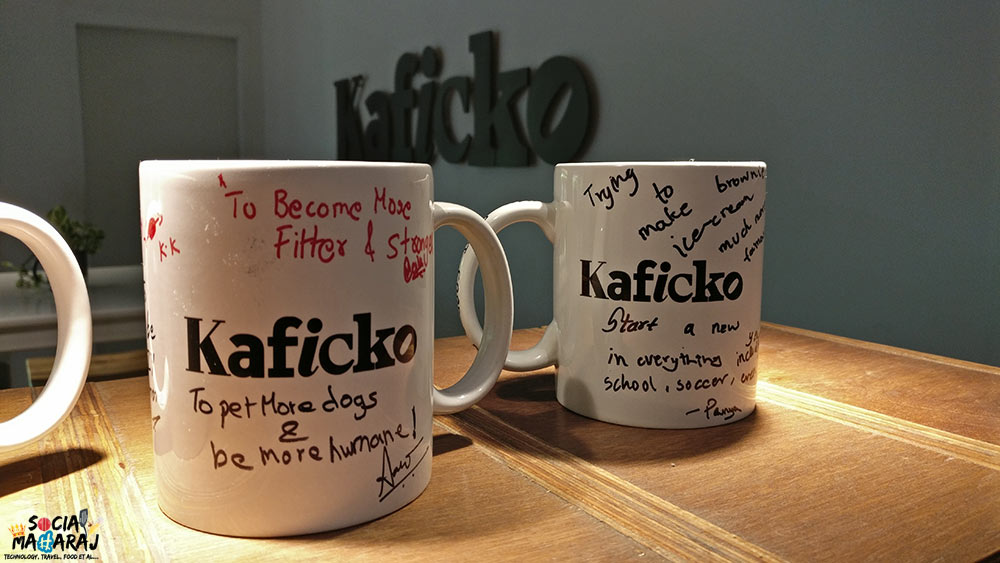 Home converted to a Cafe – Good Ambiance
If you have been to any restaurant or cafe in either Jubilee Hills or Banjara Hills you know that most of these started out in a house. Sprawling bungalows with lush green gardens are characteristics of such cafes. My visits to United Kitchens of India, Roastery Coffee House proved just that. Kaficko Jubilee Hills is on the same lines. The cafe is house in a bungalow which has a boutique too. The cafe is small but the huge window panes ensure it is always well-lit. Kaficko also has outside seating, but since it was too hot, we decided to sit indoors.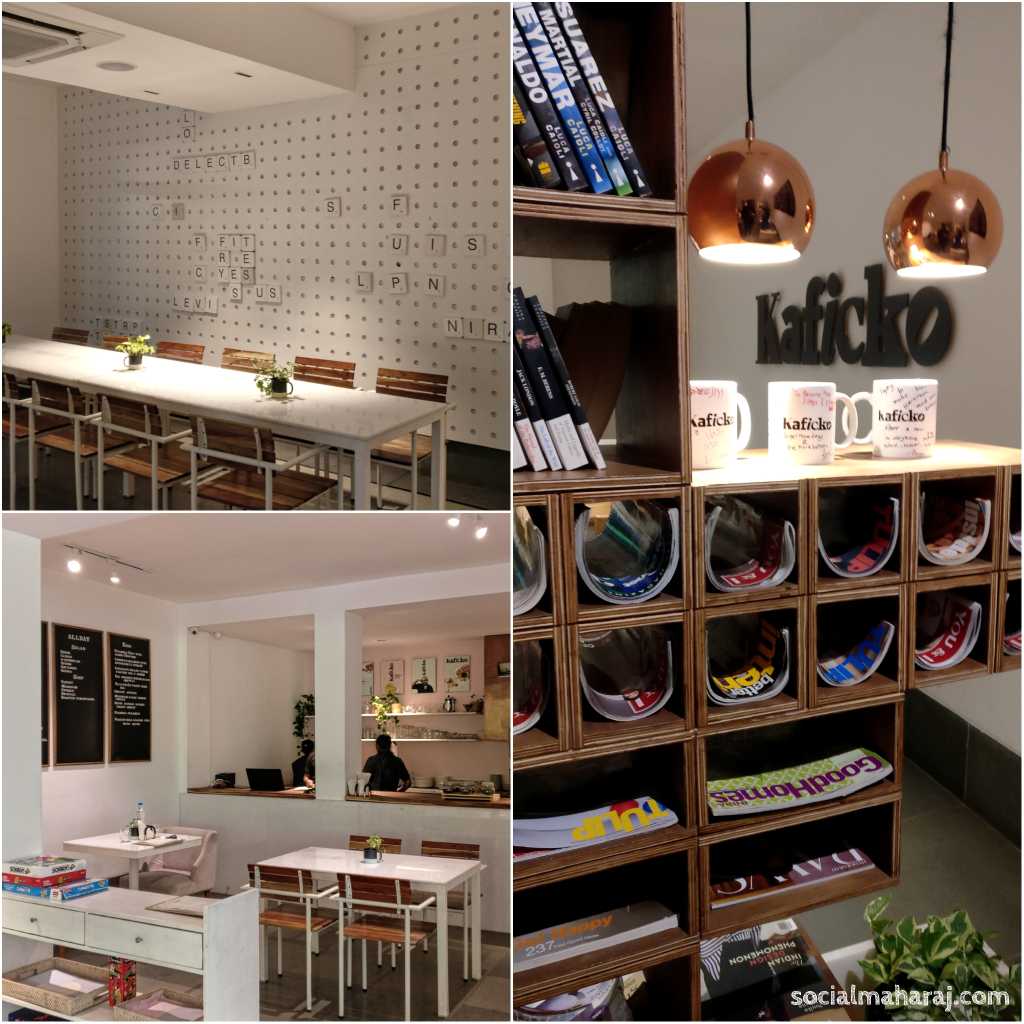 The cafe has a lot of magazines and books to read. So if you are interested to read something you might find a lot of books to spend time. Apart from these are board games available – Pictionary, Jenga and many more. In case you come in with friends, you'd surely want to play a game or two. Lastly one of the walls in the cafe has a Pictionary built-in and wooden alphabets are available too. Overall, the cafe is quite good and like any other cafe, Kaficko is a good place to spend the day working or reading.
Food at Kaficko – Costly yet Delicious
Before I talk about the food, let me inform you that I had a Dineout coupon that entitle me for a 50% off on the total bill.
Everyone who knows me or have met me, know that I'm not a soup person. I'm someone who digs straight into starters and main course. However, we decided to order a Mushroom soup. Along with that we also ordered a White sauce Penne Pasta and a Peanut Butter Cold Coffee. Since we happened to meet after a long time, focus was more on spending time rather than eating. Thus the unusually small order considering my history of placing orders. Also the slim menu with limited vegetarian options can be another reason. Anyways the soup was on the table soon and I'd say it was good. The creamy soup with good chunks of mushrooms was good on taste.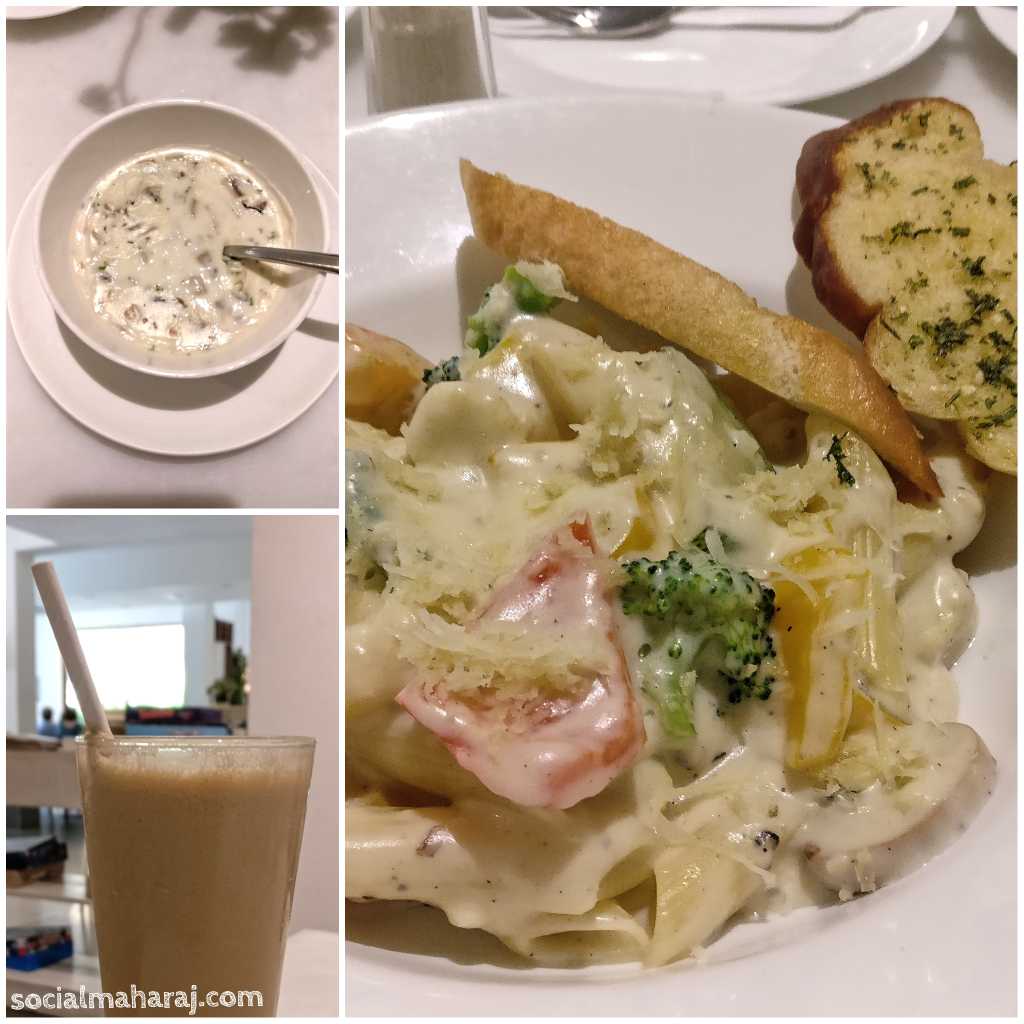 Coming to the Pasta, I had a vegetarian Pasta while my friend had a Prawn Pasta in pesto sauce. The vegetarian pasta was very well done. The pasta was cooked to perfection. The veggies put in were fresh and chewy just how I like it. Lastly the sauce was creamy, cheesy and perfect. Both the pastas were served with two slices of garlic bread.
For drinks like I said, we had a normal cold coffee along with a peanut butter cold coffee. The normal one was, well, normal. But the peanut butter cold coffee was good. The peanut butter was complementing well with the strong coffee flavor. Though I felt that the amount of peanut butter was slightly high, I loved the combination.
Final Verdict : Enjoy your Coffee Time at Kaficko Jubilee Hills
I'd end my Kaficko Jubilee Hills review by saying that this is a wonderful place to spend some quality time. The games, books available makes it a good place to hangout with friends. Though the place can get a little noisy at times. The food is slightly on the higher side. Increasing the portion size can be a good way to counter that. The service is good and the servers are cheerful. Overall, Kaficko in Jubilee Hills is a good cafe for coffee, games and food. Have you been there already ? How was your experience ? Want to know something more about the place ? Mention everything in the comments below or tweet to me at @Atulmaharaj