Wishing you all a very Happy New Year 2019. Hope this year brings you all the joy, happiness, success and good health. 2018 had been an amazing year for Socialmaharaj and I'm all pumped up for 2019. Like always, I go out for dinner with family on 31st night and post the review of the same in the following week, which becomes the first post for that year. Last year I was at Tatva in Jubilee Hills and prior to that had dined at Bikanervala. However this year wanted it to be a little extravagant so decided to experience the luxurious celebrations at ITC Kakatiya New Year Dinner. This was hosted at Deccan Pavilion. So here's a review of the New Year Dinner at Deccan Pavilion, ITC Kakatiya.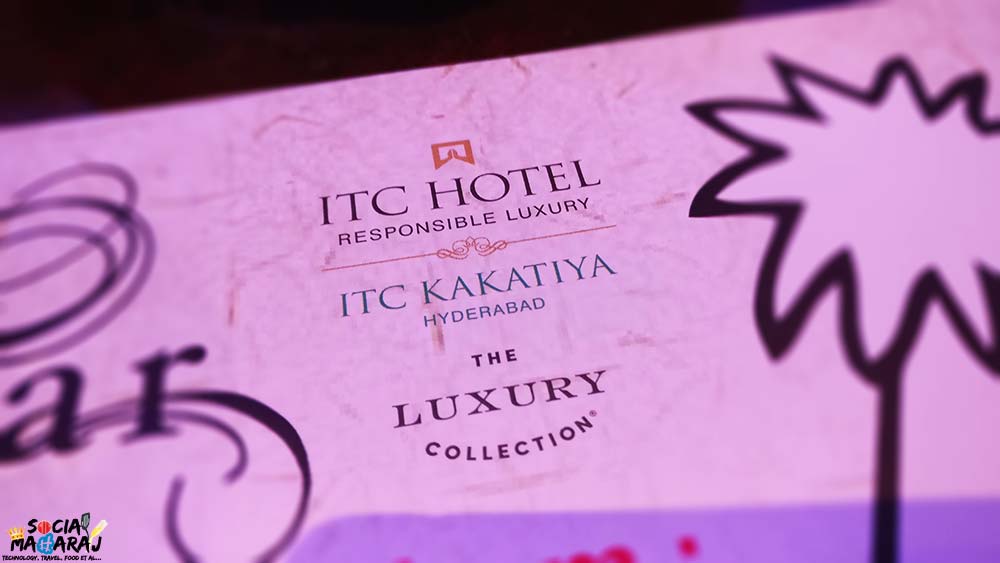 ITC Kakatiya – in the lap of luxury
The entrance to the hotel isn't grande but the lobby surely is. With the royal items and great paintings the lobby can't get more luxurious. Since I was here for the New Year Dinner, it was all decorated with Christmas trees and ginger bread houses. Deccan Pavilion is located in the -1 floor and is quite a spacious place. I had an image of it as somewhat like the Waterside Cafe at Taj Banajara, but this was much better. Overlooking the swimming pool, the restaurant is spacious and the buffet area is well spread out. For the New Year Dinner at ITC Kakatiya, space was a constraint as the live counters and the desserts parlor along with the Bar were placed outside. We had our reserved table which was inside and thus did take few rounds outside. The service was impeccable but a little slow due to the huge rush. We were attended by Mr Abdul who ensured everything was just perfect.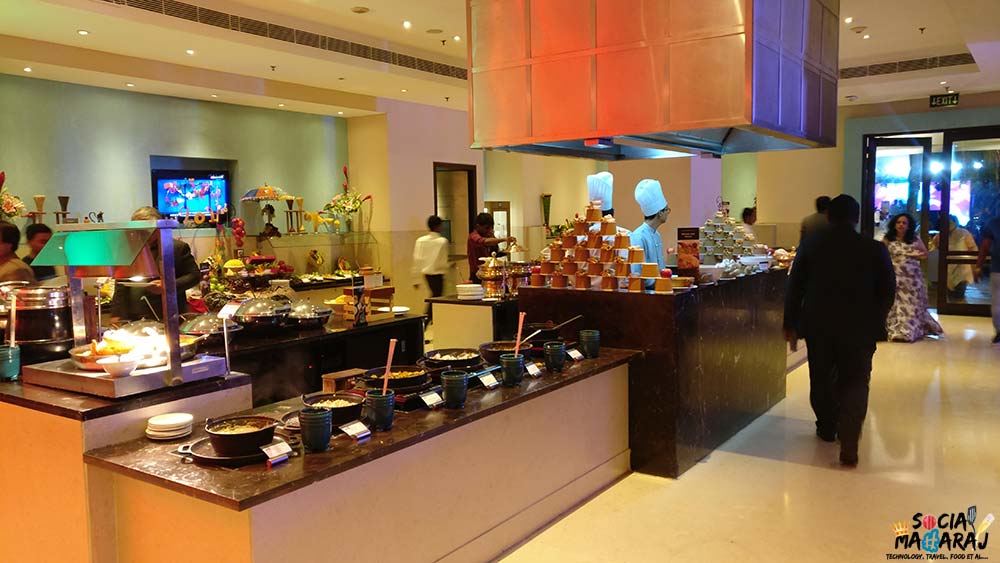 The New Year Dinner Buffet Spread
Salads and Starters
Being a pure vegetarian and a teetotaler, I was quite aware of what choices I could have. The buffet area which was inside was quite large and there were a lot of things on offer. The salad bar is where I did spend some time to try everything they had. The Tofu and Dates preparation with strong Mustard sauce was my favorite. Also the Humus was delicious. In fact the accompanying assortment of breads on offer was royal. They had numerous varieties of breads made from various things. But my favorite was this Garlic Bread spin-off which was superb. Served in a cup cake type, the bread was succulent, laced with butter and strong garlic flavor. The designer bread in the image below is the garlic bread !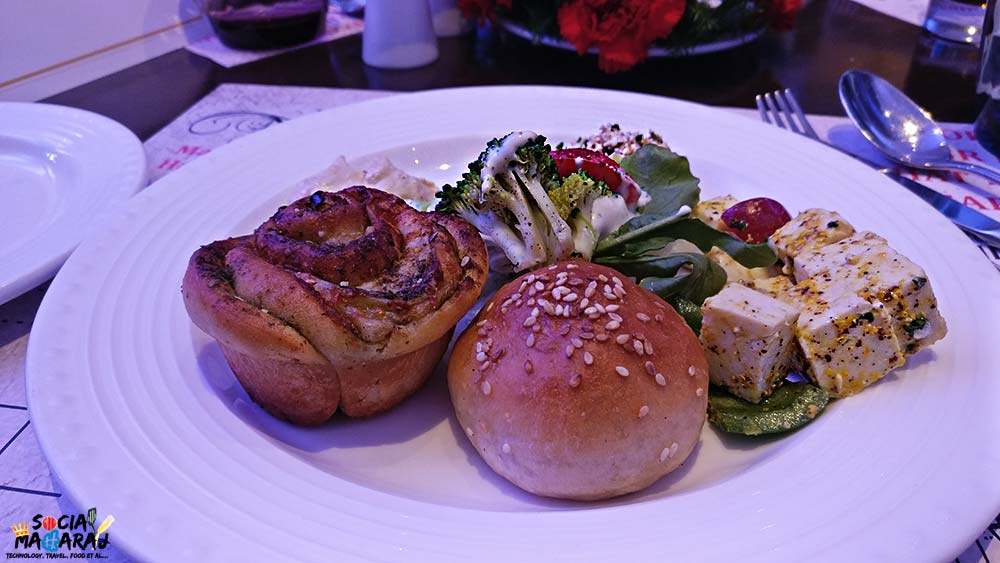 The vegetarian starters were the biggest let down of the evening. There was Lasagna along with a couple of baked vegetarian starters. What I was looking forward for was some lip smacking tandoori starters. The live counters served Paneer and Babycorn only for the vegetarians. Moreover, I'm sure that it was Tofu and not Paneer. Both the starters were tasteless and the marinate on Paneer wasn't great either. I did fill up my plate with 4-5 pieces of each, but later felt guilty that I couldn't finish even 2 of it. This surely could have been better.
Scattered Main Course
While I was doing the initial rounds of the buffet counters, I found a dish called Lauki ka Dalcha and I surely wanted to try that. However when I actually went for the main course, it wasn't there. Rather it was moved to the pool side area (which I found out after I was done eating) The arrangement of the items surely could have been better. If you didn't pay attention to the labels, you'd never know when the vegetarian dishes were over and the non vegetarian dishes started.
Anyways, there was Oriental and Indian dishes on offer. From the Oriental side we had Babycorn and Pepper poppers, Pad Thai Noodles with Stir Fried Vegetables along with Vegetable Fried Rice. On the Indian side and for vegetarians there was Makai Mushroom, Navratna Kurma, Dal Makhni, Lauki ka Dalcha and Sambhar. These were present along with Coconut Rice. There was a separate counter serving Hyderabadi Biryani – Mutton, Chicken and Vegetarian.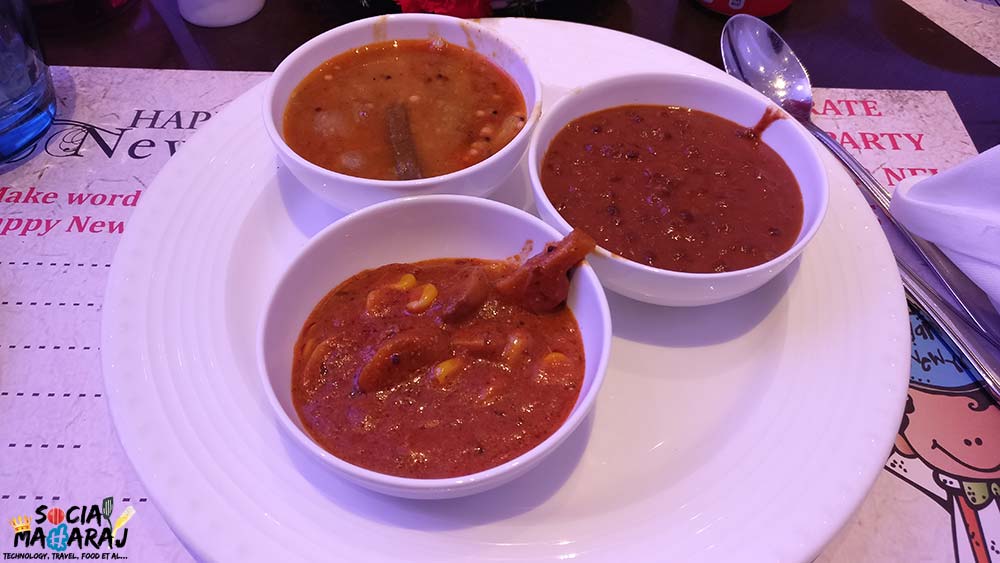 I tried the Dal Makhni (I mean who wouldn't !), Sambhar and the Makai Mushroom. The Mushroom preparation was pretty average. The sauce tasted like one of those ready to eat ones. Dal Makhni was better but surely could have been better. It lacked the punch. Lastly, Sambhar was outstanding, haven't had such delicious sambhar off late. It was very close to the home cooked one, laced with lady finger and small onions, I had a couple of bowls of it ! The Coconut Rice was tasty too, had good texture and was chewy. And this was probably the only buffet I've ever been to where there was no Paneer dish 🙁
Drinks and Desserts
The dessert spread was quite large and there was a lot of things to choose from. Right form the Indian desserts like burfis, Gajar ka Halwa, Qubani ka Meetha and Double ka Meetha to Ras Malai, Cham Cham, Balushahi and what not. On the videsi part there was Panna Cotta along with an array of pastries, brownies and much more. As for drinks, being a teetotaler, the choices were grim. Soft Drinks and Fruit juices were the only things available. Though unlimited, one couldn't drink much of it. I did try my favorite Virgin Mojito at the bar counter. While I was ordering, I did get a few stares from the pretty ladies around 😀 The Mojito was good as they had used fresh lime and not the mojito syrup that most places use.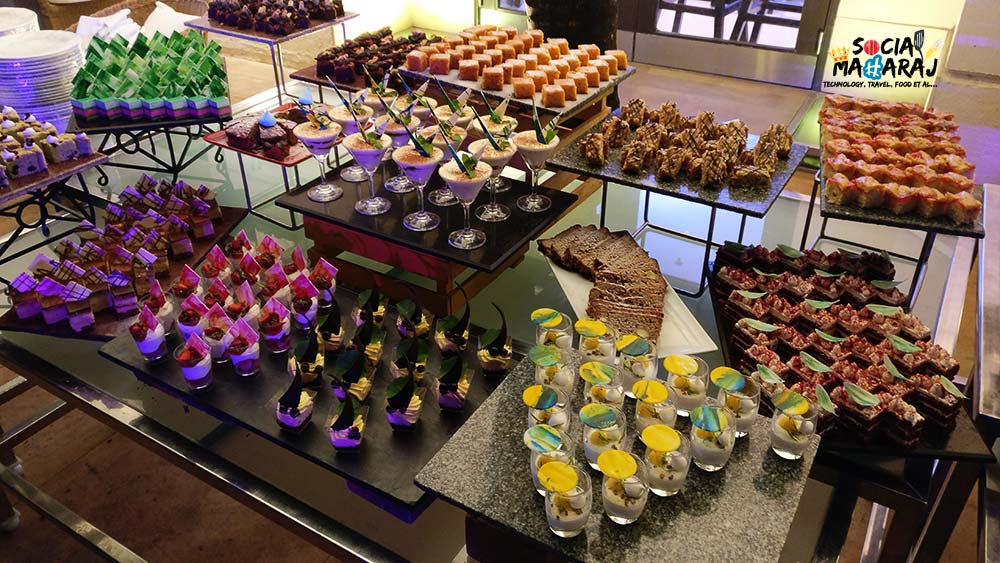 Final Verdict – New Year Dinner at ITC Kakatiya
At Rs 2500 per head, the dinner is worth if you are a non vegetarian and a tippler, you would find this a decent deal. But being a vegetarian and a teetotaler, the dinner was quite average. I know that ITC Kakatiya is much better than what I experienced in terms of food. And I'm surely going to dine at Dakshin sometime soon before I'd draw any conclusion. Overall, it was a great evening, good time spent with family with good food and music. That's it about the first post of 2019. If you think I've missed out on anything or would like to say something, do mention in the comments below or tweet to me at @Atulmaharaj