Ever since I moved to the southern part of India, I've fallen in love with the South Indian thalis. The kurma, poriyal, sambhar, rasam, and all the others are something I always look forward to. While for most of the northies, a South Indian thali remains the same everywhere, but in reality, it's not. Every state has a different cuisine and taste which reflects in the thali. For instance, the thali at Ohri's Uppu is a mix of delicacies from all southern states while the one at Rayalaseema Ruchulu is a pure Telangana Thali.
Similarly, a few days back I tasted the famous pure vegetarian meals at Subbayya Gari hotel. I was along with a fellow food blogger Rajesh Ji from Delhi and decided to hit this place for dinner. Without much ado, let's get into a review of Subbayya Gari Hotel.
What's the deal with Subbayya Gari hotel?
Irrespective of the city or town you are staying in, I'm sure you would have come across restaurants that have been functioning for decades. So when you come to Andhra especially to the town of Kakinada, you'll come across Subbayya Gari Hotel. Originally founded by Subbayya Garu in the 1950s as a mess, the restaurant has expanded to popular cities in South India.
Known for its pure vegetarian meals served on a banana leaf, Subbayya Gari is the epitome for pure vegetarian Andhra meals. The goal of starting the restaurant was to help the people in need by providing them affordable food. (The meals back then costed just Rs 0.5) Today it's a place where hundreds of people throng to get a taste of authentic Andhra cuisine.
Subbayya Gari Review – a formality
Subbayya Gari has three outlets in Hyderabad. One each in Kondapur (opposite Sarath City Mall), Ameerpet (near HDFC Bank), and KPHB (the first outlet). I went at the original one at KPHB and this is going to be my Subbayya Gari Review for that outlet.
Minimal & No-nonsense Ambiance
The restaurant, located in KPHB is not easy to locate especially when you are in a car. It's located on the second floor of an apartment. While the first floor is where the food is cooked, the second floor is the dining area.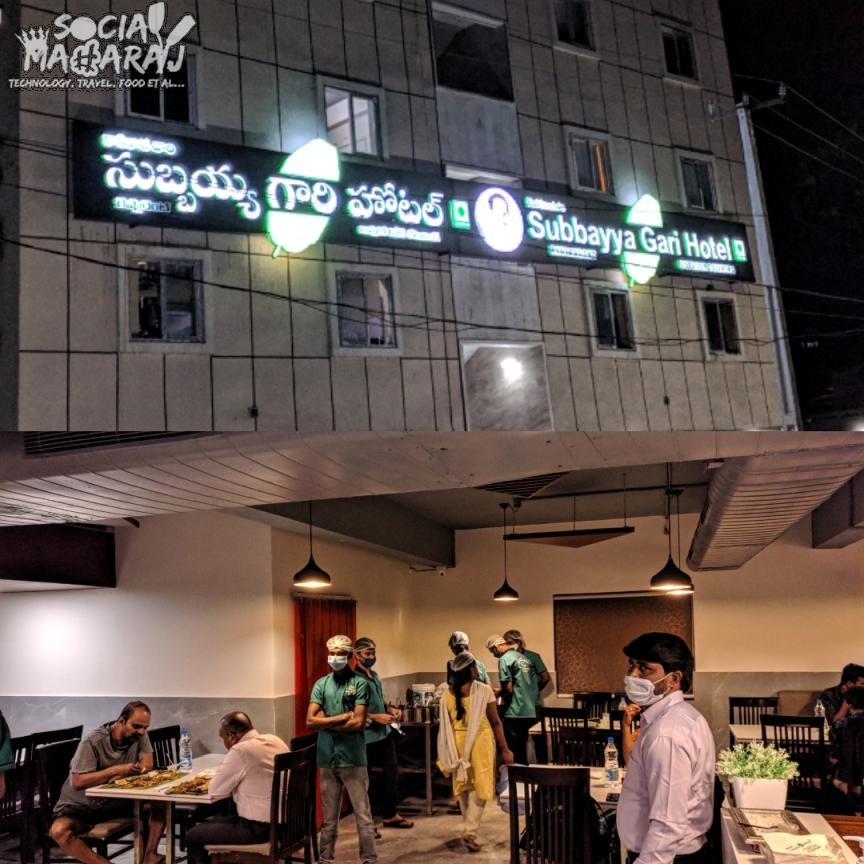 It's not a spacious restaurant. And thanks to the pandemic, they are operating only half of it. So there are just about 8-10 tables which means either you'll have to share your table with someone or wait for your turn. This is a no-nonsense place with just the basic infrastructure. After all, Subbayya Gari is all about food.
In terms of safety measures, the restaurant staff asks you to wash your hands and enter the dining area as soon as you enter. They have a coupon system and hence you need to pay before you eat. Currently, they are serving only meals which are priced at a modest Rs 250 and are unlimited. We paid Rs 500 for two people and were provided a bottle of mineral water.
Flavors of Andhra at Subbayya Gari
While you can choose any table, I suggest you choose one that is a little further away from the serving area. Our server was right there and it was disturbing at times.
The moment you sit, you'll be presented with a banana leaf and then the serving machinery kicks in. In a blink of an eye, you can barely see the banana leaf. There's so much food already on your plate. Being a vegetarian, it's orgasmic to see so many vegetarian dishes at once!
We had Gottam Kaja (a famous sweet from Andhra), Boorelu (it's like the vada version of puranpoli, eaten with ghee) Apart from that we had Dondakaya Fry (Kundru/Coccinia fry) and Cabbage Fry. Moong Dal Kofta, Tomato Pappu (dal), Bendakaya Curry (Bhindi/Ladyfinger), Guthi Vankaya Kura (Brinjal Curry) served with steamed Rice, coconut rice adn biryani rice. There were pooris and papads and also a glass of buttermilk. Later, we were served Sambhar & Rasam along with their famous podis (dry chutney powder) – Gun Powder and Curry Leaf podi. And all of it is UNLIMITED.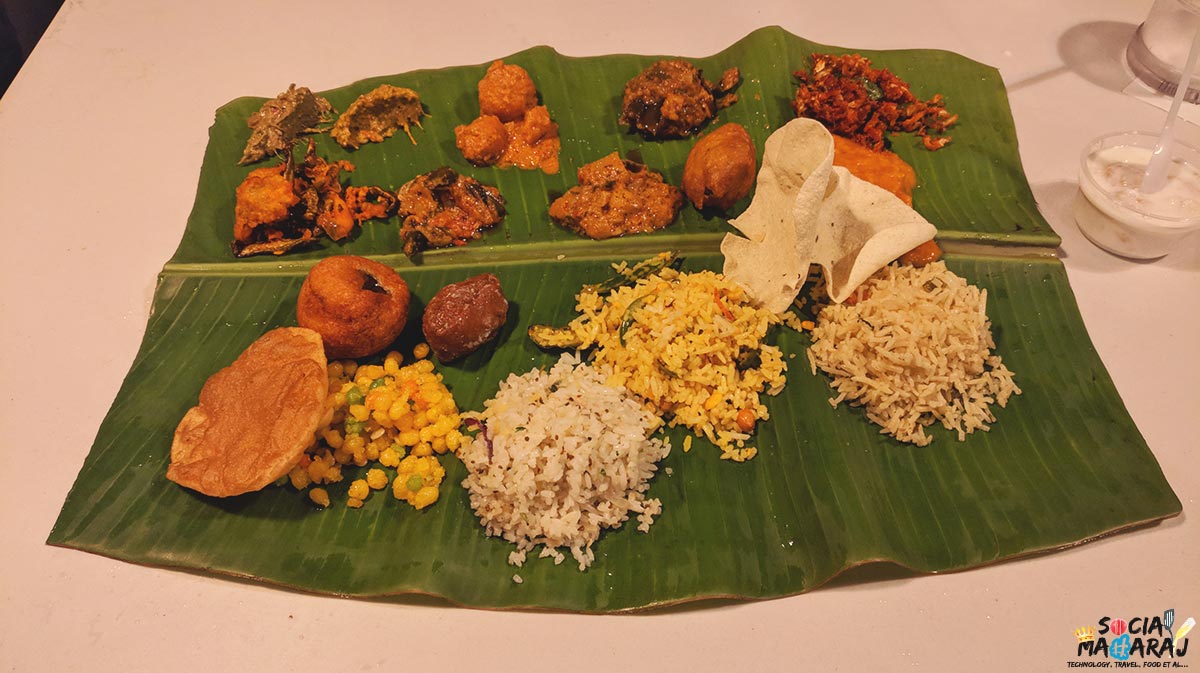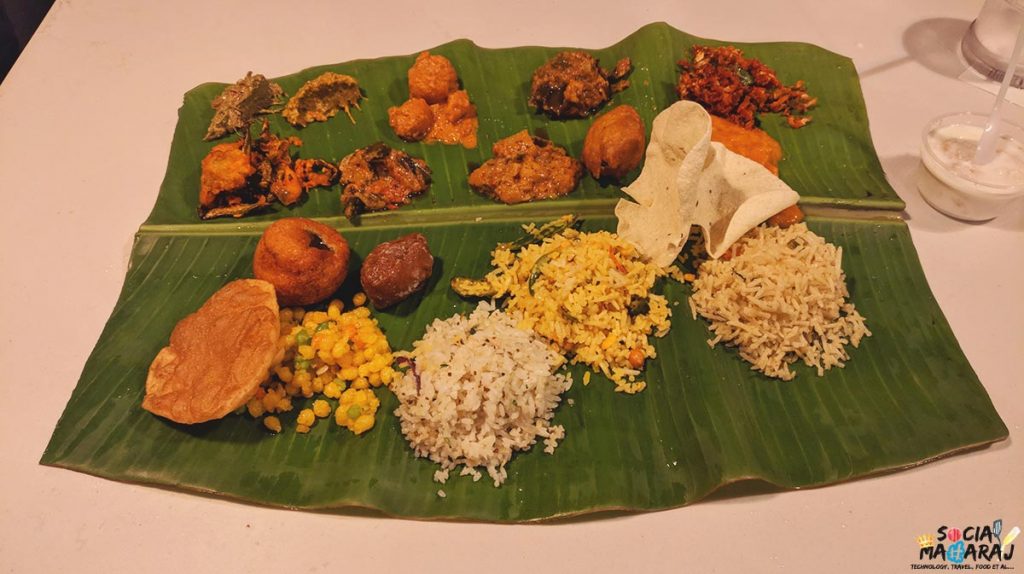 Coming to the taste, I absolutely loved it. Though for some the taste might be sharp considering most of their dishes are salty and tangy at the same time. However, staying in Hyderabad, I've gotten used to the taste. Being a bhindi fan, I loved the Bendakaya curry. It wasn't too spicy but full of flavor. The classic tomato pappu with rice was bang on and so were the Poori and Vankaya Kura. I had a few rounds of pooris before I dug into Rice.
The lemon rice, coconut rice, and Biryani rice were all good. But the joy of having steamed rice with tomato pappu, Sambhar, and Rasam is unmatched. Like a true Southie, I relished rice with sambhar and rasam (my favorite) and ended with a dollop of curd with salt followed by a burp! A sign that your tummy is happy!
A must visit place for vegetarians
If you are a vegetarian like me and interested to explore the local cuisine, Subbayya Gari hotel is the perfect place. The Andhra meals are perfect for any occasion and does complete justice to the price. While you can order the meals home, the joy of having it on a banana leaf at the restaurant is unmatchable. At Rs 250 per meal, this was a total paisa vasool meal and I'd suggest everyone try it once. Had a wonderful time here, and I'm sure to visit the place again soon.
Have you tried Andhra cuisine? What are your thoughts on it and Subbayya Gari? Let me know in the comments below, Tweet to me at @Atulmaharaj, DM me on Instagram, or Get In Touch.