I've always told that there are two types of travelers/tourists in the world. There's this group that is on the lookout for eating local food while there's this other group that looks for their choice of food. Which one do you belong to? I belong to the first group. For me, it's Chole Kulche in Delhi, Poori Subzi in Varanasi, Missal Pav in Panchgani, and Idli in Chennai. I'm so not the person who'd look for an idli sambhar for breakfast in Amritsar! So when I wanted to have breakfast in Jaipur, I was told to try Samart Restaurant in Jaipur. Like always, this is going to be my breakfast in Jaipur at Samrat Restaurant review blog post.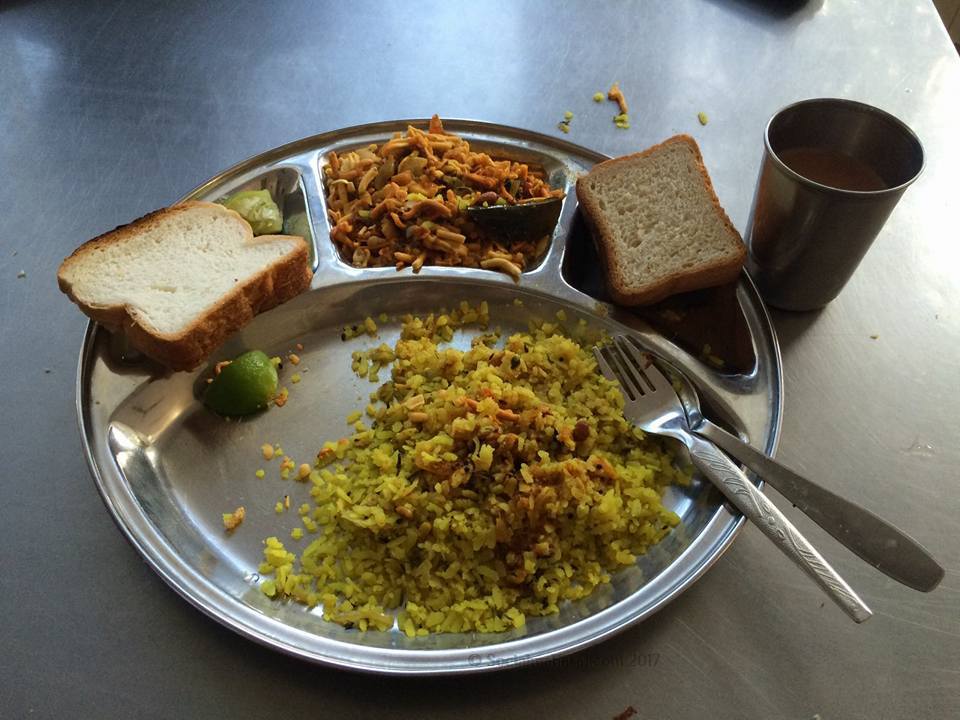 Breakfast in Jaipur – The Pink City
One of the best things that I love about Rajasthan is its colorful and lively culture. You'll see a lot of colors and cheerful faces around you. Some of the warmest people on Earth are from Rajasthan. Similarly, when it comes to food, there are a lot of places where you can have breakfast in Jaipur. Smarat Restaurant in Jaipur was the one that was suggested to me.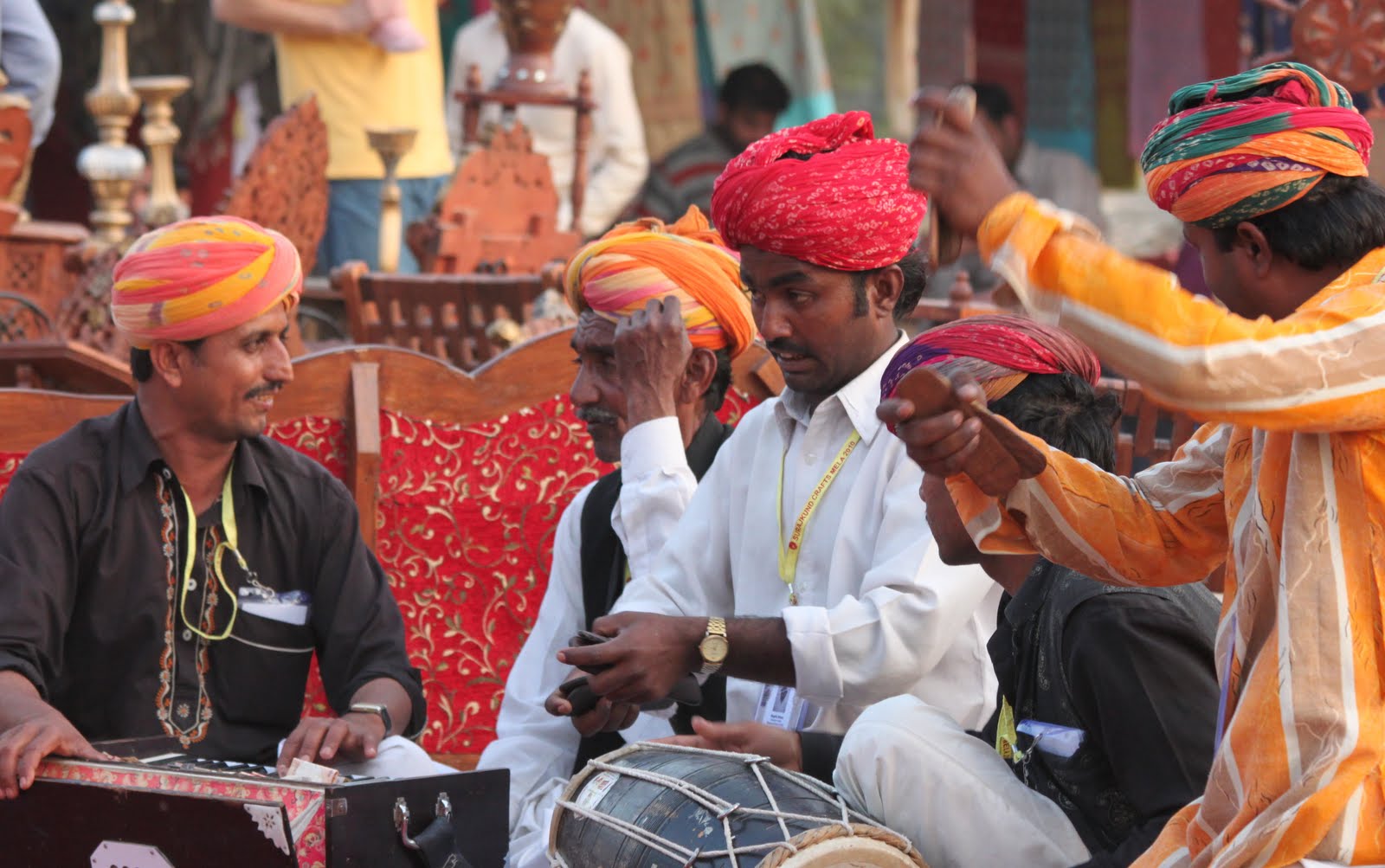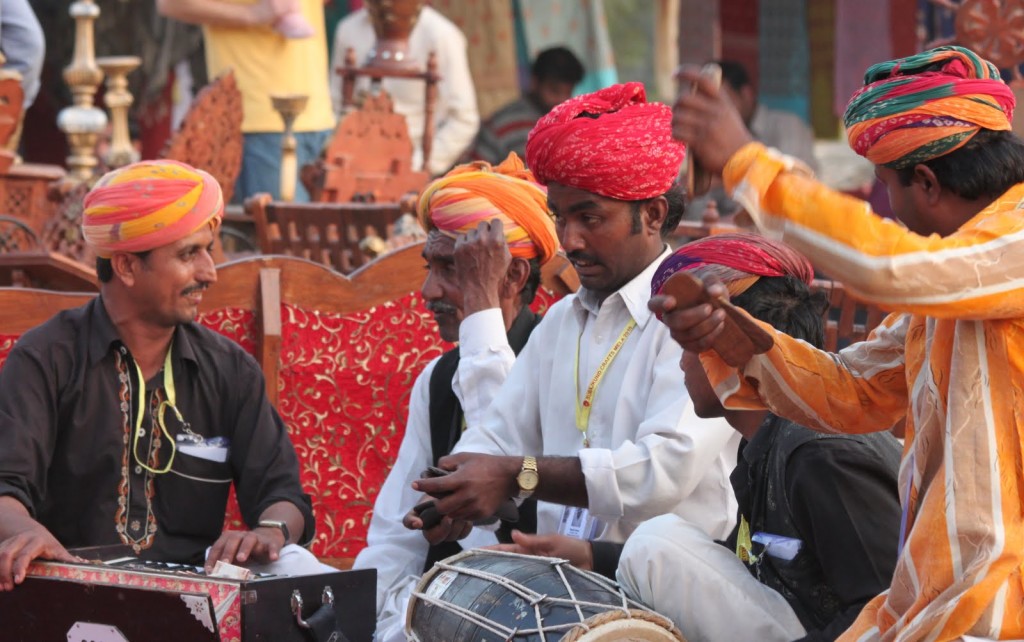 After witnessing a good sunrise at Aamer fort in Jaipur, I told my friends that I wanted to try out the local breakfast. Samrat Restaurant in Jaipur was a unanimous answer. The best part about Samrat restaurant in Jaipur is that it is located in the pink city. (For those of you who don't know, Jaipur is known as the Pink City in India, and no, the whole city is not pink)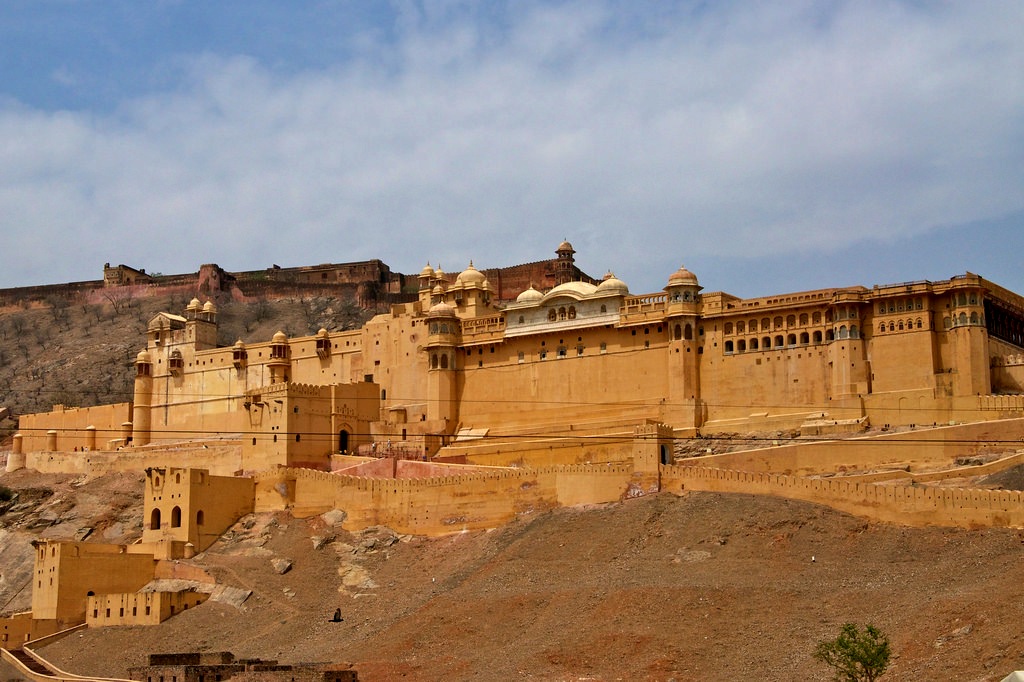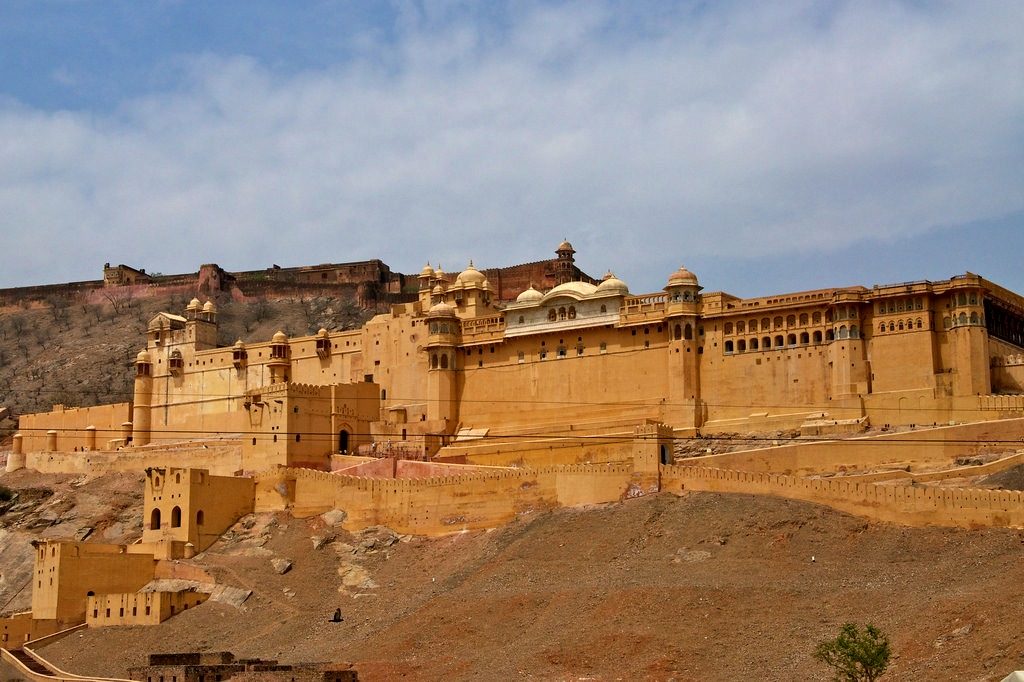 If I were to help you with the exact location of Samrat Restaurant Jaipur, I'd say it is in the lane behind the Hawa Mahal. Right opposite to the SBI bank branch, is a small outlet thronged by a lot of morning walkers for their daily breakfast and chai.
Samrat Restaurant Jaipur Review
Ambiance
Talking about the ambiance of Samrat Restaurant, it's a pretty small eatery or rather a group of eateries. While it does say that they have a seating area inside, from the outside you wouldn't agree. Even though the shop is small, it's quite neat and clean. Of the 3 shops in line, the main one serves the actual food, the second one is all about sweets and the last one is all about the chai.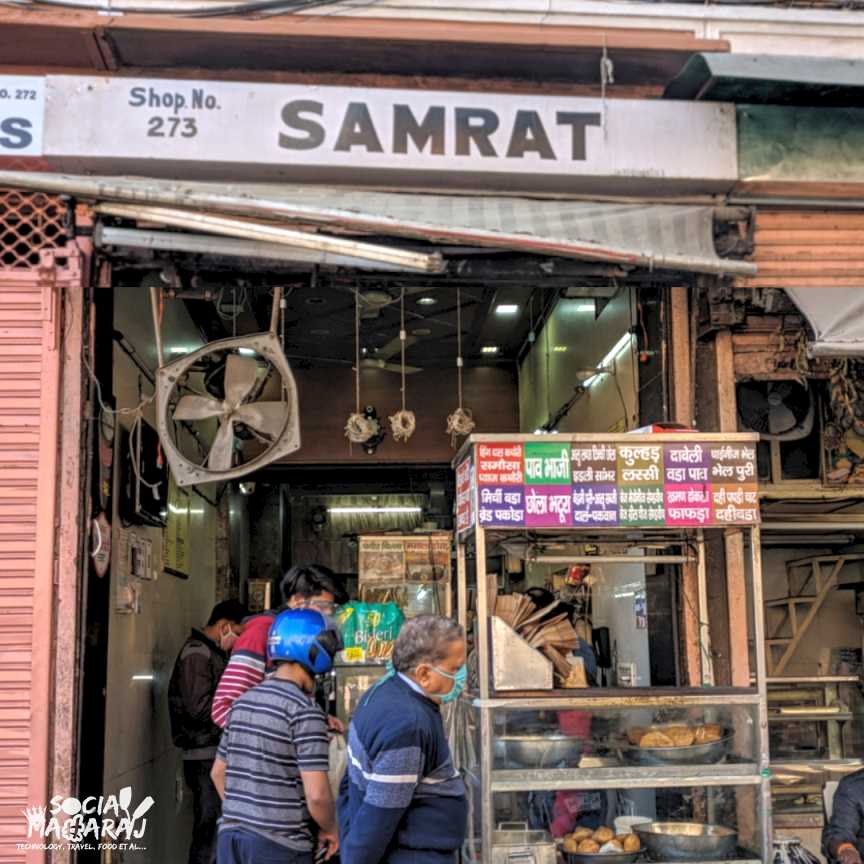 I'd prefer parking your car/bike on the roadside and enjoying your breakfast in Jaipur at Samrat Restaurant is the best way. That's what we did too. Especially during the early hours of the day, stopping and grabbing a quick bite doesn't harm. Afterall how else do you utilize the roof/bonnet of your car 😉
Breakfast at Samrat Restaurant
What Idli Sambar is to a south Indian city and Fafda Jalebi is to Amdavad, Pyaz ki Kachori is to Jaipur. No matter what part of the pink city you are in, Pyaz ki Kachori and Kanji vada are a few of the most loved breakfast dishes in Jaipur. And that's what we had too.
We ordered a plate of Pyaz Ki Kachori, Regular Kachori, Samosa, Khaman, Poha, Bread Pakoda, and Chai along with Jalebi. The Pyaz Ki Kachori was heavenly. Though a little spicy for my liking, the tangy chutney helped pe fall in love with it. It was crisp on the outside and soft & mushy on the inside. It was extremely flavorful. I'd recommend trying this for sure. In fact eat it with the chutney provided, which takes the Pyaz Ki Kachori to the next level.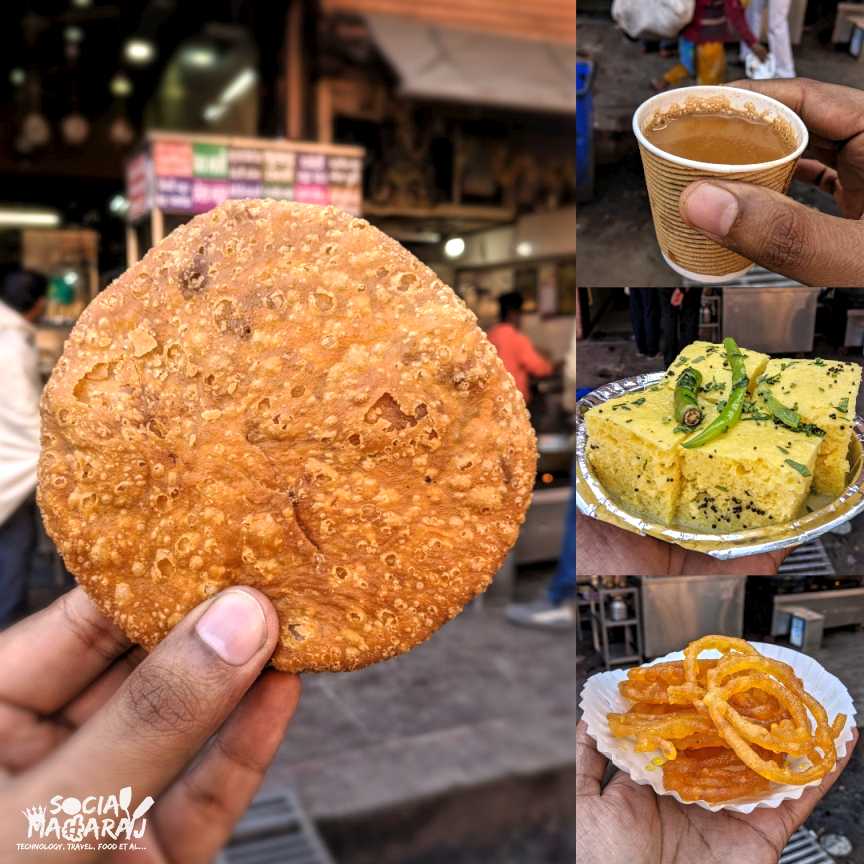 The regular Kachori, Samosa was good and so was the bread pakoda. We also got some Poha from a nearby stall. The Poha had a variety of mixture on top of it and was laced with Pommegranet seeds and grated Paneer. It was a different but delicious poha variation I've had in recent times. Being a dhokla fan, I don't enjoy Khaman much so I just had a bite of it.
The piping hot jalebi was amazing. The syrup had seeped into the core of the Jalebi that was crisp from the outside. Again, not a big Jalebi fan, but this was so good that I had a few of them. Coming to the last item of my breakfast in Jaipur – Chai. It was a mild masala chai with ginger and cooked to perfection. I had watery tea and this wasn't that. Though we requested him to add extra ginger/masala, he didn't and used the tea that he had already made. Nonetheless we had a few cups of it 😉
Eat like a local at Samrat Restaurant Jaipur
We all know that Hawa Mahal in Jaipur is an attraction all of want to visit. While you are shopping, it makes perfect sense to hop lanes and find some lip-smacking food. Samrat Restaurant in Jaipur makes a great place to have breakfast in Jaipur. The items are limited but extremely delicious. In terms of pricing, I'd say it's extremely affordable. Most of these items were priced in the ₹30-₹40 range.
So that's about my review of Samrat Restaurant Jaipur. I hope you liked this and would have this on your itinerary the next time you are visiting Jaipur. Plan a breakfast here followed by chai here or at the Sahu chai stall. Coming back to the question, what kind of a traveler you are? Let me know in the comments below, tweet to me at @Atulmaharaj, DM me on Instagram, or Get In touch.