Uttar Pradesh, Gujarat, Goa, Maharashtra, Karnataka, Delhi NCR and Telangana. These are the 7 states that I have actually stayed in for more than 2 years. And I'd say that's the best thing that has happened to me. Having stayed in such diverse places, I've learnt a lot about the culture. The languages people speak, the festivals they celebrate and obviously the food they eat. My taste buds have been treated to so many cuisines that they hungry for more. I'm always on the look out to try new cuisines and flavors.
Being in Hyderabad for quite some time now, I still hadn't explore the variety of cuisines from the region. Yesterday, I got a chance to do just that. I was invited to Rayalaseema Ruchulu in Jubilee Hills to celebrate Aha! Rayalaseema, an exquisite Rayalaseema food festival. So here's how they are keeping the legacy alive my Rayalaseema Ruchulu Review.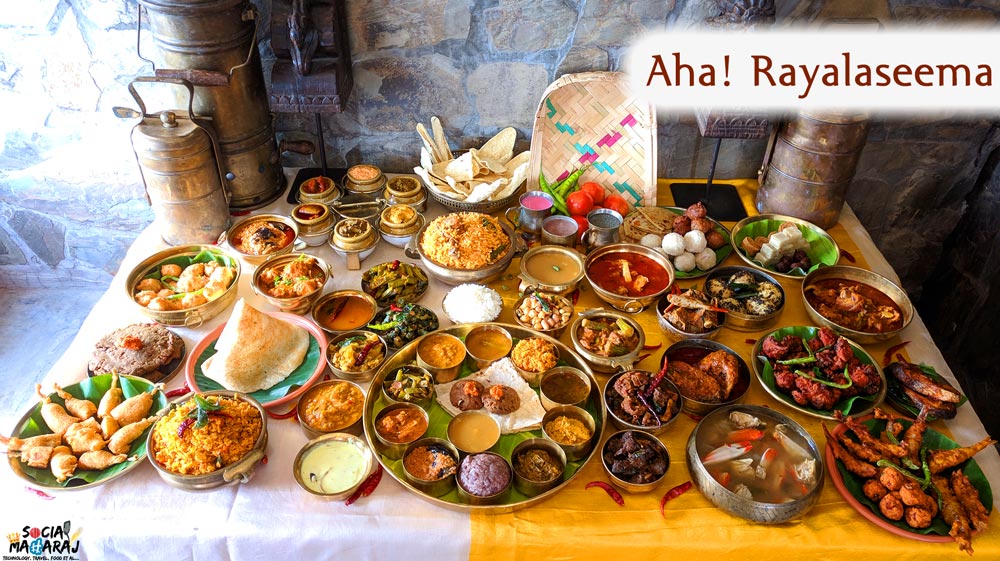 Welcoming Ambiance at Rayalaseema Ruchulu
It's quite easy to spot Rayalaseema Ruchulu in Jubilee Hills, right under the Pedamma Temple metro station. Located on the 5th floor, you are greeted with quirky photos as you enter the restaurant. The restaurant is spacious, however with the high footfall, you may feel otherwise. Rayalaseema Ruchulu in Jubilee Hills is the only outlet serving a buffet. The buffet area is right in the center of the restaurant. There's a live counter dishing out dosas too. The vegetarian and non vegetarian sections are separate, which is good. The seating is comfortable and so is the lighting. Overall, loved the welcoming ambiance.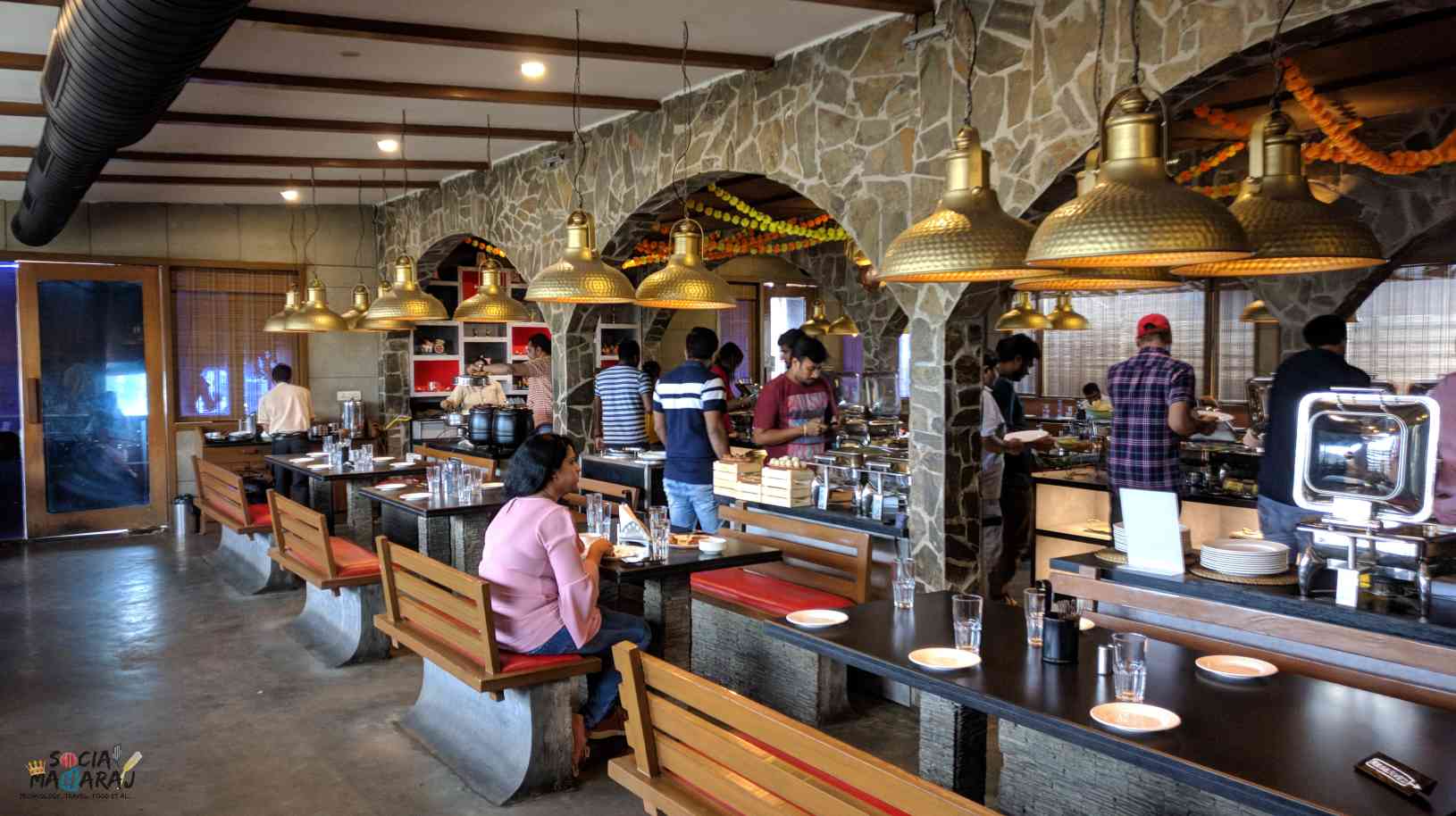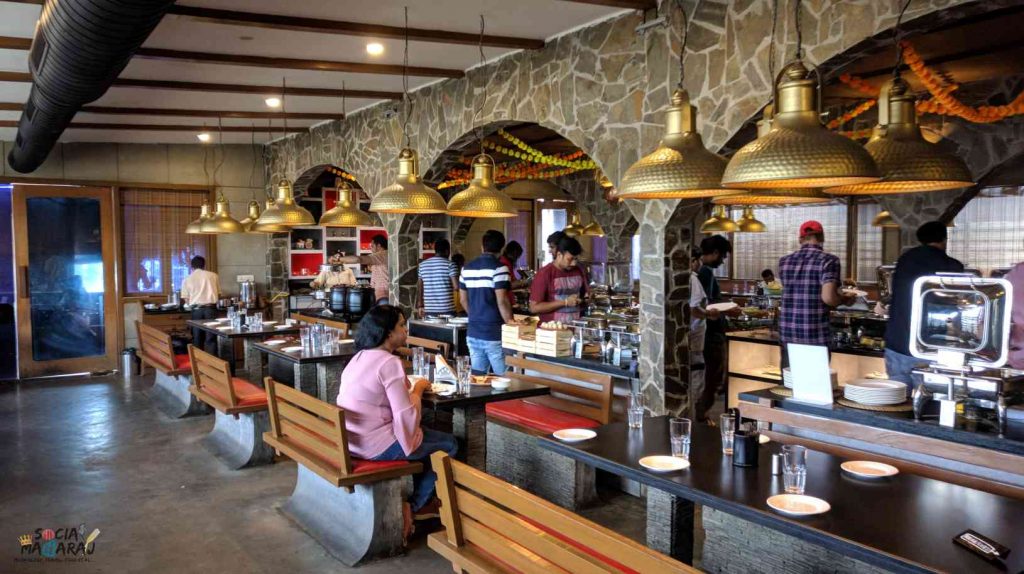 Aha Rayalaseema Food Festival
Rayalaseema Ruchulu is celebrating their 16th year of existence with the Aha! Rayalaseema Food Festival. The festival brings in the authentic and rustic delicacies from the region to take you back in time. These age old recipes are curated by home chef Rajeshwari Puthalapattu who feels that if we don't preserve our culture, who will ? It was great talking to her. She's deeply rooted to the culture and believes that it's we who have to uphold it and pass it on to the next generation. She briefed us about the various dishes in the food festival. So without much a do, here's my Rayalaseema Ruchulu Review.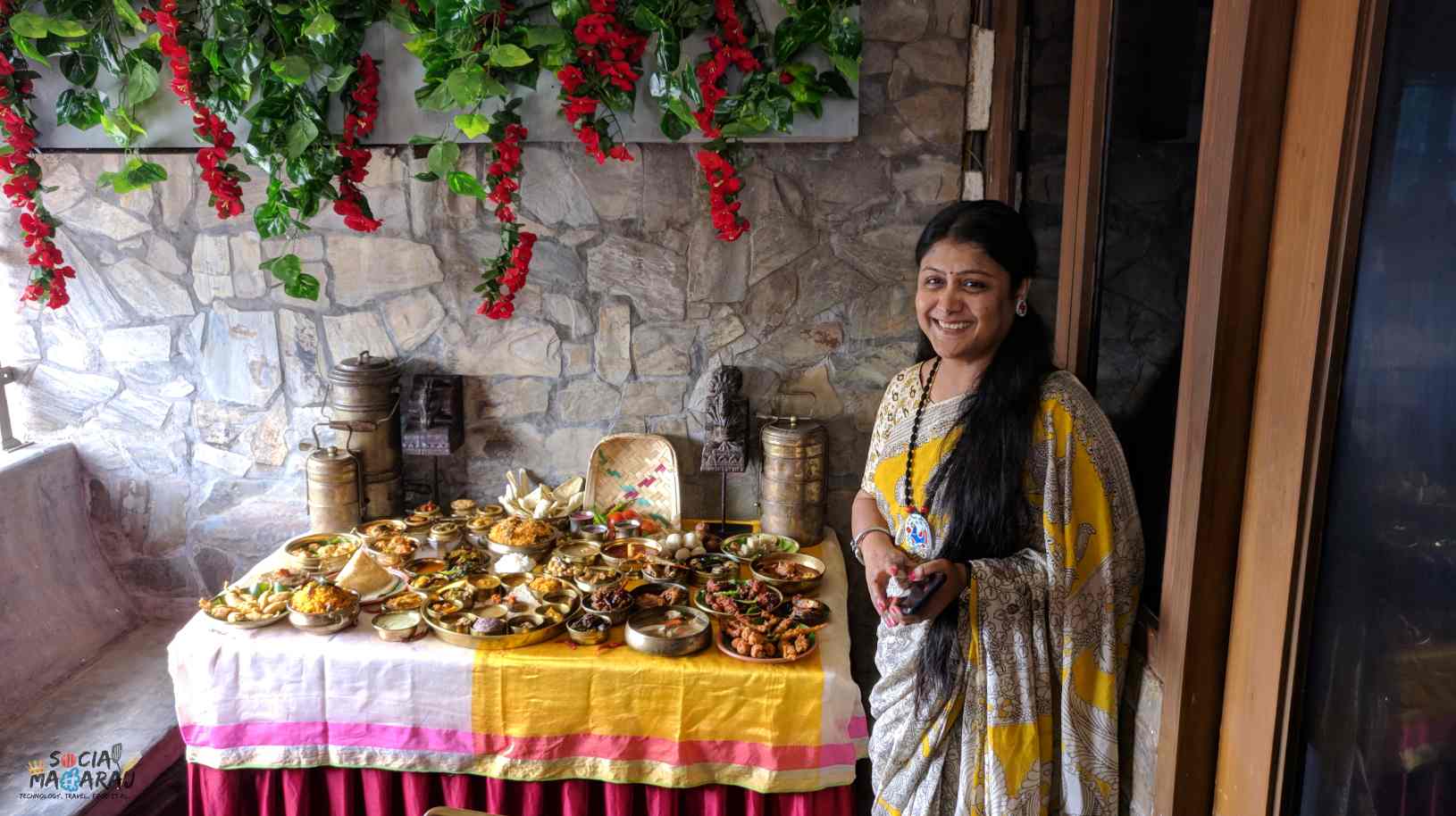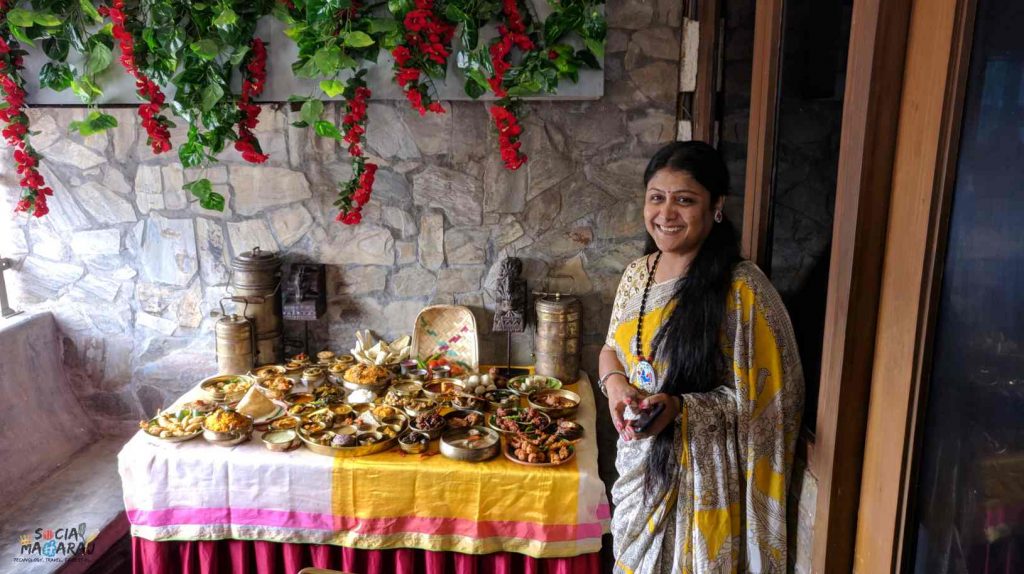 Loved the Regional Starters
I've mentioned this in post on Ohri's Uppu also, and I'm repeating it again. I love the fact that we are having more and more regional dishes as starters and not the desi Chinese stuff. For this Aha Rayalaseema Food festival we had Sundelu, Sadda Vada with Erra Karam, Vayi Pindi Bonda, Cut Mirchi Bajji and my favorite Alasnda Vada. Sundelu is a mix dal vada while Sadda Vada is of Bajra. These were accompanied by really spicy chutney. Alasanda Vada was nicely done and the fresh coconut chutney complimented it well. Since I'm not used to these items, I loved the regional starters.
Extravagant Vegetarian Rayalaseema Spread
Most people feel that there isn't much for vegetarians when it comes to Rayalaseema Cuisine. Well, there is variety for sure. For vegetarians we had, Masala Vadala Kaaram Pulusu, Venchpam Pappu, Gosukuttu, Urlagadda Korma, Sambhar, Miryala Pulusu and Gorchikkudu Nanchu. (Those were some tongue twisters, weren't they !) Being honest in my Rayalaseema Ruchulu Review, I'll say the food was on the spicier side for me. However, the flavors ensured I tried everything on the plate.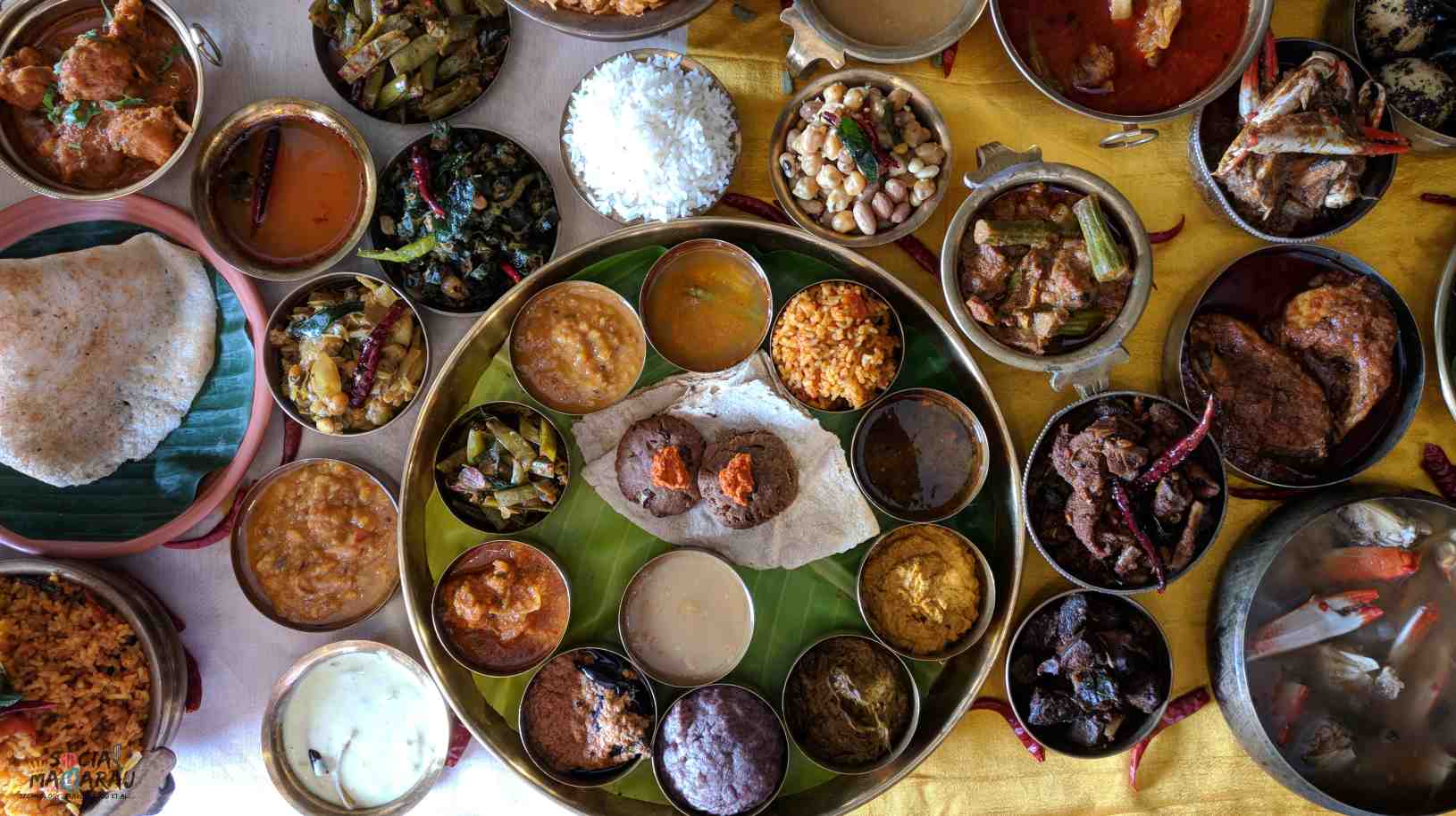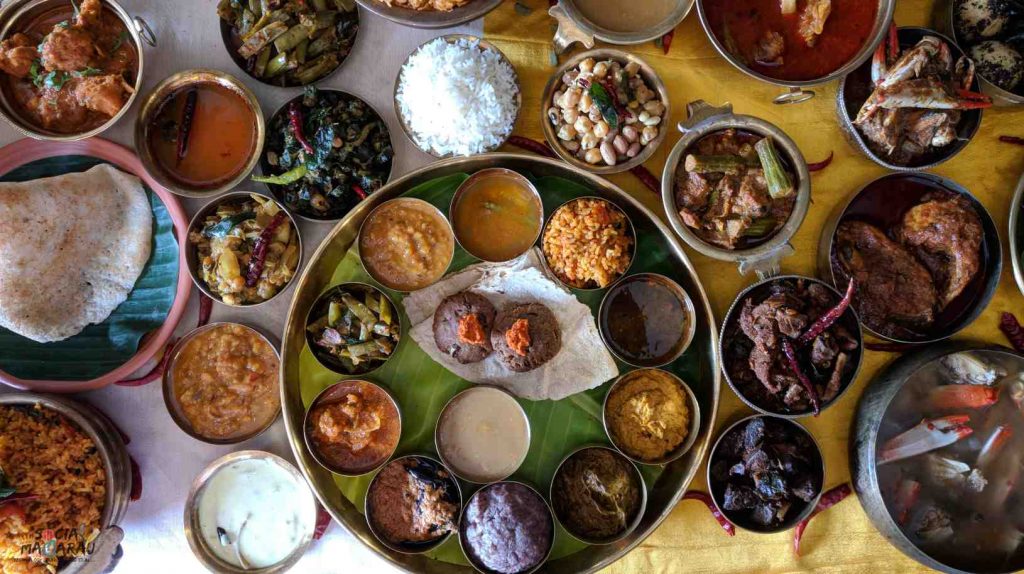 My favorites of the day have to be the Gosukuttu which was Cabbage and Chana dal cooked in a semi-dry curry. Subtle flavors and balanced taste. Next one was the Urlagadda Korma which is Potato Curry. This was a totally different version of Korma – tangy, spicy and laced with flavors. Apart from these stand out dishes, I liked the Gorchikkudu Nanchu which is beans, Bendakai which is ladyfinger, Gutti Venkaya Curry which is Brinjal and the Rasam. I had these with the Jonna Rotte which was a Jowar roti. The flavors had the Rayalaseema zing and were delicious.
One for the Sweet Tooth
Chef Rajeshwari didn't forget the sweet lovers and had some really good desserts. Since this was the special Aha Rayalaseema Food festival, I decided to skip the regular ice cream and Gulab Jamun. Instead, I tried the two drinks they had on offer – Nannari Sherbet and Rosemilk. Nannari Sherbet was laced with sabja seeds and had a soothing effect. However, I liked the rose milk more. Had multiple rounds of this.
The Halwa was delicious however, I loved the Pesarupappu Paysam. I'm a Payasam fan – whether it's rice of moong dal, I'll go for it. This one didn't disappoint for sure. The sweetness is just the way I like. There was Poli, Rava Laddu on offer too. Chef Rajeshwari also has some condiments made of coconut and jaggery which are outstanding ! You must try them if you are here.
Final Verdict – Rayalaseema Ruchulu Review – Must Try
Whether you are a vegetarian or a non vegetarian, if you love to try cuisines, you must give Rayalaseema Ruchulu a try. They have many outlets in the city, but this on in Jubilee Hills serves buffet. The Aha Rayalaseema food festival is on till November 10, so do plan to visit this restaurant and experience Rayalaseema cuisine like never before. The chain is quite famous and it was evident after looking at the foot fall for lunch. The buffet costs Rs 799 + taxes and is a good deal considering the authentic food on offer. Wouldn't you want to try this ? What are your thoughts of saving regional cuisines ? Mention in the comments below or tweet to me at @Atulmaharaj