You walk into a hyper-market, walking past the food section you will probably look for something Healthy. Meanwhile the big-brands are quietly spying on you. And theses brands suddenly come up with exactly what you need – Healthy, Whole Wheat, No Maida, Low Cholesterol, High Fiber and what not.

I bet this exactly describes some of you too. With you becoming health conscious, brands too are following your foot-steps. All the marketing-terms are enough to hypnotize you and make you buy that particular item. So just to give you some idea of what the Actually the High Fibre and Protein mean, have a look at the picture below: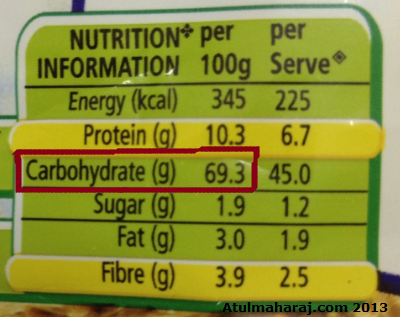 This is the picture of a hot-selling product of a big-brand. The pack says that it is Healthy, Nutritious, high source of Protein and high source of Fiber. The product certainly fulfills all of the above criteria. So, What's wrong with it  ? Well the claims are perfectly correct and have no problem whatsoever. But look at the Carbohydrates value – 69.3 g(almost 70% is Carbs). Apparently it has the highest value amongst all. So is it actually healthy ? In case of any high degree illness – Diabetes, High Blood Pressure/Sugar – Carbohydrates are the first thing that will be striked-off your diet by the doctor.
This post was just to make you aware of all the not so Healthy items available on the shelves. Please take some time and go through the Nutritional Values mentioned at the back of every edible item. The government has not asked the company to place it there to occupy the space on the cover !!  I hope that some of you after reading this will actually think before purchasing a Healthy food product !

Jaago Grahak Jaago !! 
P.S.: This is not a paid post.