He has become the fastest batsman to score 7000 runs in One Day Internationals and soon after he went on to become the fastest batsman to score 25 centuries in ODIs, you've been staying under a rock if you haven't yet guessed whom I'm talking about – yes I'm talking about team India's impact player Virat Kohli. He has broken the said records in the ongoing series against Australia. The records were previously held in tandem by the South African duo of Hashim Amla and AB De Villiers.
Wearing the jersey number 18, Virat Kohli has cemented his place in the team and just like Sachin and has fixed his position at 1 down.  He has been in sublime form right from the India vs South Africa series. And just before leaving for Australia he had said he's eagerly waiting to play in Australia, and he's shown how eager he was. He also missed out on a century in the first game after which the Pakistan swing legend Wasim Akram told him that he had missed a hundred and to this the star batsman confidently replied "I'll score two centuries in the remaining games" and we know what happened later.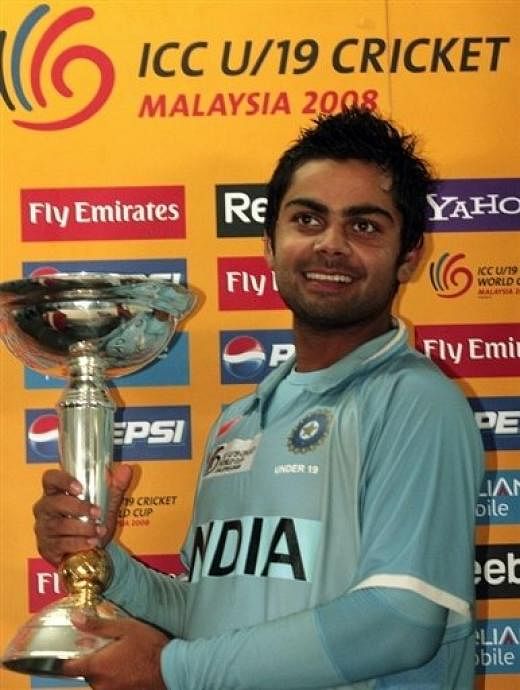 Virat Kohli 's career on the international stage started when he captained the U-19 Indian team. He was playing alongside the likes of Jadeja, Raina who were playing the u-19. His flamboyant style and the aggression in his play ensured that Indian went on to win the 2008 U-19 World Cup in style. Post which he got his first break in the international side. He is one of those lucky players to have played along side the greats of cricket – Sachin, Sehwag. Who can forget his amazing innings against Bangladesh along with Sehwag in the opening game on ICC World cup 2011. And his this form was rewarded when he was promoted to captain the Indian side in Test matches after Dhoni decided to hang his boots.
One of the best part about Virat Kohli  is his aggression on the field and the hunger for more and more runs. The moment he his out to bat, he's clear what he wants. However there are times when he tries to edge that odd ball outside the off stump and loses his wicket. The international bowlers always try to set him up by constantly bowling him outside the off stump hoping he edges hat one odd ball. But it's nice to see that he worked on his game and it's nice to see him leave many balls.
With such records in his kitty, Virat Kohli  is en route to break many more records. He has become the Gen-Y Run machine and can often be entrusted with the responsibility to win games for team India, Virat Kohli is the true Impact Player in the Indian side.
This blog post is inspired by the blogging marathon hosted on IndiBlogger for the launch of the #Fantastico Zica from Tata Motors. You can apply for a test drive of the hatchback Zica today.