Television shows are one thing that keeps a family bound together. A family bonds over dinner, lunch alongside their favorite TV shows running. We have TV shows across all the genres – Comedy, Crime, Drama and what not and some of them have been running for quite sometime now. Be it ACP Pradyuman from CID or Amitabh Bachchan himself, we Indians love our TV characters so much that they become a part of our daily lives. We talk about these peppy characters daily, be it Sandhya ki kahani or Santoshi's faith in Santoshi Maa, we just love them. Comedy shows are loved by all for the sole reason being that the entire family can sit together and share a laugh. And for the same reason I am writing about some of the peppy TV Characters from Indian Sitcoms.
Mussadi Lal
Who remembers this helpless character who would run from pillar to post getting his work done. Mussadi Lal was one of the finest characters in the premier Indian sitcom Office Office. The character was played by the finest actor Pankaj Kapoor. He was surrounded by these peppy people – Bhatiaji who was famous for his "Do baatein", Shuklaji played by Sanjay Mishra along side other characters. The show was a hit and loved by one and all and was also made into a movie later.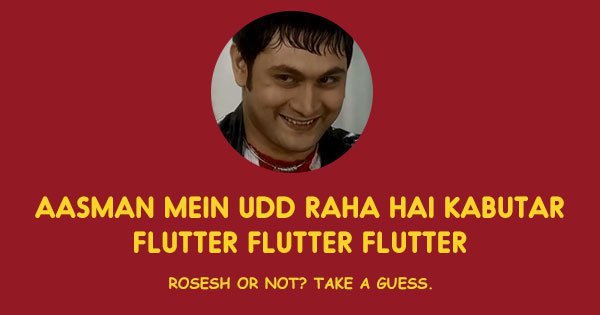 Rosesh Sarabhai
India's finest sitcom Sarabhai vs Sarabhai gave us some finest characters from Indravadan Sarabhai – Satish Shah – to the sophisticated Maya Sarabhai. However the star of the show was this peppy character Rosesh. The wannabe poet has given some of the funniest poems. "Momma's boy" as he is known, he recites the poems at the expense of others' irritation. His poems are witty and quirky and Rosesh is loved by all.
Anand Mathur
How many of you remember him ? A father of 5 girls whose first wife was dead and still spoke from the photo frame. Yes the same serial which had Kajal Bhai – I'm talking about the show Hum Paanch. Anand Mathur played by the master Marathi actor Ashok Saraf was a helpless character in the sitcom as he was surrounded by problems every time. The way he was able to deal with it was what everyone loved.
Jethalal Champaklal Gada
Jethalal is synonymous with Fafda Jalebi and is one of the most famous comic character on Indian TV today. Played by Dilip Joshi, he features on the show Taarak Mehta ka Ooltah Chashma which is one of the longest running comedy shows. The peppy Jethalal is famous for always being surrounded with problems and his dreams of getting close to Babitaji. The show has got some great TRPs and has been the most successful sitcoms in India.
Gutthi
Gutthi is loved by one and all and you have to agree with me on this. Played by Gaurav Kapoor, Gutthi became the trademark of the famous comedy show Comedy Nights with Kapil. Gutthi's famous acts includes her introduction. She along with her younger sister Palak – Kiku Shadra – created a laughter riot on Indian TV. Gutthi was a peppy character that always had something new, remember her coming dressed as Deepika from Bajirao ?
These were my favorite Peppy characters from Indian sitcoms. There are many other who are not in the list because this list had to stop somewhere. If you like any other character, do mention in the comments sections so that all of us can share a laugh.
This blog post is inspired by the blogging marathon hosted on IndiBlogger for the launch of the #Fantastico Zica from Tata Motors. You can apply for a test drive of the hatchback Zica today.