Indian meal is incomplete without a sweet dish. Whether you are at home, at a restaurant or at a marriage, you will definitely have one dessert after your meal. "Kuch Meetha hojaaye…" phase become a popular term now a days. Indians have a sweet tooth and thus enjoy sweets at anytime of the day. We can make sweets from anything you give – fruits, vegetables – just about anything, we are masters at making sweet dishes. Being such a vast country, there are thousands of sweets in India. From syrupy to dry, we have a vast variety of sweets and hence here are fantastico sweet dishes you must try.
Rasgulla: many people have confusion between Rasgulla and Gulab Jamun, Rasgulla is white and Gulab Jamun is brown. Made from chenna – a milk byproduct – Rasgulla is a syrupy sweet which originated in Kolkata (there's a fight between Orissa and Kolkata as to who invented it) which is very popular in all the parts of the country.
Gulab Jamun: the brown brother of Rasgulla. Gulag Jamun is deep-fried, sweet balls dipped in syrup. Made from maida, this sweet is a regular in parties and marriages. This fantastico sweet is loved by all and is my personal favorite.
Gajar Ka Halwa: as I said, you give vegetables or fruits, we can make a sweet dish out of it. Gajar or carrot halwa is another unique and fantastico Indian sweet made from carrots and khowa. Can be easily prepared at home as it's an easy and simple dish. Usually common during winters, this dish is enjoyed by one and all.
Kaju Katli: The most famous sweet in India. Be it any festival, you are bound to receive a box of this. Made from cashew nuts and lined with silver foil, this sweet is available in all parts of India. This fantastico sweet has a great shelf life and can stay good for a long time.
Ghewar: This is a unique and fantastico dish from Rajasthan. It is a syrupy sweet which is too sweet. It's like Rajasthan is eat extremely spicy food and extremely sweet stuff too ! The sweet is a part of their breakfast and is very common in the state.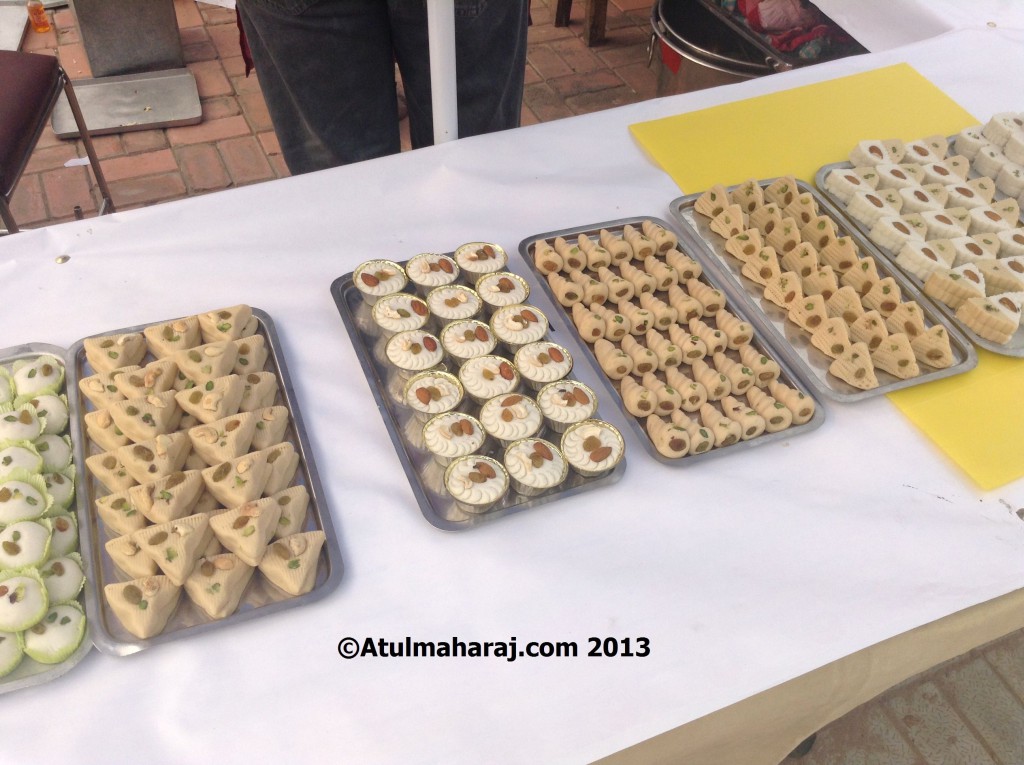 Jalebi: this India delicacy is found everywhere in the country. Made from maida and dipped in sugar syrup, this is enjoyed by all. It is most famously eaten with Fafda – a Gujarati snack – during Dussehra. This is eaten with curd in Varanasi and other parts of Uttar Pradesh.
Mysore Pak: Mysore Pak is a unique and fantastico sweet which is available in Mysore and surrounding areas. This ghee laden sweet is great on taste and high on calories. So the next time you are in the city, make sure you try out the Mysore Pak.
Phirni : My favorite, Phirni is now available in all parts of India, however I suggest you eat it in Rajasthan or Punjab. I had eaten it in Amritsar  at and boy it was fantastico. Made from rice flour and loaded with pista, this sweet is very mild and bound to tickle your taste buds.
Double ka Meetha: This is the typical sweet found in Hyderabad. The sweet is prepared from bread. Bread is deep-fried a couple of times in ghee and then dipped in sugar syrup. The fantastico sweet is great on taste but is way too high on calories.
And that brings us to the end of fantastico sweet dishes you must eat in India. I'm fortunate to have tried all these dishes. If you haven't tried any of these, do try them. Also if you have eaten something other than this, mention in the comments so that I'll try them too.
This blog post is inspired by the blogging marathon hosted on IndiBlogger for the launch of the #Fantastico Zica from Tata Motors. You can apply for a test drive of the hatchback Zica today.