Luck By Chance – couldn't have got a better title than this one ! Tonight's match was all about luck, be it Virat Kohli getting away with two run-out chances on the same ball or Lendl Simmons getting away with 2 no balls and a bad-judged catch – someone was definitely lucky tonight !
There was a lot of confusion among the fans and media as to who would feature in the playing XI, whether it would be Pawan Negi, Manish Pandey or Ajinkya Rahane. I had thought Negi would feature but Dhoni proved everyone wrong – once again ! He decided to get in both Ajinkya Rahane and Manish Pandey. He got Manish Pandey in place of Yuvraj and swapped Ajinkya Rahane for the out-of-form Shikhar Dhawan. A decision that actually paid off. It was so unlike Dhoni changing the playing XI, I mean making two changes is not so Dhoni especially before such an important match India vs West Indies.
The match started with India being on the losing end of the toss [and losing the match], kind of tradition that Dhoni loses toss.  India were put in to bat, they would have preferred chasing but nevertheless India got a good start. The opening pair of Ajinkya Rahane and Rohit Sharma started off in a great fashion, posting a good total in the power play. Infact this was the highest first wicket partnership for India in this tournament. Rohit played his knock and got out while Rahane carried on. Later on joined by Kohli, the duo went on to build a good partnership before Rahane got out to a good catch by Bravo at deep mid wicket. Kohli survived two run-out chances in one ball as the Windies did everything but hit the stumps ! What followed was great cricket, Dhoni and Kohli starting off from where they left off in the last match against Australia. Some great shots and magnificent running between the wicket. Bravo managed to keep India's total under 200, thanks to his slow bowling in the last 2 overs he bowled. All in all India finished at 192, a good total, but was that enough ?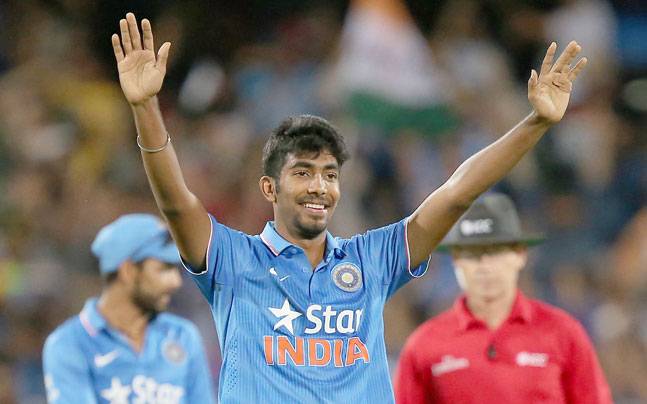 Windies started their innings with Gayle and Charles coming out facing Nehra. But it was the perfect start India could have imagined, Jasprit Bumrah – India's Malinga – bowled in a perfect slow ball Yorker to get Gayle out on his first ball ! And soon Nehra deceived Samuels with a slower ball that left the Windies reeling at 19/2. Indians were building the pressure and just then Bumrah took a brilliant catch at short 3rd man to dismiss Simmons. Oh wait ! It's a no ball from Ashwin !! Not often you see that, but need to accept that and move on ! Charles and Simmons were doing everything to take away the match from Indians but it would take only one man to stop the juggernaut – Virat Kohli.
He did with the bat and with the ball too, taking the crucial wicket off his first ball. It wasn't a good day for India as Simmons got a life again as Pandya bowled a no ball at a crucial stage ! This was probably where India lost the match completely. Giving away two lives isn't a good idea at all ! At this point it felt, that winning the toss was crucial. Dhoni had a tough time juggling the bowlers as the Windies had hit all India bowlers, the condition was so bad that Dhoni had to bowl out Nehra and Bumrah before the 18th over ! *Full on tension* And again Simmons gets a life, as Jadeja misses the catch as he touched the boundary rope. Now we know why they say cat has 9 lives ! *Tension* With Dhoni running out of bowling options, it was never easy for India to get back in the game.
In the end it was the better team that won. Even though the West Indian bowlers didn't do great, their batsmen played exceedingly well (of course with a dollop of luck) but in the end it the result is what matters. West Indies through to the finals of the World T20 and will take on England at Eden Gardens.