MTR has become a household name across India now a days. Be it the ready to eat dishes or the masalas, MTR is a famous and a well-known brand for South Indian dishes. But when you are in Bengaluru, one doesn't talk about the MTR masala, instead we talk about the Marvelous Dosas at the famous MTR restaurant or Mavalli Tiffin Rooms as it is popularly known. So during my recent trip to Bengaluru, the thought of leaving the garden city without these wonderful dosas was unthinkable. So here's my take on the Marvelous breakfast at MTR Restaurant, Bengaluru.
First of all there is nothing fancy about the restaurant which is at Lalbagh Garden. No big, glittering signboards or anything, just a simple board that says Mavalli Tiffin Rooms along with the timings. Previously I remember they had only one outlet which was the one at Lalbagh Garden, butt this time around, owing to its growing popularity, it has spread across the city with multiple branches at different areas. One of them is in Jayanagar, on the road opposite to Shopper's Stop, Bannerghatta Road. The restaurant is always crowded during the breakfast hours, so going early is a good idea. They have a separate waiting room where you can wait before its your turn to eat ! One of the best parts is that the service is pretty fast, so you don't spend much time waiting.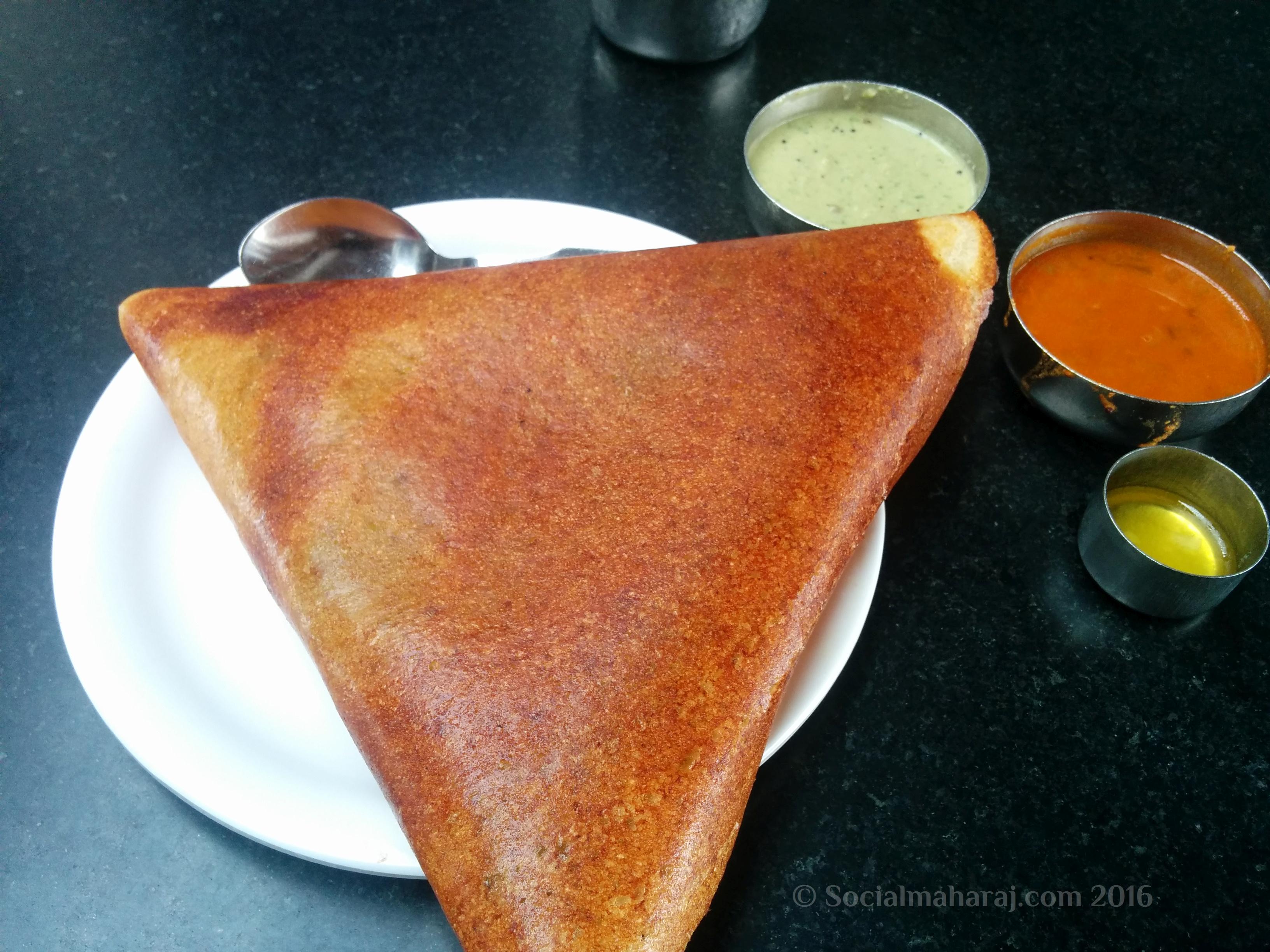 Marvelous breakfast at MTR
As they say "When in Bengaluru, do as the Bangaloreans do", I started my grande breakfast by ordering a Masala Dosa. The dosa was on my table in a flash. It seemed like the guy who took the order was s genie 😉 Anyways on a Foodie note, the dosa was yummm ! Haven't tasted such amazing dosa in recent times. Though small in size, it surely is a treat for your taste-buds. After the Masala Dosa, it was time to try the Idli Vada. Post these I ordered a Bissibelle Bath, yes BATH. In South baths are famous, and no you don't get a bathtub served ! Baths are typically rice dishes which include Tomato Rice, Bissibelle Bath to name a few. The Bissibelle Bath was spicy but great on taste. So to counter the spice, I ordered a Kesari Bath, this is a traditional sweet preparation made from sooji and laced with Ghee and dry fruits.
Wondering how to prepare Kesari Bath ? Here is a quick an easy recipe. With such a lot of food, I was already full. But how could I miss out Namma Filter Kappi ? Ordered a filter coffee and it transponder me to another level. The coffee is so heavenly, none of these branded Coffee houses can match this. And by this time the person taking my order was staring at me, I mean he came with the bill after the Masala Dosa itself 😛
Overall , MTR lived up to its tag of Best Dosas in Bengaluru. The restaurant serves great breakfast and is a must visit if you are in Bengaluru. Be it the Masala Dosa or Bissibelle bath, everything at MTR is just amazing. The place truly deserves your time and money.