Preparing for a job interview is one of the most difficult times of our lives, and not only for freshers, even the experienced folks find it tough to crack. No matter how big or small a job is, there is always that anxiety whether you will get it or not. Well, there has been once such job opportunity that had been open for a month now and I'm quite sure that it is the toughest job any day – the job of being the Head Coach of the Indian Cricket Team. Yes, the Indian Team has finally found the perfect man for the job – Jumbo, Anil Kumble and the announcement was made today at Dharamshala.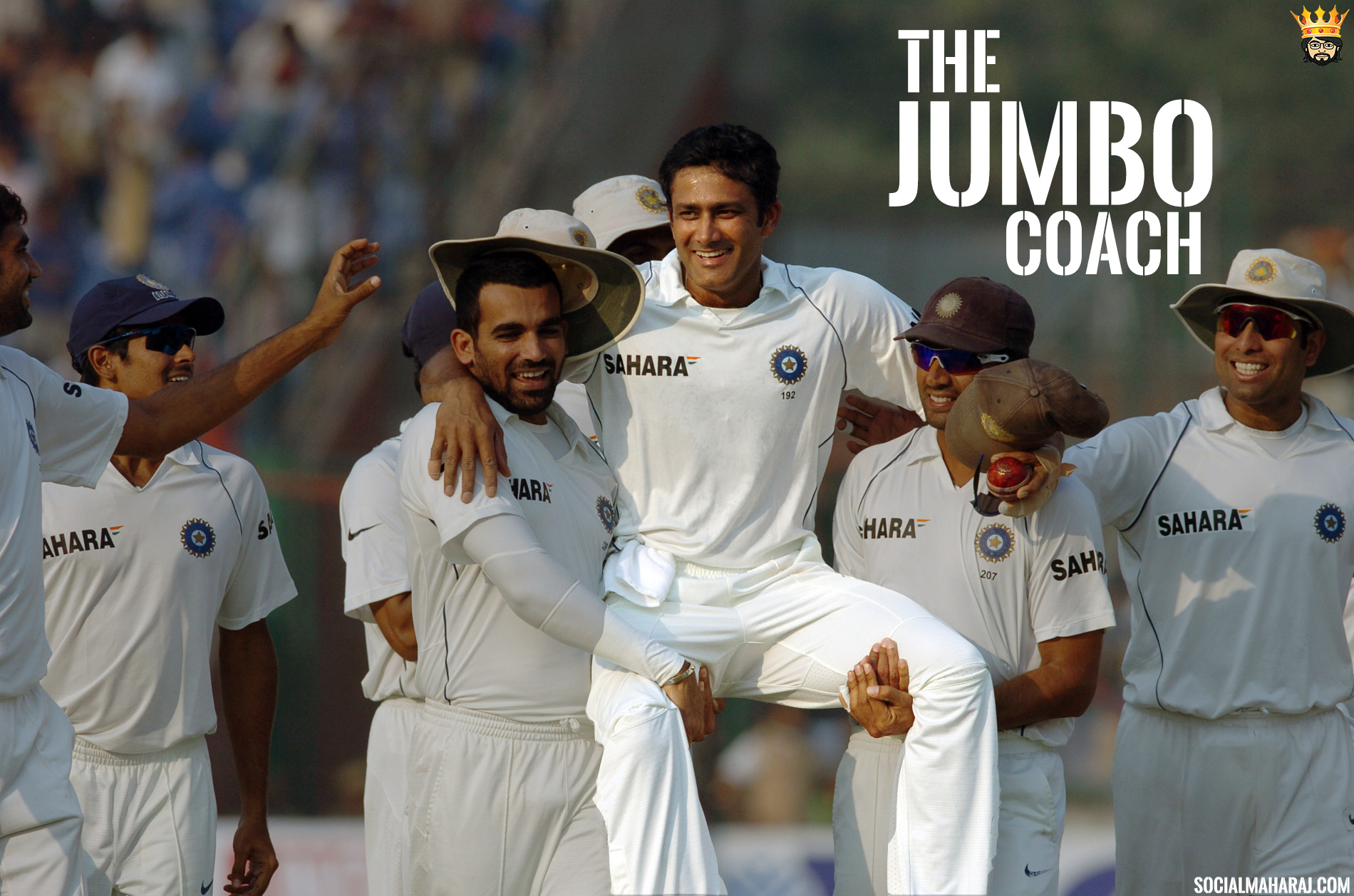 Kumble deserved to be the coach
There were strict guidelines and requirements posted on BCCI's website for the job. Even then there were 57 applications for the post from various parts of the world. Famous cricketers like Ravi Shashtri, Tom Moody were a part of it too. But in the end the selection panel consisting of Sachin Tendulkar, VVS Laxman and Sourav Ganguly took the right decision to choose Kumble for the job. I'm happy that Kumble was preferred over Shashtri, for the sole reason being that I feel Shashtri is more of a spokesperson, manager kind of person. I don't see him as a coach !
Anil Kumble is the leading wicket taker in international cricket for India apart from being the third highest wicket taker in the world only next to Muralidharan and the legendary Warne. He has been one such player who has always given more than 100% every time he took to the field. How can we forget the match where he came out to bowl with a broken jaw ! Salute to this guy ! He has had some magical and match winning performances that has helped India win a lot of matches. His 10 wicket innings against Pakistan is still fresh in our minds. He has also captained the Indian team during the last leg of his career before hanging his boots. He alongside the greats Sachin Tendulkar, Rahul Dravid, Sourav Ganguly, VVS Laxman helped India reach greater heights.
Calm and Composed Kumble
I feel Kumble is the perfect choice for being the coach. Firstly, having a career spanning more than a decade, Kumble has played at virtually every ground in the world. His experience of pitches and teams can come in very handy for the team. Secondly, being a bowler himself, he can be a great mentor to coach our young bowlers and mold them into great bowlers. Lastly, he is a calm and composed person on and off the field. With MS Dhoni by his side, the two "cool heads" will surely help India get back to the number 1 rankings in every format.
Even though I wanted to see Rahul Dravid as the coach, I'm delighted to see Kumble as our coach. What are your views ? Do you think Kumble is perfect for the job ?