"I do not give Facebook or any entities associated with Facebook permission to use my pictures, information, or posts, both past and future. By this statement, I give notice to Facebook it is strictly forbidden to disclose, copy, distribute, or take any other action against me based on this profile and/or its contents. The content of this profile is private and confidential information. The violation of privacy can be punished by law (UCC 1-308- 1 1 308-103 and the Rome Statute)." these lines might have been all over your news feed warning you to not allow Facebook to use your photos and other details. Scary right ? But does that mean you'll share this blindly or Bhed Chaal as I would say ? No. Stop it ! Facebook UCC 1-308… is a Hoax Do thorough research before blindly sharing the post online.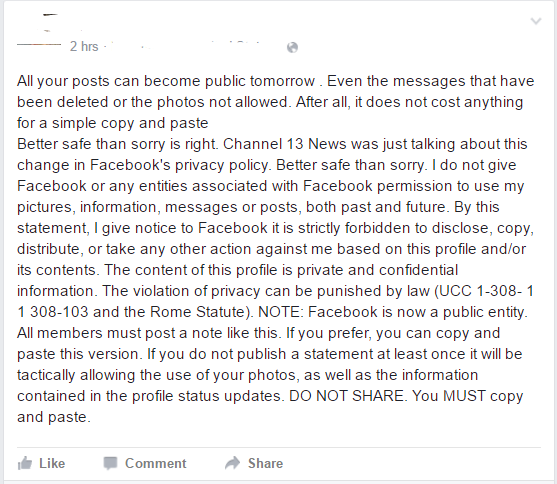 Here's why Facebook UCC 1-308 is a hoax
Well this isn't the first time this hoax has surfaced. It has many times in the past had surfaced and the same reaction was observed earlier too. And at that time Facebook had issued an update that it is a hoax and here's the link to the update. Facebook's privacy policies clearly mention that you are the owner of the content and Facebook doesn't you it without your permission, if it intends to do so, it cannot without your permission.
And if you read the post carefully, it mentions Rome Statue. Well take some time and read what Rome Statue is. It is a treaty that established the ICC (not Cricket) – International Criminal Court. It establishes four core international crimes: genocide, crimes against humanity, war crimes, and the crime of aggression. And it is clear that the Rome Statues has t got anything to do with your privacy, my privacy or In fact anyone's privacy.
Lastly if you still got any doubts, head to Facebook FAQ section and read for yourself the consequences that you will face if you don't prohibit Facebook from sharing your photos and posts**
Still wondering what Bhed Chaal is ?  Well it's nothing but following someone blindly without applying your own thoughts to what he/she is saying. So don't be a bhed and do bhed chaal, be wise, stay wise !