Even though technology has advanced a great deal in various domains, there is large chunk of people who are still skeptical about using it. Few years ago when online payment – Cards, Net Banking etc. – made debut, there were few like me who quickly jumped on the bandwagon while there were others who stuck to dealing in cash. But today, most of them are using the electronic form of payments thanks to its ease and security to an extent. However one of the biggest hassles while making payments online is you need to memorize the Card details like number, validity date, CVV number and sometimes Grid number too ! That is a pain. Even while remitting money to other accounts you need details like account number, IFSC code etc etc. But now you don't need all this, just a simple address and you can transfer money at ease. Thanks to UPI or Unified Payment Interface. Here's all you need to know and get started on UPI.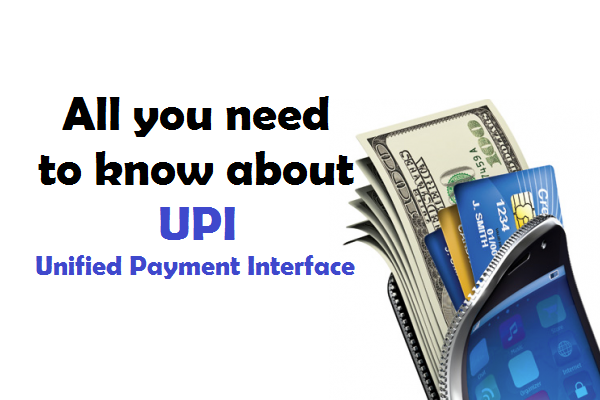 What is UPI ?
UPI or Unified Payment Interface is a payment system that allows you to transfer money using only your smart phone. Yes, you need a smart phone and specifically Android for now since its available only for this platform. UPI allows the customer to pay directly from bank account to merchants, without remembering all the details about the account or bank. Payments can be made to online and offline merchants / users as well.
How UPI works ?
You first need to register for this service with your bank. Currently it's available only to 19 banks including Andhra Bank, Axis Bank, Bank of Maharashtra, Bhartiya Mahila Bank, Canara Bank, Catholic Syrian Bank, DCB Bank, Federal Bank, ICICI Bank, TJSB Sahakari Bank, Oriental Bank of Commerce, Karnataka Bank, UCO Bank, Union Bank of India, United Bank of India, Punjab National Bank, South Indian Bank, Vijaya Bank and YES Bank.
During registration you need to create a VPA or Virtual Payment Address. This will look something like [email protected]. So you don't need to remember all the bank details related to the account. You also get a MPIN instead of a OTP as 2 Factor Authorization is made mandatory by RBI.
Is UPI secured ?
Yes, if this wasn't secured, it wouldn't even roll out to public ! Jokes apart, yes even though you aren't providing all your details every time you pay, all these are saved against your VPA. So in terms of security when someone is transferring money to you, they will simply have to provide your VPA and done. So your bank account details like Account Number, Branch, IFSC code etc. is safe and the person remitting doesn't need this.
UPI is the latest way of making payments and is surely hassle free. The best part about this is the use of VPA which is nothing but an email id kind-of address. Since VPA is linked to your account, each and every account will have a unique VPA, so it's just like having multiple email id, just that you send and receive money instead of mails !
I'm excited about trying this out soon and try to update this post with my experience. What about you ? Have you already tried UPI ? Hows your experience about using UPI ? Did you face any problems while using UPI ? Share us in the comments below so that it benefits everyone !
I am taking my

alexa

rank to the next level with Blogchatter