Not long ago we had to wait for autos, and more often than not we got into an altercation with the autowallas for either denying to ply or overcharging. And within a few years, we've had a bunch of taxi hailing apps that have changed the public transportation ecosystem in India. Radio Taxis and Airport Taxis were available at a premium and even today are, but thanks to services from Ola and Uber that have made our travels smoother and hassle-free. I know both these apps have been at the receiving end for the surge pricing recently from various parts of the country. Well IMO surge pricing is fine considering they are ensuring you get the cabs, however I do feel that there should be a cap on the surge percentage too. Having a surge of 5 times and more isn't justified at all !
Traveling in Uber is super simple as all of you would know. Simply open the app, provide the destination, choose the cab type (Apply Coupon, don't have one ? Look here) and hit ride. It's as simple as A,B,C ! In a flash your phone will notify you the details of the driver along with other details like car type and number. Track the driver and guide till he reaches your doorstep and hop on. These services have simplified how we travel in cabs in India. And at the end of the trip, you get an invoice on your email address and the app with the payment details. One thing you would notice after every ride is that you need to rate the driver. These ratings can span across various parameters including car type, driving skills, to name a few. So at the end of the journey, you happily rate the driver and move on. But did you know that the drivers too provide you ratings ? Let's see how good a passenger you are !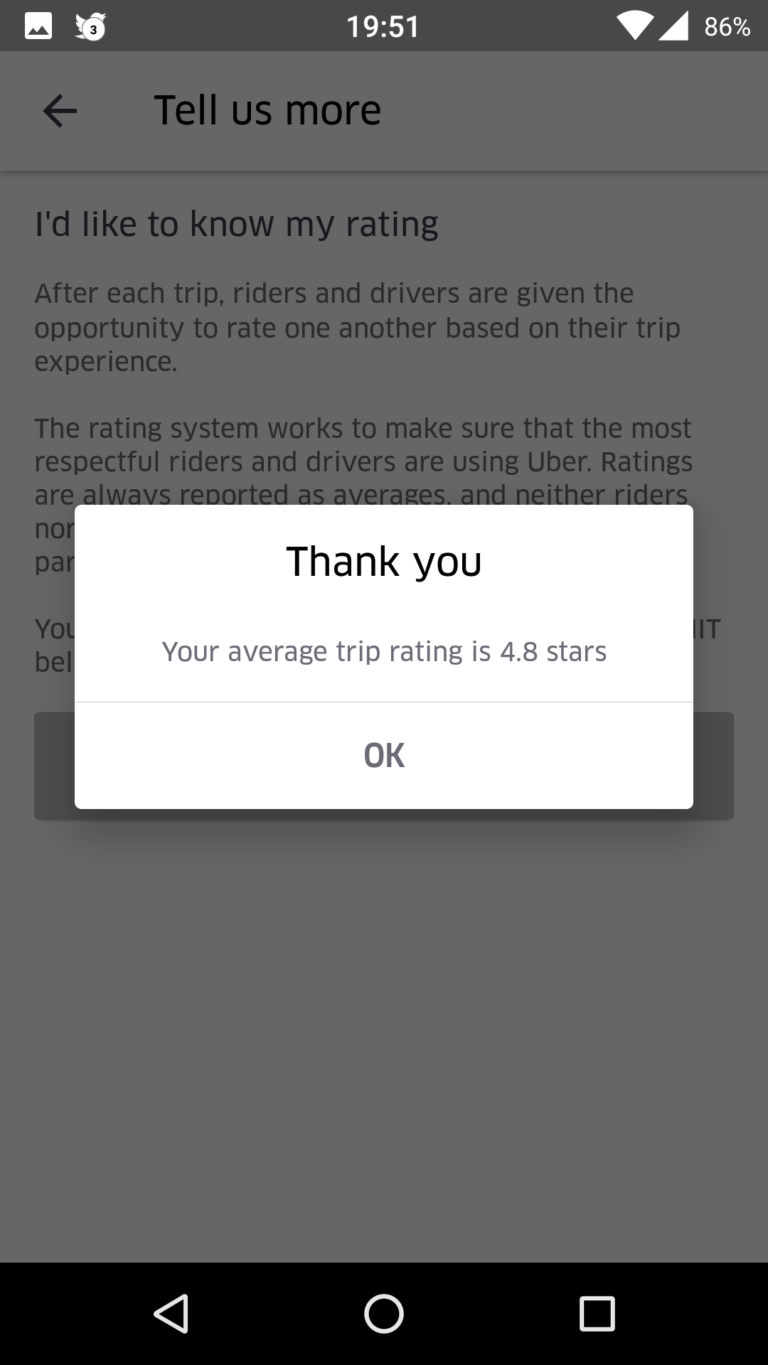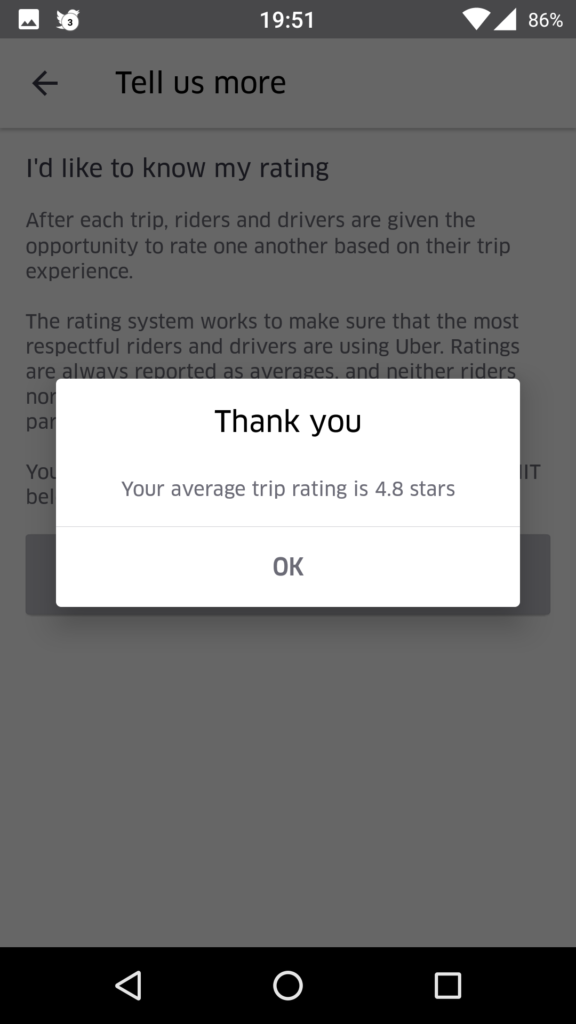 Know your rating on Uber
Yes, just like when you book a cab, you see the driver ratings, drivers too get your ratings when they accept a booking. So after every ride the driver too rates you and provides star ratings. So how you know your rating on Uber ? Well it's simple, just follow the steps and you should know your rating on Uber:
Fire the Uber App
Open Help and navigate to Accounts, Settings & Ratings
Choose Show my Rating
Wait for a while and you'll be shown a popup with your average rating. Isn't that cool ? Even though these ratings are anonymous, you do know how you carry yourself around and someone's rating you ! I never knew about this till I was booking a cab today and came across this feature and I instantly thought to tell others by this post.
I'm happy with my average rating of 4.8/5 on Uber. What's yours ? Know your rating on Uber and share in the comments and let the world know how good a passenger your are !
I am taking my alexa rank to the next level with Blogchatter