Gone are the days when hangout meant catching up with friends at your favorite cafe. Today hangout is mere a virtual interaction, thanks to the technology we are surrounded with. Social Media is gaining popularity and almost everyone is a part of it. Be it your parents, friends or driver, each and every person is enjoying the social media tide. Even though there are a handful of social media services online, there is at least a million stories shared in form of test, images and videos. And with the increasing number of people joining the bandwagon, finding what you want isn't going to get any easier.
Being the 'Socialmaharaj', I often scout for platforms that allow me to find and curate content based on my interests – Technology, Travel and Food. And one such service I tried out recently is Affimity – a Blogging platform focused on your interests. It is a social network, reimagined as a collection of interest-specific social channels. Join only the channels that are aligned with your interests, Each channel has dedicated content – curated as well as the community buzz.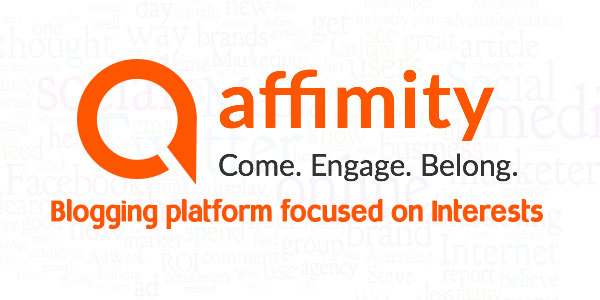 How is Affimity different from other Social Media Platforms ?
So with so many social media platforms around, how is Affimity different ? Well as I mentioned earlier, with people sharing stories online, its increasingly getting tougher and tougher to find something that suits your interests. Most of the Social Media Platforms present you with stories from your friends. But are all your friends football fans ? Certainly not. So what that means is that you are often presented with content from different interests – can be sports, food, health, business and everything else. Hence finding something that suits you is tough. And that's where Affimity is helpful.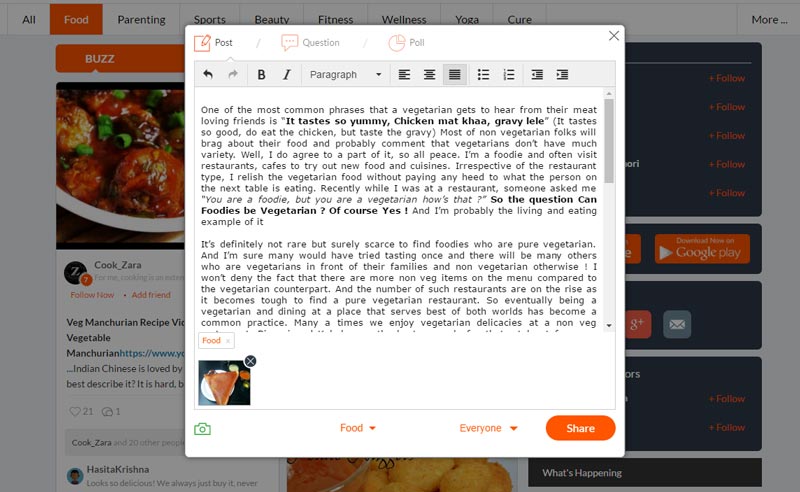 What Affimity does is, it provides you with carefully curated content based on your interests at one place. So the moment you login, your 'newsfeed' is spread across an array of interests called as channels. The neat layout helps you quickly switch between different categories. Further, anyone can post content to any 'channel'. So if I'm interested in cooking, I can post my recipe under Food Channel and that will reach thousands of people interested in Food.
Interest based channels on Affimity
Sharing a post is as easy as ABC. You can have a post with images or a poll that can be shared with your friends. Borrowing from twitter, Affimity allows you to follow people based on your interests. This will help improve the stories you find in your channel. Once your story is shared, its visible to thousands of like-minded people thus increasing your visibility. Once shared, people can like and comment on your posts thus generating the much need buzz around your story.
As a blogger, I always stress on a point that Blogging is not only about writing, Reading is an integral part too. Reading through various things that people have to post, not only enhances our knowledge but also helps us understands that various perspective a thing can have. On the same lines, Affimity carefully places the best relevant content on your home page. So you don't need to browse pages/tabs to find something that you are interested in, so that's definitely a plus.
I've tried Affimity and must say it's indeed a good platform to share and curate content. With so many netizens on-board, the platform is a great place to share your content. It shows me only things that I like, that's definitely a boon for people who have specific interests. What more, Affimity allows you to share your content on the move, thanks to their Android and iOS apps. These apps are clean and do the job well. So if you are looking for a social media platform that focuses on content based on your interests, Affimity is the answer. Do spend some time there and I'm sure you'll like it. And yes don't forget to follow me for interesting stories – @Atulmaharaj