TATA – the salt to software conglomerate – has given the world some of the most iconic brands. Be it the Taj group of hotels that is the epitome of luxury or be it Tata Consultancy Services, India's largest software exporter. Tata Motors too has changed the automobile industry, first with its iconic Tata Indica cars and then acquiring the ailing Jaguar. Tata Motors were heading south a few years back, but then came the Tata Tiago. Tiago became one of the fastest selling cars for Tata and why not, the featured packed car had everything. To compliment the success of Tiago, Tata came up with an SUV the – Tata Hexa. I was one among the few priviledge bloggers who were invited to witness the launch of the this marvellous piece of engineering from Tata.
After spending time with the Hexa, I can surely say that Tata Motors are back in business. But things don't stop here, few months earlier Tata launched another car – a hatchback this time- Tigor. Marketed with the tag line – Styleback – the Tigor is surely one among the stylish cars on road today. So the next time you are driving and spot this stylish car, stop your car, get down and click a stylish selfie and who knows you might win a cool gift ! Contest Alert – Tigor Selfie Contest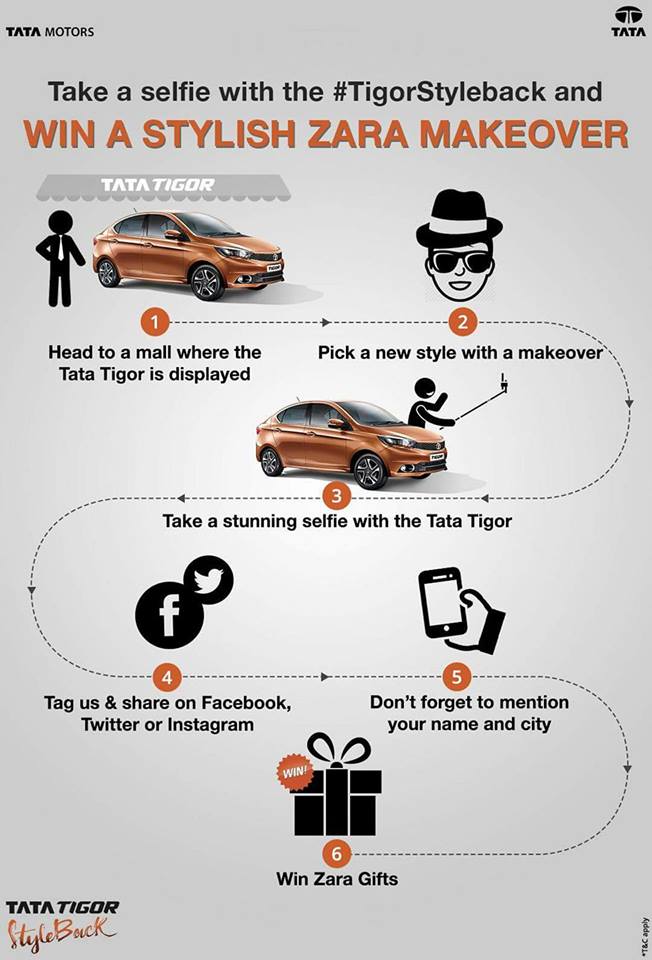 Tigor Styleback selfie contest
Contest Alert – Tata Tigor Selfie Contest. This post is aimed at all those stylish folks who love to pose. If you think you are the Selfie Expert, then this is the time to show off your selfie skills ! Tata is on the lookout for a cool and stylish selfie with the Tigor and who knows you could be one of the lucky winners too. So here's the deal:
Visit any Tata Motor showroom in Hyderabad – Banjara Hills, Jubilee Hills, Sanathnagar to name a few. You can visit any showroom at your comfort in Hyderabad
Spot the Styleback Tata Tigor
Click a cool, stylish selfie of you and the Tigor
Share this selfie on your social media channels
Don't forget to include the #TigorStyleback hashtag in the post and tag Tata Motors
Sit back and relax for the results
If your selfie happens to please the judges, you can get a makeover ! Yes, if you are one of the lucky winner, you win yourself a Zara Makeover or vouchers from Zara. Well the Styleback Tigor rewards in a stylish manner, doesn't it ?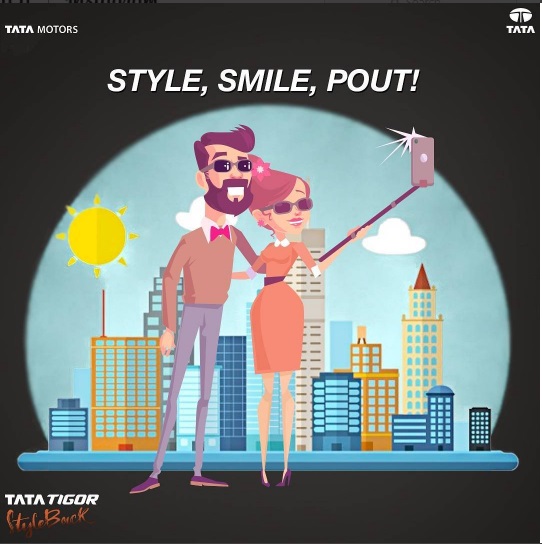 So, this weekend visit a Tata motors showroom in Hyderabad and spot the Tigor. Style, Smile, Pout, the choice is yours, but the Selfie has to be nothing but Stylish. Share your stylish selfie with the world using #TigorStyleback and get a chance to win a Zara Makeover. Once again, If you think you are the Selfie Expert, then this is the time to show off your selfie skills !
More Details below:
Happy Selfie-ing 🙂